Content Strategy
What Is the Role of Brand Storytelling in Your Marketing Strategy?
By Patricia Travaline on October 13, 2017
You know the power of storytelling. You've read the studies about how brand storytelling more than any other form of communication can inspire people to act. But how do you execute storytelling as part of your marketing strategy? Where does it fit?
In addition to our core offerings of content marketing technology and services, Skyword teaches storytelling. As a matter of fact, earlier this week our CEO Tom Gerace and renowned storyteller Robert McKee were in San Francisco teaching marketers how to apply story form to their businesses as part of their Storynomics seminar series.
Yet still our marketing team struggled this past year "storifying" our marketing assets. Our struggle continued until one day I lamented to Mr. McKee about how hard it was to storify our email marketing. Contrary to his response to Nicholas Cage in Adaptation, he patiently replied, "Not everything has to be storified, but everything needs to be part of a story."
That's when the light bulb went off.
In order for an organization to be great storytellers, you have to teach your team members the art of storytelling, but you also have to establish a framework that applies story to your entire branding and marketing strategy. Story becomes the glue that connects your brand purpose, business goals, content strategy, and always-on editorial strategy-key elements of your overall marketing strategy.
Story Form
Before I dive into where we now apply story within our marketing strategy, it's important to understand the story form that is employed within any good story. This form, dissected by Robert McKee in his bestseller Story and upcoming Storynomics book, is applied to any great movie, screenplay, or work of fiction. As it turns out, it is equally important in business.
Following story form starts with understanding your audience and developing a protagonist with whom they can empathize. In other words, the protagonist needs to be like them. Then you must identify their object of desire as it relates to your brand purpose and business goals. What problem are you uniquely qualified to solve for them?
From there, you need to ask what inciting incident has thrown the protagonist's life out of balance. Can your audience relate to this? Has something occurred in their own lives that is similar? Your protagonist will take a series of actions, each with progressively more risk, to reach his object of desire. Along the way there will be forces that prevent him from getting there. Finally, he will make a decision that he can't go back on that gets him to his object of desire.
How do you determine where the execution of the story form should fit into your marketing strategy? This is the brand storytelling model that we now employ at Skyword.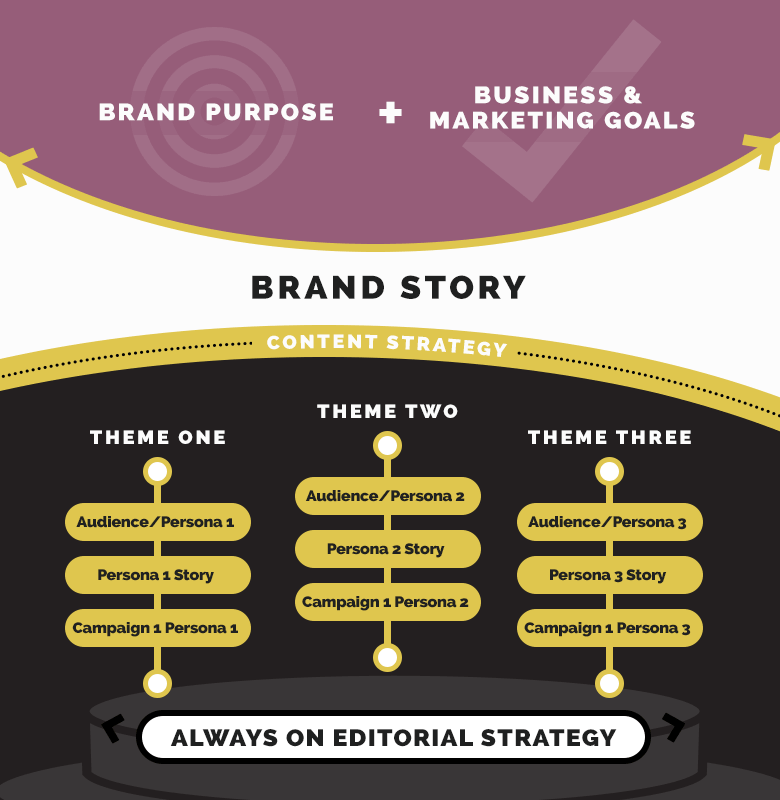 Brand Purpose
According to Roy Spence, author of It's Not What You Sell, It's What You Stand For, brand purpose is a company's reason for existing. To understand the stories you need to tell, you need to know your brand purpose. Your purpose helps direct your business decisions and it can also guide your story development. At Skyword, our brand purpose is to build connection in a disconnected world. So our stories need to illustrate the power of connection and the damage that can result from disconnection.
Business and Marketing Goals
Business stories must also lead people to the action you want them to take-whether that's to buy your products and services or achieve other specific business goals. They have to do more than entertain. Your protagonist must have an object of desire that is aligned with a solution you can provide. Skyword's brand storytelling needs to focus on helping our audience of marketers to connect with their audiences through sustained storytelling and also show how to connect their global marketing teams through technology and process. Our brand story must move the protagonist from disconnection to connection.
Content Strategy
We look at our content strategy as the framework for how and why all our content is created and distributed. It reflects our brand purpose and business goals. We develop it by first researching our target audience and understanding their unique needs and perspectives. From there we develop personas and content to reach, engage, convert, and support each one. Our primary personas are the marketing leader and change agent within marketing teams.
Despite all the research we had conducted to understand our personas, we never had developed the story for each of them. Today we are transforming each persona into a protagonist, and we write their stories. This is their story, not ours, but our brand plays a role in each one. Every member of our team should be able to tell the story of each persona. Now our personas' stories guide our campaigns and shape our always-on editorial strategy.
Campaigns
Prior to our employing our story framework, our campaigns typically had a theme, but they were really just a series of marketing activities and assets with some goals attached. Now, before we develop assets for each campaign, we start by understanding who we're trying to reach. We talk about their story and where this campaign fits into their story. Then, we outline the story we want to tell with each campaign. Once the story is developed, we determine the assets we need to bring the story to life and the channel strategies for distribution. Each campaign has a specific role within our audience's stories and follows a mapped-out path to ultimately reach an object of desire.
Always-on Editorial Strategy
The challenge for brands today is how to become the source of the information your audience seeks and deliver it to them when and how they want it. This takes developing a regular cadence of original content-articles, videos, social posts, graphics, podcasts-that can easily be found in search and shared socially.
The Content Standard is Skyword's hub for our always-on editorial strategy. We publish stories daily that address issues marketers care about. For a while, we attempted to storify every article we wrote and asked our writers to adhere to story form in their pitches and in writing each article. But we found that the pitch process became tedious and the articles were beginning to appear formulaic. Now we realize that not every piece needs to be completely storified-but each writer needs to understand who the protagonist is for the article and what her object of desire is. Every article now plays a role within our larger Skyword story. It's not enough to write an article about any marketing topic. Each article must provide a level of guidance to help marketers and storytellers connect with their audiences in ways that are relevant and inspiring.
So in the words of Robert McKee, being a great brand storyteller doesn't mean that everything needs to be storified, but it does mean that everything needs to be part of a story.
To learn more about story-driven marketing in the post-advertising world, order Storynomics.
Featured image attribution: Michael Coury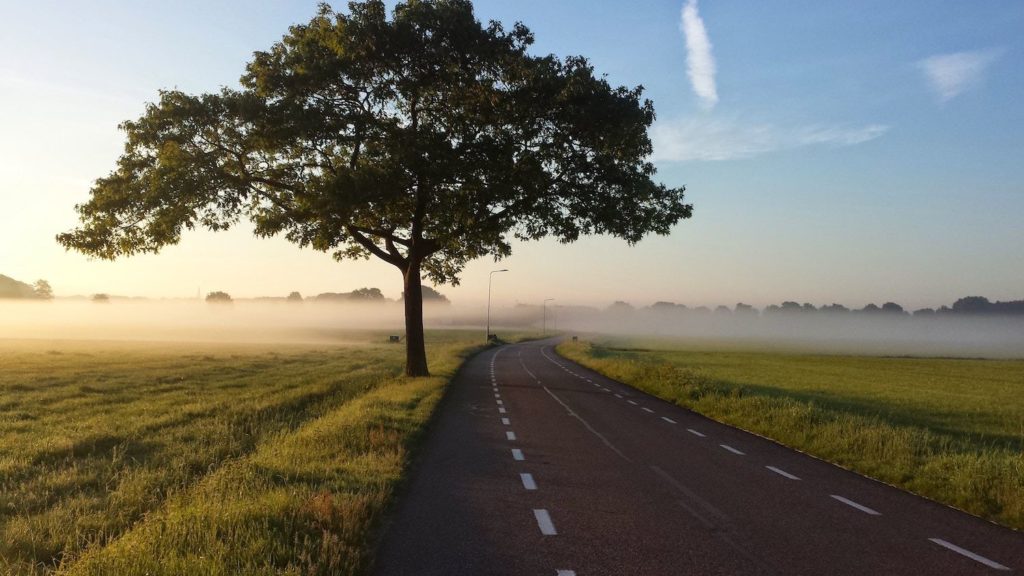 https://www.skyword.com/contentstandard/role-brand-storytelling-marketing-strategy/
https://www.skyword.com/contentstandard/role-brand-storytelling-marketing-strategy/
Patricia Travaline