Insurance
How Anthem Grew Organic Traffic with Trustworthy Content

How Anthem Grew Organic Traffic with Trustworthy Content
Insurance
It all started when…
With uncertainty about the health care industry on the rise, Anthem needed its marketing hub to connect with small business owners, who sought trustworthy answers to their health- and insurance-related questions. Anthem partnered with Skyword to build The Benefits Guide and recruit a writing team composed of experts from the insurance and health care worlds, as well as actual small business owners.
With Skyword, Anthem also reevaluated its SEO strategy to better respond to its audience's changing search habits. The brand began to hone its position by building on key terms with related long-tail phrases that followed search behavior. This had a twofold benefit: The Benefits Guide came up as a result for trending issues, and those results tied back to well-established vertical topics on the site, ensuring a good visitor experience and protecting hard-earned quality scores.
To increase web conversions on The Benefits Guide, Anthem worked with Skyword to serve up recommended articles based on readers' search and visit habits rather than just related content. Anthem also added unobtrusive onsite CTAs via Ion Interactive, achieving an average 10% conversion rate for respondents to their form.
…and the results are in!
Since 2016, The Benefits Guide has seen steady growth in the B2B health care buyer space. Page views, organic search traffic, returning audience members, and on-page CTA conversions continue to see consistent and accelerating quarterly growth.
Expanding the writer pool to include small business owners allowed Anthem to directly enter its target community and create content with an insider edge—something competitor sites can't match. Holding onto the backbone of the site's keyword strategy, building out more authoritative content, and maintaining consistent growth with a mix of organic and paid promotion has given Anthem the opportunity to capitalize on its already healthy search presence and provide more customers with the information they need to make better business decisions every day.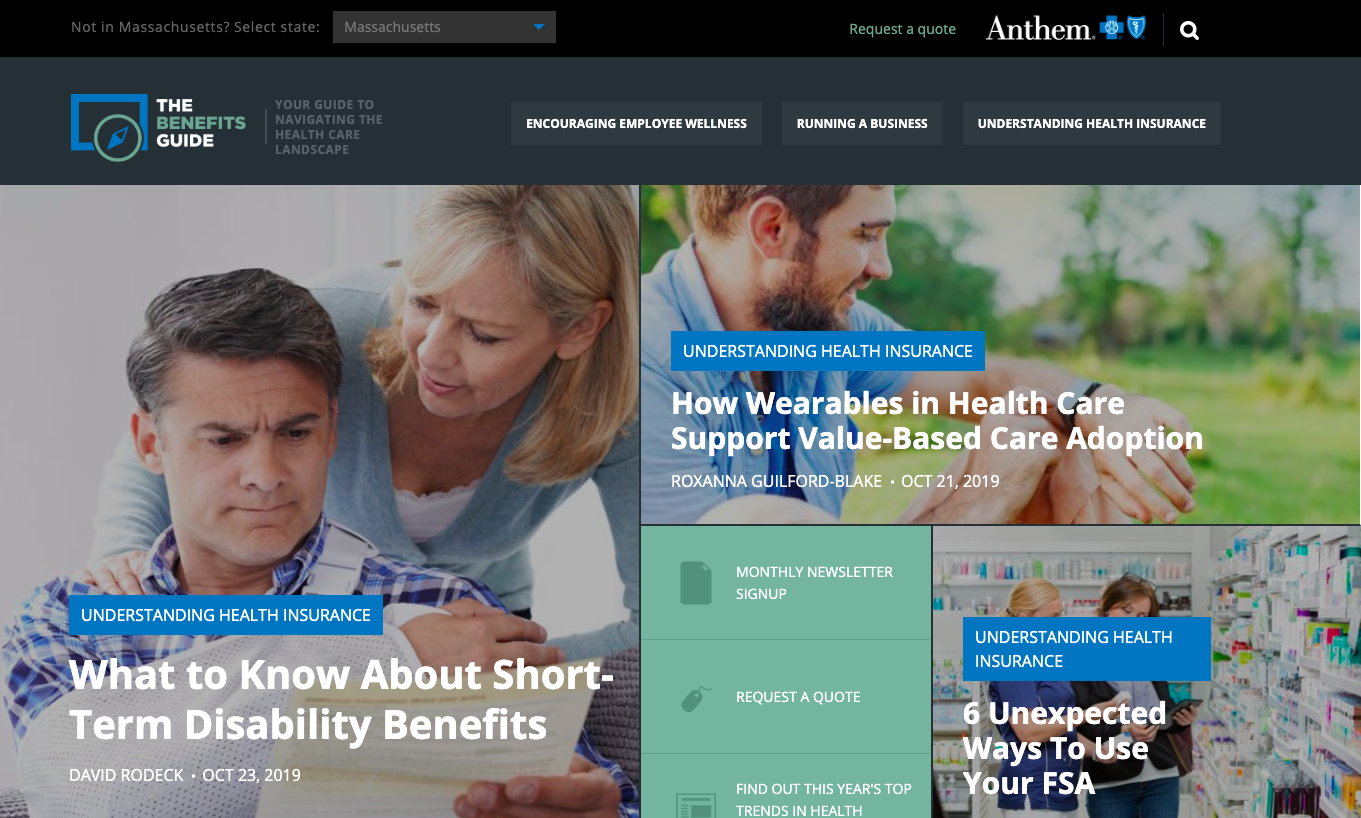 https://www.skyword.com/our-work/customers/anthem-grow-organic-traffic-through-content/
https://www.skyword.com/our-work/customers/anthem-grow-organic-traffic-through-content/
Casey Nobile