The smart, safe way to build your brand with generative AI.
Meet ATOMM™, your AI-powered content marketing engine
Using the latest GPT model, ATOMM™ seamlessly analyzes and adapts content created by subject matter experts into a host of derivative marketing assets, automatically tailored for each of your target audiences and channels.
From related blogs to social media assets, infographics to localized translations, ATOMM™ ensures you get the assets you need to deliver personalized content journeys that align perfectly with your brand's unique voice.
CREATE SOURCE CONTENT
Leveraging experts from our global creator network, we help you craft the original, in-depth thought leadership and pillar assets you need to anchor your always-on content strategy.
SELECT A PACKAGE
From each piece of source content, identify the package of additional content types you want ATOMM™ to generate, and the audiences you want each content type personalized for.
GENERATE NEW CONTENT
Within moments of clicking submit, ATOMM™ generates your package of derivative assets and you're alerted that they're ready for review by your team or our experienced, in-house editors.
What's Different About ATOMM™?
Our approach ensures content quality and accuracy while delivering enterprise-grade security, scale, and efficiency.
Guaranteed to be Original.
All the assets ATOMM™ generates stem from original content created by human subject matter experts. You get an array of new marketing material that's authentic, accurate, and copyrightable, delivered with the speed and scalability of AI.
Built for enterprise complexity.
With a single click, AI-generated assets move into your brand's review and publishing workflow, ensuring swift and efficient content approval and distribution. Get atomized content into the hands of your teams and creatives exactly when and where they need it, all while maintaining full visibility into the entire production and planning process.
Generate with precision.
ATOMM™ is precisely calibrated to your brand's unique voice, style, personas, and channel requirements. We go way beyond generic persona and tone descriptors like "casual" and "formal" to nail content with the contextual relevance and distinctive style that will truly make your brand stand out.
Ensure quality and data security.
Every piece of content undergoes automated checks for grammar, style, and plagiarized text as well as Skyword's in-house editorial review, saving your team time while eliminating reputational risk. In addition, our secure API ensures that your brand's data isn't stored, exposed, or ingested into any AI training model.
ATOMM™ in action:
Check out a few of our clients' favorite features:
Repeatable Packages
Drawing from our vast library of quality-tested templates, your team is set up with AI content packages that reflect your brand's channel- and persona-specific content mix. With the click of a button, you get all the content you need to support your campaigns and fuel a tailored content journey for your customers. Make tweaks to your core packages and save them for easy repeat use.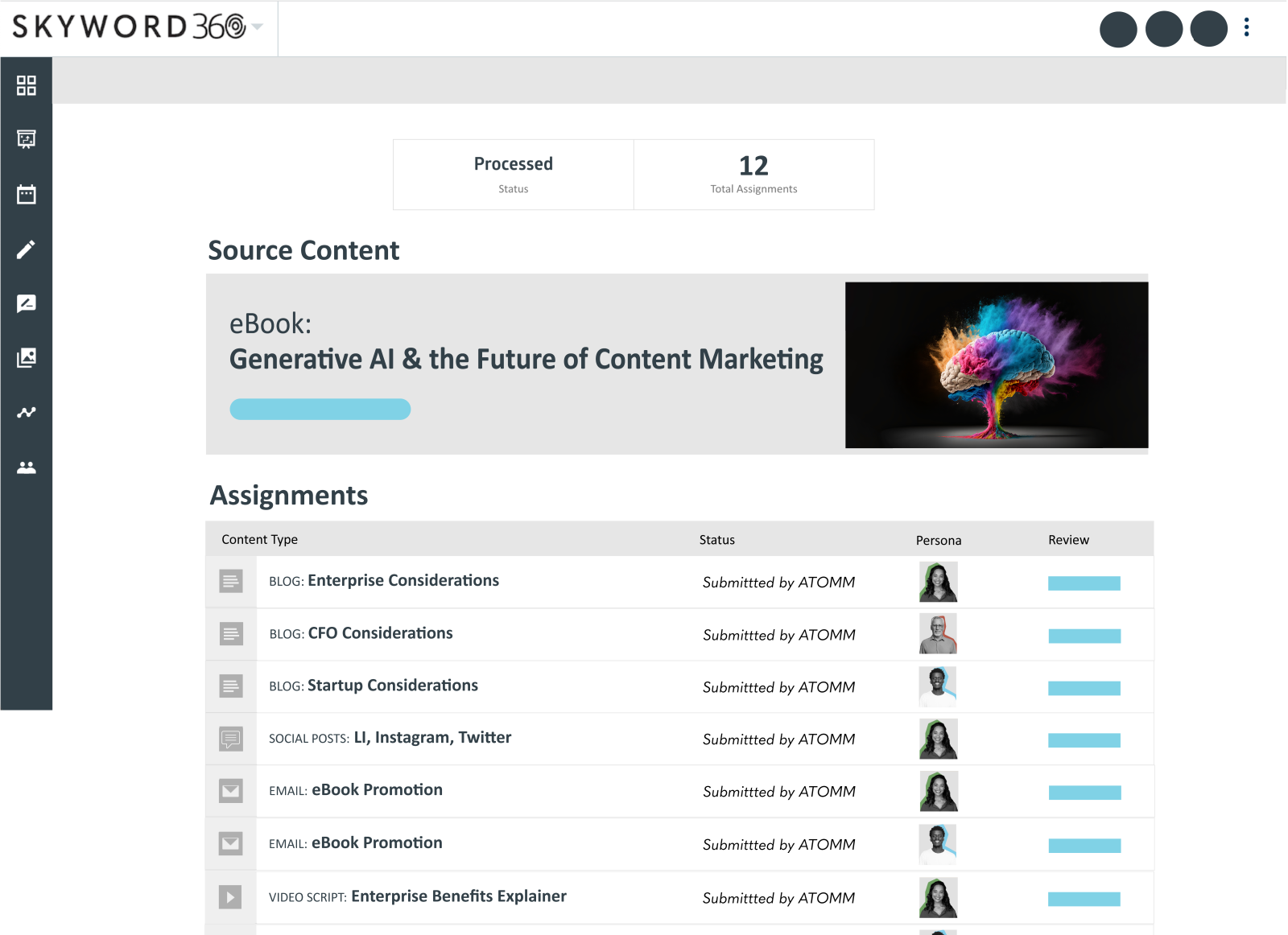 Start Immediately, Customize Completely
Because we understand there's no one-size-fits-all approach to content creation, we leverage an advanced array of AI parameters to precisely control ATOMM™'s outputs—including voice, style, format, target persona, keyword(s), dialect, and more.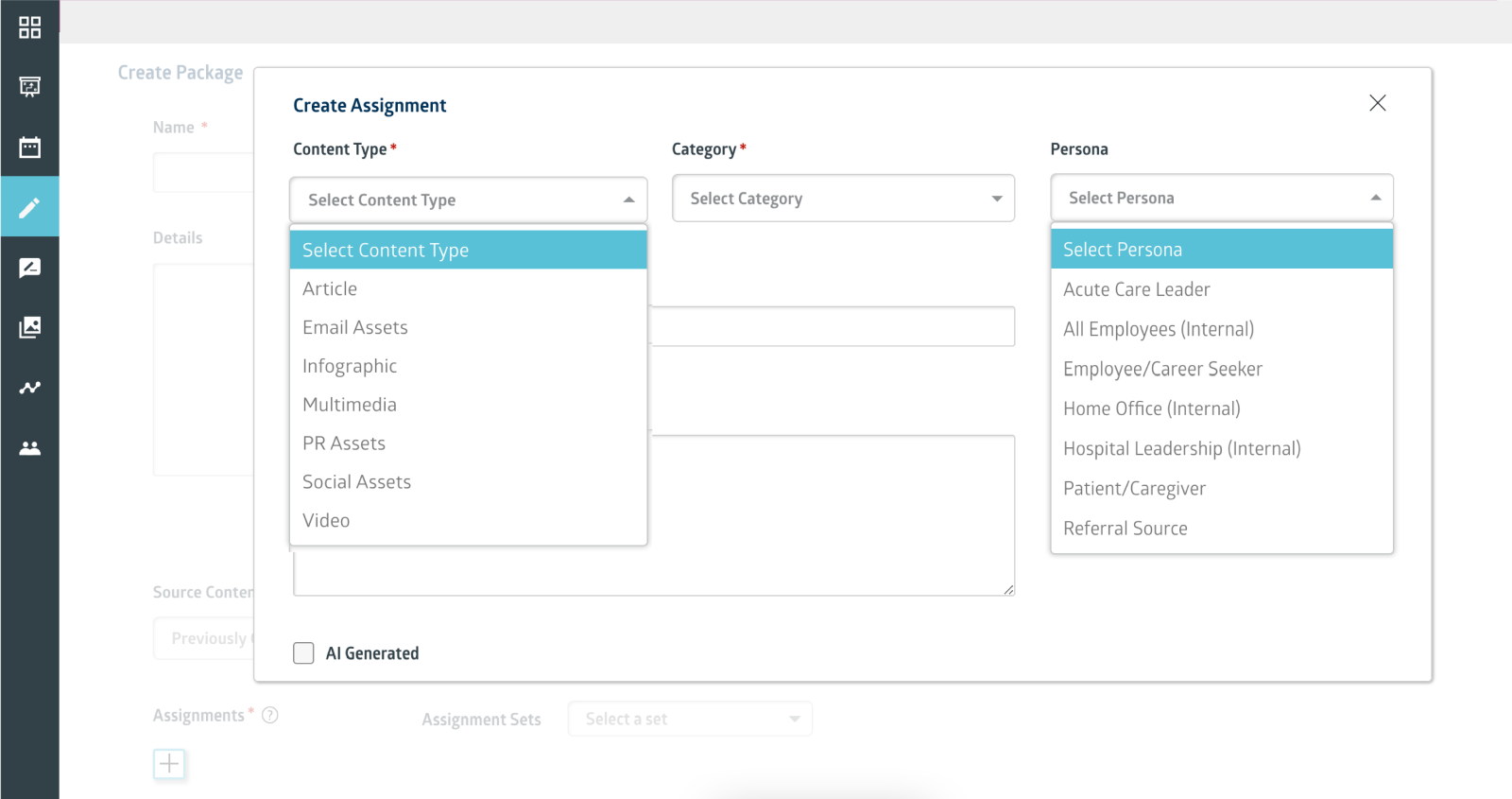 Built-in Optimization and Quality Assurance
Rest easy knowing all your content is search optimized and reviewed by skilled editors before it even reaches your desk. Instead of first drafts, you get final content that's publish-ready.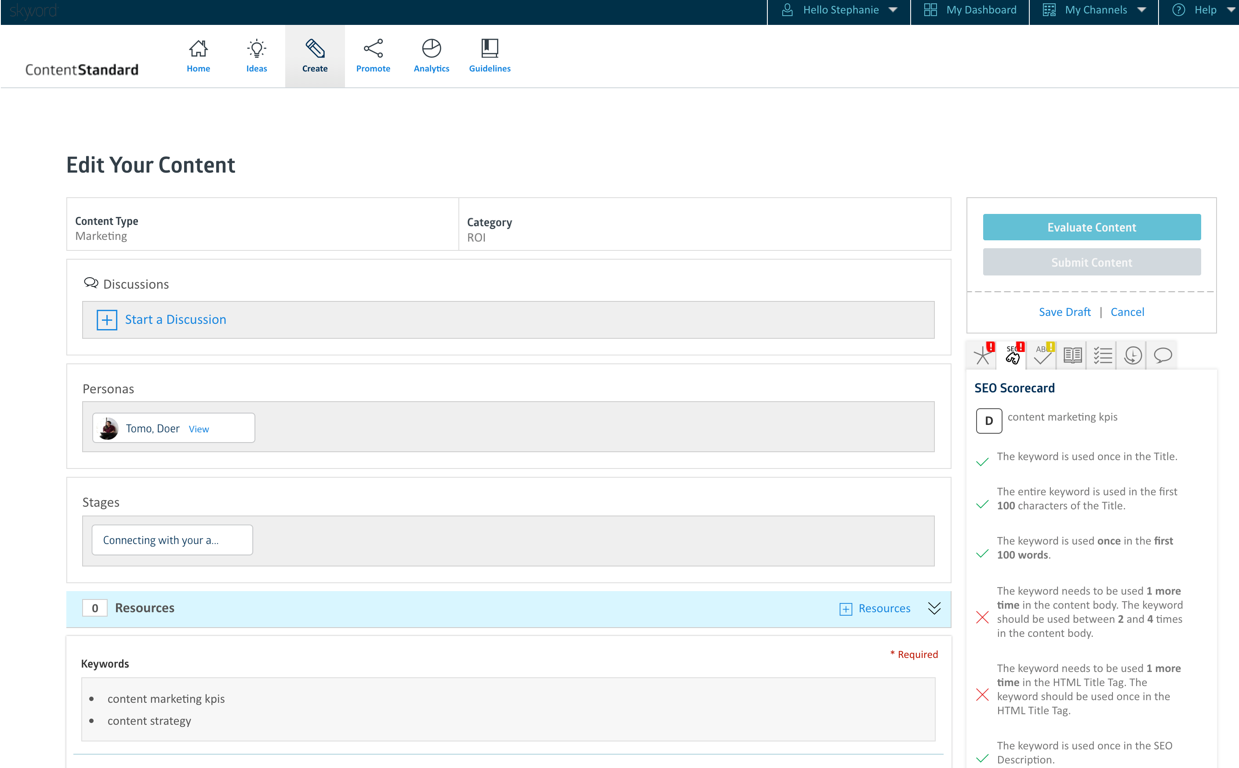 All-in-One Content Marketing Packages
From campaign assets to sales enablement, we have your content journey covered.
Our constantly-expanding library of AI-generated content types includes:
Blogs
Video Scripts
Infographic Copy
Emails
Social Posts
Press Releases
Talking Points
FAQs
Q&As
Media Pitches
Landing Page Copy
Banner Copy
SEO Descriptions
Youtube Summaries
Quiz Copy
Tip Sheets
Battlecards
One-Pager Copy
Case Study Copy
Explainer Copy
The smart way to multiply your ROI
Content Atomization in Skyword360 makes it easy to:
Increase Reach, Instantly
Automatically atomize your high-quality content to reach a wider audience and make a bigger impact with less effort.
Save Time, Effort & Costs
Get high-quality, on-brand content in moments, versus the weeks and months that content creation typically takes.
Master Personalized Distribution
Tailor the context and format of your content for the needs and preferences of each target audience.