Skyword and TrackMaven Join Forces to Form #1 Content Marketing Platform
Companies Combine Best-in-Class Analytics with Best-in-Class Content Marketing Platform to Power Unparalleled Content Experiences
Boston, MA, October 23, 2018 – Skyword, the leading content marketing platform and services company, announced today that it has merged with TrackMaven, the leading marketing insights company powering the world's top brands. The combination of the two companies accelerates their shared vision to be the world's leading content marketing platform.
Today, brands are moving from a world where content marketing is a standalone tactic to one where content sits at the center of all marketing. Marketers recognize that they must create extraordinary experiences at every point through the customer lifecycle in order to connect with audiences and drive results. They recognize that consistent content creation offers the best way to connect with audiences. But creating quality experiences in every medium across channels creates enormous complexity and presents new challenges. Many companies lack the insight, marketing infrastructure, and creative talent to do this well, and they waste time and resources delivering ineffective content to mass audiences.
Together, TrackMaven and Skyword solve these problems. With TrackMaven, brands gain unparalleled insight into their competitive and content landscapes through unified analytics across 19 digital channels. With this insight, marketers can see how they stack up against their competitors across their channels and where they can meet the needs of their audiences better with the content they produce. Skyword's content marketing platform, Skyword360, is a unified platform for managing content strategy and operations across the enterprise. It is the only platform that combines enterprise-wide visibility and planning with original content creation, activation, and personalization capabilities.
The combination of Skyword and TrackMaven integrates industry benchmarking and insight into the content planning, creation, and activation process. It combines best-in-class analytics with best-in-class content marketing. The result is greater value for the consumer, a stronger relationship between the consumer and the brand, and saved time and effort.
"We're incredibly excited to join forces with the TrackMaven team," said Tom Gerace, Skyword founder and CEO. "In January of this year, Skyword raised $30 million to execute on our growth strategy and product vision. In June, we announced the next generation of our content marketing platform-Skyword360, which powers a unified model for creating extraordinary content experiences. TrackMaven shares this vision. Combining our organizations accelerates our growth and product strategies and gives customers a solution that no other company can match."
"The TrackMaven team couldn't be more thrilled to join with the Skyword team and continue serving our clients in an even more powerful capacity," said Allen Gannett, founder and CEO of TrackMaven. "TrackMaven has always been able to show a CMO where he or she is leading the competition or losing ground. Now with Skyword, we can incorporate those insights into the actual content creation workflows, giving marketers the power to create content strategies that win."
Integration of the platforms will begin immediately. Both platforms will be supported and operated separately until fully integrated. Customers will continue to be supported by their respective industry-leading services teams.
The combined company has more than 400 leading B2B and B2C customers. Customers include Abbott Laboratories, ADP, Aetna, AutoTrader, Campbell Soup Company, DXC Technology, Dicks Sporting Goods, GE Health, Glenmede, HortonWorks, HP, IBM, Iron Mountain, Kawasaki, Kindred Health, Loews Hotels, MasterCard, Microsoft, National Wildlife Foundation, and USO.
Tom Gerace leads the combined company as CEO. Allen Gannett serves as chief strategy officer and EVP corporate development, leading corporate strategy and a continued M&A focus. Tim Koubek, TrackMaven's president, serves as chief operating officer and will be responsible for all go-to-market functions of the business. Current TrackMaven board member Patrick Kerins will join the Skyword board along with current Skyword board members. Kerins is an investor with NEA, the world's largest venture capital firm. He focuses on software-as-a-service, digital media, mobile technology, and Internet companies (including serving on the board of BuzzFeed and ChannelAdvisor). The company's headquarters will be in Boston, MA with offices in Pittsburgh, PA and Washington, DC. All three office locations are hiring. Terms of the transaction were not disclosed.
About TrackMaven
Marketing leaders from hundreds of the world's best brands use TrackMaven to understand the full impact of their marketing. With the TrackMaven platform, marketers are able to optimize content and campaigns, tie marketing activities to ROI, and benchmark industry performance. The TrackMaven platform monitors activities across 19 digital channels and analyzes more than one million pieces of unique marketing content every day. Founded in 2012, the company is headquartered in Washington, DC. To learn more, visit www.trackmaven.com.
About Skyword
Founded in 2010, Skyword empowers today's top brands to create unique content experiences that deliver customer value and drive business success. With its SaaS+ model, Skyword offers: a SaaS-based enterprise-level content marketing platform, industry-leading services, and a global community of storytellers. Today's leading brands have created and published more than one million original stories as articles, videos, images, infographics, podcasts, and animations on Skyword360. These stories have earned Skyword customers more than two billion visits organically, and Skyword has paid its freelance creatives more than $30 million on behalf of its customers. Skyword is a privately held company headquartered in Boston, MA. The company's technology center is located in Pittsburgh, PA. Current investors include Rho Acceleration, Cox Media Group, Allen & Company, Progress Ventures, and American Public Media Group. Connect with Skyword on social media via Twitter, LinkedIn, Facebook, and Instagram, or visit our website https://skyword.com for more information.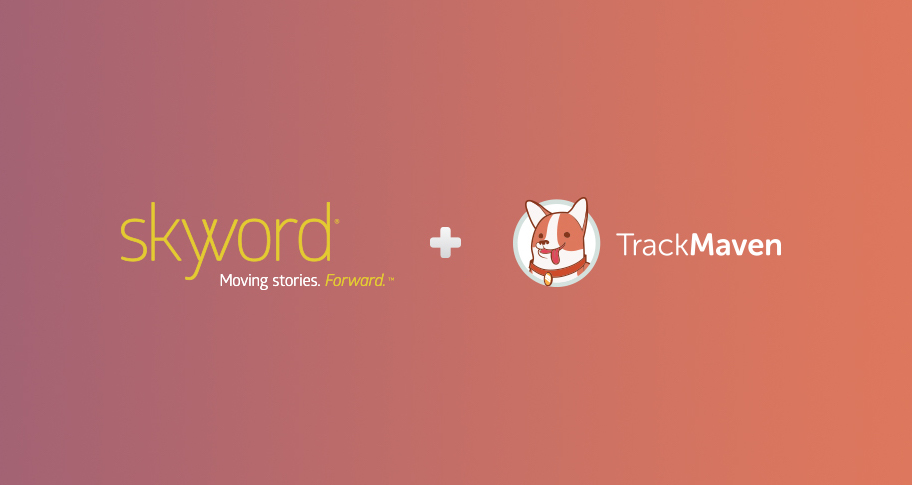 https://www.skyword.com/press/skyword-and-trackmaven-join-forces-to-form-1-content-marketing-platform/
https://www.skyword.com/press/skyword-and-trackmaven-join-forces-to-form-1-content-marketing-platform/
Skyword Staff