Skyword Adds Enterprise-Wide Planning to Its Leading Content Marketing Platform
Marketing leaders can now easily coordinate their content strategy across global teams and channels
Boston, MA, May 7, 2018—Skyword, the leading content marketing software and services company, today launched the Skyword Enterprise Planner, which provides marketing leaders and their teams with a singular view of marketing activities and content across divisions, regions, campaigns, and channels. With visibility into marketing activities and content being created across the enterprise, marketing leaders can improve team collaboration, reduce redundancy and cost, and increase creativity.
"Marketers understand the need for sustained original content to create an experience that differentiates their brand and meets the needs of their audiences," said Tom Gerace, CEO of Skyword. "But without the technology to connect teams throughout the enterprise, processes unravel, teams are disjointed, and content is misaligned. With the Enterprise Planner, our customers can manage their content strategy across multiple channels and regions and ensure that teams are aligned and operating efficiently. Skyword is the only content marketing platform that combines enterprise-wide visibility and planning with multilingual content creation, distribution, and optimization capabilities."
"The Skyword Enterprise Planner gives companies one centralized system to view and share all content that is being created across various channels and regions," said Karen Guglielmo, senior content manager at Iron Mountain. "Marketers at all levels of the organization gain the confidence to know that they are delivering on their goals."
With the Skyword Enterprise Planner, marketers can:
At a glance, view content and production status across divisions, regions, campaigns, and channels (including web, social, native and email)
Create enterprise-wide campaigns to organize content efforts across channels and around the globe
Easily filter and organize content in shareable calendar formats, or print views to show areas of specific interest
Easily see and review individual content assets and filter by content type
Identify bottlenecks and potential missed deadlines
Quickly identify actual missed deadlines in weekly and monthly views
Measure performance against goals
Product Highlights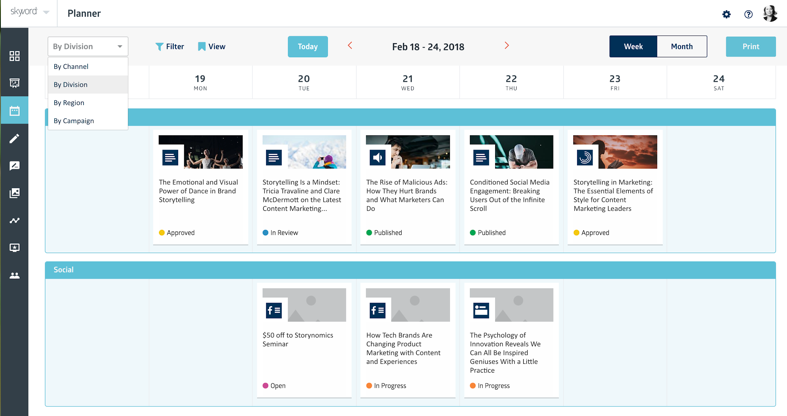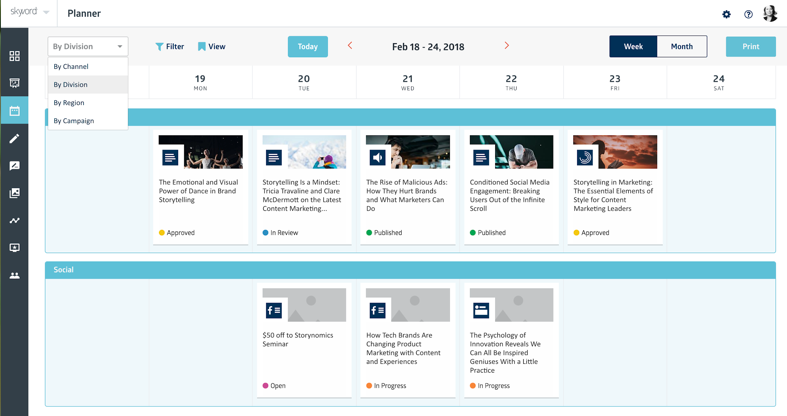 The Skyword Enterprise Planner gives brands the ability to organize content and marketing activities by channel, division, region, and campaign.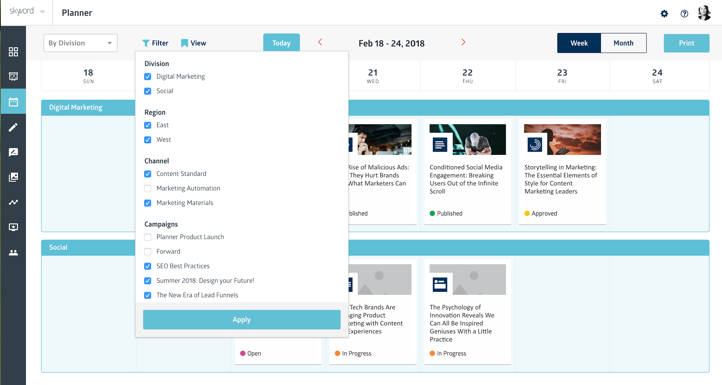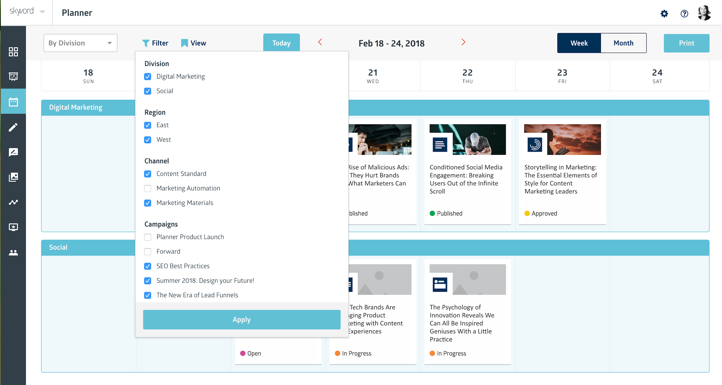 Marketers can filter content and marketing activities by division, region, channel, campaign, content type, and status.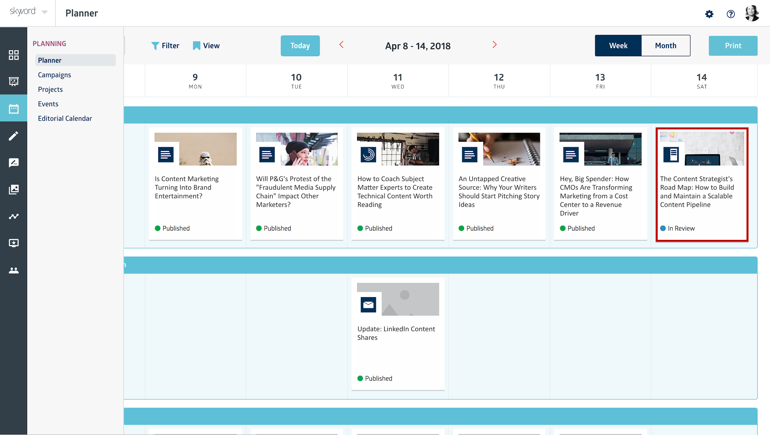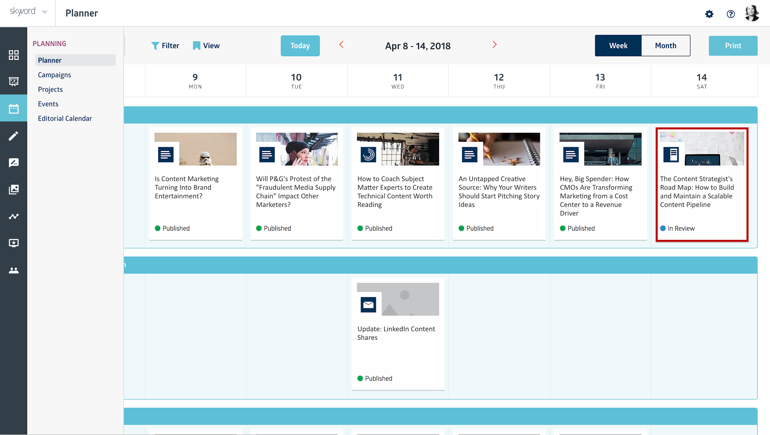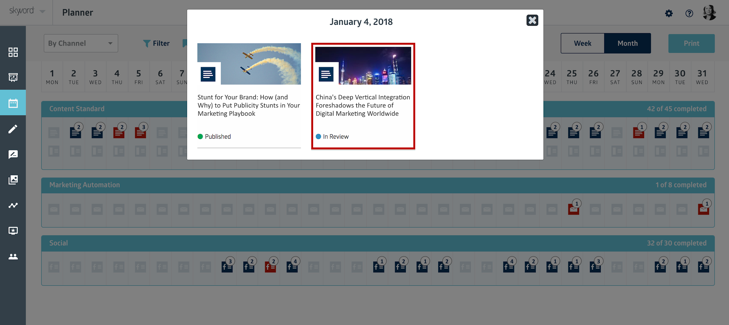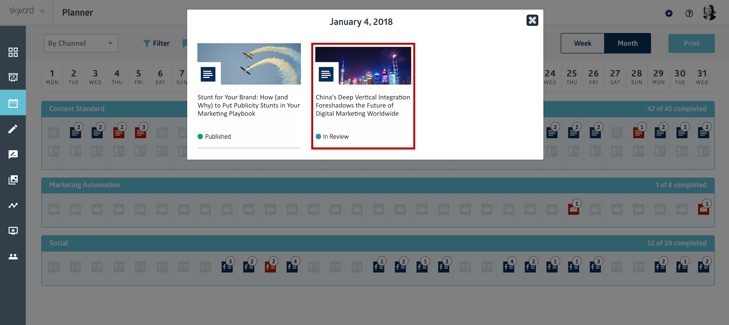 Brands can easily drill down to individual pieces of content to see status and missed deadlines.
Skyword customers have created and published more than one million original stories as articles, videos, images, infographics, podcasts, animations, and more on the Skyword Platform. These stories have earned Skyword customers more than two billion visits organically, and Skyword has paid its freelance creatives more than $30 million on behalf of its customers.
About Skyword
Skyword liberates brands from ineffective marketing practices and inspires them to create deeper connections with their audiences. The Skyword Platform makes it easy to produce, optimize, manage, and promote content at any scale to create personalized, lasting relationships. Skyword also provides access to a community of thousands of freelance writers and videographers, an editorial team, and program managers who help move clients' content marketing programs to new levels of creative excellence. The book Storynomics, authored by CEO Tom Gerace and globally recognized story expert Robert McKee, guides marketers through this approach. Skyword is a privately held company headquartered in Boston, MA. The company's technology center is located in Pittsburgh, PA. Current investors include Rho Acceleration, Cox Media Group, Allen & Company, Progress Ventures, and American Public Media Group. Skyword's customers include Abbott Laboratories, ADP, AutoTrader, GE Health, Glenmede, Groupon, HortonWorks, HP, Lahey Health, IBM, and other leading B2B and B2C brands.
Connect with Skyword
Facebook: https://www.facebook.com/skyword
Twitter: https://twitter.com/Skyword
LinkedIn: https://www.linkedin.com/company/skyword
The Content Standard: https://skyword.com/contentstandard/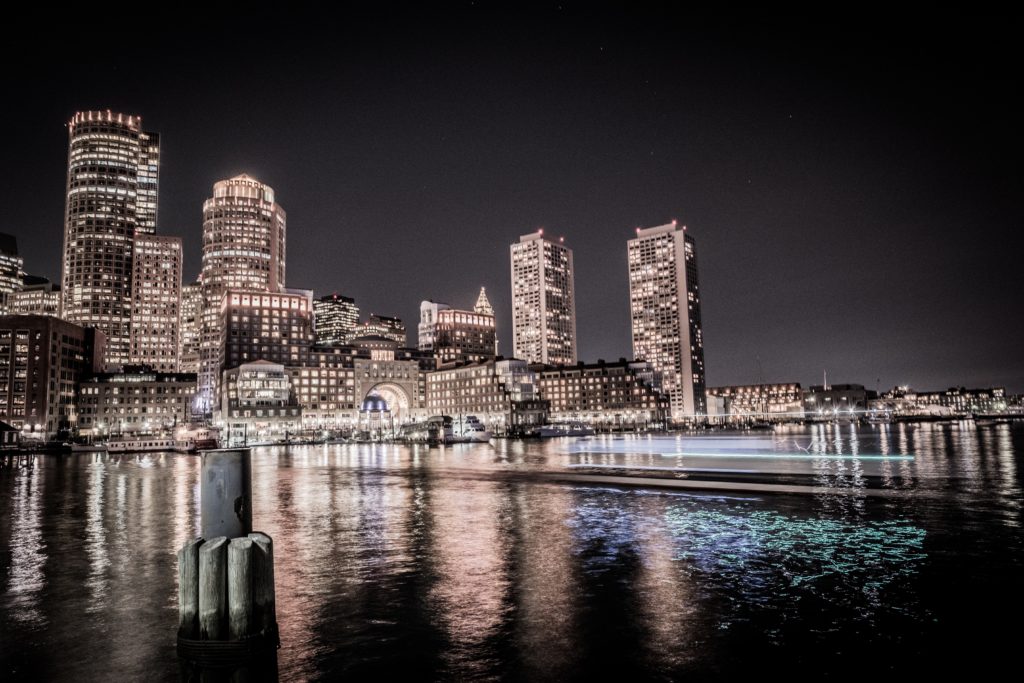 https://www.skyword.com/press/skyword-adds-enterprise-wide-planning-to-its-leading-content-marketing-platform/
https://www.skyword.com/press/skyword-adds-enterprise-wide-planning-to-its-leading-content-marketing-platform/
Skyword Staff