Skyword Launches Google Analytics Integration to Connect Content Marketing and ROI
New Module within the Skyword Platform Gives Customers Insight into the Business Impact of Storytelling
January 19, 2016, Boston, MASS: Today, Skyword announced the launch of Skyword Analytics + GA, a new integration in its content marketing software that combines data from Google Analytics™ service with the storytelling metrics native to Skyword's platform. With this integration, Skyword gives its customers a holistic view of the health of their content and enables both marketers and publishers to optimize the quality of the stories they publish. Through this streamlined intelligence, users are better positioned to create content that will grow the brand's audience and loyal base of customers.
Measuring the value of content is a challenge for both marketers and media companies. It requires a broad scope of metrics from disparate publishing platforms and analytics packages to gain audience insights and understand the impact that storytelling brings to the business. With the launch of Skyword Analytics + GA, the Skyword Platform now provides a simplified view of a story's performance by combining channel, referral, engagement, and goal conversion metrics from Google Analytics with story and storyteller performance data from the Skyword Platform.
Skyword Analytics + GA empowers traditional and brand publishers to determine the impact that stories have on audience development measured by increased readership, lead generation, subscriber growth, and revenue attribution. Where traditional reporting is limited to page-level metrics, Skyword Analytics + GA roll-up reporting is based on predetermined conversion goals, and allows marketers to determine which contributors are most effective at engaging with—and driving action from—relevant audiences.
"The integrated view of Skyword metrics and Google Analytics takes a lot of the heavy lifting out of sourcing metrics that influence our audience development strategy," said Lauryn McLaughlin, Senior Manager of Martha Stewart Living Omnimedia, a Skyword client. "It gives our team a real picture of how our articles resonate with our readers, and allows us to report on the value that our stories create in the form of increased readership, shares comments, and subscriptions."
Skyword Analytics + GA gives publishers the ability to craft specific narratives around the performance of their storytelling strategy, and customize to an audience segment or specific business goal. Now, Skyword's customers can monitor which stories draw in new audiences, and which stories motivate a deeper level of customer engagement.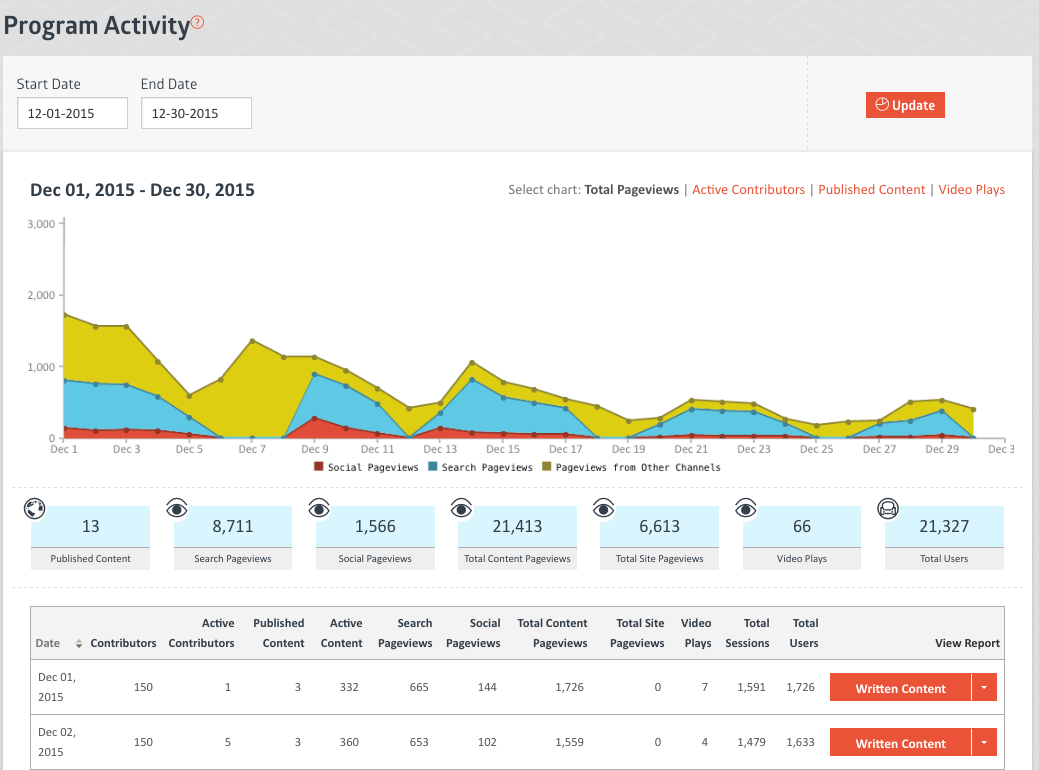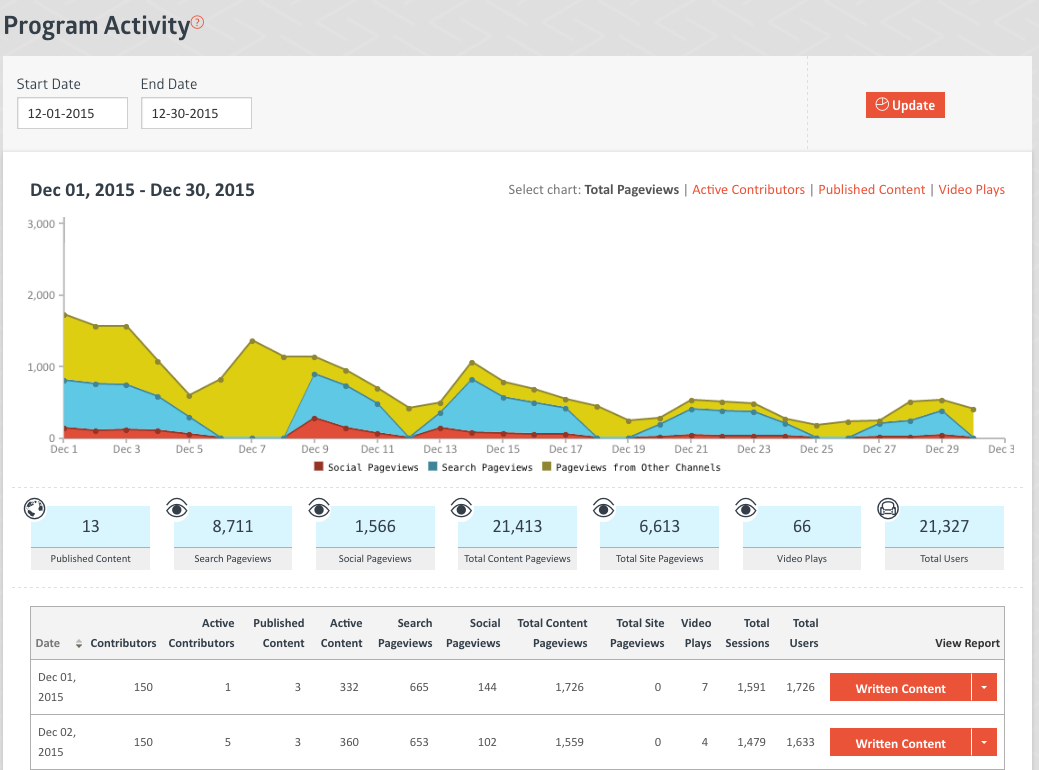 To learn more about Skyword Analytics + GA, please contact: learnmore@skyword.com
"Analyzing the success and impact of brand storytelling programs requires an extensive, layered set of data points," said Tom Gerace, CEO and founder of Skyword. "Brands need a full view of the audience's experience through the scope of stories consumed—only then will marketers succeed in creating stories that motivate audiences to take action."
About Skyword
Skyword moves marketing leaders and those who create content for them forward. By embracing a sustainable, scalable approach to original storytelling, Skyword liberates brands from ineffective marketing practices and inspires them to create deeper connections with their audiences. The Skyword Platform makes it easy to produce, optimize, and promote content at any scale to create meaningful, lasting relationships. Skyword also provides access to a community of thousands of freelance writers and videographers, an editorial team, and program managers who help move clients' content marketing programs to new levels of creative excellence. Skyword is a privately held company headquartered in Boston, Mass., with offices in Miami, Fla., Palo Alto, Calif., and New York, N.Y. The company's technology center is located in Pittsburgh, Pa. Investors include Cox Media Group, Allen & Company, Progress Ventures, and American Public Media Group.
Connect with Skyword
Facebook: https://www.facebook.com/skyword
Twitter: @Skyword
LinkedIn: https://www.linkedin.com/company/skyword
The Content Standard: https://www.skyword.com/contentstandard/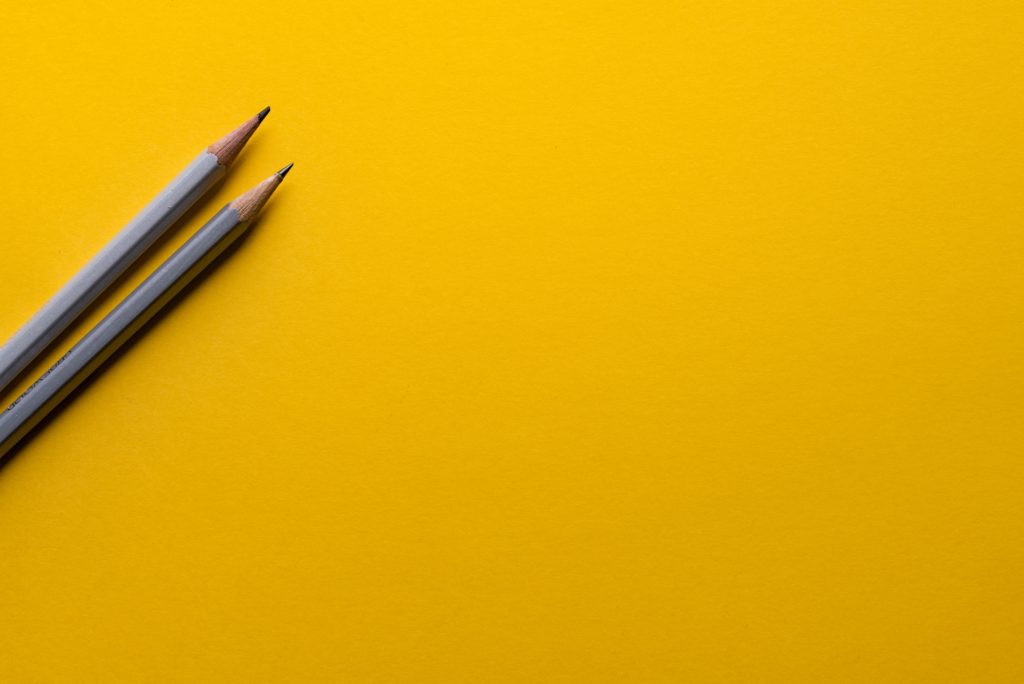 https://www.skyword.com/press/skyword-launches-google-analytics-integration-connect-content-marketing-roi/
https://www.skyword.com/press/skyword-launches-google-analytics-integration-connect-content-marketing-roi/
Skyword Staff