Skyword Recognizes Outstanding Brand Storytellers at Forward 2016
Tom's of Maine, Hewlett Packard Enterprise, and Instyle Amongst Others Honored with Breakthrough Awards
June 23, 2016, Boston, MASS–Today, Skyword, the leading content marketing technology and services provider, announced the winners of the Breakthrough Awards, which recognize the outstanding brand stories and storytellers among Skyword brand partners and the members of its freelance community.
"At Skyword, our goal is to help brands break through all of the noise and engage their customers through storytelling. To do this, we depend on the commitment, passion, and expertise of our clients and professional content creators." said Andrew Wheeler, the Vice President of Services at Skyword.
Winners of the 2016 Breakthrough Awards
Laura Lee Brennan, Worldwide Social Media Marketing and Communities Manager
Hewlett Packard Enterprise (HPE)
Brennan heads a small but impactful team charged with increasing early stage awareness and editorial thought leadership around HPE's small and midsize-business offerings. From the beginning, Brennan has been the champion of the brand's content hub, The Pulse of IT, which gives forward-thinking business and IT leaders the resources they need to position IT at the center of their organizations and ultimately increase productivity, reduce costs, and propel growth. Under Brennan's lead, the team is building a committed readership within the SMB IT community and continues to publish thought-provoking business, technology, trend and news stories on a daily basis.
Bridget Burns, Social Media Strategist
Rob Robinson, Integrated Marketing Manager
Tom's of Maine
Tom's of Maine has taken an editorial-focused approach to content marketing for years, but at the end of 2015, the team realized that its current strategy had serious limitations when it came to building an audience. They had focused on producing content for its committed super fans, people who love natural products, the outdoors, and sustainability, instead of finding ways to expand that population. Burns and Robinson were not afraid to build a completely new approach and partnered to work with Skyword to establish brand trust with an audience they never targeted before, young women and mothers. Through a new website design, original photography, and compelling stories, the Good Matters™ Blog, Tom's of Maine content hub, has motivated new audiences to live a healthy, sustainable, and more fulfilling life.
Pam Abbott
General Manager, Digital at InStyle, Time, Inc.
Abbott is a visionary in the media world and passionate about bringing the digital and print experiences together to create the best possible experience for the reader. Since joining Time, Inc., she has built a process and infrastructure to support constant, high-quality publishing. Under Abbott's leadership and partnership with the Skyword team, the publication has been able to increase the volume of stories they publish without sacrificing the magazine's editorial standards or integrity.
Top Skyword Contributor
Taylor Mallory Holland
Since becoming a Skyword contributor in 2015, Holland has written for nine programs, including Samsung, IBM, and UCLA. She consistently exceeds client expectations with her engaging voice and ability to capture the depth of the subject matter through research and interviews. Skyword's clients love working with her and look forward to reading, publishing, and sharing her work.
Top Breakthrough Content
A Proactive Adopters Guide to Harnessing New Technology
By Sandy Silva, Designer and Rhonda Swaney, Healthcare IT Writer
This is the first e-book series by Hewlett Packard Enterprise (HPE), which focuses on four technologies that are shaping today's business world: security, mobility, big data, and cloud. The series gives HPE's audience the tools they need to build a secure technical infrastructure that enables collaboration and efficiency. For this project, Swaney skillfully injected tech-heavy copy with clever, in-depth analysis and a unique, unmistakable style to create a powerful and useful tool for small and midsize business decision-makers. Using compelling visuals and iconography, Silva elevated the content by organizing the information into a digestible format. The e-books give HPE the tools they need to connect with audiences at a deeper capability and provide an opportunity for collecting high-quality leads.
Skyword presented the awards to clients and partners, who have all created unique digital experiences that speak directly to the audience's needs, during Forward 2016, the company's annual marketing and brand storytelling conference.
About Skyword
Skyword liberates brands from ineffective marketing practices and inspires them to create deeper connections with their audiences. The Skyword Platform makes it easy to produce, optimize, and promote content at any scale to create meaningful, lasting relationships. Skyword also provides access to a community of thousands of freelance writers and videographers, an editorial team and program managers who help move clients' content marketing programs to new levels of creative excellence. Skyword is a privately held company headquartered in Boston, Mass. The company's technology center is located in Pittsburgh, Pa. Investors include Cox Media Group, Allen & Company, Progress Ventures, and American Public Media Group.
Connect with Skyword
Facebook: https://www.facebook.com/skyword
Twitter: @Skyword
LinkedIn: https://www.linkedin.com/company/skyword
The Content Standard: https://www.skyword.com/contentstandard/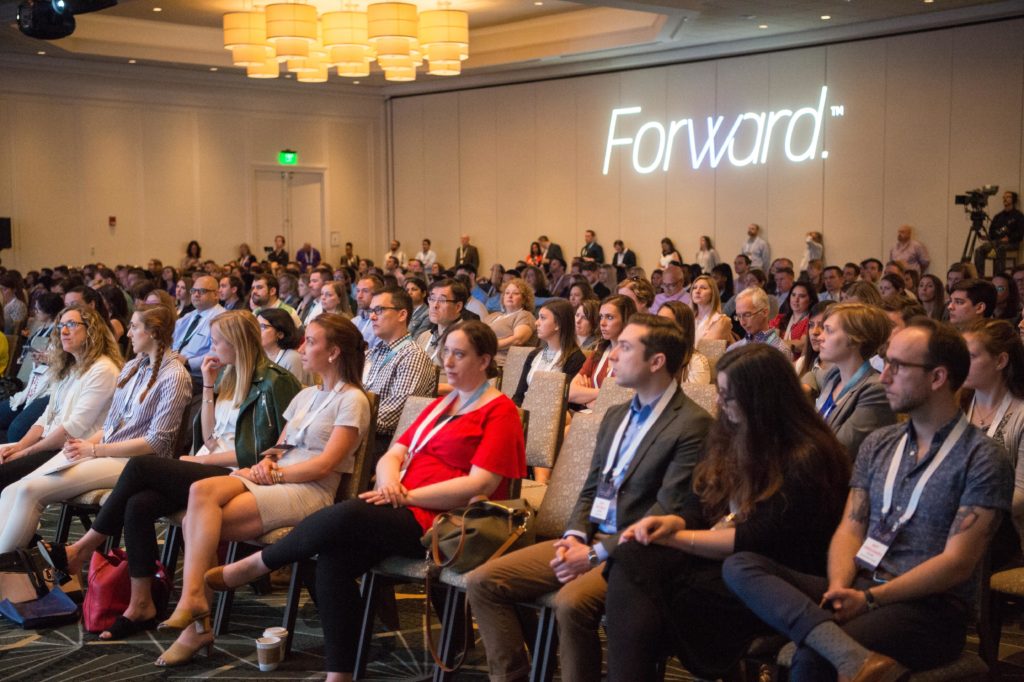 https://www.skyword.com/press/skyword-recognizes-outstanding-brand-storytellers-forward-2016/
https://www.skyword.com/press/skyword-recognizes-outstanding-brand-storytellers-forward-2016/
Skyword Staff