Creativity
3 Major Brands That Embrace Customer-Centric Marketing, and How It's Paying Off Big Time
By Megan Tkacy on April 10, 2019
People are complex beasts, each one with their own threshold of emotions, unique preferences, and one-of-a-kind backstory. American author Libba Bray puts it best: "You can never really know someone completely." But the best brands make it their mission to try, often shaping their mission and value statements around serving a certain breed of customer.
Getting to know your consumers on an intimate level will not only help your team develop strong audience personas, but it will also open the door to pursue customer-centric marketing efforts.
But how can brands cater their marketing efforts to a certain type of customer, and what are the benefits in doing so? From brand-hosted events, online communities, and inspirational blogs, these three major brands show how valuable marketing specialization can be when it hones in on a core audience.
Lululemon Builds an Empire Where Customers are Superstars
Athletic apparel brand Lululemon envisioned the kind of customer they wanted to serve from the very get-go: someone who embodies a healthy lifestyle, values mindfulness, and believes life is full of possibility.
Since the company's late-1990s beginnings, it's been their mission to develop deeper relationships with this fanbase by getting to know what their fitness goals are, giving them the tools they need to achieve them, and to celebrate their progress alongside them every step of the way.
And as any great content marketer knows, the best way to motivate consumers is through inspirational content. Lululemon does a great job with this through their blog, Up-Close + Personal, which puts the spotlight on some of their most fitness-focused customers. With each article, the brand delivers a trifecta: well-written content accompanied by high-production videos, all tied together with a strong social strategy which promotes these efforts to their fullest potential.
It's not easy to kill three birds with one piece of content, but somehow Lululemon makes it look easy. And, the best part, these customer-focused stories are so well done that they come off like they're straight out of an issue of Sports Illustrated.
Customer-Centric Content That Soars
Hey @lululemon thank you for this adventure! This video captures it beautifully. Much love 🙏https://t.co/vUW3kfLBqB pic.twitter.com/TM79ZeHEkF

- Taylor Phinney (@taylorphinney) July 13, 2016
With its profile on road racing cyclist Taylor Phinney, Lululemon was able to showcase a customer of theirs who exudes what their brand is all about, while also generating some serious brand awareness. For marketers on the fence about whether blogging is right for your brand, this is a good example of the power of well-considered content. Since Lululemon has focused on Phinney with multiple articles, they're able to cross-promote their own content within each article and tie these pieces into a larger social strategy.
The video and the accompanying article were repurposed and promoted in a number of ways on social, both on by Lululemon and Phinney himself. Stills from the video shoot soared on Phinney's Instagram-sparking many of his followers to inquire where they could buy his jacket-and performed well on his Twitter page, too.
Unforgettable Community Events
Join us at The Immersion, a retreat by lululemon. Five dreamy days of yoga, development, connection (and a few surprises) in stunning Malibu, CA where you can relax, recharge and refuel. You in? Register: https://t.co/qufYFqdVpl #lululemonimmersion pic.twitter.com/VKNHvT0r2z

- lululemon (@lululemon) March 26, 2018
One of Lululemon's more elite outings, The Immersion, an all-inclusive yoga retreat held last year in Malibu, had an ambitious agenda. Alongside high-end accommodations, attendees were promised three main things: opportunities for personal development, to sweat, and to build relationships. And with Lululemon speakers, instructors, and influencers leading the charge, the group of fifty veteran and aspiring yogis united on this journey for self-betterment. The results? A win in every essence of the word.
While this yearly retreat is undoubtedly a huge revenue generator in terms of sign-ups-attendees shell out a cool $4K for a slot-it's also a home run because of the positive word of mouth it sparks from participants and the media alike. The New Yorker, for example, noted Immersion as a strong example of modern brand innovation.
The retreat also inspired a host of unofficial brand advocates, who took to YouTube to document their unique experience.
From "Run Clubs," yoga sessions, brunch meetups, and retreats, the brand plays hosts to multiple community events across the country every single day. Through these efforts, Lululemon has been able to elevate themselves to a facilitator of pursuing wellness.
Starbucks Caters to Its Eclectic Customer Base
With a mission: "To inspire and nurture the human spirit-one person, one cup and one neighborhood at a time," it's crystal clear that Starbucks never intended to rest on its laurels of simply serving up solid coffee creations. It aimed to provide a place for kindred spirits to gather and enjoy its offerings and one other, too. Inviting hubs for customers who are anything but ordinary-a "third place," as the company coins, a space between home and work in which people feel a sense of community.
We want our stores to be the third place, a warm and welcoming environment where customers can gather and connect. Any customer is welcome to use Starbucks spaces, including our restrooms, cafes and patios, regardless of whether they make a purchase. https://t.co/bTQZqgwcdA

- Starbucks Coffee (@Starbucks) May 29, 2018
"We want our stores to be the third place, a warm and welcoming environment where customers can gather and connect. Any customer is welcome to use Starbucks spaces, including our restrooms, cafes, and patios, regardless of whether they make a purchase," the brand expressed in a policy statement last May.
Gaining Insights Through Online Communities
Starbucks has been able to provide such a place through its online communities, too. Started as an ode to autumn last year, the Leaf Rakers Society (LRS) has since grown to be a massive community on Facebook in which coffee and tea fans gather to bond over the brand all year long.
But what makes this not-so-secret social community so great from a marketing standpoint? It's because while LRS shows consumers that Starbucks truly gets their customer, it's also been a boon for the brand to gain insight on products and engage with consumers.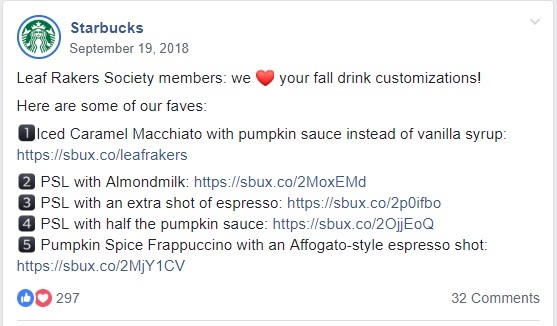 Brand representatives remain extremely active, both with approving posts and responding to customers, which sends a huge message to fans-this is a company who values and listens to your input. The company also dedicates marketing efforts solely to this community, with curated social posts and swag too-Leaf Rakers Society pin, anyone?
Inspiring Stories about People like You
Starbucks also celebrates its customers-and workers, too-through its Starbucks Stories blog. With original content focused on the main topics of coffee, community, and social impact, this is an outlet where the brand truly flexes its knowledge of its consumers.
In its "To Be Human" series, customers are interviewed in the Starbucks store they regularly frequent. While the articles are not brand-focused, the coffee shops provide a background for these sessions which give a real-life face to the proverbial "Starbucks customer."
This marketing content works for a few different reasons: It makes customers feel special, it gives the brand valuable insight into who their customers are, and it provides a unique opportunity to show the outside world that this is a brand that truly admires its customers.
While it may seem like a big endeavor to maintain a full-fledged content hub and online community, these efforts pay off big time for brands. In general, 20 percent of a business's future revenue will come from its current customer base, according to Forbes. So it's crucial for customers to feel valued, or else they may be less likely to support your brand in the long term. So opt for personalized content, respond to customer concerns, and put your fans first with your marketing efforts. Your customers will notice, and in the case of Starbucks, it's hard to find more loyal fans than theirs.
"If you consistently deliver high-quality products and services and stay on top of trends, your customers will stick with you because they know they can count on you," Kelly Ann Collins of Collins & Company told Forbes.
L.L.Bean Puts Its Best Boot Forward with Marketing Specialization
If pop culture has taught us anything in the last four decades, it's that being an outsider is wicked cool-and L.L.Bean couldn't agree more. While the company has gained a stellar reputation over the years for its top-of-the-line boots and virtually indestructible outdoor attire, L.L.Bean's ability to transcend from merely a brand to a community where "outsiders" belong is truly impressive.
While, yes, the L.L.Bean customer is someone who has an appreciation for the great outdoors, the brand's idea of an outsider goes way beyond that: It's someone who enjoys a great adventure and is eager to make friends along the way.
"Welcome to the Outside," the brand welcomes you with its manifesto. "Wherever you are, join us. Because on the inside, we're all outsiders. And if it's outside, we're all in."
L.L.Bean's decision to focus its marketing efforts on this illustrious set out of outsiders wasn't inspired by pop culture though, it was a conscious decision that goes way back to its beginnings more than a century ago. The family-founded and owned brand wanted to create something truly special, and in doing so, inspire and unite its customers.
"Serving the customer is foundational to our brand because of the values of our founder that have been carried on for generations in a family-owned company," explained Michele Martin, senior manager of brand amplification at L.L.Bean "L.L. was as passionate about customer satisfaction as he was about the outdoors, because it was his name on the products, and he knew that satisfied customers would be return customers.
"At L.L.Bean a customer is not a transaction, but a relationship with someone who shares our values of quality products and love of the outdoors. That's the strength of our brand and why our trusted reputation is so enduring."
Branded Sweepstakes through Consumer-Generated Content
Share your "outsider" photos with #BeanOutsider and #LLBeanContest18 – you could win a $100 #LLBean gift card! Rules: https://t.co/jck3DE3SAv (📷: Instagram's kelhiker) pic.twitter.com/UjS8pyprYx

- L.L.Bean (@LLBean) March 25, 2018
Under the branded hashtag #BeanOutsider, L.L.Bean has been able to not only launch a number of successful marketing campaigns of its own, but it's also allowed them to interact with fans who use it in their own social posts. And because this hashtag has become the universal way to share experiences, L.L.Bean is able to repurpose it when communicating sweepstakes and promotions without turning customers off.
One recent example of this was its #LLBeanContest 19, which prompted customers to send in fun photos of them enjoying the wilderness-winter-style. Contests like these are so effective because they win points with consumers and boost brand awareness at the same time: The winners get to feel like a celebrity when their photo is shared with your brand's massive social following, and in turn, they will definitely share this experience with their own friends and family on social, too.
"We are constantly using this feedback to think about product improvements, ensuring our service remains world-class, and in thinking about future innovation," said Martin.
"We also build relationships in our retail stores, customers speak to our phone representatives like old friends, and we answer online chats, email, and social media messages 24 hours a day."
This Boot Gets Around
And we couldn't mention L.L.Bean without talking about its wacky, wonderful Bootmobile. This half-truck, half-giant boot concoction is a fairly new symbol that's become synonymous with the brand. And like L.L.Bean's mission to get people outside, this rolling-mascot of sorts stays true to that, too. From making appearances at the Red Sox 2018 parade in downtown Boston, to being a can't-miss photo opp at L.L.Bean pop-up shops, this fun vehicle really gets around-much to customers' delight.
"There are few things better than hopping out of the Bootmobile to hand out an L.L.Bean hat, gift card, or use my skills as a 'professional Boot photographer' to capture the perfect angle," said Bootmobile driver Lindsey Brooks on the brand's website.
The Bootmobile, which was rolled out in 2012 to celebrate the brand's 100th anniversary, began as a way to provide an experience where customers could interact with the brand in a fun and engaging way.
"(With the Bootmobile) we're able to connect with both new and existing customers outside of the normal retail experience, and drive awareness of products while sharing a fun experience," said Martin. "We bring L.L.Bean to life in a unique way and customers walk away feeling more connected to our brand."
The brand's ability to provide these unique experiences, and follow them up with engaging social campaigns is what customer-centric marketing is all about. The Bootmobile even has its own Instagram and Twitter? Talk about leaving an impression.
Lululemon, Starbucks, and L.L.Bean have been able to cultivate strong relationships with their loyal fanbases for decades because of one thing they all have in common: authentic customer-centric marketing campaigns. Whether it's through elite getaways, secret online communities, or taking a rolling icon for meet-and-greets, these brands show that when marketing efforts have a specific customer in mind, brands stand to win big time in the eyes of consumers everywhere.
For more stories like this, subscribe to the Content Standard newsletter.

Featured image attribution: Omar Lopez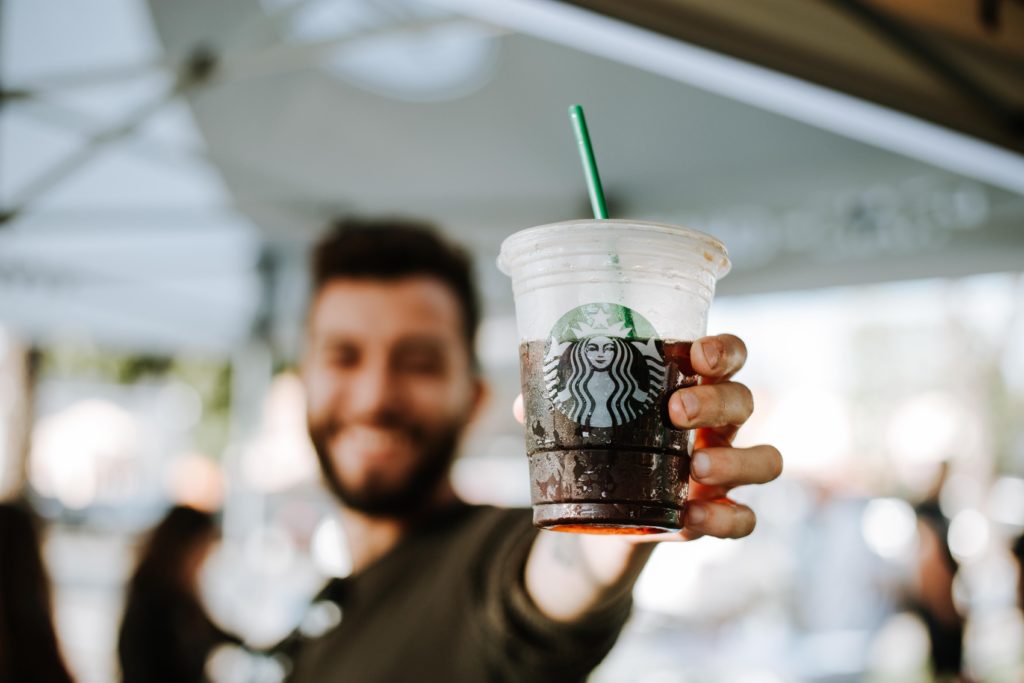 https://www.skyword.com/contentstandard/3-major-brands-that-embrace-customer-centric-marketing-and-how-its-paying-off-big-time/
https://www.skyword.com/contentstandard/3-major-brands-that-embrace-customer-centric-marketing-and-how-its-paying-off-big-time/
Megan Tkacy