Creativity
Here Are the Biggest Brand Imagery Trends Shaping the CPG Industry
By Liz Alton on April 24, 2019
Brand imagery trends change rapidly, and that's more obvious than ever if you take a closer look at today's CPG visual content marketing landscape. From specific colors dominating the premium brand shelves to the latest Instagram-driven photo trends, consumer packaged goods companies are stepping up their marketing game.
And as these brands increasingly engage with consumers over a range of touch points, there are several key trends emerging in CPG visual content marketing strategies. To learn more about what the latest data reveals, I had the chance to speak with Skyword's Senior Director of Data and Insights, Blaire Kotsikopoulos.
How Data Informs CPG Visual Content Marketing
Late last year, Skyword merged with TrackMaven and, in turn, Skyword's Center for Excellence in Data and Insights was born. In her role, Kotsikopoulos analyzes both the data collected by the company's content marketing platform (CMP) and analytics software to advise clients on how to improve their digital footprint. One aspect of this includes tracking industry-level trends, such as those which are emerging in the consumer packaged goods space.
In a data-driven decision-making landscape, the work her team is doing helps clients base their decisions on the most up-to-date market data. "This actually is informed by our ethos, which is that most people go into digital marketing in order to be creative, to bring ideas to market, and to bring money to their enterprises," says Kotsikopoulos. "They don't necessarily also come equipped with an insatiable desire to analyze performance data and use that to inform their decisions. My team exists to solve that problem for customers."
Through providing database analytics and human insight, her team executes on its mission to expertly inform customers' decisions.
"This obviously has two pretty important elements: insights in the database, which is a huge library of content, specific data points, and social media specific data points; and also discerning for our customers what it all means and what they should do with the information."
From her unique vantage point, Kotsikopoulos has some important takeaways on what factors are shaping brand imagery trends and how that's manifesting in today's market.
CPG Counters Curated Imagery with Authenticity
One of the main trends Kotsikopoulos says she's seeing-at both a visual and a messaging level-is consumer packaged goods brands moving away from a heavily curated image. Instead, they're embracing the reality of the issues they solve.
"With CPG, a lot of the products are designed to solve non-glamorous problems, such as toilet paper, baby diapers, detergents, right? Those are related to messes that we have to clean up. So, some really good marketing that we see published year-to-date by consumer packaged goods brands is related to the reality of the situation. It's an embrace of imperfections, especially in the moments where the products are probably used," she explains.
"For example, we see user-generated content that is imperfect, that shows a realistic moment, the lighting is not perfect. We also see larger campaigns that seek to convey the messy reality of the situation."
Pampers' "Booty Duty" campaign, featuring celebrity dads such as John Legend singing to their kids about stinky diapers, speaks perfectly to this realistic marketing mentality. As PR Week notes, the company took a nontraditional approach to Super Bowl advertising with this digital and social-first ad campaign. And, by all accounts, the campaign resonated with consumers and was a big success.
"(In the campaign,) they are not speaking to over-glamorize the environment in which the products are used," says Kotsikopoulos. "They are basically acknowledging that we are selling products in order to solve problems that are yucky."
It's like the new life that's been breathed into razor commercials. Back in the day, every women's hair removal ad showed the razor being used on an already shaved leg. That was until Billie came along. As Glamour notes, the brand made headlines last year with its groundbreaking campaign that featured a woman with body hair. This dimension of embracing authenticity and speaking to the realities that customers deal with is how brands build trust and stand out in an Insta-perfect world. And it's an approach that's resonating at multiple levels of CPG visual branding strategies.
Color Palettes Matter: Wooing Customers with Hues
Another area where brand imagery trends are emerging is through color palettes. Consider for example the excitement and buzz generated each year when Pantone announces its "Color of the Year." For CPG firms, dialing into the right hues as part of a brand imagery strategy can come into play in multiple ways.
"We see a lot of variation in the color palettes that are behind images on Instagram. So, a couple of years ago, or maybe even last year, everything was on a glossier pink, millennial pink background," says Kotsikopoulos. "The color palettes that we see now are different with CPG, and the two trends year-to-date that I've observed in our library of brands that are publishing this type of content, especially on Instagram and to a lesser extent Facebook, are desert tones and shades of blue."
"Especially the neutrally pinky, khaki, earth-toned colors that you might think of in the context of a desert sunset," she continues. "So, we definitely see some sort of color changing, and that does appear, reflected in the packaging of consumer products, too."
Understanding color trends is key to getting noticed, both on cluttered visual social networks and on product shelves.
Instagram Stories: More Freedom for Visual Creation
Instagram's soaring popularity has put increased pressure on brands to develop a visual content marketing strategy. It has also shaped the way those images appear. One interesting development, for example, is that brands are freer to experiment with more ephemeral content such as Instagram Stories.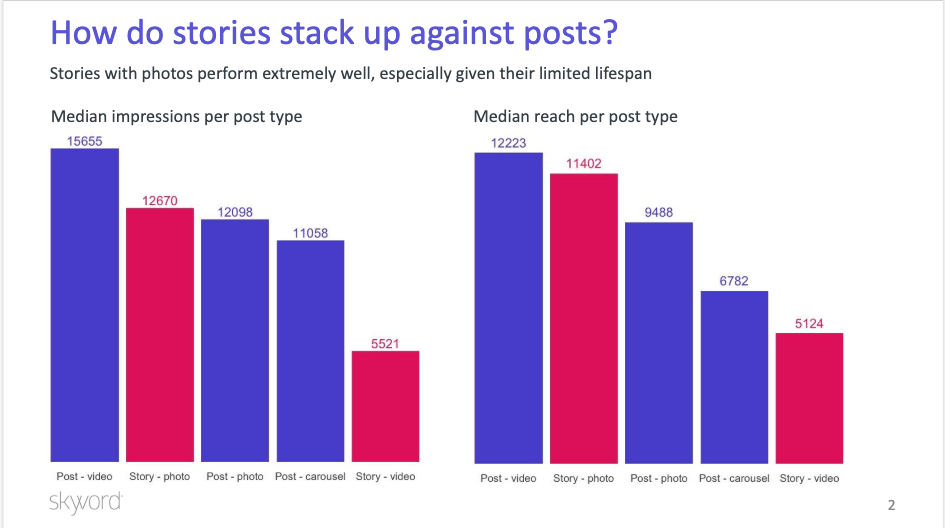 Image attribution: TrackMaven by Skyword
"We have seen a lot of customers really lean hard into Story content. And what they like about it is that it allows them to convey something time-based and fun that speaks of the brand, but doesn't have the pressure of a memorial that will live forever as an Instagram photo does," says Kotsikopoulos. "So, we see a lot more liberties taken with Stories, and they really work."
"The most success with brands publishing Instagram stories is if they publish nine to twelve in a day because it brings the highlight back up to the top of the Instagram feed every time you publish a Story. That's a really good tactical change," she continues.
And sometimes, Kotsikopoulos says, when a concept is working well for brands in this delivery, she'll see that inspiration present in its larger-non-expiring-visual efforts down the line.
"And I think that the popularity of Stories may be influencing the content that we see visually on other channels, too. Instagram content is taken up a notch from what we see on Stories no matter what. But I do think that the hard turn into ephemeral content is influencing what we see with content that lives longer," she says.
Where CPG Marketers Can Focus Now
If you're a CPG marketer looking for some additional focus points based on the data, here are a few things to consider.
Ways Product Packaging can Lead to Social Engagement
Social media influences are starting to work their magic on other areas of the visual brand experience like consumer packaging. In general, products with appealing packaging are more likely to encourage consumers to showcase them in user-generated content (UGC) which generates organic interactions online. Think Lush bath bombs, and the hundreds of thousands of Instagram users who can't wait to feature their beautiful, foamy reveal in their Stories.
"There is an expectation that the product does not need to appeal to the customer just at the time they're making the choice of what to buy-either at the shelf or online. But that it also needs to be something that's compelling to share or display in their social content, especially on Instagram," Kotsikopoulos explains.
How Personalization Drives User Content Campaigns
In addition to packaging having that certain something that shines on social media, Kotsikopoulos says personalization is also a hot trend that marketers should consider for their branding efforts. She says personalized packaging can "indicate intentionality, not just to reflect the care taken with the product that is being packaged, but also to encourage content published ultimately by the consumer."
One recent example of this that made waves in the CPG world were personalized Coke bottles. The beverage giant ran a campaign where they printed more than 1,000 first names and 200 last names on bottles as part of its "Share a Coke" campaign.
Creating High-End Branding Through Imagery
For brands looking to stand out in 2019, the idea of "fake it 'till you make it" comes to mind. Not literally, though, but in essence: Branding efforts which look high-end can suggest the products being sold are of premium quality. But what distinguishes a high-end campaign from a low-end branding effort? Kotsikopoulos says, for starters, it's about color choices. Even budget-minded marketers can create this magic by utilizing minimalist and muted colors, she says.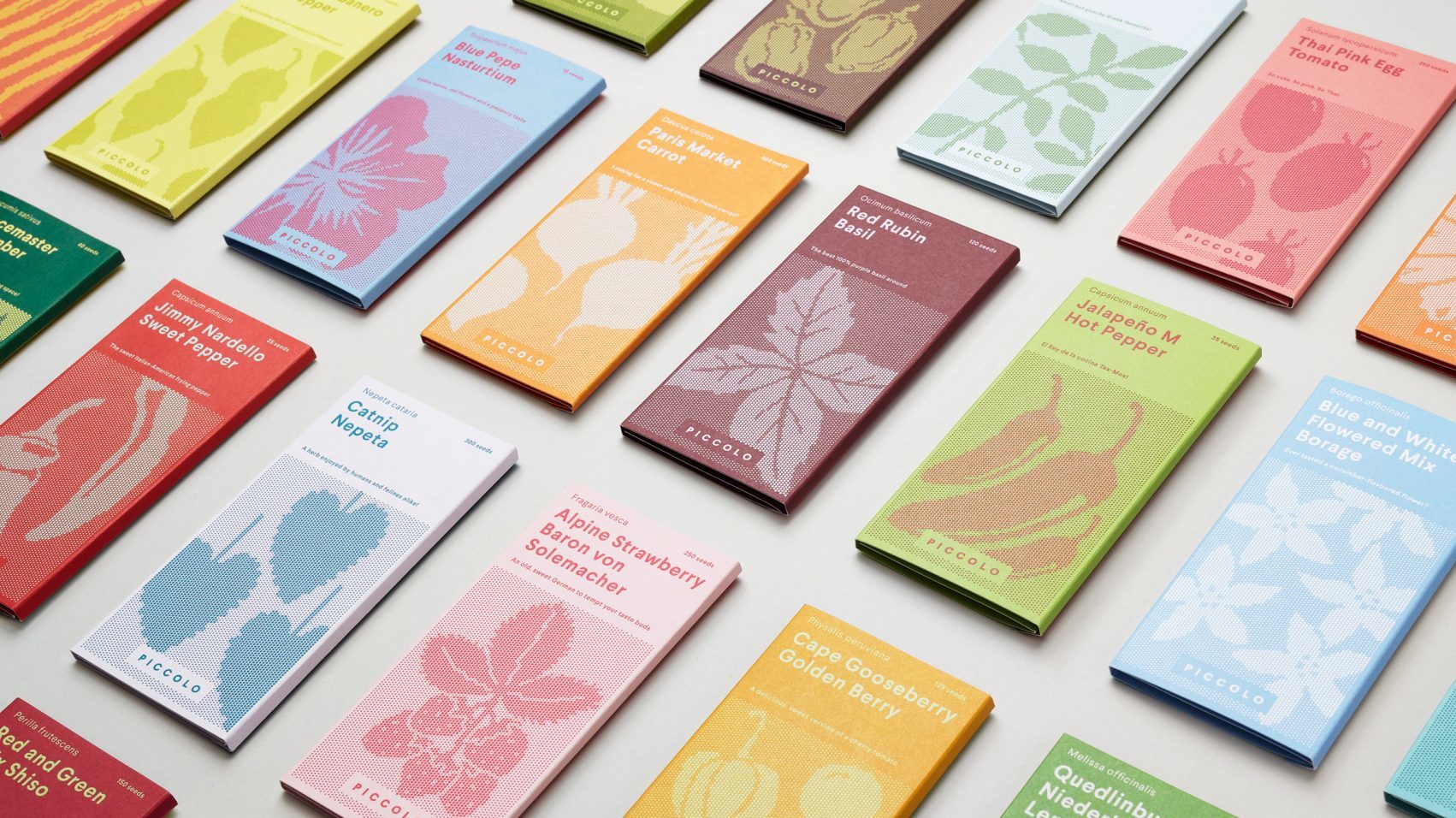 Image attribution: Piccolo Seeds
"There's a seed company I really like called Piccolo that has beautiful, sturdy cardboard packaging," Kotsikopoulos says. "It definitely is a type of packaging that would appeal to you both at the point of the decision making, but also it's worthy of a photograph-it's something that needs to be seen."
Resist Relying on Natural Elements to Draw People In
Natural elements are pretty much the go-to imagery choice for marketers these days-whether it's to promote wellness programs, landscaping, or anything in between. But Kotsikopoulos says brands should be thoughtful before leaning on nature to fill in the gaps of their messaging.
"We definitely see a lot of natural elements not being used to show the values of the company, but rather because it's the type of imagery that people are responding to," she explains. Adding to that, Kotsikopoulos recommends that unless your product or service is rooted in nature, maybe rethink the great outdoors as the focal point of your campaign. "Visuals related to the ecological hallmarks of a product or its packaging are not consistent. Natural elements, we see them consistently in marketing, but rarely is it related to what's inside."
How Social Media Intersects with the Larger Digital Landscape
As Kotsikopoulos notes, one of the key trends she's seeing the CPG space is brands putting social media imagery efforts into the larger context of content marketing and digital marketing initiatives. "It's definitely all connected. And if we think about social content as having a job to do, very often the job is to take them to the next level. So, in the case of content marketing, we see brands with X number of followers being able to click straight through and swipe up on an Instagram photo, which is a new functionality."
Through this functionality, social content is now able to drive CPG consumers straight to the purchasing stage. But wait, there's more: "Instagram is also piloting with just a handful of brands the ability to shop straight from Instagram," Kotsikopoulos says. "We definitely see social content fitting into the broader landscape of digital marketing in a more accessible way, at least for some brands, than what we saw before."
Ways Co-Creation and Market Feedback Loops Online Impact
Another social brand interaction with strong visual components is the call for feedback loops. Social channels make it easier to solicit feedback, whether it's on a new product idea, packaging modification, or messaging concept. "We see a lot of calls for feedback and comments, which seems ripe for inclusion in a brand's overall content strategy," Kotsikopoulos says. "A lot of that feedback comes directly from your audience, which we surmise includes a portion of your consumer base and is very good fodder for a content strategy."
Focus on the Visual Aspects of the Moment the Product Is Used
When designing a CPG visual content marketing strategy, it's important to think beyond the shelves to the moment of use, Kotsikopoulos advises. "The overall advice that I would give is that the visual messaging should demonstrate the way the life of the consumer is improved, and in particular, at the moment the product is used. The color, the style of the photos, all of those things I think just tag along with your ability to convey the importance of the moment in which your product fits."

Whirlpool, for example, does a great job of this with its multi-year brand campaign called Every Day Care. Kotsikopoulos says, "It shows that every chore is done as an act of love for your family or the others you care about. It adds this sort of value-driven messaging that brings to mind the home life, without being a feature dump."
Implement a Monitoring Plan to Keep Pace with the Market
Finally, brands need a strategy in place to monitor what's happening in the CPG space at large, meaning the broader market and their own subcategories. Without monitoring how content is changing over time, brands stand to fall behind in this already ultra-competitive arena.
"I would really encourage brands, regardless of where they are in their journey to becoming a strong visual brand, to observe and measure how things are changing," Kotsikopoulos recommends. "Because things change quickly, and having a plan in place is vital."
"Ongoing measurement is something that can be game-changing when done well. It lets you know how things are changing when you still have time to take advantage of something that's on the upswing. This can be in the form of mediums, or changes in the platforms, for example, or in harnessing a sort of moment with an upswing in the way images are styled on a visual platform."
In today's digital world, strong visual messaging can be a key differentiating factor in whether or not a CPG brand stands out or simply gets lost in scroll. And the winning trends we're seeing favor more authentic messaging that's focused on the consumer's experience, and stylized in a way that promotes shareable moments on social. Most importantly, they're flexible and adapt to the fast-paced changes in the market. If you're looking for ways to update your brand and make sure that it stays relevant, focusing on your visual content marketing strategy is a great place to start.
For more stories like this, subscribe to the Content Standard newsletter

Featured image attribution: Boxed Water Is Better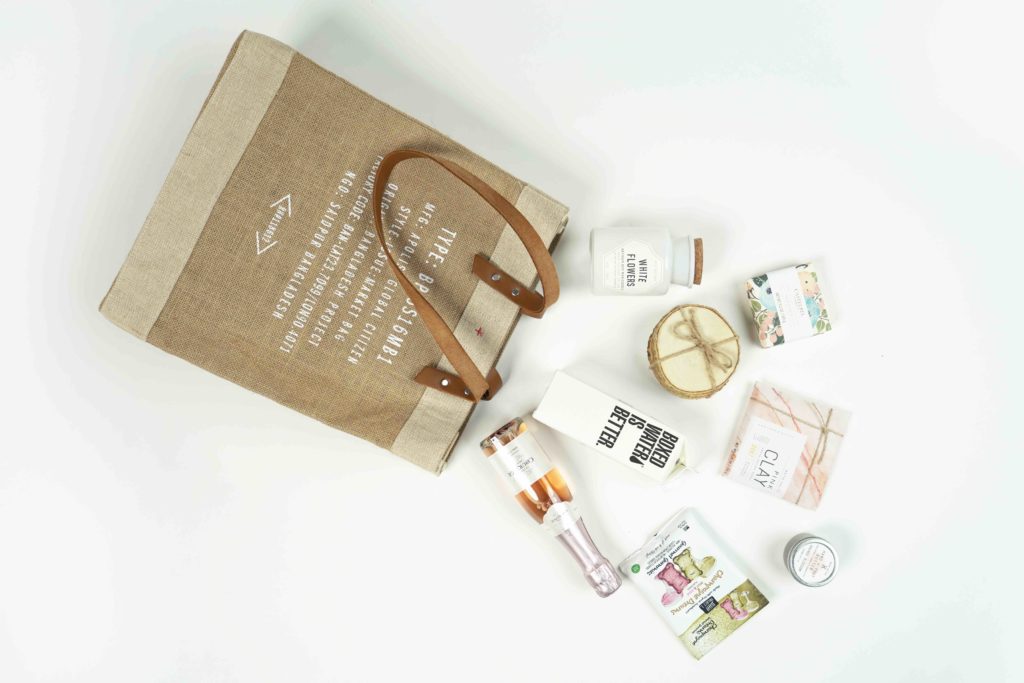 https://www.skyword.com/contentstandard/here-are-the-biggest-brand-imagery-trends-shaping-the-cpg-industry/
https://www.skyword.com/contentstandard/here-are-the-biggest-brand-imagery-trends-shaping-the-cpg-industry/
Liz Alton