Content Strategy
6 Major Trends for B2B Technology Marketers in 2019 According to the Content Marketing Institute
By Paige Breaux on March 8, 2019
From scaling mountains of consumer data, optimizing content for a looming mobile-only future to reckoning with the advanced features of automation, today's technology marketers are struggling to not short-circuit from information overload.
As more organizations start to embrace the transition to total digital transformation, tech marketers are now faced with the challenge of crafting a distinct and cohesive brand identity across an explosion of customer touchpoints while CMOs at large-scale B2B enterprises are searching for the best resources to operationalize their strategy across every region, division, and line of business.
Earlier this week, the Content Marketing Institute (CMI) released its latest research report, Technology Content Marketing 2019: Benchmarks, Budgets, and Trends. The full report examines responses from 364 content marketers at for-profit technology companies on how they approach content creation and strategize to build a mature and effective content strategy that both prioritizes customers and grows revenue.
Here are some of the major takeaways for B2B tech content marketers we learned from the CMI report:
1. Content Marketing Budgets are Growing as Brands Focus More on Revenue
As predicted by Skyword CEO Tom Gerace in his keynote speech at Forward 2018, content marketing is coming to the forefront as marketers evolve their role from behind the scenes players to main showrunners, thoughtfully curating customer experiences at the global level. According to the CMI report, 58 percent of technology content marketers expect to see a budget increase in 2019 to no doubt accommodate the in-depth brand experiences expected of today's audiences-from video to infographics to voice search, all aiming to inspire and delight. Additionally, 49 percent of technology marketers report their organization is in the sophisticated/mature phase of content marketing maturity, marking a 4 percent increase from 2018.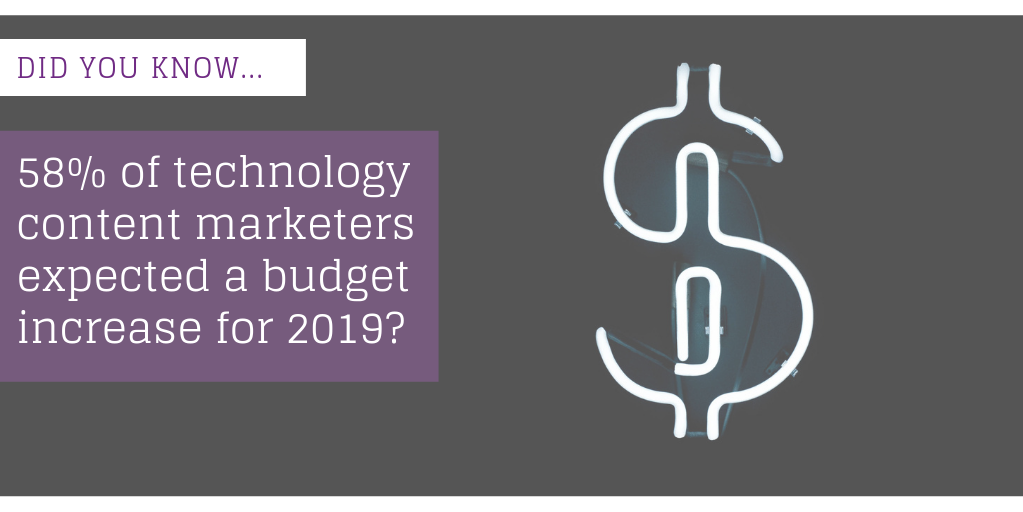 Statistic attribution: Content Marketing Institute
As the demands of the business become more intricate, marketers need effective marketing software that offers end-to-end management at all stages of the content marketing process, from strategizing, ideation, content creation, and optimization across multiple channels. As more brands grow their content marketing strategies and devote more resources into creating high-quality materials, the need to more frequently measure and report on performance results is also an essential business need for tech brands who want to offer continued value in such a competitive landscape.
2. SEO Remains the Biggest Battlefield for Tech Marketers
The top-of-mind concern for most B2B firms? The ever elusive process of SEO. According to the CMI report, SEO and search algorithm changes remain the primary focus for marketers in 2019, with 62 percent reporting it as their biggest concern, ahead of the ability to demonstrate content marketing as a revenue source at 48 percent.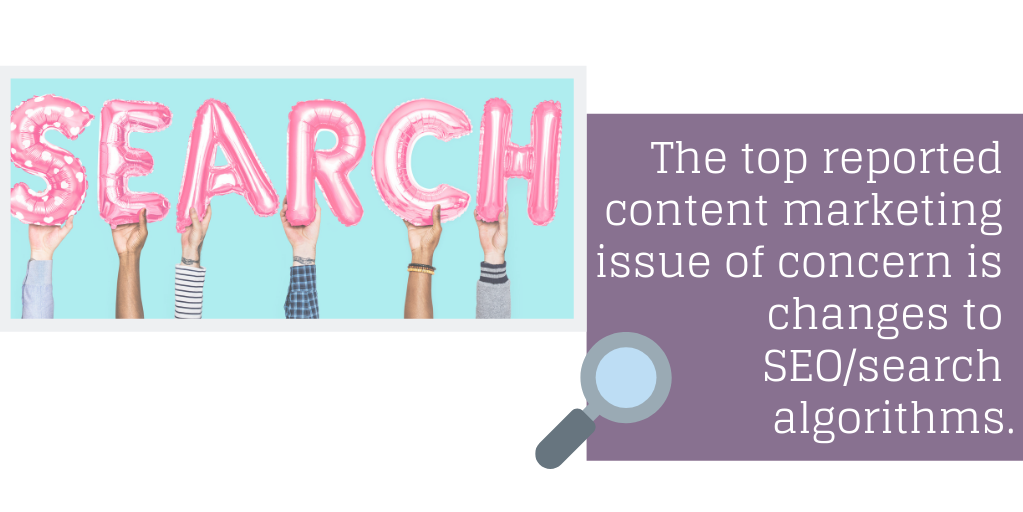 Statistic attribution: Content Marketing Institute
The uncertainty toward how exactly to "win" at search is understandable, especially when you consider the method in which search algorithms determine rankings are constantly being updated. According to Moz, Google changes its search algorithm around 500–600 times per year. Still, that doesn't mean that today's marketing teams are stuck approaching SEO by simple guesswork alone, or that tech content marketers should try to beat the system by creating content with as many keywords as possible.
Following the advice of Skyword's SEO Best Practices Playbook, "Marketers need to think of their content creation and SEO as a singular effort, where optimizing content for search or crafting a story that meets your audience's needs are, in a sense, both one and the same."
To feel confident in their approach to SEO, marketers need a strategy that makes use of keyword research and competitive intelligence. Skyword360's Keyword Gap Analysis report lets marketers sort and filter a table of competitive data to gain an in-depth perspective on how each of their brand channels are performing in comparison with each other. Being able to sort this data also makes it simple to identify where your brand ranks alongside competitors, and ultimately identify and capitalize on those valuable opportunities to own a search term and fill in the conversation gap.
3. Content Is Expanding to Reach Every Level in the Organization
According to the CMI report, 68 percent of tech content marketers identify the task of creating content that appeals to multiple roles as their top challenge. The buyer's journey in B2B tech is a long road that requires crafting seamless, easily-navigatable experiences between the consumer and your company's decision-makers-from C-suite advisors to external stakeholders. On average there are seven different people contributing to each B2B solutions purchase.
Statistic attribution: Content Marketing Institute
B2B content marketers have to work within the strict sales structures, limited budgets, and tight oversight, while still finding a way to communicate their marketing strategy and analytics to executives and foster cooperation between departments. The best approach to ensure you're utilizing all organizational input, and making the right content for the right people, is by building out robust audience personas which allow you to optimize content creation for every stage in the buyer's journey.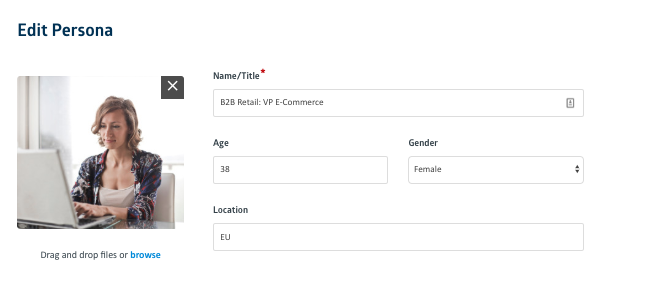 4. Sales and Marketing Are Collaborating on Content Strategy
As content marketers fight to prove their business value and demonstrate ROI of marketing efforts, they need to accurately understand what conversations are going on in that essential purchasing moment. And what better way to know what makes someone close a deal than by asking sales themselves? The CMI found that 80 percent of technology marketers say sales team feedback is the top technique they use to research their audience for content marketing purposes.
So why is there so often a disconnect between these two pillars of an organization?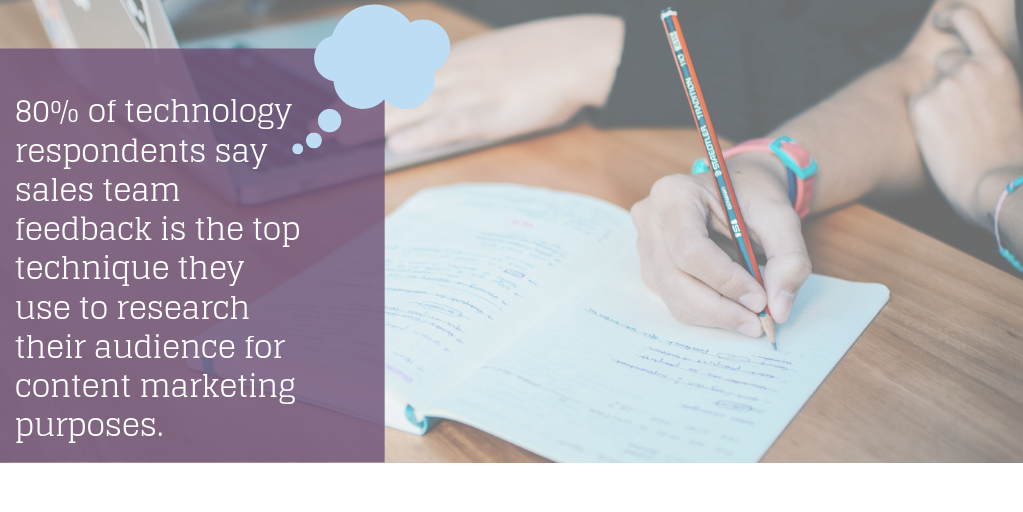 Statistic attribution: Content Marketing Institute
The silos between sales and marketing departments are a long-standing issue throughout all industries. And when sales and marketing teams are not in alignment, processes are inefficient and departments waste time creating content without a clear objective. In fact, 60–70 percent of B2B content is never used because the subject topics are irrelevant to the buyer audience. Meanwhile, 79 percent of marketing leads never convert due to a failure to nurture consumer connections. This means that teams are wasting time and blowing budgets because of poor technological and process-oriented sales and marketing alignment.
Having a well-defined content strategy involves getting the sales perspective from day one, and then building out your strategic guidelines based on mutually agreed metrics. An extremely effective tactic for making sure your content strategy is targeted and relevant to lead conversion is by incorporating feedback from sales conversations with customers, which you can gather through attending debriefs following major prospecting events.
Make sure both voices have a spot at the table when setting strategies, and are both working to align content that will be most impactful at each stage in the buying process. Skyword's Content Strategy Playbook can help your organization establish an effective and dynamic content strategy for scenarios like this.
5. Content Marketers Are Prioritizing Customer Retention Over Awareness
Today's content marketing missions go far deeper than simply generating brand awareness and web traffic: Defining every stage in the customer life cycle is now the name of the game. As the CMI report found, 82 percent of technology marketers agree that their organization is concerned with creating content that builds loyalty with existing clients and customers. Keeping in mind that customer acquisition can cost up to seven times more than selling to existing customers, it's no wonder that B2B brands are paying greater attention to their converted audiences when looking to improve margins.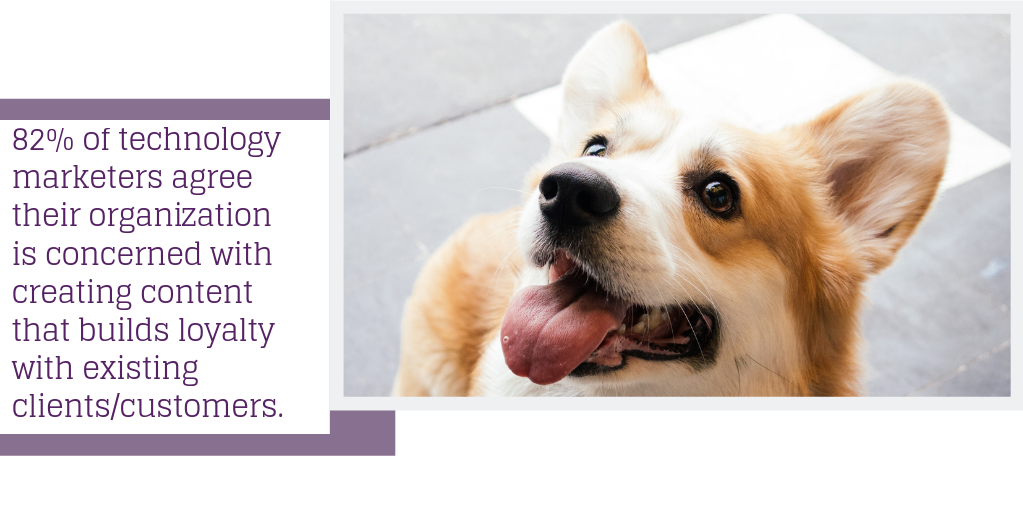 Statistic attribution: Content Marketing Institute
Technology marketers who want to take a retention-focused approach to their marketing strategy need to find ways to offer customers additional value, rather than high-level information. B2B companies, in particular, will want to establish themselves as experts and thought leaders in their space, and one of the most effective ways to do this is by creating strong how-to and educational content which extends a customer's interaction with your brand long after the initial purchase. After email campaigns, the second greatest method that technology marketers use to nurture their audiences has been educational content, with 79 percent of respondents including education as a priority in their content strategy.
Educational content, such as tutorials, interactive assessments, and customer care content on social media, all show your audience that you value their experience with your brand way past the point of a single sale. This builds trusting customer relationships and a deeper sense of brand loyalty, which ultimately keeps customers in your connected ecosystem and invested in your brand.
When brands produce content that supports the goals and lifestyles of their current audience-FAQs, infographics, episodic content, etc.-and create experiences designed to support and enrich their lives, it pays off twofold: Your relationship with these enriched and empowered customers will flourish, and they're likely to be loyal and advocate for your brand as a result. The cherry on top? These efforts are sure to have an amazing ROI, and will likely boost brand awareness through positive reviews and recommendations.
6. Social Media Is Becoming More Integrated with Content Strategy
B2B brands often get cast as more serious or less personable than their consumer-facing counterpoints. However, as the CMI report shows, tech marketers are embracing social more than ever, often integrating their social channels into their greater content marketing vision.
Since last year, 65 percent of technology content marketers reported that their organization has increased its use of social media for content marketing purposes. As social media marketing moves from a "nice to have" to a "must have" part in the marketing landscape, the next steps for forward-thinking B2B tech teams is to understand exactly how social contributes to their larger business objectives.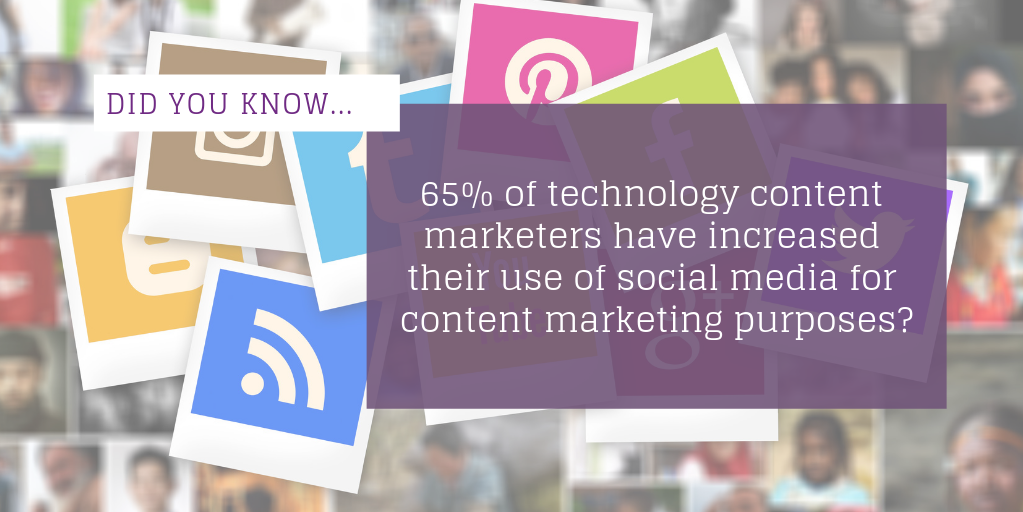 Statistic attribution: Content Marketing Institute
An essential part of social media strategy development for B2B brands includes knowing which social media platforms your potential customers are using. This will dictate where you place most of your energy in regard to publishing content to drive audience engagement.
According to TrackMaven's 2016 Social Media Impact Report: B2B Edition, most brands in this industry have the largest followings on LinkedIn-36 times the number of followers they have on Instagram. But those same B2B brands get 20 times more engagement on Instagram than on LinkedIn, meaning that there is plenty of space for tech content marketers to grow their social impact by embracing less traditional and more visually-oriented channels where they'll encounter less competition. From there, tech marketers can easily prove the ROI of their social content through social media analytics reporting software like TrackMaven's, which offers real-time, content-level ROI analysis, giving visibility into the impact that different types of posts have on audiences.
One simple tactic for brands to integrate social media marketing at every touch point in their content strategy is by using a social media holiday calendar to keep track of trending events and nationally recognized celebrations, which can be added into your documented content calendar and later built out into full campaigns. Tech marketers always want to stay ahead of trends in order to be seen as leaders in their space. By taking a proactive approach to social media and monitoring content performance data on a regular basis, marketers can stay ahead of the curve. Additionally, by pursuing up-to-the-moment benchmarking and optimizing every piece of content, brands can gain that sought after competitive advantage.
Looking ahead, B2B tech marketers are less concerned with chasing trends and more focused on driving innovation. Brands have seen the power of content marketing to foster customer connections, and now they must continue to build on and invest in these relationships in order to grow their business and adapt to the latest technological evolutions.
To learn more about how Skyword360 helps brands deliver exceptional content experiences, schedule a demo.
Featured image attribution: Dayne Topkin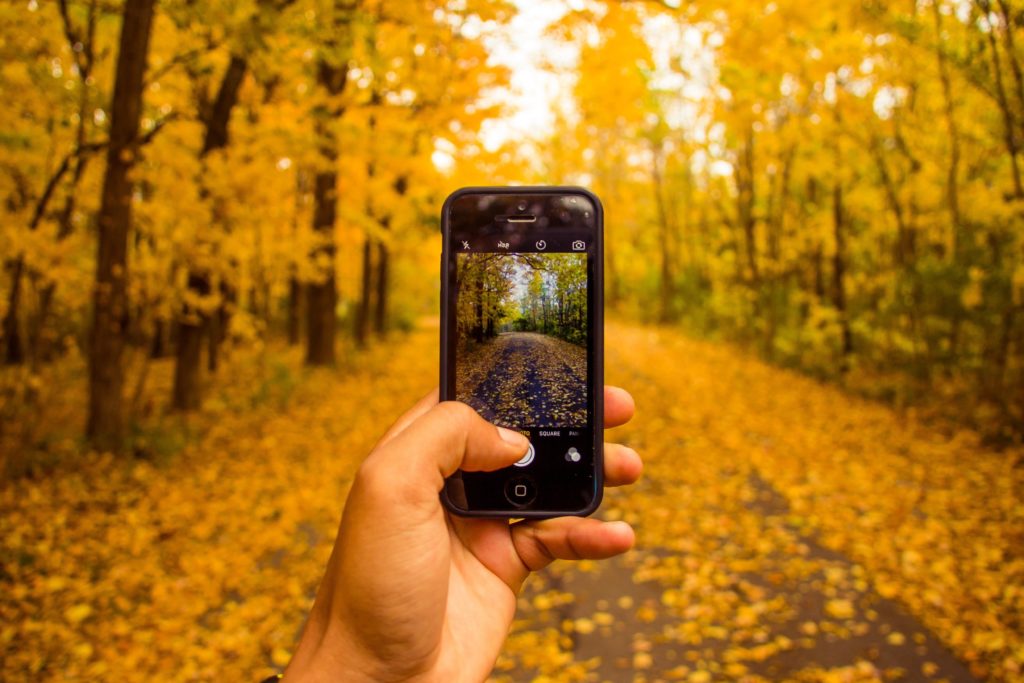 https://www.skyword.com/contentstandard/6-major-trends-for-b2b-technology-marketers-in-2019-according-to-the-content-marketing-institute/
https://www.skyword.com/contentstandard/6-major-trends-for-b2b-technology-marketers-in-2019-according-to-the-content-marketing-institute/
Paige Breaux