For Google News
How Digital Transformation for Nonprofits Is Enabling Constituent Engagement
By Rose de Fremery on April 25, 2019
Unless your nonprofit is the rare organization that has been blessed with a large pot of unrestricted funding, it can be challenging to keep pace with innovative technology trends and fully engage your constituents. According to the 2019 Nonprofit Communications Trends Report, nearly half of nonprofits-45 percent-report that they don't have a dedicated communications budget. Meanwhile, with digital transformation for nonprofits accelerating to the point at which it can be difficult to keep track of the many technologies available, it may also be hard to pick out which tools your organization can cost-effectively deploy for optimal impact.
With that in mind, here are a few smart ways in which nonprofits are using emerging technology such as chatbots and live video to enhance their marketing agility and further their communications strategies.
Bots for Good: How Chatbots Are Engaging Constituents
While some nonprofits might be a bit cautious about using chatbots to engage constituents, this approachable form of AI can offer some uniquely powerful opportunities to advance your mission. For example, nonprofits can pair chatbots with messaging apps to deliver timely updates that engage and motivate constituents. Chatbots can also educate supporters with news updates and interactive quizzes, mobilize them with action alerts and rapid response initiatives, gather signatures for petitions, launch get-out-the-vote operations, and issue fundraising appeals. Several of these chatbot outreach methods can even help increase site traffic and aid in future personalization efforts.
Chatbots can inspire new audiences with emotionally resonant content, creating relationships with socially conscious people who may eventually become personally invested in your mission. For example, the Sierra Club chatbot on Facebook Messenger greets new subscribers with a stunning "Daily Ray of Hope" image, giving them positive inspiration to fight the good fight each day.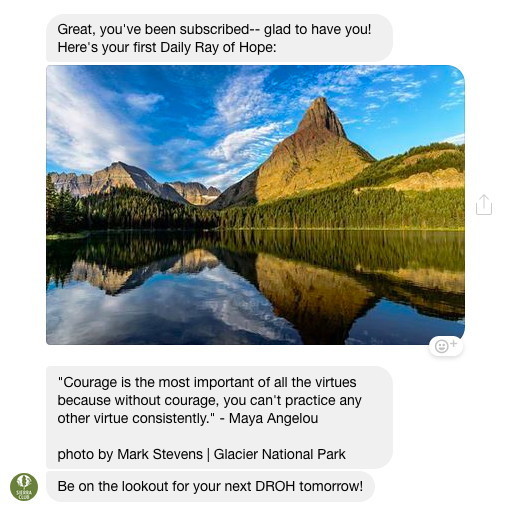 Through these chatbot interactions, Sierra Club supporters are likely to become more invested in the nonprofit, learning more about them and maybe even donating to other social and environmental causes down the line. Your nonprofit can use this channel of communication to expand your reach, potentially engaging supporters you might not have been able to connect with before and then mobilizing them to take action in a variety of ways.
Sierra Club is also able to enhance its brand through the use of chatbots, signaling to a new generation of potential supporters that its technologically savvy and interested in having a personal dialogue with them about how to heal the world.
Chatbots have also played a leading role in creative storytelling campaigns which have captivated constituents and inspired action. Lokai and charity:water created a chatbot named Yeshi to educate potential supporters about the water crisis, illustrating the struggles rural Ethiopian women and children face in finding potable water. Throughout the course of her six-hour walk to get water, Yeshi shared images, maps, videos, and text to drive home the meaning of her journey.
As Blue State Digital notes, although the chatbot would communicate in two-and-a-half minute exchanges, Yeshi would occasionally go silent for ten to fifteen minute periods to make the experience a bit more realistic.
How Chatbots Can Help Cash-Strapped Nonprofits Gain Ground
Nonprofits with lean resources may especially appreciate the many ways in which chatbots can cost-effectively advance a nonprofit digital marketing strategy. As was pointed out in the recent 2019 Nonprofit Technology Conference session "Make a Robot for Good, Not Evil: Building a Chatbot on Facebook," chatbots garner a fundraising response rate that is roughly five times that of email. Meanwhile, the cost per acquisition associated with chatbots is 50 percent lower than it is with Facebook ads. And since chatbot messages are currently free to send, they can offer nonprofits a budget-friendly alternative to digital advertising.
Nonprofits can have their AI ambassadors answer simple queries around the clock, letting a curious constituent know when the organization's hours of operation are and where it is located, while also providing a donor details on when and where the next gala event will be held. Particularly, in the case of a nonprofit organization with global reach and operations, this always-on capability may provide a valuable edge in keeping constituent connections warm-regardless of the time zones involved.
Chatbots relieve some of the communications burden from their human counterparts in this way, conducting conversations at all hours of the day or night and fielding multiple queries without breaking a sweat-all while providing the on-demand engagement that constituents increasingly expect. They're also scalable and able to grow with an organization as its communications strategy evolves. It's also worth noting that, by their very nature, chatbots also meet constituents where they prefer to spend their time these days: messaging apps. More than one billion people already use Facebook Messenger, for example, constituting a built-in audience that nonprofits can engage at minimal cost using a chatbot that is native to the platform.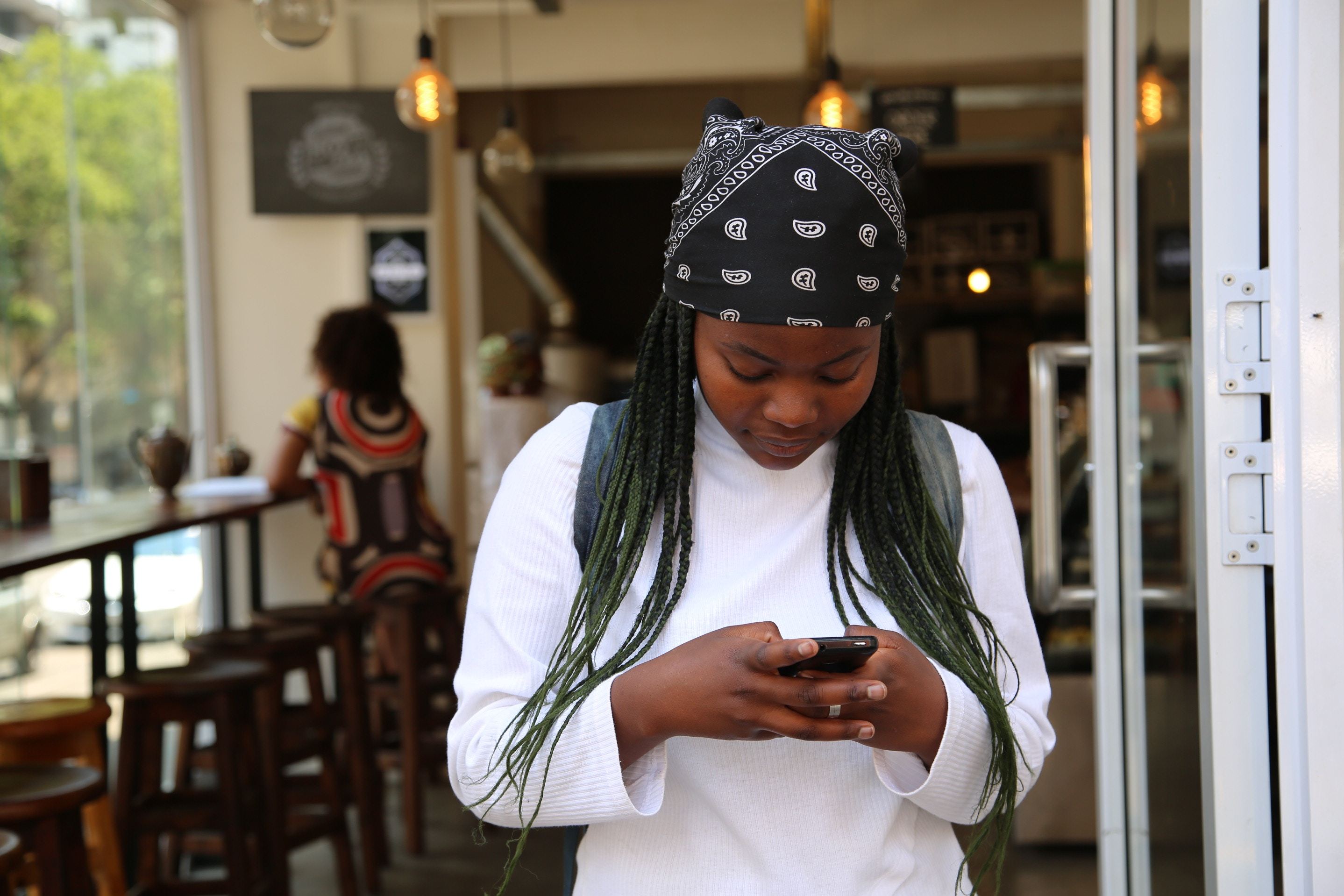 Image attribution: Angelo Moleele
How Innovative Nonprofits Are Using Live Video to Recruit Supporters
Forward-thinking nonprofits are leveraging other emerging technologies to engage constituents and advocate for social change. Movimiento Cosecha, an organization dedicated to winning permanent protection, respect, and dignity for the undocumented community in the United States, uses Facebook Live to recruit supporters. In a blog post for NTEN, the way in which Cosecha uses this video feature to keep existing supporters informed-with everything from timely campaign updates to broadcasting rallies and marches straight from the scene-is explained.
Once viewers are tuned in, Cosecha leverages their interest in the video to convert them into subscribers. While the video is in progress, Cosecha invites the people watching to comment on a specific keyword. Once they do, Facebook Messenger sends them a message inviting them to opt-in to conversations. With just a few taps, they're signed up to receive timely updates from the organization-without having to fumble with a long webpage form to become a supporter. Cosecha was able to recruit 900 subscribers from a page with 4,600 followers in just five months primarily using Facebook Live broadcasts.
In leveraging video, Cosecha is harnessing a major nonprofit communications trend. As the 2019 Nonprofit Communications Trends report notes, more than half of nonprofits tried live streaming video in 2018. In addition, the most effective nonprofits were more likely than the less effective ones to live stream. Overall, 60 percent of nonprofits are creating video in some form, most often using it for storytelling about participants or supporters. As Cosecha's case demonstrates, some of the most innovative nonprofits are leveraging video in combination with chatbots to compound the impact of their engagement efforts.
Many nonprofits certainly face a challenging environment with respect to fundraising while the rapid pace of technology innovation keeps them on their toes. By embracing digital transformation for nonprofits, however, many organizations are finding that emerging technologies like chatbots and live video aren't as cost-prohibitive as originally thought. In fact, these organizations can use these newer technologies to significantly advance their nonprofit digital marketing strategy, broadening their reach and recruiting engaged supporters.
Nonprofits that have not yet explored the potential of chatbots and live video may find these tools to be powerful assets for both advancing missions and attracting passionate supporters.
For more stories like this, subscribe to the Content Standard newsletter.

Featured image attribution: QuickOrder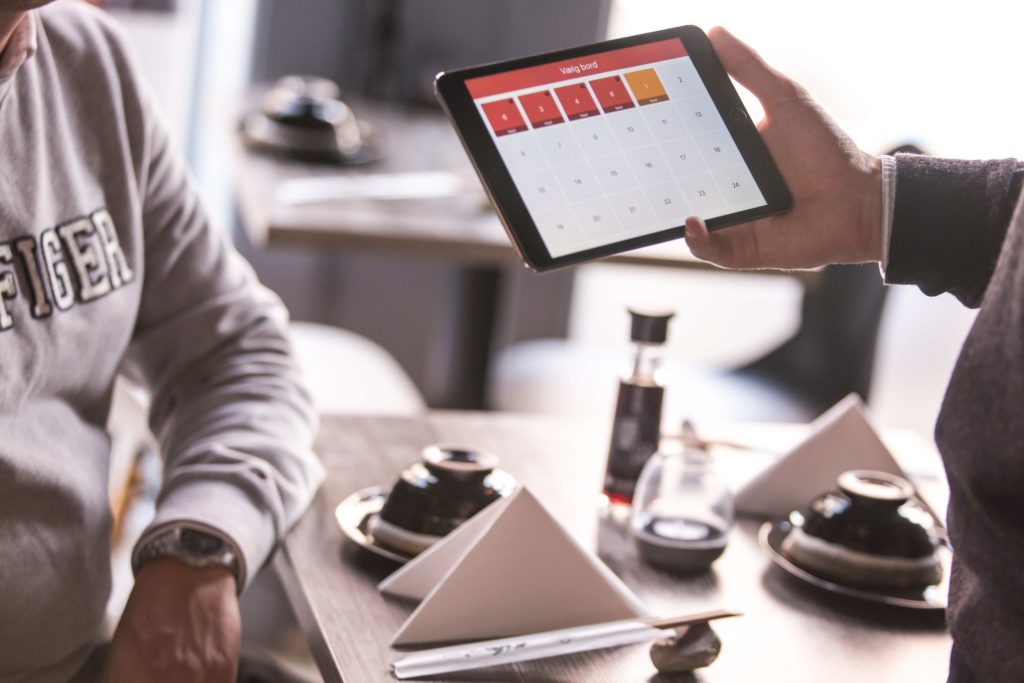 https://www.skyword.com/contentstandard/how-digital-transformation-for-nonprofits-is-enabling-constituent-engagement/
https://www.skyword.com/contentstandard/how-digital-transformation-for-nonprofits-is-enabling-constituent-engagement/
Rose de Fremery