Content Strategy
How Mid-Funnel Content Examples Can Aid a Financial Services Content Marketing Strategy
By Liz Alton on March 28, 2019
Recently, a project sent me looking for mid-funnel content examples for a financial services content marketing strategy I was working on. The client-an investment brand-had a well-established content plan with plenty of individual articles, pithy blogs, and top-of-the-funnel awareness content.
Yet, their content marketing plan relied on handing off leads to the sales team to close deals and open new accounts. Leads that had come into the funnel through awareness content wanted the same level of content support as they moved into specific questions. What asset classes were right for them? How did investing in certain foreign markets expand their potential returns or ratchet up their risks? As a result, we began to assess how longer-form mid-funnel content could play a key role in their strategy.
But is it time to consider mid-funnel content examples for your financial services marketing strategy and plan?
Where Mid-Funnel Content Fits in the Buyer's Journey
Top-of-the-funnel content introduces your brand and helps audiences realize that you understand their needs. Once they're familiar with your brand and some trust has been established, buyers move further along in their research. What do you offer? How does that line up with what they need? They may not yet be at the point of comparing direct product offerings with purchase plans, but they're moving closer.
Enter the mid-funnel asset. Mid-funnel content helps support deeper stages of research and builds a natural bridge between what audiences need and your offerings. According to research from the Content Marketing Institute, 53 percent of B2B marketers say that white papers are the most effective mid-stage asset, along with ebooks (39 percent) and case studies (42 percent). In other words, long-form content plays an important role at this stage.
Within financial services, mid-funnel content can help turn potential customers into solid leads. In one analysis highlighted by The Financial Brand, one bank found that a variety of mid-funnel assets delivered strong results: "The bank's analysis found that long-form content like e-books and white papers represent one of most effective ways to generate business leads, but are less effective at conversions."
Targeting Different Stakeholders
The decision-making process involved with financial choices can be complex, and USAA offers a smart solution. Specifically, they've developed a resource for content targeting investment professionals. By helping to educate this important partner-and source of potential customers and investors-they're getting on the radar of the very people who help guide important financial decisions.
As you're developing your financial services content marketing strategy, consider how your deeper assets could help speak to a range of audiences. These might include investment advisors, key decision makers, or individuals who want to understand the financial decisions their partner is making on behalf of their family.
Fidelity's landing page for plan sponsors-such as employers who are choosing where to invest their company's 401k-helps guide choices. They tackle a variety of issues, from how machine learning and artificial intelligence is impacting investing to how target-date funds are affected by market changes. Speaking to the full range of stakeholders helps strengthen your reputation on multiple levels.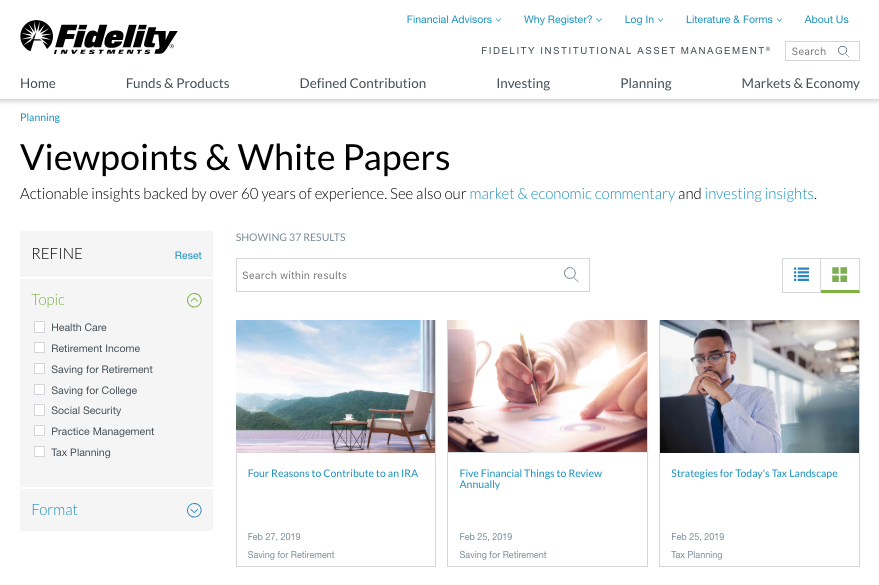 Image attribution: Fidelity
Reaching Institutional Investors
An area where mid-funnel long-form content is a natural fit is in targeting B2B clients. Consider the case of institutional investors: BlackRock, an investment management firm, has created a dedicated landing page targeting this group.
The content varies from trends surveys to analyst commentary to original thought pieces. Whether you're interested in discovering how private equity is shifting or navigating emerging markets, there's content dedicated to a variety of different themes and topics. For example, BlackRock's insights page offers a look at factor investing, how it contributes to resiliency, and then deeper dives into how factors impact markets and portfolios to offer investors greater visibility into where they fall within different market environments and stages of the economic cycle.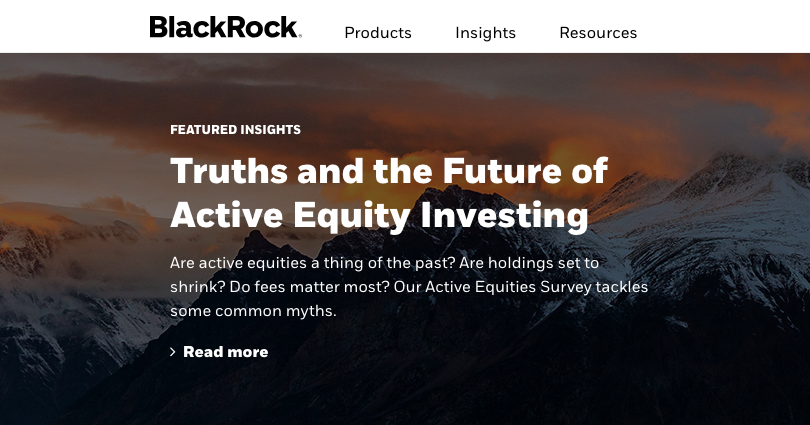 Image attribution: BlackRock
These mid-funnel content examples are great representations of how deep expertise can translate into effective long-form content assets. While these conversations can be covered in sales pitches or consultations, your team's hours are finite. A long-form content asset has the ability to reach a wide range of prospects and customers at scale.
Long-Form Opportunities for Financial Services Content Marketing Strategies
These are just a few examples of the ways different brands are using mid-funnel assets to educate, inspire, and draw in prospects.
Keep in mind that even the simplest financial strategy quickly becomes complex. For example, consider a consumer with an average salary who is planning to save for retirement using their company's 401k. Even the most straightforward retirement plan today offers multiple options-from stocks to bonds to IRAs. Long-form content can be a great way to help your audience understand these different elements.
Original research, unique industry expertise, or specialized assets targeted to certain financial goals-like lowering taxes or building a legacy for the next generation-can be a compelling source of insight for mid-funnel content. Investing in content at this level can be used to achieve a range of goals, including:
Speaking deeply to the needs of specific audiences
Anchoring a lead generation campaign
Educating audiences and driving them toward the right solution
Building deeper brand recognition and trust
Exploring and bringing your brand's strongest competitive differentiators to market
Expanding the formats you're currently marketing in to include e-books, case studies, testimonials, white papers, webinars, and forecasts
Providing the space and context to tell a more compelling brand story
Focusing on top-of-the-funnel assets and conversion-focused assets is a natural fit as part of a financial services marketing strategy. However, a look at these mid-funnel content marketing examples offers another approach. Using long-form content-from white papers to webinar series-builds deeper trust with audiences, educates them, and helps guide them into your sales process.
Bridging the gap between the top and the bottom of the funnel with content helps financial services brands stand out and efficiently get their message to different market segments.
For more stories like this, subscribe to the Content Standard newsletter.

Featured image attribution: M. B. M.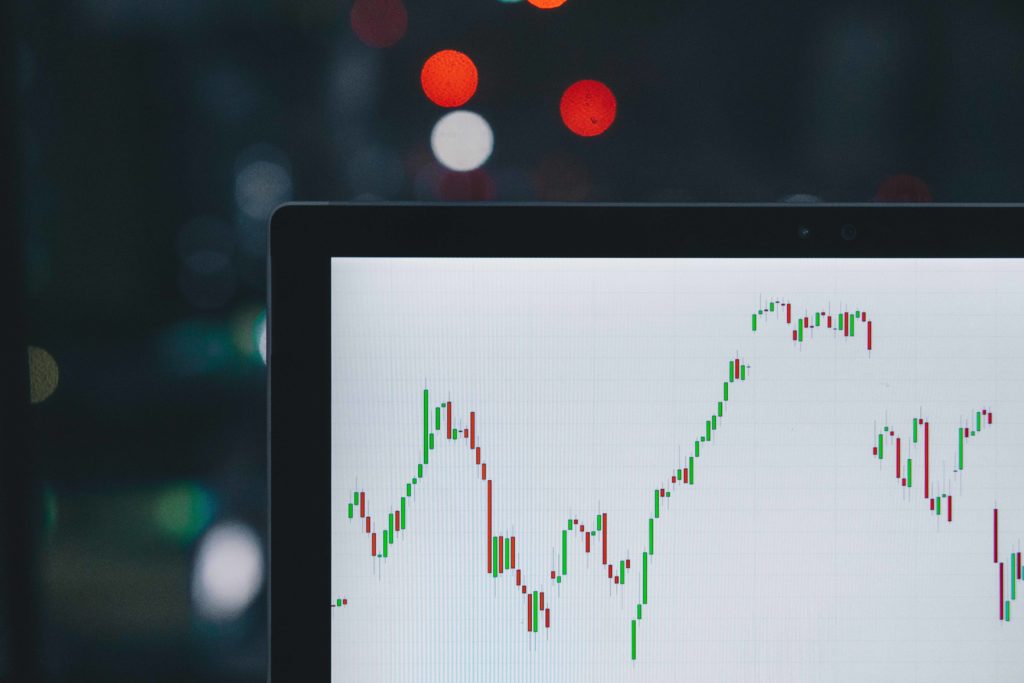 https://www.skyword.com/contentstandard/how-mid-funnel-content-examples-can-aid-a-financial-services-content-marketing-strategy/
https://www.skyword.com/contentstandard/how-mid-funnel-content-examples-can-aid-a-financial-services-content-marketing-strategy/
Liz Alton