For Google News
Social Media as a Customer Service Tool: Why Your Brand's Online Strategy Can't Ignore This Outlet
By Ty Scheiner on February 27, 2019
There's no question about it, the digital landscape is where consumers are living, which is why marketers are bombarding the space with all sorts of ads, email marketing materials, blog posts, newsletters-the list goes on and on. The latest digital arena where marketers are investing time and budgets? Social media. Social platforms provide brands the ability to communicate with their customers and gain new ones, too. How? Through offering exceptional, personalized, and swift customer service.
Social media gives brands real-time access to customers like never before, making for a truly unique opportunity to build relationships at different touch points in the buyer's journey: Whether they're just discovering what you do, are already a lifelong fan, or searching for a place to voice a complaint or troubleshoot an issue, this outlet gives you a chance to hear them out-for better or worse. And the more you invite conversations across platforms, the more accessible, engaged, and trustworthy your brand will seem.
Building an 'Always on Brand' Presence on Social
In its infancy, brands struggled to figure out how best to leverage social media as a customer service tool: questioning how frequently to reply, what tone to take when addressing negative feedback, and which social platforms worked best as a digital help desk. Today, brands are embracing this platform as their first line for customer care, using it to foster true relationships between companies and customers.
Have questions about the changes coming to the new Starbucks Rewards program? Here's everything you need to know: https://t.co/rGRGeMXxPj

– Starbucks Help (@starbuckshelp) February 22, 2016
So how do brands keep that relationship alive and well? By staying on brand and being consistent. Whether it's setting a precedent to respond to every message or comment, or setting limits on how many replies an online concern warrants before sending it up to the pole for a callback-and not deviating from that-your social media presence must be authentic and aligned with the overall goals of the company. Otherwise, it can cause distrust, confusion, and negatively impact the reputation of your business-and nobody wants that! So make sure customer service is part of your initial social strategy, and follow up by distributing that strategy across all departments to make everyone is on the same page when it comes to what is and isn't on brand.
And as crucial as it is to stay consistent with your message, so is being swift and attentive when using this real-time resource for providing customer service. How fast are we talking? According to Jay Baer, founder of marketing firm Convince & Convert, 42 percent of people who've engaged with a brand via social media expect a response within 60 minutes or less. And companies are responding to that demand, with many bigger brands staffing social media editors on nights and weekends to make sure concerns and questions are fielded as fast as possible, without sacrificing quality.
There's no doubt about it, keeping a social media presence alive and well takes a 24/7 approach, and brands are finding it's no different when you factor customer service into the equation. Dedicating time and resources to delivering solid social customer service will pay off big time by keeping you in the loop with your customers' fluctuating needs and demands, while also empowering your brand in the social media space.
One brand that's nailing this whole concept is Spotify, which even won a Webby Award for its outstanding social media customer support in 2015. Their @SpotifyCares Twitter account is exclusively dedicated to responding to customer questions, offering information on product updates, and connecting followers with members of their technical support team. Spotify cleverly incorporates their music streaming platform into their customer service strategy by replying to users with songs best suited for their specific query. This is what staying on brand with your social media customer service is all about.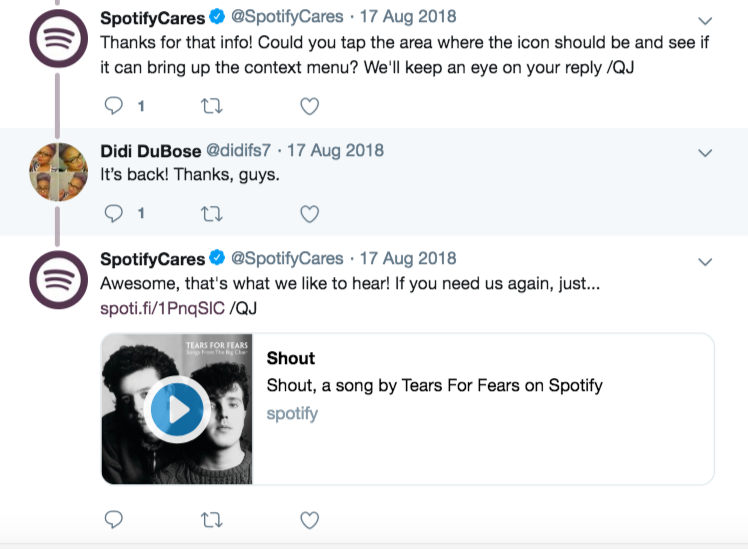 So once you've found the right voice for your social content, it's-once again-imperative that everyone responsible for engaging with customers via social media preserves the voice and tone of the brand across all channels. Depending on the structure of your social team, the access that people have to social handles may differ. Make sure everyone-from marketing to technical communications to customer service-is informed on your brand guidelines and understands the kind of content that your audience expects and wants from your brand's different social channels.
The most efficent way to achieve this is by working with a content marketing platform that offers unified, enterprise-wide views of all your content and marketing activities across multiple channels, departments, and divisions, to make sure everyone who has a hand in your content creation and distribution is working woards the same vision.
How Social Media Customer Care Impacts ROI
In addition to impacting the brand's voice and identity, social media as a customer service tool can also have an influence on a business's bottom line. And as Ben Parker famously told Spiderman, "With great power comes great responsibility." Because when brands utilize social media to deliver customer service, there is much more responsibility to use the space well and in the best interest of customers. And if a brand comes off, well, phony, the transparency of the platform won't offer them much reprieve. Every tweet, post, comment, and interaction can and will be scrutinized by the masses, with each interaction having the power to impact how a customer views the brand, influencing whether or not they'll buy into what you're doing.
When executed well, these digital relationships can help you attract new customers, sustain lifelong ones, and even turn fans of your brand into brand advocates. Basically, the more positive interactions customers have with your brand on social media, the more likely they'll keep giving you their business. Zappos does a great job with their social customer service in terms of providing an authentic voice, responding in a timely fashion, and building those important digital relationships with their customer.
Nobody is better to buy shoes from online than @Zappos They know how to treat people and deliver on the promises they make.

– yohann jackson (@ChrisPhigNewton) January 18, 2019
Turning Customer Service into Insightful Data
When you use social media as a customer service tool, this outlet has the clear potential to make you money, but it also can save you money, too. Instead of spending money on focus groups, surveys, and other market research, social media can provide you with the answers you're seeking. With real-time marketing analytics, you can better evaluate how well your brand is owning the attention of consumers compared to your competitors by tracking social metrics like share of voice (SOV) and measuring sentiment analysis.
By engaging with your customers in the right place-social media-and at the right time-all the time!-you can really begin to understand your customers better and provide them with what they actually want.
Overall, make sure your social customer service efforts aren't an afterthought when building out your social media strategy. This strategy should work in conjunction with the rest of the marketing department to help keep brand voice and the business goals in line, and at the end of the day provide an organic, natural relationship between the brand and the customer.
For more information on how Skyword360 can help you create a unified content strategy across all channels and delight customers at every point in their journey, check out our resource page.
Featured image attribution: macrohype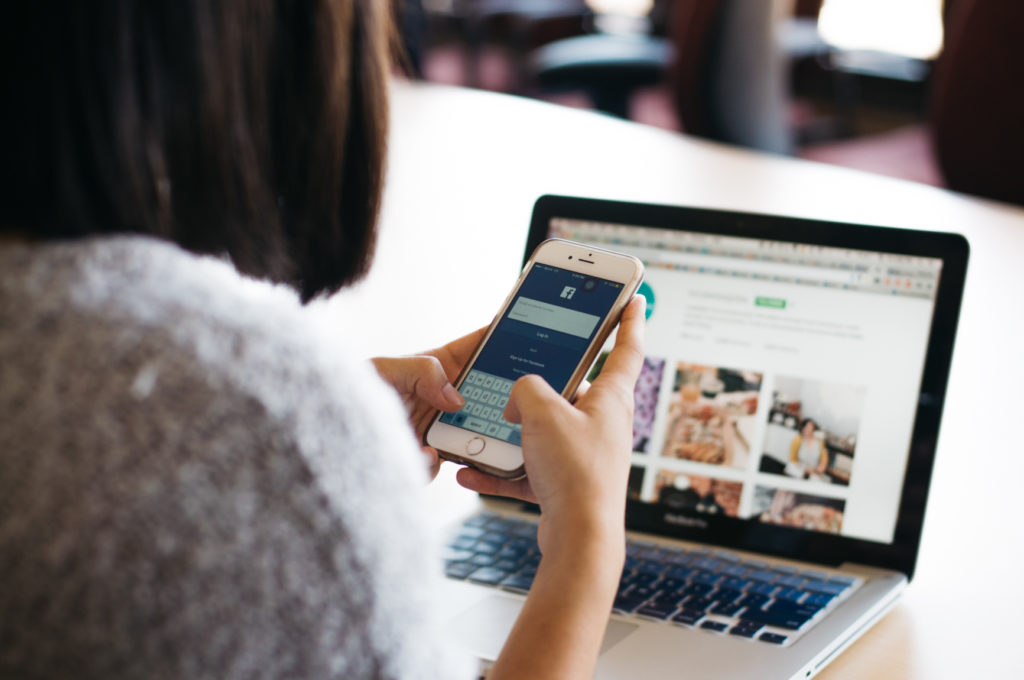 https://www.skyword.com/contentstandard/social-media-as-a-customer-service-tool-why-your-brands-online-strategy-cant-ignore-this-outlet/
https://www.skyword.com/contentstandard/social-media-as-a-customer-service-tool-why-your-brands-online-strategy-cant-ignore-this-outlet/
Ty Scheiner