For Google News
10 Brands That Have Perfected Their Social Media Marketing Voice
By Camryn Rabideau on May 6, 2016
It's hard to be "good" at social media, especially as a brand. You can funnel money into your strategy, but if you don't understand your audience and adjust your tone and content accordingly, chances are that your social media marketing efforts are going to fall flat.
Consider this fairly common situation: A consumer picks up your product in the store and immediately loves it. After purchasing the item, he or she goes home and looks you up on Twitter, Facebook, or Instagram-except your profile is filled with bland, soulless, overly promotional content. Instead of following your social account, the customer clicks away and doesn't return.
Does it really matter? After all, the customer still bought your product, right? That may be true, but what's the value of a one-time customer that you can only reach via in-store communications? Wouldn't you rather have a customer who is seeing and engaging with your social accounts every day and forming an affinity for not only your product, but your brand as a whole? That's the difference effective, tailored social media content can make.
If your company struggles to nail down its social media voice, you're certainly not alone. There are many big-name brands that are still using boring, scatterbrained, or over-the-top content in their social media marketing. However, there are other companies that have put in the necessary work and found their sweet spot when it comes to social tone-the following are 10 examples of branded social efforts that resound with their target audiences:
1. Taco Bell

Now that's what I'm tacoing about! In all seriousness, Taco Bell's simple, punny Tweets are spot-on for its target market of not-so-health-conscious teens and young adults. The brand keeps things light and funny with tacos, quips, and emojis galore and racks up engagements as a result.
2. Netflix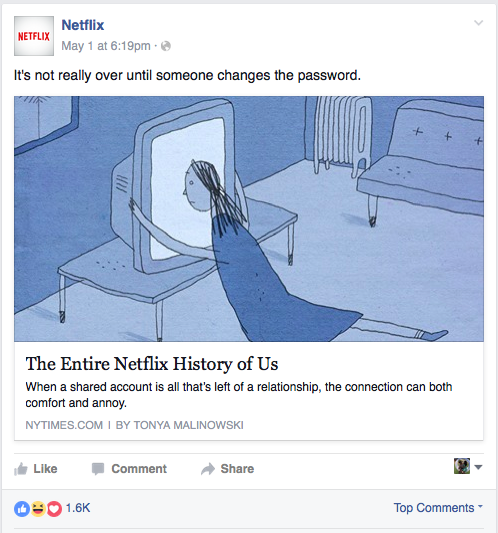 Another brand that understands its social audience is Netflix. The streaming giant taps into its audience of media fanatics and infuses social posts with their lingo to make strong connections-the company is happy to post about "Netflix and Chill," binge watching, or password breakups, and Marketing Land explains these posts with personality often outperform the company's big announcements.
3. Innocent Drinks

Would you be interested in following a Twitter account that posted about natural fruit drinks all day? Probably not, and Innocent Drinks gets that. Instead of simply heralding its juice products, Innocent posts chuckle-inducing, relatable content. Just think of Innocent as the friend who always comes out with really random, yet spot-on insights. Who wouldn't want to follow them on Twitter?
4. Barstool Sports

If you had to describe teenage, 20-something sports-loving guys in one word, the term raunchy is a viable option. If you had to describe the Barstool Sports Instagram account, you might come up with the same descriptor. That's not a coincidence. If your audience has a specific sense of humor-in this case, Barstool's target market is definitely big on sex jokes and pop culture-take advantage of it! Things might get a bit raunchy, but if your audience is OK with it, you should be, too.
5. Babble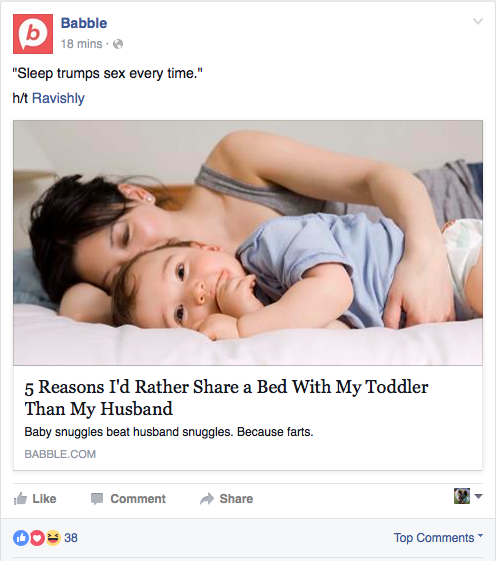 Don't be naive when it comes to your social media efforts-today's consumers are more interested in reading about how things are than how things should be! Babble gets top marks in terms of relatability because it doesn't shy away from the hard truths about parenting. The company knows parents would rather read relatable stories about the triumphs and tribulations of raising kids than unrealistic or idealistic accounts of parenting situations.
6. Narragansett Beer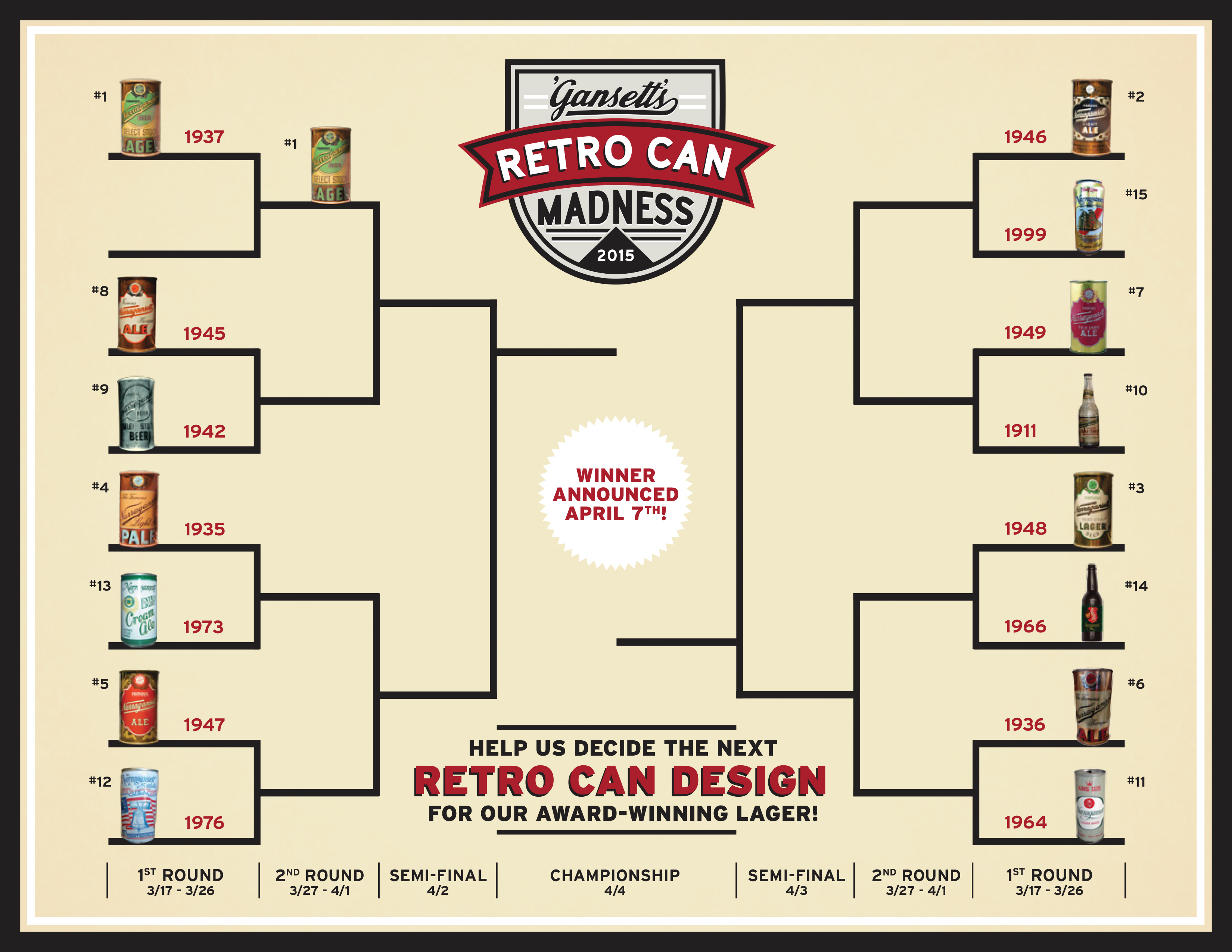 Narragansett Brewing Company might not be the biggest alcohol manufacturer, but it knows how to keep fans engaged. AdWeek explains that the brand regularly hosts contests on its social media pages where followers can vote for things like throwback can designs or the company's next calendar girls. To really capture the attention of its audience, 'Gansett ties in local businesses or regional references to create a sense of nostalgia that will resonate with New Englanders-a significant portion of its customers.
7. Free People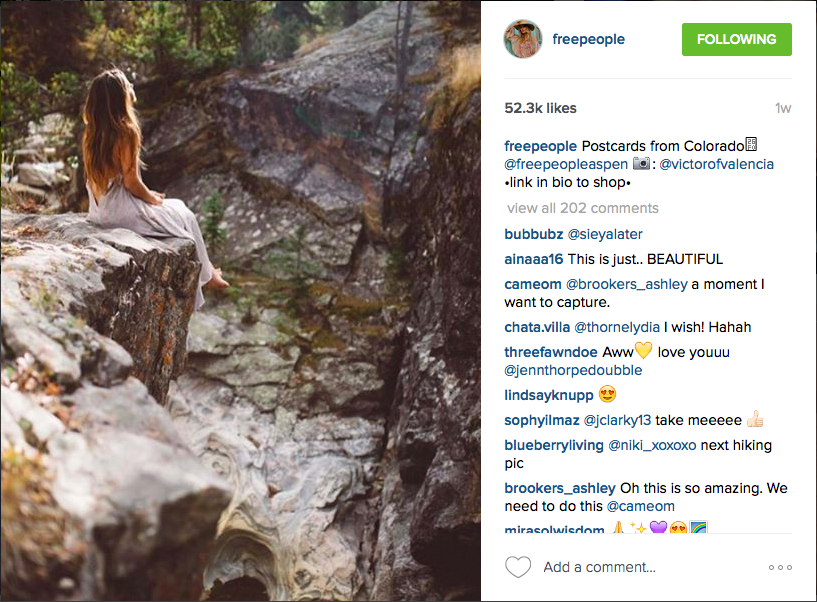 Free People's social media presence isn't just about clothing-it's about the lifestyle its customers embody. As the brand name suggests, Free People's target market is easygoing females who are overcome with wanderlust and prefer cool, yet comfortable clothing. All these values come across in the brand's Instagram feed, often through the pictures alone! When you can communicate and inspire your customers without using words, you're nailing social media tone.
8. Under Armour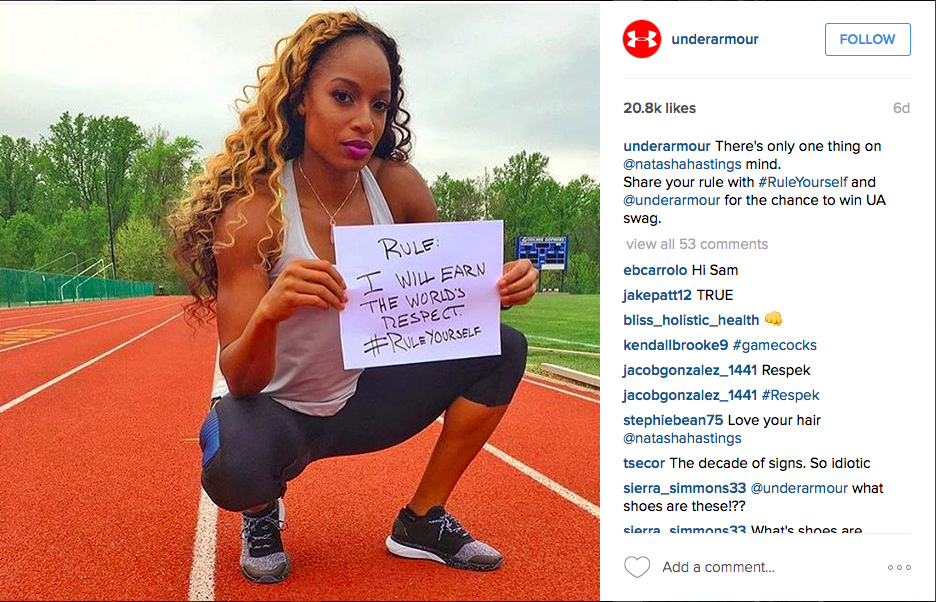 Under Armour understands that its customers are more than just athletes-they are self-motivated individuals dedicated to bettering themselves through exercise. The brand speaks to this target market by drawing parallels between customers and the athletes they idolize. On the brand's Instagram, fan-submitted photos are interspersed with pics of sports icons as part of its recent #RuleYourself series. Not only does this strategy get followers engaged, but it serves as inspiration and motivation for the driven group of social media users.
9. Planned Parenthood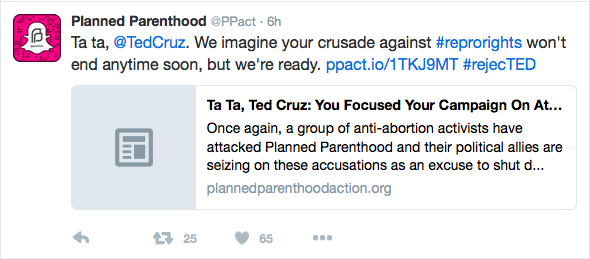 Brands tend to tiptoe around controversial subjects or simply avoid them all together. However, when controversy is inherently tied to your product or service, you shouldn't gloss over the issue in your social media marketing-consumers are quick to call out phoniness in their news feeds. Planned Parenthood is a great example of a company that embraces its controversial nature and is unapologetically real on social media. Its frank Tweets about the 2016 presidential race surely rub some people the wrong way, but the brand realizes that its strong stance on important issues will resonate with the social users it's targeting.
10. SpaceX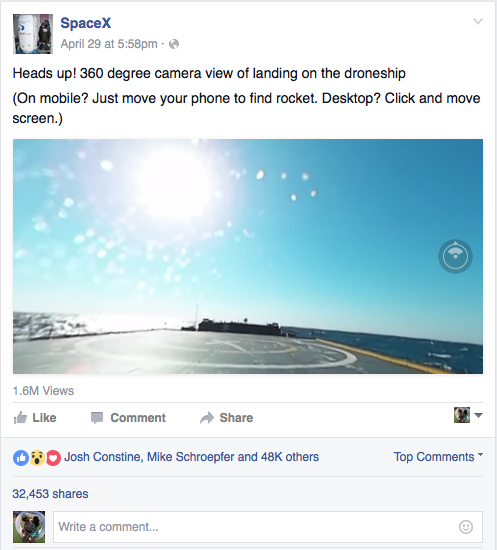 Manufacturing doesn't have a reputation as an exciting industry, but aerospace manufacturer SpaceX doesn't let that stigma dampen its social media marketing efforts. Instead, the company takes full advantage of society's love for all things space-related and promotes cool videos of rockets, drones, and spacecraft. While everyday consumers aren't the SpaceX target market, a social post with more than 30,000 shares will likely end up in front of the right people-and boost brand recognition in the process. Now that's a social media win.
Want more insights on creating effective social content? Subscribe to the Content Standard Newsletter.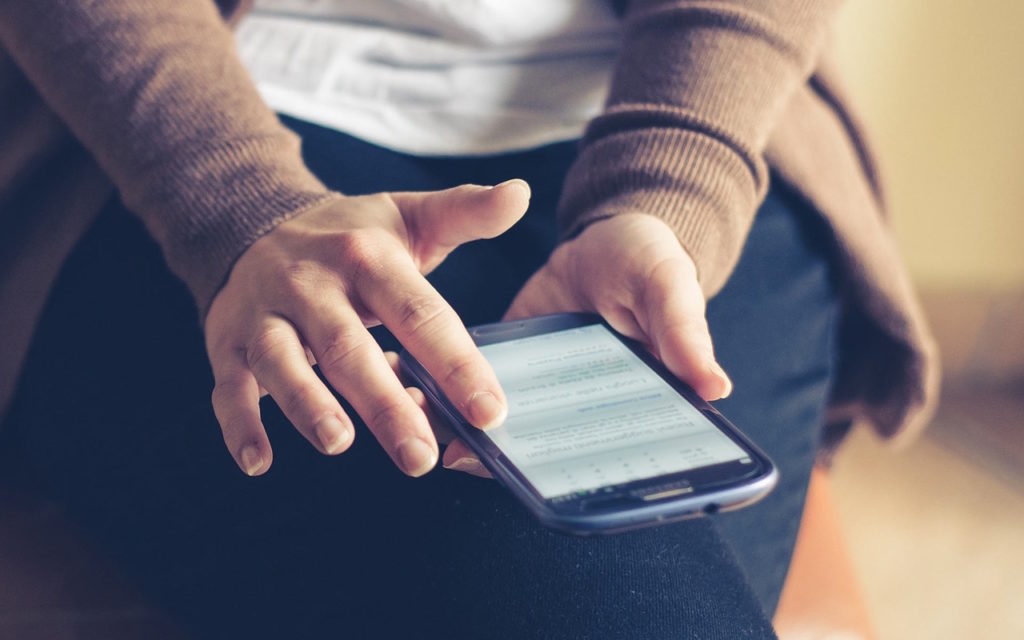 https://www.skyword.com/contentstandard/10-brands-that-have-perfected-their-social-media-marketing-voice/
https://www.skyword.com/contentstandard/10-brands-that-have-perfected-their-social-media-marketing-voice/
Camryn Rabideau