For Google News
5 Food and Beverage Brands with Highly Successful Pinterest Marketing Strategies
By Marcy McCreary on April 26, 2016
Launched in 2010, Pinterest joined the social scene and quickly became one of the best visual content platforms. Today, it boasts over 100 million monthly active users, predominantly women. Virtual scrapbooking has transformed a decades-old DIY "cut-and-paste" craft into a communal experience.
But where do brands fit into this ecosystem? Wishpond research shows that 43 percent of Pinterest users like to associate with brands (whereas only 24 percent of Facebook users do). Home décor, fashion, recipes, and event planning rule the roost, but truly any company can carve out their "virtual mall."
You will find plenty of stories on the success of Etsy, TOMS, and Nordstrom in the Pinterest environment. More than any other category, retail brands on Pinterest are experiencing tremendous success in driving awareness, engagement, and traffic to their websites-and many boast high conversion rates. They understand that users are in various stages of the buyer journey, and these retailers have mastered building engagement over time. I know plenty of women with "Wedding" boards who don't even have boyfriends!
The overriding message here is: Help your customers today, and they will come back and buy tomorrow.
Although Pinterest has been slow to offer advertising opportunities to brands (Promoted Pins is one way brands can buy their way in front of audiences), companies have leveraged Pinterest's inherent organic discovery to connect with consumers. And with the advent of Rich Pins (Pins that include extra information on the Pins themselves), the platform is making it easier for brands to connect and engage with consumers.
For as much success as retail brands see through Pinterest marketing, it is not the only industry that has a big opportunity to grow audience and drive business. Food and beverage marketers on Pinterest are finding the platform to be a proven traffic driver to their websites via recipes. But for companies that want a relationship with consumers that go beyond the recipe, I've highlighted ideas from five food and beverage brands to help inspire your own board creations.
When creating a board, ask yourself: What inspires you as a brand? Use visuals and captions to tell your stories, but ultimately, show your audience you are interested in them.
1. Starbucks

Pinterest is recipe heaven, and Starbucks does a delicious job of enhancing this category with its coffee and tea concoctions. But how does it stand apart from other boards offering coffee and tea recipes?
Two standout boards are Starbucks Cup Art and Starbucks Store Design. If you're trying to figure out how to tell a story through images, look no further than the Store Design board made up of vertical collages of images with fact-filled captions. Exterior and interior shots from stores around the world paired with vignettes about the design sensibility of each store gives Starbucks the opportunity to tap into what people love to Pin: architecture, travel, and interior design.
The Starbucks Cup Art board celebrates the artistic creations of its consumers. User-generated "fan art" is a magnet for comments ("this is awesome" comes up time and time again), making this type of board a proven engagement device.
2. McCormick Spice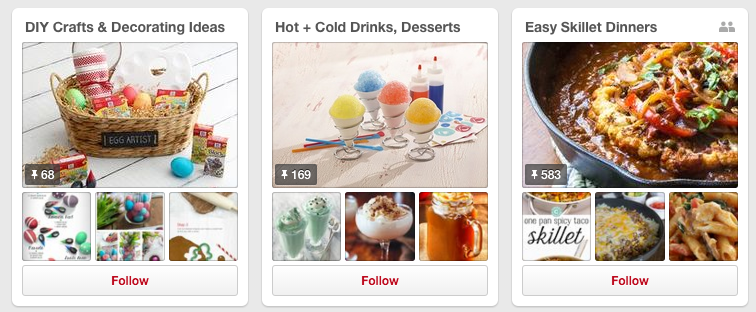 Before you check out McCormick's Pinterest page, head over to its website. Every image and recipe is Pinnable. If you're a food company and not following this best practice, you are missing out on the opportunity to get your consumers to do some of the heavy lifting for you on Pinterest. McCormick's Pinterest page reminds me of those old-fashioned index card recipe boxes. Well organized into niche subject areas like Meals in 30 Minutes, Burger Recipes, and Apple and Pumpkin Recipes makes the brand's Pinterest board an easy resource for home cooks. In addition to recipes, boards such as DIY Crafts and Decorating Tips and Party Decoration and Ideas offer value-based content for home entertainers.
3. Mamma Chia

One word sums up Mamma Chia's Pinterest page: Inspirational.
Mamma Chia taps into that brand gestalt with every board it's created. Seeds of Knowledge, Gratitude, and Joy are well thought-out, brand-centric examples of those ubiquitous "inspirational sayings" boards you see peppered throughout Pinterest. And, the brand knows what its audience loves, with boards devoted to yoga, fitness, and running. Although just a handful of Pins exist on the Mamma Chia Snapchats board, it's a clever way to preserve those fleeing photos. This cross-pollination of Pinterest marketing with Snapchat marketing lets customers know that they can engage with you on multiple platforms.
4. Annie's Homegrown

When I think of Annie's I tend to think of its flagship product, Mac & Cheese. So of course, it has a board called #MixInMonday Mac & Cheese. But with product extensions that run the gamut from snacks to soups to dressings, this brand has created a mix of product-focused and customer-centric boards to engage its core audience: moms. Annie's leans into its brand story with boards that offer wholesome ideas and activities, such as Growing School Gardens, Fun with Little Ones, and DIY Reuse & Upcycle.
5. Maker's Mark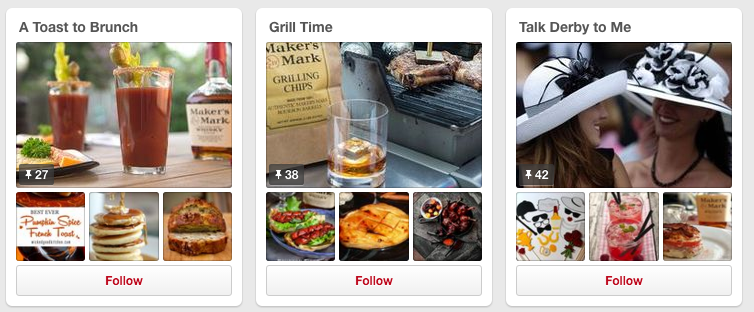 With the Kentucky Derby right around the corner, I couldn't resist showcasing Maker's Mark. Its Talk Derby To Me board makes you want to mix up those mint juleps and throw a party on May 7.
But why stop there?
The Bourbon Inspired Wedding board gives wedding planning idea seekers unique ideas that revolve around the Kentucky brew. To position themselves as the authority on bourbon, #Bourbonisms is a clever board that answers a few questions you may have about this spirit. My only advice: Get more Pins on this board!
All of these brands share a number of Pinterest marketing best practices including the use of text overlays, descriptive keywords, clever hashtags, and high-quality images with captions that evoke a story. Maker's Mark participates in the ecosystem of Pinterest, following and Pinning others' images that align with the brand. If you want to succeed in this virtual scrapbooking environment, you need to keep audience personas in mind, move beyond product-focused content, think about what interests your consumers, and apply storytelling concepts to every image you Pin.
If you're looking for more ideas on how to build your Pinterest marketing plan or to bring storytelling into your social channels, subscribe to the Content Standard Newsletter.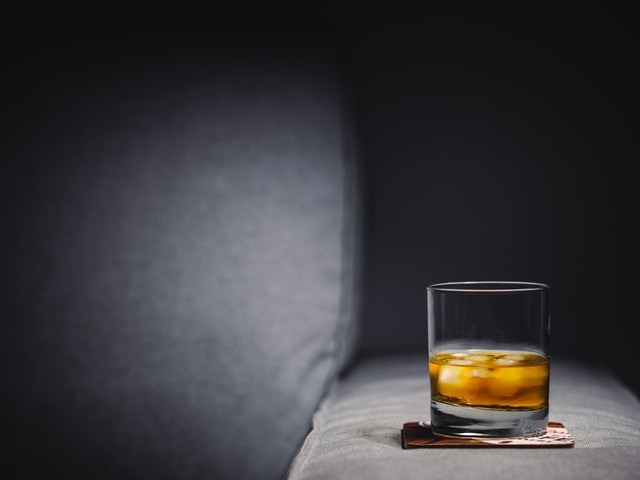 https://www.skyword.com/contentstandard/5-food-and-beverage-brands-with-highly-successful-pinterest-marketing-strategies/
https://www.skyword.com/contentstandard/5-food-and-beverage-brands-with-highly-successful-pinterest-marketing-strategies/
Marcy McCreary