Content Strategy
5 Ways to Align Sales and Marketing around Audience-Centric Content: The New Art of Differentiation
By Jonathan Crowl on April 5, 2021
Today's customers understand their value to businesses, and they know that the digital era of business is saturated with solutions providers jockeying to sell to their target audience. That increase in competition has put potential clients in an enviable position, giving them the leverage to demand more attention and personalized service from companies seeking their business.
To meet these expectations and build lasting relationships with customers, businesses are under greater pressure to align sales and marketing strategy with messaging that centers customer—rather than products—in conversations geared toward converting new clients.
Strong numbers support this strategy shift: research suggests that customer-centric business models are 60 percent more profitable than those reliant on a product-centric strategy. With an audience- and solution-centric approach, sales and marketing teams can highlight how products address pain points, cater sales messaging to individual use cases, and cultivate relationships that support a higher customer lifetime value.
To help guide this transformation within your company, we've collected five key insights from a handful of marketing leaders on how to successfully shift to a customer-centric sales and marketing model.
1. Gather Input from Sales to Create Audience-Centric Thought Leadership
The best way to align sales and marketing is through regular conversations that share insights and provide sales-specific input for marketing strategy development.
For marketers, the sales department represents a critical internal relationship, offering unique customer feedback and other data points to inform a marketing strategy that addresses and satisfies the demands of customers. To create marketing stories that resonate, marketers should work with sales to understand exactly what customers are looking for when they interact with the business. This awareness helps bolster efforts at personalization that connect marketing efforts to specific customer pain points.
"As we built up more and more insight-driven content, this library gives us the opportunity to personalize the experience for our audiences," says Colleen Brooks, director of digital marketing at Verizon Business Group. "We can serve up the next best piece of content based on what our customers are consuming, we can serve more effective CTAs based on their behavior, and we can build in requests to talk directly to our sales teams at any point in our journey."
2. Discuss and Strategize with a Broader Group of Internal Stakeholders
Beyond collaboration between sales and marketing, conversations about shaping a customer-centric strategy can also engage other stakeholders, such as product developers, engineers, and C-suite leaders.
An audience- and solutions-centric marketing strategy is most feasible when this customer centricity is woven throughout all the company's operations, from developing products in response to customer needs to understanding how repeat sales factor into the full customer lifecycle.
"I've found that you need to strive to have a universal 'why' that all the team members can buy into, and give them a voice in it, and show progress and value quickly and consistently so they stay involved and bought into," says Brooks.
3. Forge a Relationship of Trust Between Sales and Marketing
To earn trust, marketing needs to deliver content that meets customer needs—and do so quickly and consistently without losing relevance over time.
Without a customer-centric approach, mandating immediate content relevance may be a tall order for organizations: research shows that 5 percent of all marketing content accounts for 95 percent of customer engagement at the average business. In other words, much of the content you create offers comparatively little value.
But your business can squeeze more value and ROI out of your full marketing library: for instance, working with sales helps ensure that content stays relevant to customer pain points. Identifying opportunities for traditional sales channels to promote useful marketing content secures consistent value for prospects.
"In order to be perceived as a valuable partner for sales, marketing needs to earn the trust . . . of our own sales counterparts," says Jill Taksey, senior director of content strategy at ADP, "and then leverage that trust that we've built together to share valuable stories with the market."
4. Identify Where Customers Need the Most Support
Becoming audience-centric requires understanding your customers' needs and identifying the current gaps in support. These areas of need might exist within your customer experience or across your industry as a whole.
Ian Forrest, global marketing officer at New York Life Investments, describes the direction his company took to become more customer centric. They focused on a poorly understood trend among female clients of financial advisors: according to research, two-thirds of female clients of advisors eventually leave their advisor for reasons that weren't connected to poor performance on the part of the advisor.
"What we wanted to understand is, 'Okay, if it's not performance-driven, and two-thirds are going to leave for something other than financial performance, why would they leave?' And then working to identify those factors and helping advisors address those, in a world where you have predominantly male advisors and an increasingly large number of women who own investment decisions," says Forrest.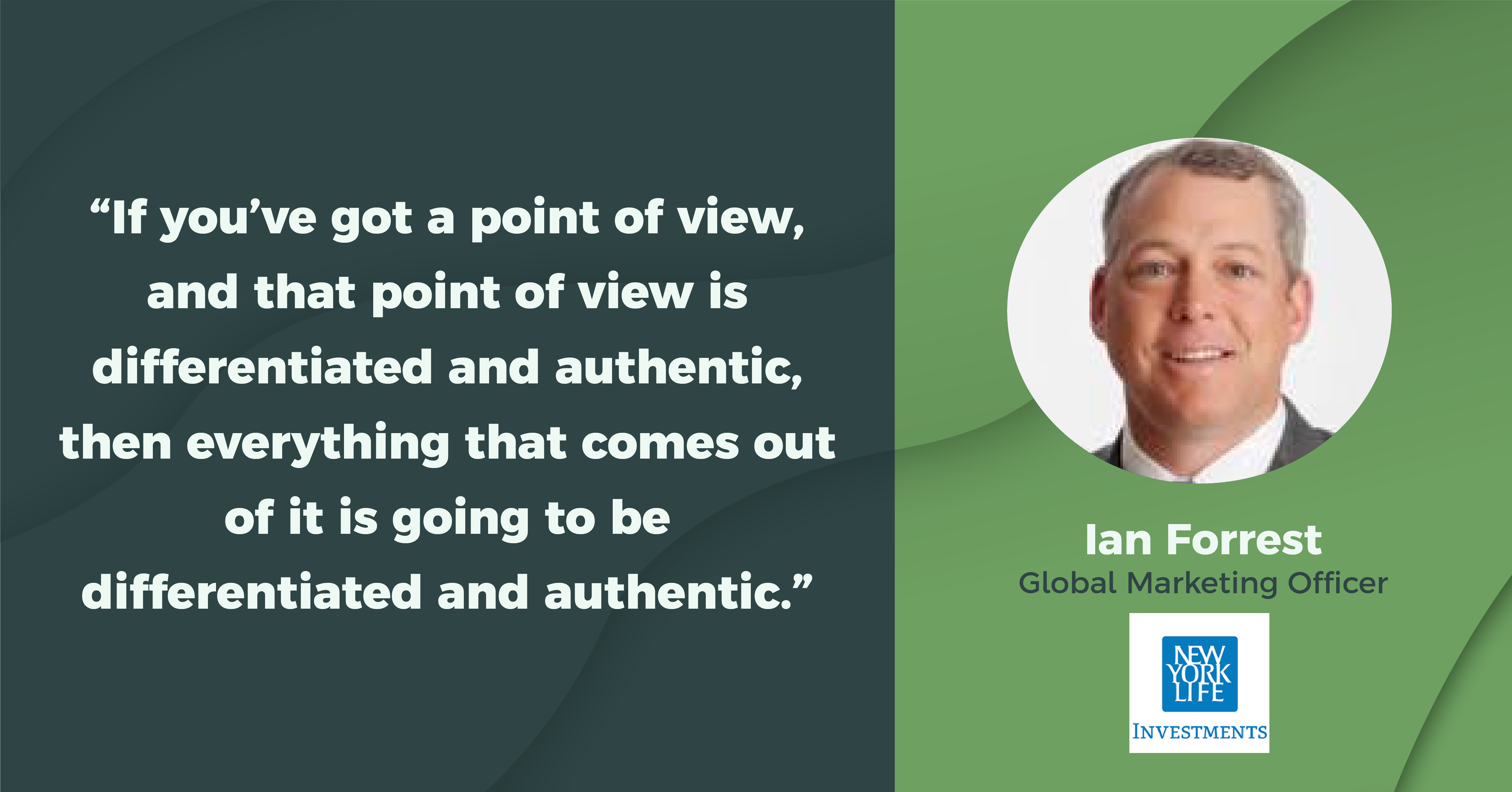 5. Wield Content to Grab Customers' Attention in a Noisy Environment
Across industries and customer pain points, audiences are united in being inundated with marketing noise. Sales and marketing can work together to stand out by speaking directly to customer needs. Underlined with a strong brand voice and point of view, this direct approach to messaging can help drive engagement where competing marketing strategies fail to grab the attention of solution-seeking customers.
"If we're not providing something of value in exchange for our audiences' attention, we're doing something wrong," says Taksey. "That's the filter through which we look at all of our thought leadership and top-funnel storytelling."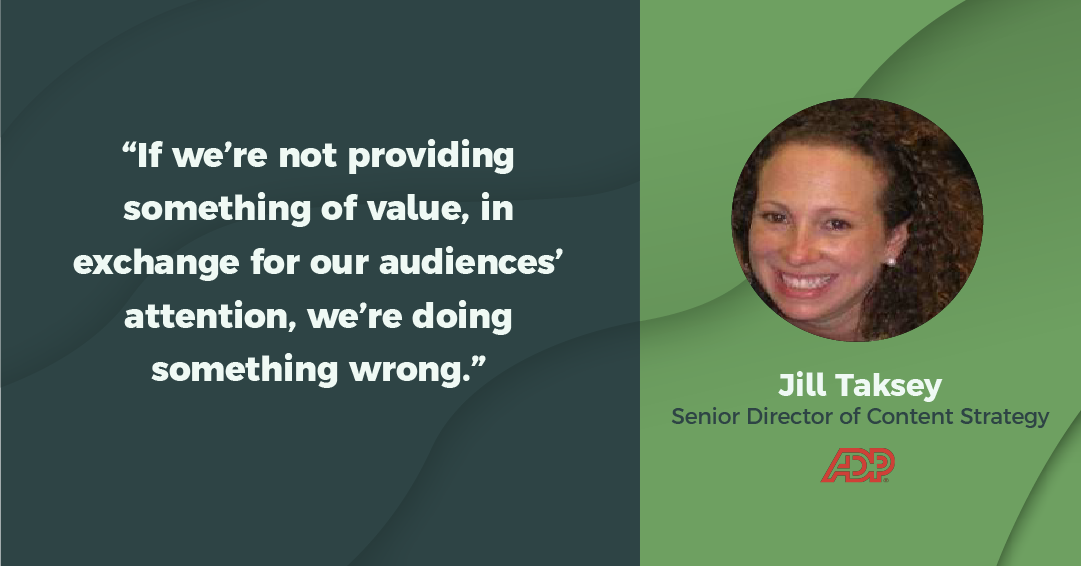 Although the process of aligning sales and marketing is a process requiring time to execute, this transformation can have a significant impact on performance metrics. Uniting the sales and marketing teams lays the groundwork for greater ROI coming from both departments.
For more stories like this, subscribe to the Content Standard newsletter.
Featured image attribution: Yifei Chen on Unsplash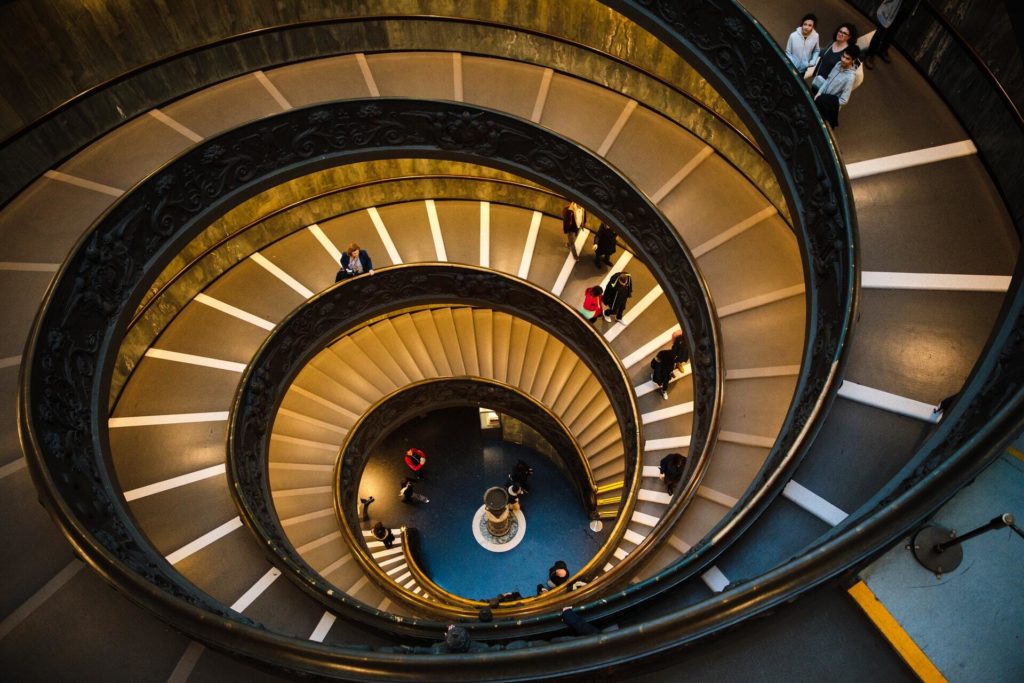 https://www.skyword.com/contentstandard/5-ways-to-align-sales-and-marketing-around-audience-centric-content-the-new-art-of-differentiation/
https://www.skyword.com/contentstandard/5-ways-to-align-sales-and-marketing-around-audience-centric-content-the-new-art-of-differentiation/
Jonathan Crowl