Content Strategy
Data Privacy Marks the End of Digital Feudalism
By Andrew Wheeler on August 24, 2021
Subscribe to our monthly newsletter, Content & Context, to receive future insights and updates on the content marketing world from Skyword CEO, Andrew C. Wheeler.
The feudal system is alive and well in digital marketing.
Tech giants like Facebook, Google, Amazon, and Apple have built billion-dollar fiefdoms on the backs of customers whose data fuels their biggest revenue stream—advertising.
And those fiefdoms have reached monolithic scale. Despite pandemic-induced budget cuts, digital ad spending grew to $139.8 billion in 2020. Over 78% of that ad revenue lined the coffers of just ten companies. Meaning an overwhelming number of brands are beholden to a small circle of tech overlords for access to closed ecosystems of audience data.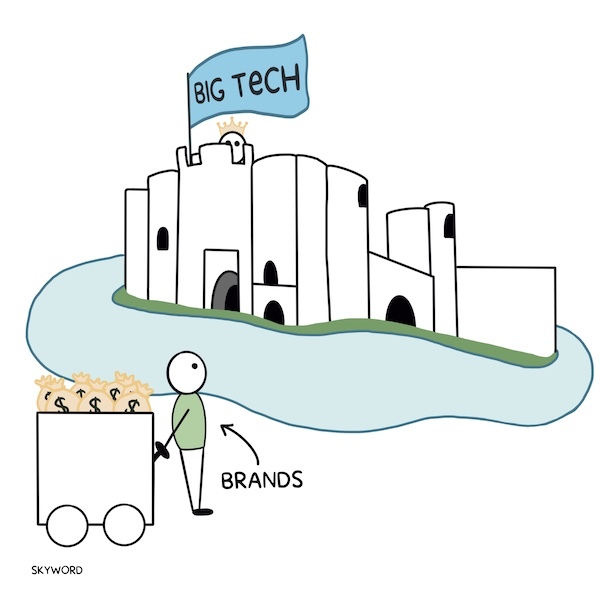 That said, the days of our data-fueled serfdom appear to be numbered. Take Facebook, for example.
Mark Zuckerberg may not have taunted his customers with a highly publicized launch into space, but he's certainly no stranger to exploiting them for profit.
On its latest earnings call, Facebook reported that targeted advertising made up 98% ($28.58 billion) of its total revenue in 2020.
On the same earnings call, we heard that Facebook's ad prices continue to rise (+47% QoQ), and its ad inventory is nowhere close to keeping up.
Combine that with the fallout from Apple's ad blocking settings, and you have a long line of Facebook advertisers fed up with continuously paying more for less.
A Digital Uprising Is Under Way
But Facebook isn't the only company whose business model deserves scrutiny. Regulatory head winds and the public's growing distrust of big tech are disrupting digital advertising across the board.
More importantly, the brands who've come to rely on digital ads face a looming market disadvantage.
If you haven't yet, I highly recommend checking out Dentsu's The Cookieless World report, which does a great job explaining the magnitudinous impact of data privacy on digital marketing. In short:
The world's largest web browsers are shutting down their support for third-party cookies, meaning that behavioral targeting, retargeting, ad management, and ad measurement will lose nearly all their effectiveness. Not convinced? Google predicts most publishers alone could lose 50–70% of their revenue if they don't reconfigure their approach to ad and data management by 2022.

Tracking restrictions designed to limit data exploitation have become de facto in internet tech development.

A shift from opt-out to opt-in consent is making it more difficult to gain the approval required to use customer data. (While I haven't seen what I would consider definitive benchmarks for opt-out vs. opt-in conversions, there is evidence that properly managing opt-in requirements also places a greater financial burden on businesses.)
Also not to be ignored is the net negative sentiment surrounding major tech companies. According to a June Change Research poll, Twitter and Facebook garnered the most unfavorable opinions (second only to big banks), and an overwhelming 98% of respondents supported regulating internet companies to ensure they don't abuse customer data.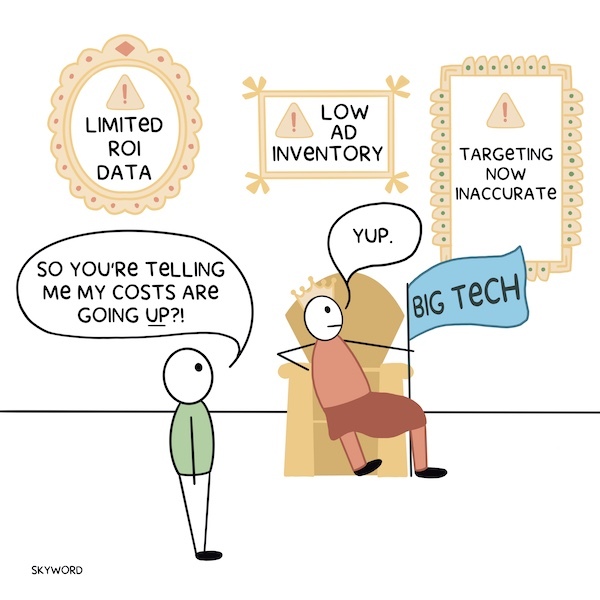 What It Means for Brands
The efficacy of digital advertising—as we now know it—is doomed to decline.
What's not? Content-fueled initiatives such as organic search, organic social, email, and on-site personalization.
(Cue the resounding "I told you so" from content marketers.)
It's clear that brands need to invest in high-value content on their owned properties. By building their own marketing ecosystems, brands can:
Pull back from paid platforms and reclaim ownership of the effectiveness of their marketing spend.

Collect first-party customer data to fuel their own retargeting and on-site personalization.

Control the context in which their brand appears.

Ensure customers associate their brand with a premium content experience.

Continue to accurately measure the effectiveness of their efforts across the customer experience.
The idea being, the more you own yourself, the more efficient you can be with driving your funnel.
Recently, Vic Catalfamo, a digital marketing pioneer since 1999, sent me a slide from a brand planning meeting. In it, he plotted the efficacy of the brand's marketing tactics from a cost-per-lead perspective. In red are the tactics they've chosen to double down on in the year ahead. In blue are those they'll either decelerate or discontinue.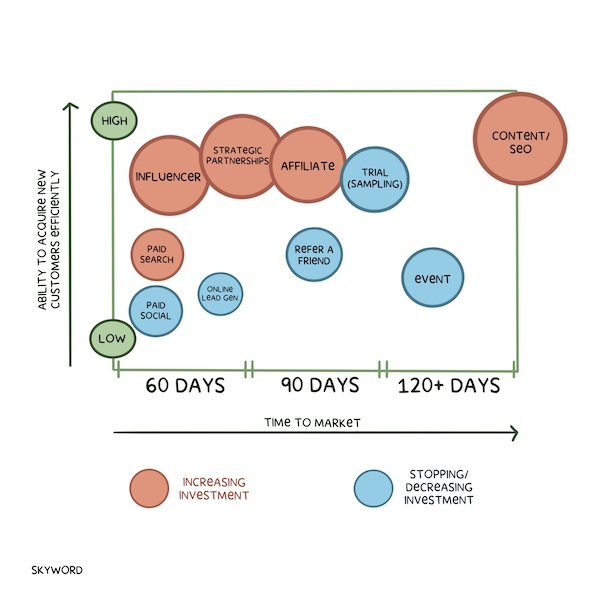 As you can see, content and SEO generated the highest ROI of any tactic they deployed. While building search traction, they leveraged a mix of partner-driven and paid tactics to fuel their funnel.
Now the same brand is experimenting with using their content to collect first-party data and contextually retarget visitors within their own site.
This, my friends, is taking back control of your spend—and your data.
Now, I know what you're thinking: "I could NEVER wean myself off advertising entirely!"
If that sounds like the little voice in your head, consider this: With the average SMB spending around $114,000 per year on search advertising and easily twice that on social advertising, redirecting just 20% of your digital advertising budget to your owned and earned digital channels is money well spent.
Divest now so you aren't doomed later.
Entering the Era of Quality at Scale
In effect, what we're looking at is a marketing meritocracy in the making.
The marketing playing field is leveling thanks to tracking restrictions and evolving customer attitudes. As a result, brands must shift focus from bidding for audiences to earning them. How? Through positive one-on-one value exchanges.
Sharon Toerek, founder of Toerek Law, recently told Content Marketing Institute:
"Marketers absolutely need to pay attention to their owned platforms and focus efforts there for at least two reasons: More control over data practices, which makes complying with data privacy regulations easier and more straightforward, and better data quality, which makes the data more relevant and the relationships you use the data to build more valuable."
I couldn't agree more.
Content quality, relevance, and compelling differentiation have always been central to effective marketing.
Brands who already consistently produce audience-centric content are well-positioned to thrive in a cookieless world—as long as they can scale the right way.
But the rest of you have work to do. iProspect and Microsoft's 2021 In Brands We Trust study revealed that while nearly half of marketers (49%) believe they offer fair value in exchange for consumer data, only 15% of consumers feel they're actually getting good value in return.
Furthermore, a 2020 study revealed that site trustworthiness and the importance of the content were among the top three factors users considered when accepting or denying cookie permissions.
Now is the time to invest in assets you own that are steeped in audience value and—as a result—are self-sustaining.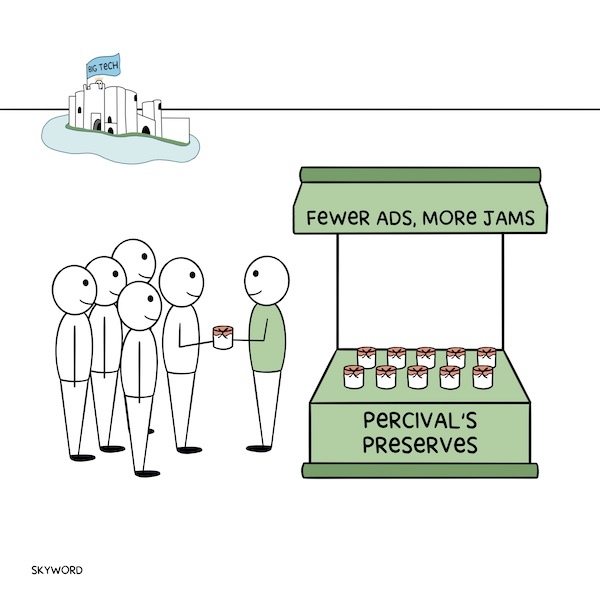 In my opinion, putting energy back into serving customers rather than tech companies is the best way to end the era of digital feudalism in marketing.
Featured image attribution: Paul Melki on Unsplash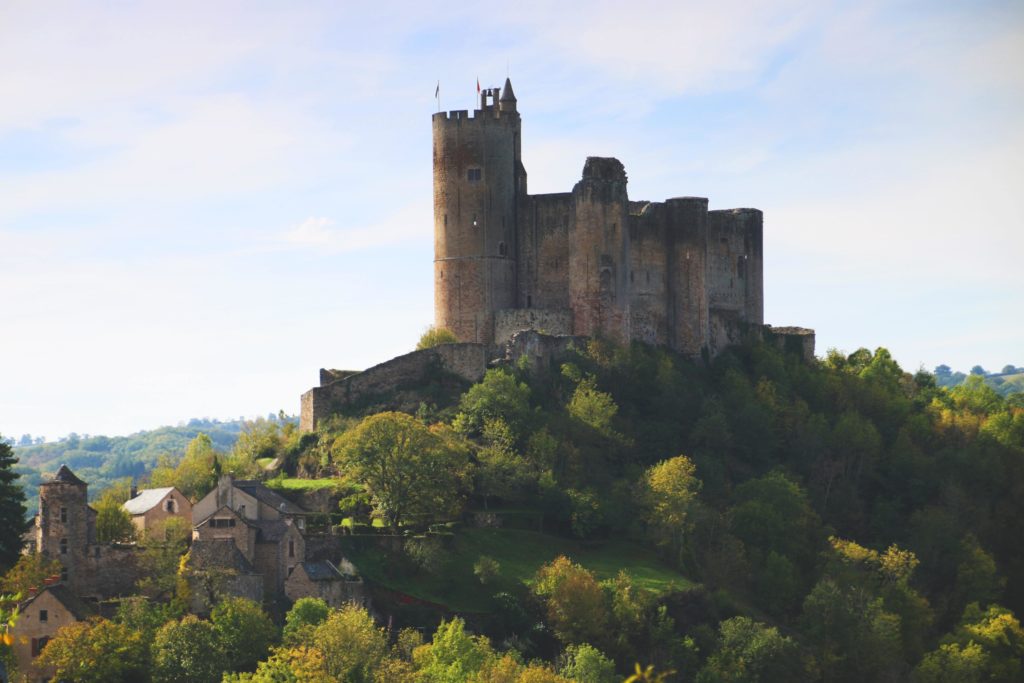 https://www.skyword.com/contentstandard/data-privacy-marks-the-end-of-digital-feudalism/
https://www.skyword.com/contentstandard/data-privacy-marks-the-end-of-digital-feudalism/
Andrew Wheeler