For Google News
How to Create Effective Social Media Bios for Brands on Twitter and Instagram
By Paige Breaux on January 23, 2019
Creating a smart and unique online profile is key when trying to be a sparkling fish in the wide, wide pool of online daters. It's a challenge that extends to companies, too. Much like how those searching for love have just one or two sentences, and a handful of snapshots, to convince someone to actually commit to meeting up for a date, creating social media bios for brands comes with the same cyber trials. With their tight character limits and endless distractions to scroll through, social media platforms can be a difficult space to make a good first impression and establish real commitment that turns prospects into lifelong brand loyalists.
The best social media bios for brands have a command of their voice, which in turn attracts their greatest potential audience. The key to keeping them there, and getting them to come back? Using your brand's online presence to spark memorable connections.
Here's how to create an exceptional company bio for Twitter and Instagram that'll transform casual visitors into devoted followers.
Skip the Introductions
When faced with such a limited space to attract attention, you shouldn't waste characters explaining each and every one of your company's services and product offerings. Because what are the chances people are heading to Wendy's Twitter feed, wondering if they're an Italian restaurant? Slim to none. By the time a person arrives at your brand's social media profile, they're likely already somewhat familiar with the main value you provide, and are hoping to engage further with your brand: through a customer service inquiry, a review of a specific experience, or a conversation around a new product launch.
So rather than set out to tell your full company history, use your bio to highlight the most meaningful and memorable aspects of your brand, through brief, direct statements which focus on action, rather than description.
One example of a social media marketing strategy that gets right to the point, without sacrificing any essential information or personality, is Dollar Shave Club's Twitter bio.
In just two short sentences, Dollar Shave Club warmly invites new followers and explains exactly what value they offer, in terms of what their products do-improve how customers look, feel, and smell-rather than listing out what those products are. Plus, by linking to an additional social media account of theirs, they offer a direct solution for customers seeking further online assistance.
Speak Like a Human
Brand social media presences which distinguish themselves from other marketing channels do so through relaxed, unscripted forms of communication. Unlike the more formal presentation style and structure you'd use on your main site or company newsletter, the best social posts and profiles rarely take themselves too seriously, and speak to followers like real-life friends.

The most natural sounding bios present the brand and its mission in the first person. When successful, visitors feel like they're getting an all-access pass to view the inner workings of a company, where the personal values of the business are voiced in an engaging way-without coming off like a lifeless press release.
In their Instagram bio, pet food company Hill's Pet connects with their customers right out the gate by engaging their audiences' emotions, focusing on a mutual love for animals and a passion to help pets "live a healthy and happy life."
If you're a B2B brand operating in a more technical and traditional area, you can still add some flair and humanity to your social media marketing strategy. For example, data and information management company Iron Mountain uses their Twitter bio to promote a trusted relationship with consumers, while still maintaining a dignified and authoritative tone that reflects their industry.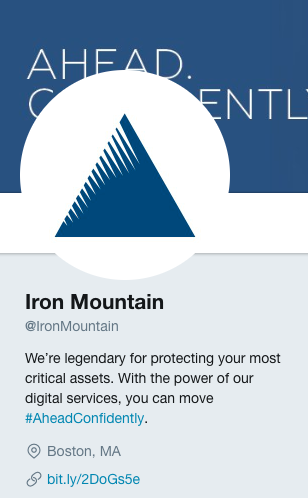 Consider the Visual Appeal
Even with a 150 to 160 character limit, it's still a mistake to have your bio be overly wordy or text-heavy. Especially for a platform like Instagram, which is all about visual storytelling and aesthetics. Social media bios for brands should catch visitors' eyes through interesting spacing and imagery.
Online readers tend to scan the words on the page for the most essential takeaways, so you want to make sure you're presenting your information in eye-catching and easily digestible formats. Line breaks and bullet points are a clean and concise way to present your brand's essential points in an optimal format for the web reader.
Unfortunately, Instagram doesn't currently allow for additional line breaks on their native site. So in order to incorporate custom spacing or symbols into your profile, you must first compose the text on a third-party notes app or document before pasting it into the final Instagram field.
Emojis are another easy way to add creative flair to your bio, make your brand appear friendlier, and cut down on unnecessary characters. Emojis add color and interest to your social media presence, and can also be used as a way to reinforce important pieces of information.
Perfect for the Instagram crowd, clothing company Urban Outfitters cleverly uses a mix of emojis and bullet points to direct followers to their other demographic-specific Instagram accounts. This approach serves two essential brand goals: it's an effective targeting strategy which generates more leads by matching specific customers with the products they need; and it connects their entire presence on the social media platform in a single, cohesive location.

Include Strategic Keywords and Hashtags
Just like how using keywords in your content improves your brand's SEO ranking within Google's search algorithms, optimization principles can-and should be-applied to your social media marketing strategy, too. Both Twitter and Instagram operate as independent search tools. So by adding powerful and relevant keywords for your industry in your company's bio, you not only ensure that your official social media pages appear at the top of search results, but you'll also new target customers. For example, by using keywords like "fitness equipment" or "skincare" in your bio, people searching for content on those topics will have your profile suggested. It's amazing how a simple phrase can boost your business.
In early 2018, Instagram updated their services to allow accounts to include clickable hashtags and links in bio descriptions. By adding your own brand hashtag to your bio, you can instantly increase your exposure by bringing users to a gallery of constantly updated content, showcasing how customers are experiencing your brand.

Beauty brand Benefit Cosmetics fully embraces branded hashtags as an opportunity to gain awareness and build a community through user-generated content. Their official Instagram turns all its attention to the consumer, and invites its audience of "benebabes" to tag their own Instagram makeup photos with the hashtags #benefit and #benefitbrows.
Don't Forget a Call to Action
According to a recent Shareaholic report, 25.6 percent of all website referral traffic came from social media sites in 2018. Social media, without a doubt, opens the door to better reach and engagement for your brand. However, to see true ROI, you'll want to keep these conversations going. One way to do that is by encouraging conversions from visitors by including a direct link to your website or landing page in your social media bios.

Airbnb does an excellent job at directing their followers to further action in the final line of their bio. The "book from our feed" CTA leads visitors to a landing page where they can shop for specific listings, right from the brand's own carefully curated feed of Instagram images.
Take solace in knowing that whatever bio you do write, doesn't have to stay that way forever. Social media is one of the most fluid mediums out there, and as your brand positioning evolves, you should update your social presence to reflect this new direction. You can also keep your profiles current by using the space to promote any new offerings or events, such as adding a link to an upcoming webinar or discount code.
Entertainment Weekly's current Twitter bio, for instance, is seeking to capitalize on the excitement surrounding the 2019 Hollywood awards season by encouraging followers to check out their newly launched weekly podcast, which updates listeners on the latest award show buzz and nominations.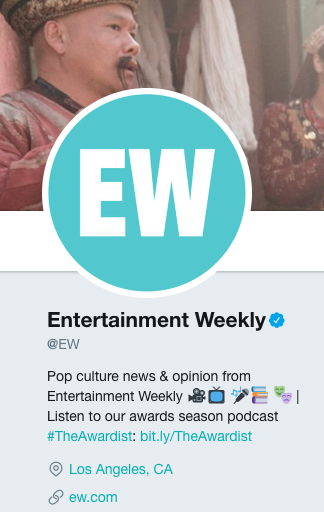 Your social media bio is your best opportunity to showcase your brand's personality to millions of potential fans and followers. So make it count! By taking advantage of these social media marketing strategies, you'll be able to optimize your message and make a killer first impression that both tells users who you are, and gets them excited about what else your brand has to offer next.
For more stories like this, subscribe to the Content Standard newsletter.

Featured image attribution: Chris Benson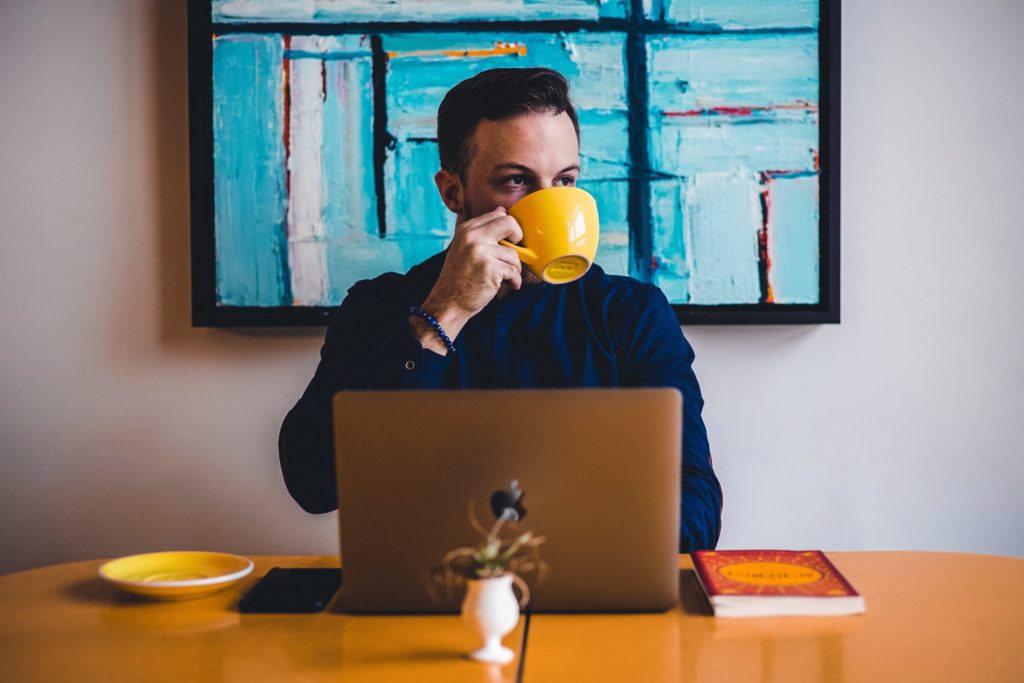 https://www.skyword.com/contentstandard/how-to-create-effective-social-media-bios-for-brands-on-twitter-and-instagram/
https://www.skyword.com/contentstandard/how-to-create-effective-social-media-bios-for-brands-on-twitter-and-instagram/
Paige Breaux