For Google News
The Fan Advantage: Winning Tips from the Pittsburgh Penguins' Social Media Strategy
By Taylor Holland on April 23, 2019
Good social content helps your brand build emotional connections with your audience. Great social content, however, connects your audience with each other. After all, community is the whole point of social media. It's also the backbone of the Pittsburgh Penguins social media strategy, which is one of the reasons why they have the most engaged audience in the NHL.
Penguins fans love their team, their city, and each other-so much so that when one of them needed a kidney, many fans offered to give up their own.
A Life-Changing Moment Made Possible Through Social Media
On March 31, 2018, Andi Perelman, director of new media for the Penguins, was settling into her spot in the press box high above the ice, preparing to watch the game and provide real-time social coverage. That's when she noticed a woman holding a neon yellow sign down below.
One side of the sign said, "Calling all hockey fans! I need a Kidney! Kidney! Kidney! Gratefully yours, Kelly." The other side read: "Hey Guentzel, I'd love a hockey stick ... but what I need is a kidney."
Perelman sent a real-time correspondent down to verify the story, which turned out to be true. The sign holder was Kelly Sowatsky, a 30-year-old Penguins fan with Type 1 diabetes who was in end-stage renal failure. The real-time correspondent snapped a photo of Kelly and her sign, and Perelman posted it on Twitter, with the caption: "Penguins fan: Seeking hero."
The response was immediate and overwhelming. Over the next few weeks, thousands of Penguins fans called Kelly to offer support, and many of them volunteered to be tested to find out whether they might be potential donors. One of those callers-Jeff Lynd, a Penguins fan living in Delaware-was a match. Later that year, he became her donor.
"This story is pretty amazing and obviously a huge, impactful gesture," says Perelman. "But I think it's also a sentiment of how close our fans actually feel to each other and how it really is that family atmosphere. Penguins fans really know they can rely on each other."
As for Perelman's role in the story, she says, "It's been incredible to be even a little bit involved," but she's quick to point out that the true heroes are Kelly and Jeff. And to some extent, social media.
"So often, people wonder what social media is doing to our culture," says Perelman. "There are so many toxic things out there, so much false information, but I think this story illustrates just how good people can be and how social can bring people together.
"We've had other stories that were similar to this, just at a smaller scale. Honestly, it's my favorite part of my job, being involved in these life-changing moments and being able to connect people. I think that's the power of Penguins social media. I'm not saving lives by sending tweets-I'm connecting people, and those other people are saving lives and building relationships and building fandom."
Loyal Fans, a Winning Team, and a Wealth of Data
Today, the Penguins have more than two million fans on Facebook (a page with more than one billion impressions each year). Last season, the team recorded more than two million interactions on Twitter and more than nine million on Instagram. Those numbers are three times higher than the average NHL team's social engagement, according to a study by Adweek. A separate assessment by MVPindex found that the Penguins led the NHL with more than thirty-six million social engagements during 2018, with the social value per post estimated at $7,300.
But what makes the Penguins social media engagement strategy so effective?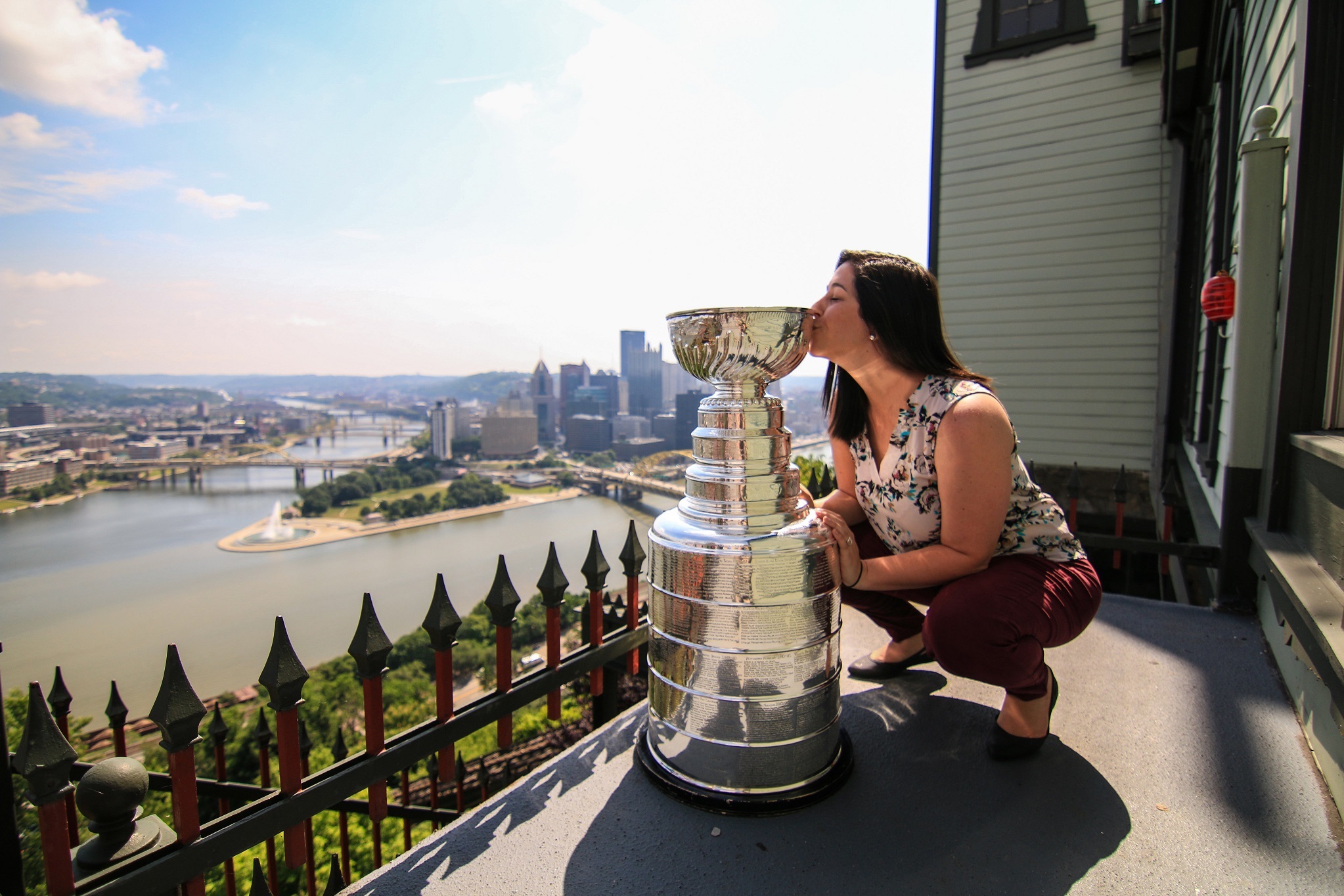 Perelman, who oversees everything social-related-from end-game coverage, partner stories, to customer service inquiries-says she's been able to strike such success by using fans as her "North Star."
"We want to produce what they want, and when they want it," says Perelman. And to deliver on that, it requires a lot of listening and a whole lot of data. For that, she employs TrackMaven's marketing analytics platform.
"We look at a lot of what our fans are saying anecdotally on a second-by-second basis. Seeing how people are responding to our content tells us how fans are reacting and where they are on that emotional scale."
But while Perelman controls the content, she doesn't control the emotional roller coaster that Penguins fans are on at any given moment. Her job is to figure out where the coaster is, where it's headed, and how to best position content for the ride.
"Anything can tip that scale at any moment. When we're losing, we can't make the same types of jokes as when we're winning. When the overall mood of our audience is trending negative, that's not a great time to integrate partners," she says. "So, the data shows us where our fans are on this emotional roller coaster based on how the team is performing, and what's going on in the world, and what big events are happening in Pittsburgh. And so many other factors."
GOAL! Seamless Omnichannel Marketing
Along with knowing when to post, Perelman makes data-driven decisions about what to post where. And that's a complicated dance, considering the Pittsburgh Penguins social media strategy spans dozens of popular social channels, including Facebook, Twitter, Instagram, LinkedIn, Pinterest, and Reddit. Successfully engaging fans across all these social networks requires seamless omnichannel branding, but often very different content.
"The main thing we focus on is, 'Here is our brand. Here's what we're trying to do.' And then we adapt that brand for each platform," she explains. "Our three brand pillars are energy, drive, and innovation. That's our home base. That's where we start. That allows us to say, 'Hey, this might be funny, but is this on brand? Is this showing energy? Is this showing drive? Is this innovative?' And there's almost a brand for hockey Twitter in general and hockey Instagram in general. So, we have to ask ourselves, 'How do we fit into each platform, while also maintaining who we are?'"
That usually means a slightly different social media engagement strategy for each channel. On Instagram, for example, Perelman and her team focus more heavily on aesthetics. "Obviously, Instagram is image-driven, but how do we make sure our feed looks like the Pittsburgh Penguins? That it's showing our colors and showing things that are crisp and clean? When a player is in a photo, does he look like he's driven for something? Does the photo convey energy?"
The Penguins Twitter channel has evolved significantly in recent years, and more people use it for two-way communication directly with the brand. "When I started here, people would call into the office a lot more to ask questions. Now, people are just sending a tweet, so I'm working really closely with our customer service team to resolve customer issues or answer questions," she said.
The new media team also uses Twitter to fulfill customer service requests that weren't actually requested. For example, if a fan who's at the game tweets about spilling his popcorn, they might take down a fresh bag. And when one fan's wife spilled red wine on his signed Sidney Crosby jersey, they sent him a new one.
Meanwhile, Facebook is where fans like building community. "Anything where we feel like fans can connect to each other, and create a community, tends to work well on Facebook," Perelman explains. "Also, anything player-driven, that really brings people together and can make fans feel proud to be a Pittsburgh Penguins fan. For example, we recently posted about Kris Letang donating more than fifty thousand dollars to a young fan for his medical expenses after a leukemia diagnosis."
"It's not just these big heartfelt stories [that build community]," says Perelman. "Even a win graphic works well on Facebook. There's nothing better than fans being like, 'Oh yeah, those are my people. That's my team, and I'm so proud of them.' A win is going to be huge for any team, but those kinds of things can be reproduced in various ways across various channels."
Using Data to Inform Which Content Works for Which Platform
However, just because something can be reproduced across various channels doesn't mean that it should. For instance, by tracking performance analytics across social networks, Perelman has discovered that some content works better as a platform exclusive.
"It's interesting," she says. "Sometimes we'll post things on Twitter that are similar to what we post on Facebook or Instagram, and sometimes we'll see those things work in every place. Other times, that's definitely not the case."
One example of this is when Perelman's team first launched the monthly "Colorful Fan" feature, which along with a photo of a chosen Penguins enthusiast, shares an interesting story about them and what they like most about being part of the team's colorful community. This sponsored content from the Penguins' naming rights partner, PPG Perelman explains as "very community-oriented" and seemed like a natural fit on Facebook and Twitter. But data suggested a different approach.
"Because this content was over-indexing, and we had a higher impact on Facebook than on Twitter or anywhere else, we decided to make it a Facebook exclusive and get these stories out to the audience it was really resonating with," she explains.
Her team also evaluates the overall performance of each piece of content, including individual posts within larger campaigns like "Colorful Fan." After the first year, Perelman's team looked at which of these profiles had the highest impact scores and why, and then used those insights to craft more engaging "Colorful Fan" stories for the following year.
"The data is great for self-evaluation," she says. "Sometimes we think something is great, and then we look at the data, and for whatever reason, it's not working. And then we can dive in and try to figure out why. Maybe likes are high but shares aren't high. Why is that? Likes are nice, but we really want shares, we want retweets, we want high impact.
"Impact scores on TrackMaven help us figure out what is good and what could be improved. So, it's been really helpful to have a tool that really looks at everything, and then we can go back and comb through and figure out which things need to be changed."
Scoring Social Points-for Penguins and Partners
Measuring marketing success is a bit more complicated for sports teams than it is for the average brand. For instance, Perelman's team isn't just concerned with their own KPIs and driving revenue for the Penguins, they must also demonstrate ROI for partnership content-and each of those partners has different marketing goals.
"It's important for us to find out, early on, what each partner is looking for, whether it's to sell products, get foot traffic, get their logo out there associated with ours, or get social followers," Perelman explains. "We always ask, 'What are you trying to accomplish, and how can we help in a way that's also gonna be something our fans can really latch on to and get behind?' Overall, there are certain types of content that we know are more effective at getting our fans to share or comment. The data helps us make sure that we are giving partners the value they're seeking."
For partners looking to increase brand awareness and promote their association with the Penguins brand, social value often comes in the form of shares and retweets-definitive proof that new audiences have experienced the partnership content.
And plenty of fans have been talking about the KeyBank Challenges, an ongoing video marketing campaign where two of the most popular Penguins-Evgeni (Geno) Malkin and Sidney Crosby-compete in various friendly (and often wacky) competitions. This content is, of course, sponsored by KeyBank.
PensTV crew: you've been warned.

Watch out for future @keybank challenges with Sid and Geno. 😆 pic.twitter.com/r2CVp3z6Lw

- Pittsburgh Penguins (@penguins) April 7, 2019
"Maybe no one is talking about player birthdays," says Perelman, "but Geno and Crosby shooting T-shirt canons from the upper bowl and trying to get the shirts to land at center ice-that's something where you're going to be like, 'Did you see that? It was so funny! Who came up with that crazy idea?'"
"I think that's the data that's really interesting for us," she continues. "The shares are here, and that's what we care about. But how do we pair what we care about with the best pieces of content? And how do our partner needs fit into that? Or, if they really want likes, it's easy to put them on a piece of content that we know gets a lot of likes. We know in our group that we're bringing a lot of value [for partners], but being able to show exactly what the value is has been difficult. Having everything at our fingertips, in one place, has been really great so that we can look at it year over year, and make those shifts."
Additionally, Perelman and her team have their own goals and success metrics-from boosting ticket sales, making personal connections with fans, to providing exemplary customer service via Twitter. But along with engaging and supporting its current audience, the Penguins also want to broaden its fanbase locally, nationally, and globally. That's why shares and retweets are so important to the Pittsburgh Penguins social media strategy.
"We want more fans in Canada, more fans in Russia, more fans around the world," says Perelman. "The data helps us determine are we producing content that will resonate with just people in Pittsburgh, or will it resonate with Penguins fans all over the world? We also want to convert non-hockey fans into casual fans, and casual fans into avid fans. You might not be into the hardcore hockey stats that an avid fan is, so how do we also produce content for a season ticket holder who just loves the team, and also produce things that could bring new fans into the Penguins fandom umbrella, and funnel them into eventually becoming avid fans?
"The data definitely makes a big impact, and I don't know how we would do anything like what I just talked about if we didn't have information from the social platforms and a way to stay tuned into what our fans are saying."
Through the proactive use of data and analytics, the Penguins team has been able to turn their social efforts from pure awareness into tangible results that drive fan loyalty and resonate with audiences. So if your brand is looking to create the same magic-tying ROI and brand revenue directly to your social efforts-remember to listen to your fans, consider your platform, and never, never ignore the data.
For more stories like this, subscribe to the Content Standard newsletter.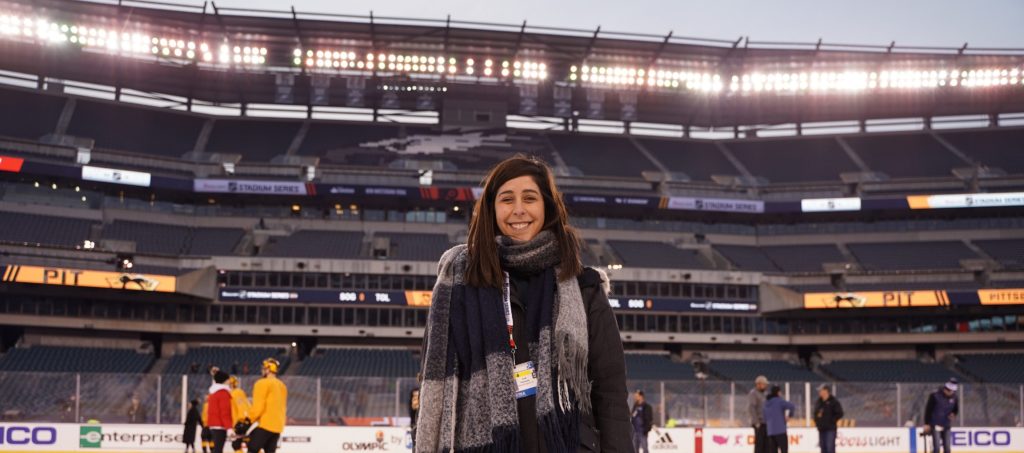 https://www.skyword.com/contentstandard/the-fan-advantage-winning-tips-from-the-pittsburgh-penguins-social-media-strategy/
https://www.skyword.com/contentstandard/the-fan-advantage-winning-tips-from-the-pittsburgh-penguins-social-media-strategy/
Taylor Holland