Content Creation
The Truth About Trusting External Content Partners
By Andrew Wheeler on February 24, 2022
Subscribe to our monthly newsletter, Content & Context, to receive more insights and updates on the content marketing world from Skyword CEO, Andrew C. Wheeler.

I'm a little surprised at how often the idea of creating content with external partners, agencies, or freelancers is met with resistance even though the last two years have taught us that getting work done through remote collaboration and distributed teams can be highly effective.
That said, I can understand how a halo of skepticism came to surround the "outsourcing" model. There are still plenty of content farms out there posing as thought leadership firms, agencies overcharging on the backs of entry-level copywriters, and freelance networks full of unvetted talent.
It seems like trustworthiness is the real issue here.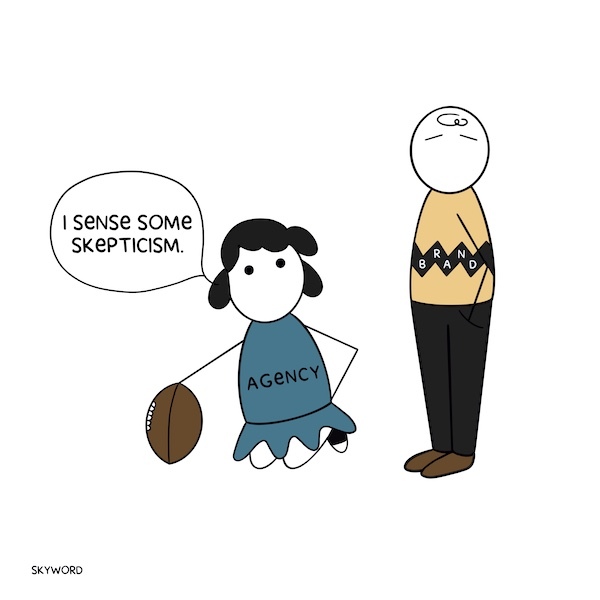 When I met Nalli, she was skeptical—and for good reason. She'd had poor experiences in the past and was wary of investing in another partnership only to find they couldn't deliver the caliber of content GE Healthcare needed.
In the end, we established a hyper-aligned partnership and a hyper-successful content program with her team. GE Healthcare's diagnostic cardiology division is not the largest division in the GE Healthcare system, but it is an innovation engine with high product launch vitality and one of the most profitable businesses. Nalli and her team built its content program into one of the biggest traffic drivers organization-wide.
What I admired so much about Nalli's approach, and what made me think of her almost as soon as I thought about this topic, is how purposeful she was in voicing her doubts and concerns in the vetting process so that we could address them. You don't often get that level of candor from prospective clients, and sometimes, concerned stakeholders may not want or really know how to articulate their misgivings.
This month I'm sharing the concerns about outsourcing content creation that I hear most often and—drawing from my experience and conversation with Nalli—how marketing leaders can assuage them.
Concern #1: The content won't be in-depth or expert enough for our audience
The reason we believe in tapping into freelance creators for content, rather than agencies or insourcing, is that the talent pool is so large it's guaranteed that people with the skills you're looking for are out there. But to find them, you need to know what skills you're looking for.
Nalli knew exactly what her program needed: writers with specific, scientific topic expertise and clinical experience whose credentials would be respected by healthcare providers. Unfortunately, she wasn't getting it working with a typical agency. As she explained to her team at the time, "You can't expect just anybody to be able to write clinical content—it has to be someone with deep subject matter knowledge." Her freelance writer pool, curated exclusively by Skyword, now includes professional nurses, medical writers, and cardiologists.
"When vetting partners, we prioritized the expertise of the creators," Nalli explains. And she advises her peers to do the same. "You must have people who really understand your audience's language and the market."
On your own, it's not necessarily easy to find impact investors with a passion for writing or designers who specialize in medical illustrations and e-books. But specialized networks and partners who can connect you with them exist. Look for those who have a track record of providing the specific kind of talent you need to create the right content for your audience and your brand—and who can activate that talent quickly when you need to meet fast-moving content needs.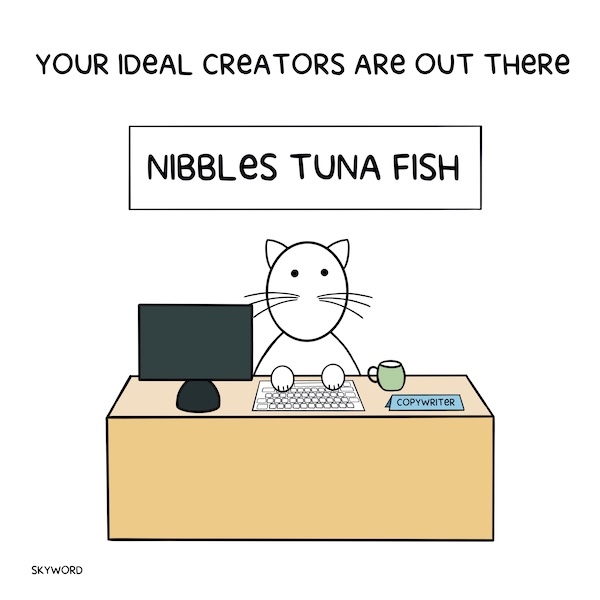 Concern #2: They'll never "get" our brand like we do
Let's level set here. Marketing should be the expert in the brand (its message, products, POV, etc.) and the audience (what they need and how the brand can help them in that journey). Content creators should be experts at communicating to the intended audience in a way that's both credible and compelling.
Making sure a partner is well-versed in your brand is both a process and a two-way street. Successful marketers plan for there to be a learning curve with a new partner, just as there would be with a new hire. Nalli went in with her eyes open, knowing what it would take to make our partnership successful.
"I always know that either me or somebody from my team is going to have to dedicate time to a partner until they're up and running. It's in no one's best interest to assume that a partner is just going to figure it out," she says. Acknowledging this reality, and having a bench of internal experts or resources to assist in knowledge-sharing with partners, is critical.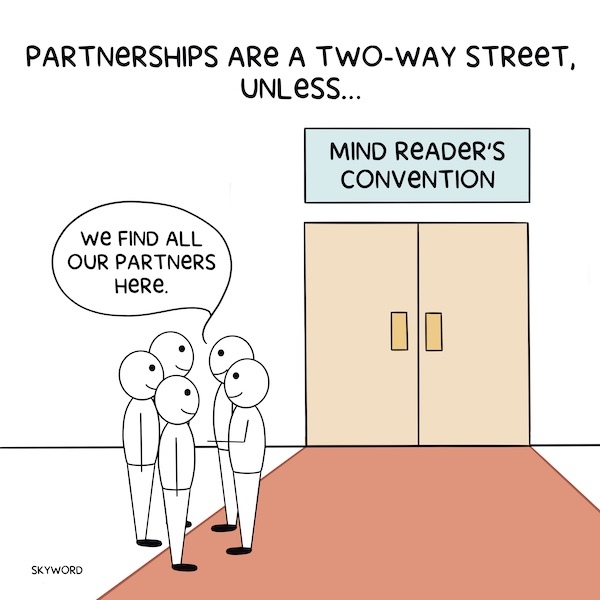 At the same time, you should absolutely expect a partner to invest in doing their homework, too. Are they asking deeper questions up front to get to know your product lines, brand story, business model, and objectives?
A quality partner knows how to gather and absorb the relevant information about your audience and brand quickly and thoroughly. This is key to generating value—and means they can move faster than the months it takes to hire and train a typical new hire.
Another area to consider: Are they going to inform your strategy or just execute on it? A partner that's informing your strategy on an ongoing basis is going to be more integrated with your brand and connected to the objectives for every asset.
Nalli again: "I'm always looking at the data to help guide decision-making, so a partner needs to have that. The data Skyword brought to the table helped me build confidence and give the business and the leaders confidence in terms of what we were doing and why we were doing it."
Concern #3: We'll lose accountability and quality control
I've found this concern usually resonates with teams for whom process and quality control are already sore spots. Either no content creation infrastructure exists, the current structure is too rigid to scale, or the structure is chaotic and there's fear that an external partner will exacerbate the problem.
At Skyword, we manage freelance relationships, deadlines, and content review so our clients don't have to, but we also consult and help set up internal workflows so operations run smoothly on the client side. There's a lot I could say that goes into that, but here are four crucial components: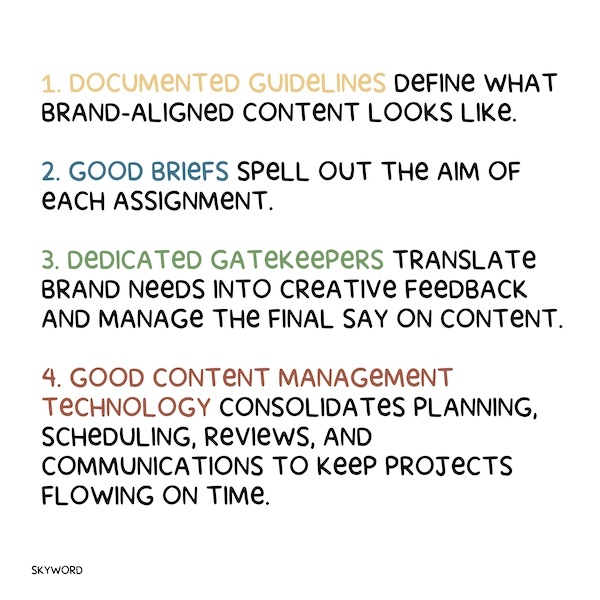 I view these components as essential for outsourcing, but which of these four things would any marketing team not want to have in place anyway?
Because of the structures put in place, Nalli's team now operates like a well-oiled engine: "There are a lot of people dealing with GE Healthcare content, but because there's so much confidence in what Skyword does in the diagnostic cardiology division, the review process for GE Healthcare has become more efficient. It made my life easy."
Concern #4: It's faster/easier to just do it ourselves
It is—until it isn't.
As we all know, internal bandwidth gets eaten up as soon as it's created. Unless you anticipate zero business growth—and then I'd say you have another problem—you're going to need creative skills tomorrow that you don't have on hand today. It makes more sense to work with external resources who can be changed up or tapped the moment you need them than it does to try and hire a team that can cover everything.
And what about the ability to pivot?
Did I mention that the pandemic hit the U.S. right as Nalli's program was publishing its first pieces of content? As she describes it, "Having an external partner was critical in terms of being able to keep going and quickly pivot with content to support cardiologists through the crisis." She had outside resources to help adjust strategy and the infrastructure and creators in place to get the net-new content she needed to market quickly.
Moving forward, she has a content creation model in place that allows her team to evolve in any direction.
"If we need to expand, if we need to pivot to add a new target audience or target a different audience altogether, whatever it may be, I certainly have the confidence that we can do so. We have the foundation to expand from. The experience and ability to do that is here."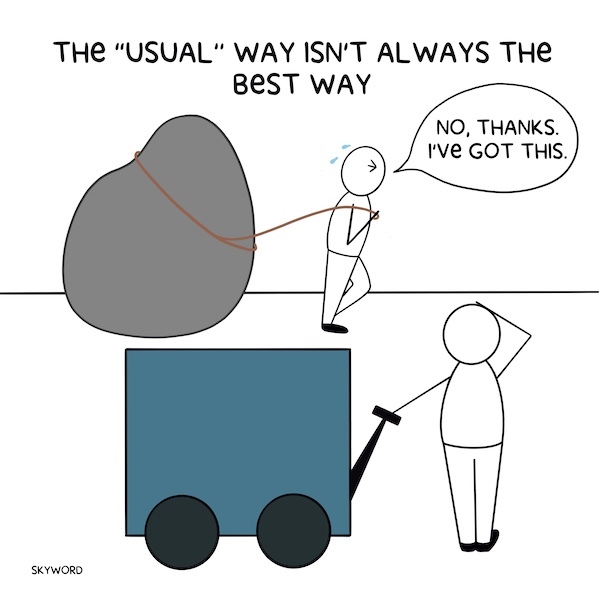 What's going to give you a foundation you can build on?
Lots of vendors prescribe software as the cure for effectively creating marketing content, the subtext being, "Just make your internal team more efficient, make coordination faster, spend less time pulling analytics—that will give you the
bandwidth to create more content." But software is aimed at improving efficiency.
In other words, maybe you've got a beautiful plumbing system, but what I want to know is: Who's filling the pipes?
When it comes to creating better quality, reaching more audiences, getting smarter about what you create and why, and gaining flexibility, software alone isn't a solution. That's why I'm so passionate about what we do. It's not just about connecting brands with talent, it's about introducing them to a model that scales their team. When marketers can activate the right creative talent when and how they need to, they can achieve bigger things and support the business with far more effect.
Nalli summed it up well when she spoke with me about the importance of nurturing your content programs and partnerships. In her words: "There's not one single thing that will make a successful investment from the beginning because it's about nurturing over time. You must be in a position to keep reinventing yourself to stay meaningful to your target audience and to stay meaningful to the business. You have to prove yourself over and over again; otherwise, it will all go away."
Nalli stood up what continues to be a highly successful content program during a time of extraordinary upheaval in her industry, in marketing, and in the world overall. And she knows she can easily scale that program as her customers' needs evolve. She did so, in part, by knowing exactly what she was looking for in the right partner, investing time in that partnership, and trusting the process.
I encourage you to take a page from her book if you're considering how to scale your content creation. Hopefully this advice helps you make that decision and any potential journey with a partner more purposeful and successful.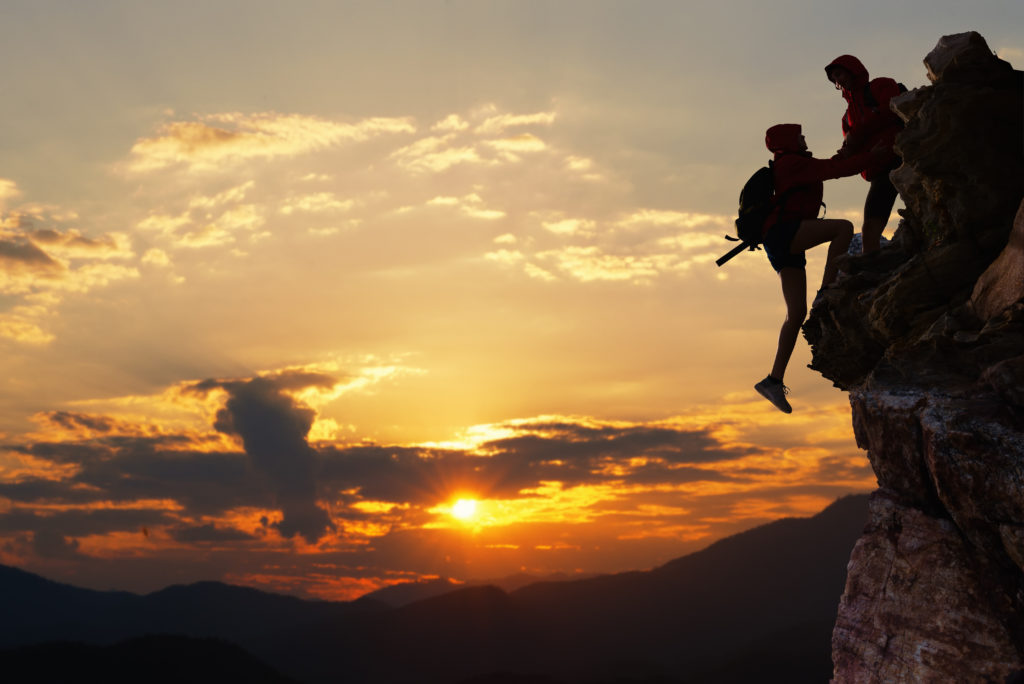 https://www.skyword.com/contentstandard/the-truth-about-trusting-external-content-partners/
https://www.skyword.com/contentstandard/the-truth-about-trusting-external-content-partners/
Andrew Wheeler