Communications
4 Rules for Crafting a Job-Winning Freelance Writing Bio (According to a Skyword Community Manager)
By Molly Conicella on April 20, 2016
To break into freelance writing, you need more than just great content. Creating a website, finding opportunities, and learning style guides are just a few of the many skills you'll need to grow your freelance business. (We'll save payments and taxes for another day.)
Often, earning new freelance jobs starts with a great writer bio-the place where you describe what sets you apart, your unprecedented experience, and a few memorable quirks-the elevator pitch recruiters and editors will read first. Convince them to hire you here, or forget about it.
In my role as a community manager at Skyword, it's part of my job to closely vet contributor portfolios to find perfect matches for our clients, and I've seen it all. I'm genuinely impressed with what some writers compose, but with recognizing the gems comes finding the ones that need work. Given my unique point of view on freelance writer portfolios, I want to share the elements of writer bios that catch my attention, as well as what blocks someone's chances at a new job. A quick disclaimer: No matter how good a writer bio, all portfolio content needs to speak for itself.
Rule 1: Customize Your Bio for Target Clients
Any time you create a bio as part of a profile, you need to tailor it to target clients. You wouldn't interview for a job without researching the company you're applying for, and the same strategy applies here. Study the client you're hoping to pitch, including the client's website and content strategy. That way:
You know the opportunity is actually a good fit for you.

You know the best way to frame your bio.
It's a corner we wish we could cut, but a bio is a lot like a cover letter-you usually can't use the same one for multiple jobs. Although many freelance writers are willing to do the research and write for any company given the chance, most companies' content marketing programs are looking for people who specialize in a subject matter. If you cover multiple industries, indicate that you do, but make sure that it applies to the company you're targeting.
If you're trying to spread your skills with the hopes of maximizing your shot at picking up a new gig, chances are, it's obvious to the recruiter.
Choose your own adventure-does your target client's content match your experience?
It does! Sounds like a great chance to highlight your skills and present corresponding samples that back your talent.

Not really. That's okay. This is a good time to stick to your guns and avoid the urge to mention every single one of your skills. Focus on the areas that you specialize in and where you have experience creating content. You might not get every project, but you might get one that is a spot-on match for your expertise.
If you're still not sold and are taking the buckshot approach to finding new work, consider this: What happens when you're offered the job, you accept, and then you can't create a piece that meets their expectations? As a rule of thumb, you shouldn't have any hesitation about your ability to fulfill the role when you accept the position.
Rule 2: Balance Professional Experience and Personality
Most personal blogs and business websites include an "About Me" page that allows writers to share their educational background, work experience, and personal life. And for the most part, it's natural for people to share what matters to them most when they're asked to describe themselves. These sections are great opportunities for recruiters to grasp a writer's personality and even see a glimpse inside their real life.
For a personal blog, there's a lot of freedom to personalize this section; you have a chance to mention family, that time you traveled the world, your novel-in-progress, a membership to a renowned journalism association. To make this bio more dynamic, people often emphasize their professional achievements, offer contact information, and link portfolio pages that contain professional samples. I find that many people choose stylized themes that fit their personalities and highlight their personal brands. All in all, they can be entertaining and engaging websites.
Strong Example of a Personal Bio: Shanna Mallon
What makes it great?
Shanna actually maintains two main websites: Food Loves Writing, the blog she created with her husband, and ShannaMallon.com, her professional writing website. In her "About This Blog + Us" section, she indicates that food and writing are her passions and that her Food Loves Writing website is a space for her to share cooking experiences. She highlights her relationship with her husband and their culinary explorations, the mission behind the website, and other creative endeavors. It's full of personality while remaining professional.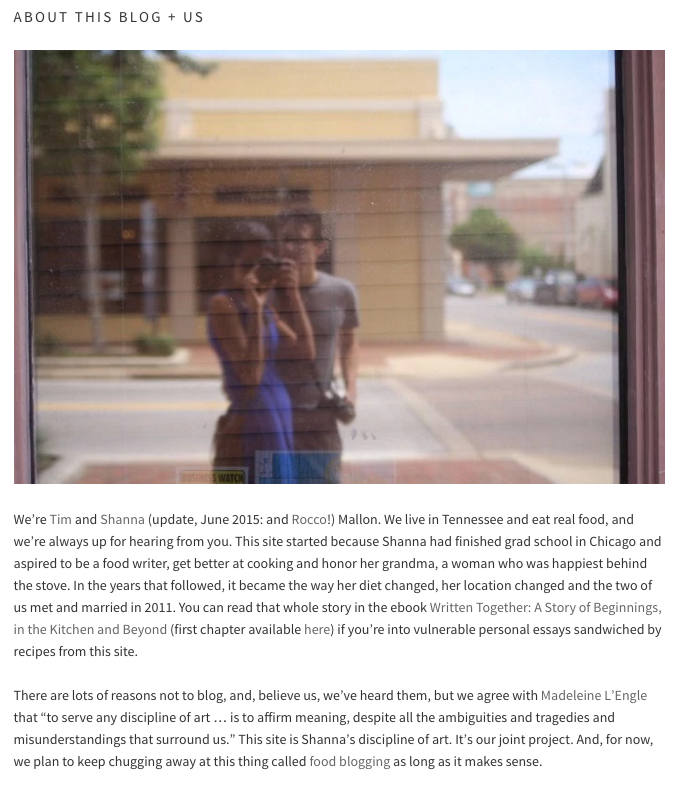 In contrast to the personal blog, a business website calls for a different tone. That's not say it should be devoid of personality, but if your brand focuses solely on freelance writing and you're looking to grow your business, it's important to make sure that "prospecting" tone is carried throughout. On About Me pages, personal details are sometimes mentioned, but for the most part, this section serves to highlight professional achievements and areas of specialization. It's a space where the writer can present their accomplishments, highlight their expertise, and show readers the road that got them to where they are now. The rest of the website should follow this format. Include professional headshots, links to relevant samples, client testimonials, and contact information.
Strong Example of a Professional Business Website Bio: Eric Bruno
What makes it great?
Eric keeps his About Me page simple and to the point. He provides easy access to all of his social links and contact information, immediately addresses the purpose of the website, emphasizes his area of specialization via his professional accomplishments, and lists the clients he's created content for in the past. If a client is looking for someone with his level of expertise, they'll immediately know it. (Bonus: the rest of his site clearly backs up his experience.)
Today, content marketing platforms and on-demand websites that connect freelance writers with new opportunities (like Skyword's) are popular networks for freelancers. The same concept of a stellar About Me page applies, but here bios should be much briefer. Standout bios emphasize areas of specialization, professional accomplishments, and publications-all with a sprinkle of personality. Not too long and not too short, because much like the rules of the resume, you have minimal time to catch someone's attention.
Strong Example of a Content Marketing Platform Bio: Patricia Chaney
What makes it great?
Patricia wastes no time addressing her area of expertise and the niche topics she covers within the healthcare industry. She sets herself up for a client who is looking for a healthcare specialist. She draws attention to her tenure in the industry, her interview experience, and her ability to approach a variety of audiences.
While this interpretation might come off like Debbie Downer, I want to emphasize something: I love when personality shines through, and I like knowing that people have lives outside of their work. But when it comes to creating your bio, make sure you have a clear understanding of your mission. Are you looking for social traction and engagement from people who share your line of work? Or are you searching for new opportunities to grow your career and define your personal brand? Certainly people have pulled off both, but from my perspective, your intentions can get murky if the language you use is unclear or unoriginal. Which leads me to rule number three.
Rule 3: Define What Makes You Different
Catchy lines can earn you a smile and potentially cement your name in someone's mind, but in my time as a community manager, I've realized that people might not understand just how cliché their language is.
Freelance writing is an industry where you need to set yourself apart and prove you can do what others can't. Companies are looking to break the mold with thought leaders who are setting trends, not following them. I review hundreds of portfolios over the course of a week; here are some lines that I never want to read again. (If you happen to be familiar with what follows, don't take it personally-use it as motivation to log into whatever platforms you use and define what makes you different.)
1. "I make complex topics easy to understand."
This is the "Skilled in Microsoft Office Suite" of portfolios. It's taking up space and not saying much. You're expected to make complex topics easy to understand-you're a writer, after all.
2. "I have a love for the written word."
The passion is clearly there, and you're emotionally connected to your work, but this saying distracts from the specific skills you can offer. A love for new-age DIY candy making? Now we're talking.
3. "I'm a generalist who can write about pretty much anything."
This one I get. People are willing to do the research necessary to write every piece, and for some, it pays off. However, if a client is looking for an expert in specialized subject matters (technology, medical writing, finance etc.), adjust accordingly.
Rule 4. Just Keep it Real
It's important to stay true to yourself. If you believe in your storytelling talent, don't exaggerate your skills-just tell it like it is. Take the time to make your bio great without making it sound fake. Recruiters see right through that.
Most importantly: Don't claim anything that you can't back up. From a community manager's point of view, this is the worst. If you're an "award-winning writer with 10 years of experience and hundreds of articles about lifestyle and wellness trends," take the time to upload samples to your website or platform to prove it. You might not be able to link to every single story, but link to your best examples, or a page on a website that displays all of your work within that publication. Trust me, it's worth it, because this is a community manager's pot of gold. In most circumstances, I read several articles and share them with an editor to ensure that a writer is a strong match for a client. For the ghostwriters, you might not be able to provide links to your articles, but you can include a line in your bio about your ghostwriting experience and offer to discuss your qualifications further over the phone or in an email.
I've heard from many freelance writers that breaking into the industry is the hardest part of their writing career, and that once your foot is in the door things start to get a little easier. It's my hope that by taking this inside look at writer bios from a community manager's perspective, you'll pick up the best practices that make other freelance writers successful and use them to enhance the way you market yourself today.
Want to create for Skyword? Get started here.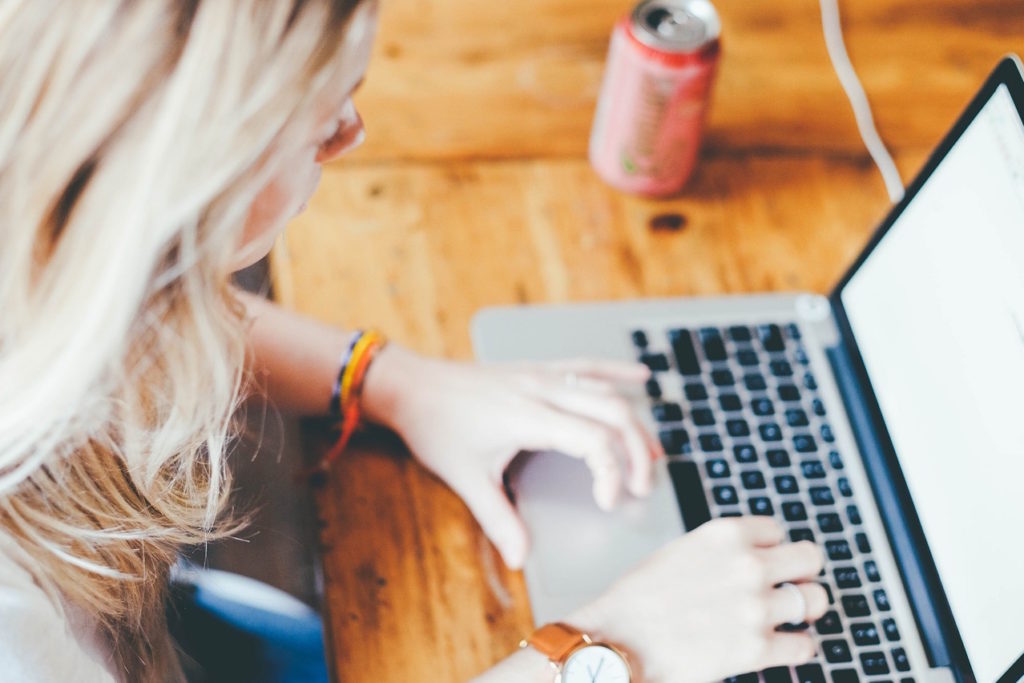 https://www.skyword.com/contentstandard/4-rules-for-crafting-a-job-winning-freelance-writing-bio-according-to-a-skyword-community-manager/
https://www.skyword.com/contentstandard/4-rules-for-crafting-a-job-winning-freelance-writing-bio-according-to-a-skyword-community-manager/
Molly Conicella