For Google News
5 Brands with Highly Successful Messaging Apps Strategies
By Steph Ferrell on July 2, 2016
Light shines through the thick fog—a plane has just taken off from the airport in Morocco. Faith in love, once lost, has been restored.
A man has been shot; plans must be made to flee the country. With backs turned away from the audience, a man in a trenchcoat and fedora walks alongside a police captain into the distance. The captain recommends arranging an escape to Brazzaville, to which the man in the trenchcoat answers, "Louis, I think this is the beginning of a beautiful friendship."
The iconic finale of Casablanca is one of the most renowned open-endings to one of the greatest stories ever told. To be sure: The story was fully (and expertly) executed, with the final scene concluding major plot points and signaling the fate of each character. However, the audience is left guessing about Rick and Ilsa after they go their separate ways in Morocco. What happens from there? Well, that's up to the audience.
This trust in the audience, as well as many other narrative techniques, contributes to the exceptional storytelling rendered in Casablanca. Storytellers throughout literary and cinematic history have trusted their audiences so wholeheartedly that many, in fact, have given them the authority to end their tales: Great Expectations, Life of Pi, and Inception, to name a few. And, I have to throw this series of novellas into the mix: Goosebumps. R.L. Stine wholeheartedly committed to giving his brave and daring audience the autonomy to create their own adventures (or rather, nightmares).
So what do Casablanca and Goosebumps have to do with messaging (or messenger) apps? Many digital platforms today allow users to engage in ways that are more interactive and inclusive than ever before. Messenger apps for business are one of the ways in which marketers can meet this desire for interactive inclusivity in brand storytelling. By invoking empathy and placing trust in their audiences, brands can use messaging apps to pass the pen to their audiences and allow them to be their own characters in larger brand stories.
Below are five brands that have begun to make their stories their audiences' through successful campaigns on this rising form of social media marketing.
1. Kate Spade on WeChat
Many luxury brands have found success on WeChat by taking advantage of major cultural traditions and events in China, the main location of WeChat's current user base. Brands undoubtedly took the hint from Tencent's own wildly successful "red envelope" campaign, which capitalized on the tradition of hong bao. Hong bao, or "red envelopes", are monetary gifts given during holidays or special occasions. When WeChat gave users the ability to gift virtual red envelopes (with WeChat Pay credit) during the 2014 Chinese New Year, 20 million users engaged in the campaign. The following year, this number increased to 1 billion. 2016? Eight billion.
Needless to say, brands have followed suit in aligning social media marketing campaigns with Chinese tradition and culture. Not only have companies like Coach, Burberry, and Kate Spade gotten in on the WeChat red-envelope phenomenon, they have begun their own culturally relevant initiatives as well.
For the Mid-Autumn Festival in 2014, for example, Kate Spade took advantage of the various gaming capabilities within the WeChat app, allowing users to partake in a sky lantern-flying game. Users could participate in the Chinese tradition by choosing their lantern color, customizing their wish or greeting, and inviting friends to fly their lantern to ultimately be released into the virtual night sky.
With this interactive focus on their audience, Kate Spade allowed WeChat users to become a part of their Mid-Autumn Festival celebration. Kate Spade provided digital artifacts—lanterns—for users to take up with themselves as actors. And, within each lantern existed a user's story, which ultimately culminated to form Kate Spade's message of celebration, connection, and hope.
2. PepsiCo on WeChat and LINE
Pepsi also took the nod from WeChat regarding digital campaigns around Chinese tradition, however it made use of the WeChat audio feature in order to do so. As part of the Lunar New Year period, Pepsi encouraged users to record audio messages that would be mixed in with its "Bring Happiness Home" theme song. This is a great example of Pepsi knowing its audience, as Chinese users tend to prefer audio over text because it's less time-consuming to produce.
Tim Cheng, the chief creative officer of DDB Group Shanghai noted that the brand message was "about spreading happiness, as opposed to 'buy Pepsi'." And that is what impactful marketing is about: trusting your audience to be your story; trusting your audience to be the characters that spread happiness.
WeChat isn't the only messaging platform that Pepsi is taking advantage of. On the popular Japanese app, LINE, Pepsi has capitalized on the staggering popularity of LINE Stickers:
Stickers have become a phenomenon in their own right, with Fast Company describing them as "ultra-expressive, supersize emoji[s]." Brown and Cony, an adorable bear and bunny pair, are LINE's main sticker mascots, and users interact with them and countless others billions of times a day. Brown and Cony in particular, can often be found as plush toys or endorsing products like chewing gum; they're quite literally everywhere in places like Tokyo and Taiwan.
What makes these characters so appealing is their storylines, which LINE tells via various sticker versions of the characters as well as in short stories posted on its YouTube channel. Characters are important in brand storytelling, in that they give brands the opportunity to evoke empathy and relatability. And through LINE's sticker feature, audiences are given the opportunity to use these relatable brand characters in their own daily stories and expressions. While Pepsi used the success of LINE's pre-established characters like Brown and Cony, brands with their own mascots (like Colonel Sanders from KFC) especially benefit from being able to hand their characters over to their audience so that they may use them as they please.
3. Poncho on Facebook Messenger
Publishers like Fusion, Complex, and TechCrunch are just a few companies that have begun to utilize chat bots in Facebook Messenger. Their efforts speak to another instance of character development in messaging apps: Poncho, for example, is a publisher that provides users with a "bona fide weather cat and...new best friend." Poncho sends its user base personalized forecasts by email or text to help them prep for the weather. On Facebook Messenger, this company is able to allow users to talk directly with their branded character. Poncho the weather cat, as DigiDay notes, is just for weather now. However, "the goal is to extend it to other subjects...[and] give it personality." Through this direct interaction with a brand character, Poncho is trusting its audience to become part of its story.
While not necessarily brands in the traditional sense, publishers are great resources for content marketers to learn from, especially as content marketers move to publisher-mindsets. Brands that are looking to capitalize on the customer service function of messenger apps, like Sephora on Kik (check them out in Kik's "Bot Shop") or Everlane on Facebook Messenger, should look to the way publishers are experimenting with personalized chat bots. While certainly a tricky feature, messenger bots can create real opportunity for interactive character development if done right.
4. Absolut Vodka on WhatsApp
In 2013, Absolut Vodka executed the first WhatsApp marketing campaign, and it was one that undoubtedly had components of storytelling within it. Social media users were teased with access to a restricted Absolut Unique party if they could convince Sven, the party's virtual doorman, to admit them. Absolut used social media marketing to promote Sven, and then had its audience contact him via WhatsApp (note: this required a very attentive community manager to monitor the campaign).
Object of desire? Exclusive access to Absolut's party. Protagonist? You. Conflict and forces of antagonism? Meet Sven. By creating this plot and using messenger apps for character interaction, Absolut Vodka handed over the story to its audience by incorporating them into it.
5. Clarks on WhatsApp
Since Absolut's Sven came on the WhatsApp scene, other brands have executed WhatsApp campaigns with similar character components. Clarks shoe brand told the story of their Desert boot's design through three characters from "subculture movements," and users could add these three characters on WhatsApp to receive updates from and interact with them. Check out the "interactive documentary" it created as part of the "From Rats to Rudeboys" campaign:
Messaging Apps: Put the Story in Their Hands
At Skyword's Forward Conference in June 2016, keynote speakers Tim Urban and Patrick Davis both discussed the importance of trusting your audience. Tim put it this way: "I imagine my audience as 100,000 Tims" and hilariously equated this vision to some sort of "creepy stadium full of Tims." But, the point was that Tim knows what his audience likes because they're, well, him. He trusts they'll receive his messaging and he'll ultimately be serving them what they want. Patrick Davis similarly emphasized trusting your audience, because the audience comprises the brand; the story and storyteller are one in the same.
If you're executing great storytelling, you should be connecting with an audience that empathizes and feels with you. And what better way to demonstrate trust in your audience than to actually put your storytelling artifacts, your characters, your conflicts in their hands? Making them a part of brand storytelling in the interactive way messaging apps allows is the next big opportunity for marketers.
So now it's time to choose your own adventure: Will messaging apps be your next chapter?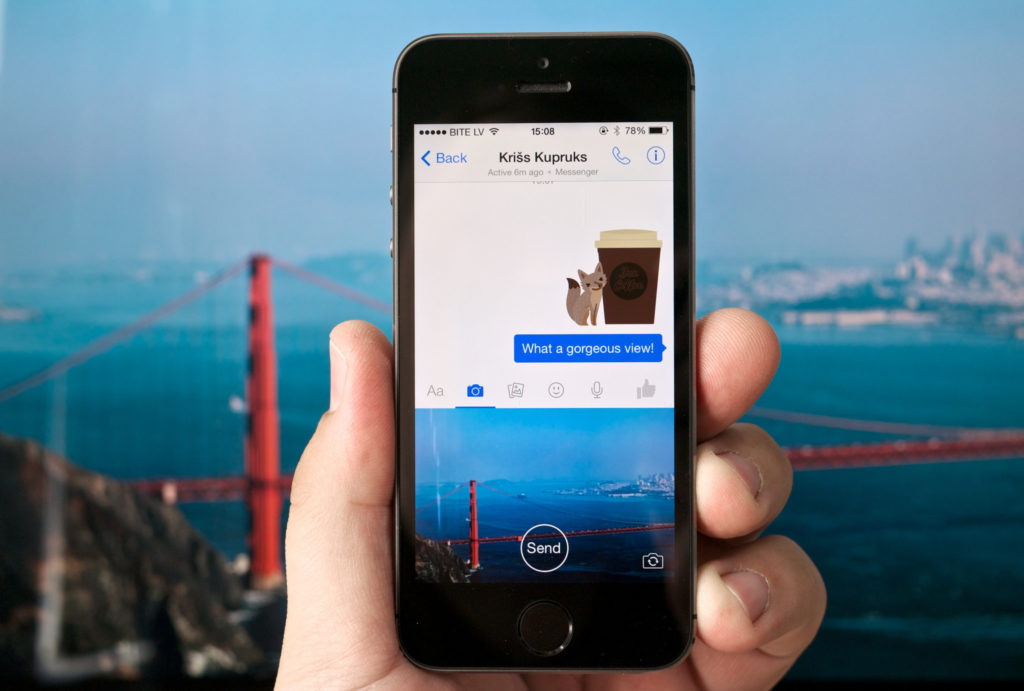 https://www.skyword.com/contentstandard/5-brands-with-highly-successful-messaging-apps-strategies/
https://www.skyword.com/contentstandard/5-brands-with-highly-successful-messaging-apps-strategies/
Steph Ferrell