Content Strategy
7 Essential Types of CTAs and the Best Ways to Use Them
By Rose de Fremery on August 31, 2021
As a brand marketer, you invest time, talent, and capital to create excellent content that engages audiences and drives revenue. Without the right call to action (CTA) strategy, however, that content loses the opportunity to perform as effectively as it could. An expertly crafted CTA reaches audiences when they are most likely to convert and guides them further into the funnel.
A CTA encourages a prospect to take a specific action—like downloading a free resource or registering for an event—while engaging with your content. By strategically placing different types of CTAs throughout your content ecosystem and tailoring them to user intent, you can drive more leads and gradually turn brand new visitors into loyal customers.
Here's how brand marketers are using CTAs today, along with the seven types of CTAs they most often leverage to drive key marketing outcomes.
How Brand Marketers Use CTAs
CTAs appear in content in a variety of ways. For example, you may see them in-line within an article or linked via anchor text at the close of a blog post. Graphic CTAs—like banners and buttons—may invite visitors to download free resources or sign up for demos.
In addition, there's a whole category of dynamic CTAs you can use to steer your audiences. These include slide-in CTAs, which may discreetly glide across the bottom of the screen to offer the reader tips of direct interest to them, or pop-up CTAs that interrupt the experience with a bold offer for exclusive announcements or discounts.
Sidebar CTAs may also appear just to the right of a piece of content, making their pitch in a more reader-friendly, low-key way. These are frequently favored for newsletter sign-ups.
7 Essential Types of CTAs
Besides placement, it's critical to consider how CTAs will facilitate your desired marketing outcomes, from event registrations to social shares and beyond. Here are seven essential types of CTAs and a breakdown of how to use them in your content ecosystem.
1. Read More / Learn More
A Read More / Learn More CTA encourages your audience to engage with deeper funnel assets or solutions pages. It works well at the awareness stage, when an audience may be looking for a solution to a problem or trying to understand an emerging trend that may pose an opportunity for them. A Read More / Learn More CTA can find a natural home at the end of a blog post or article, as we see in this CTA from Verizon Business:

Here's why this Learn More CTA works:
The CTA is placed directly below the closing paragraph of the article, providing a perfect connecting point for readers who want to explore more information about the topic.
It invites the reader to click through to the brand's solutions page.
Upon arriving at the solutions page, the reader may advance to the consideration stage of the buyer's journey.
2. Read Related Content
Brand marketers know they have to keep their audiences engaged, and sticky websites drive increased conversions. A Read Related Content CTA is perfect for this purpose, conveniently introducing prospects to content directly relevant to a topic in which they have already demonstrated interest. When proactively offered the kind of content they seek, prospects are likely to spend more time on a site and proceed deeper into the awareness stage. Here, Mendix offers readers an opportunity to delve further into the topic of legacy modernization: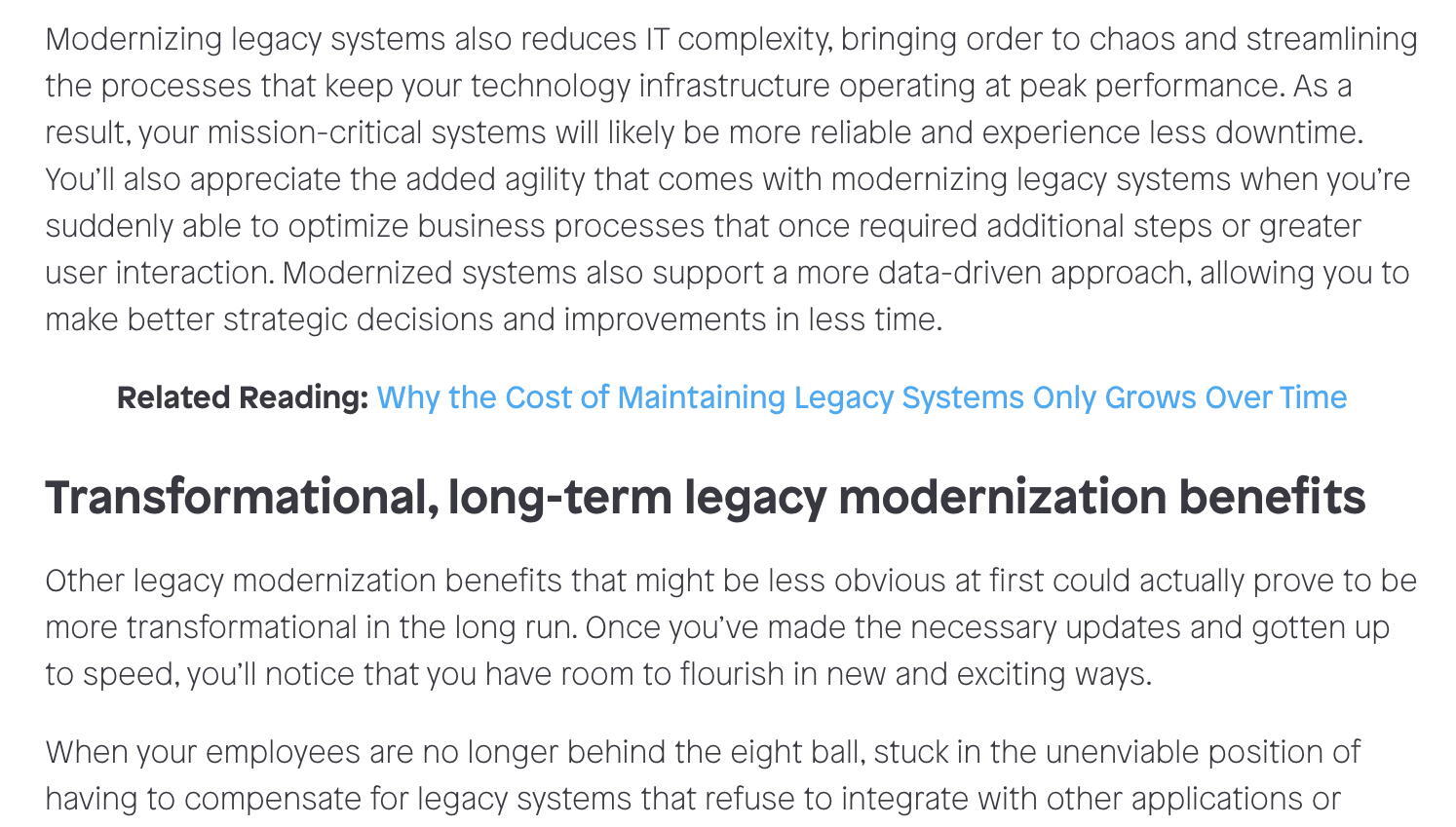 Here's why this Read Related Content CTA works:
This CTA is placed in-line in the body copy, about halfway through an article. If a prospect has read this far, they're likely interested in learning more about the topic.
It offers the reader a closely related piece of content that will help them gain a deeper understanding of the topic.
3. Social Sharing
Brands looking to make a mark on social media find Social Sharing CTAs especially valuable. This type of CTA uses content to inspire new followers and expand the brand's social reach. It works well for the awareness stage, during which audiences are just discovering the brand or potentially even the market category itself. Tom's of Maine drops a short and sweet CTA at the end of this blog post on essential oils for baths, signaling to readers that they can engage with the brand on Twitter:

Here's why this Social Sharing CTA works:
This CTA invites readers to contribute their own original recipes for essential oils for baths, giving them an opportunity to share their knowledge and recommendations.
It also gives audiences a heads up that this brand is active on social media and interested in having a conversation with them.
4. Newsletter Sign-Up
A Newsletter Sign-up CTA is perfect for capturing email leads. Brand marketers use this type of CTA to guide prospects into a drip campaign, engaging them with interesting and relevant messaging that builds awareness and consideration while leading them deeper into the funnel. Here, Samsung Business Insights features a Newsletter Sign-up CTA button in the bottom-left corner of its main content portal, encouraging readers to receive more content via email: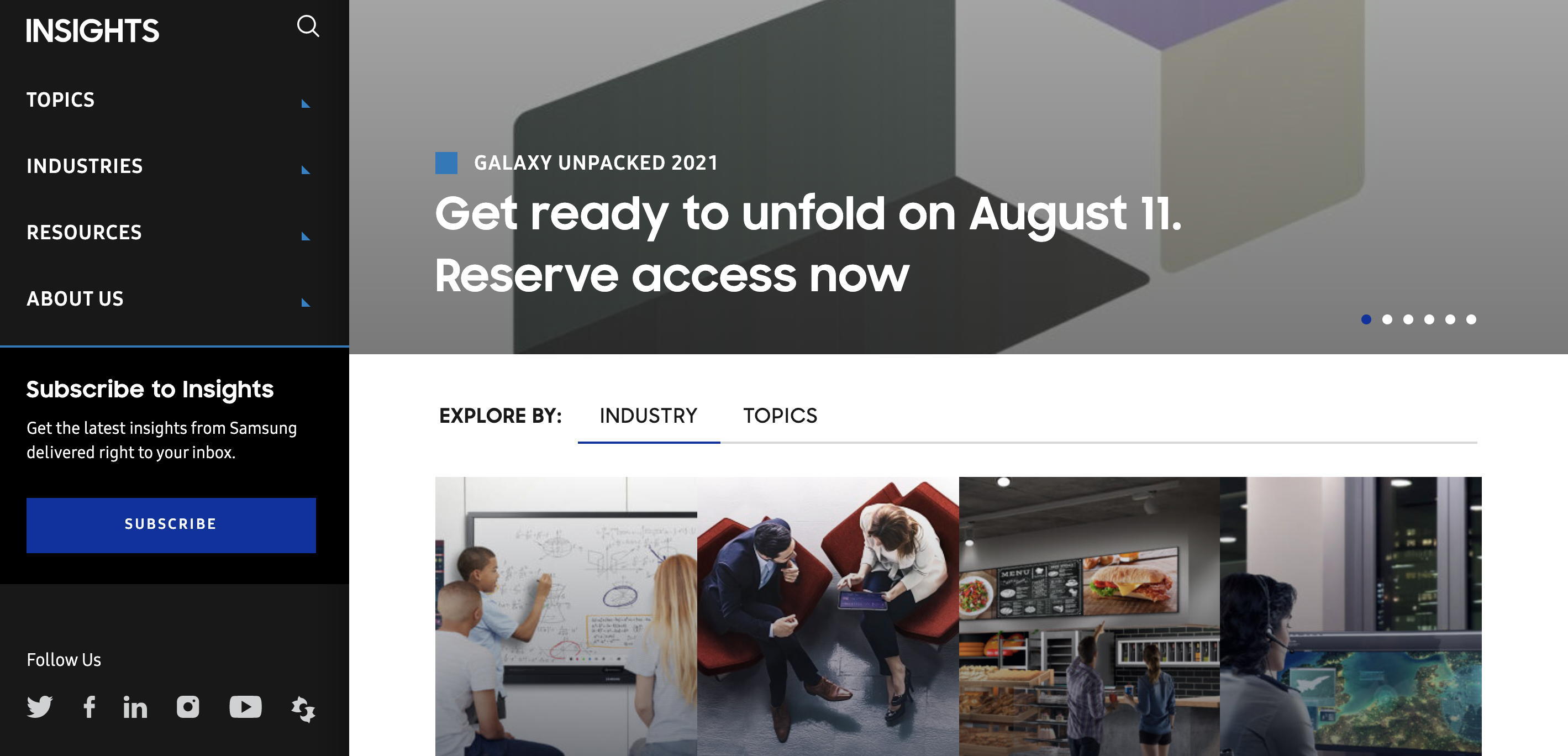 Here's why this Newsletter Sign-up works:
This CTA—a bright blue button contrasted against a black background on the main content portal—catches the visitor's eye immediately.
This CTA invites readers to receive fresh content directly in their inbox rather than having to remember to visit the site. Brands may also feature a Newsletter Sign-up CTA like this in a pop-up CTA that appears after a reader has consumed multiple pieces of content on the site.
5. Form Fill for Download
Audiences are often willing to share personal information if they believe they'll receive a valuable resource in return. When brand marketers pair a compelling piece of content with a Form Fill for Download CTA, they give their audiences a reason to share this data via a lead capture form. From there, they can either add this information to a drip campaign or pass it on to the sales team for follow-up.
As shown in this example, Vonage uses a compelling piece of content—an insightful report on video trends—to inspire its audience to fill out a form and download it on the spot.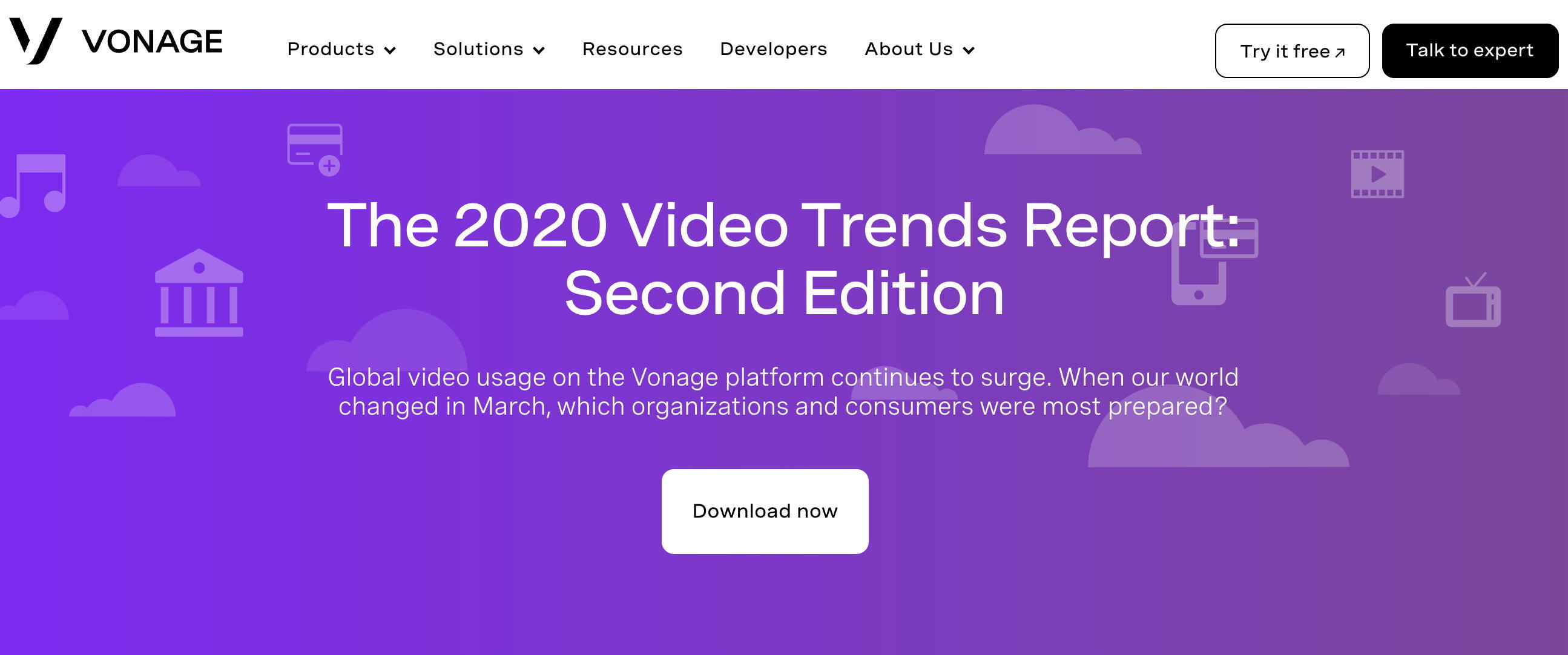 Here's why this Form Fill for Download CTA works:
This eye-catching CTA is prominently displayed with a broad banner graphic, contrasting the white button on a purple background.
We're also given a concise description of the downloadable resource and the value it offers. This particular report includes timely primary data.
Upon clicking the "Download now" button, the prospect is directed to fill out a simple form that helps the brand properly qualify them.
6. Event Registration
An event registration CTA allows you to capture lead data from a prospect. Once you've collected this information, you can pass it on to your sales team and/or add it to a drip campaign, if desired. Depending on the event you're promoting and the granularity with which it explores a particular topic, this type of CTA could either guide your audience further into the awareness stage or usher them toward the consideration stage. At Skyword, we achieved this with a carefully placed CTA in an article about content audits, as you see here: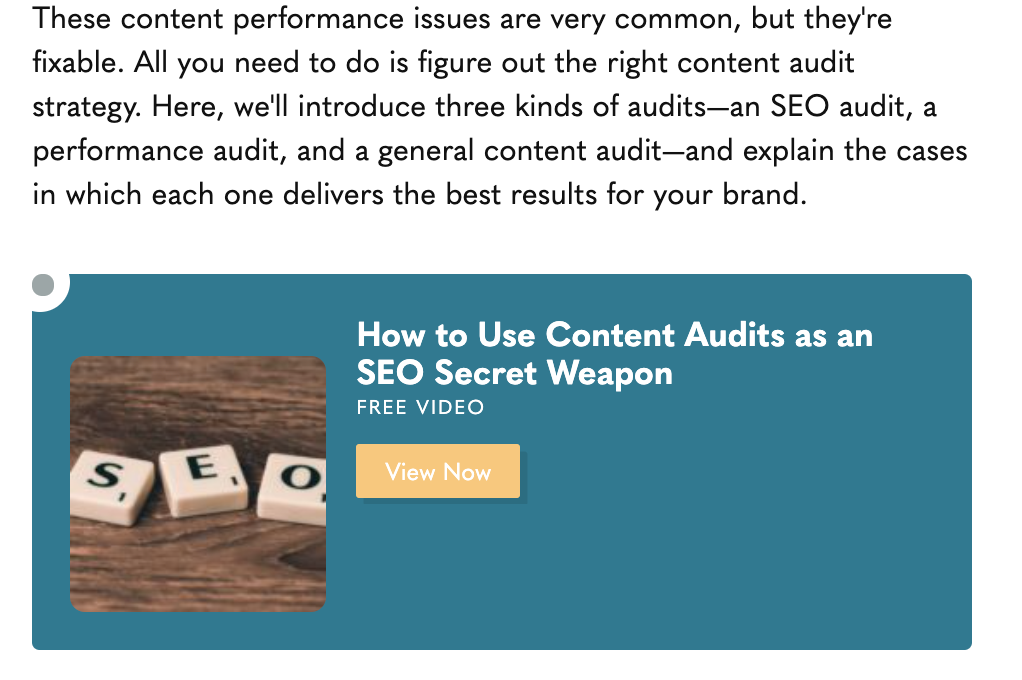 Here's why this Event Registration CTA works:
This CTA gives the audience a chance to explore the topic of the article more in-depth with subject matter experts from the brand.
It also gives them an opportunity to gain a deeper understanding of a complex topic in an accessible video format, as opposed to having them read a lengthy, complex white paper.
7. Demo/Sales Request
Offering a demo gives you a unique opportunity to capture lead data that then triggers a sales action. This CTA works well with audiences that have already spent some time marinating in the awareness stage (a key requirement for many B2B tech audiences with complex requirements, for example) and are ready to advance to the consideration stage. Now they have a good sense of the problem or opportunity before them and are prepared to take action via a product or service trial.
As we see in this example, Dynatrace includes a Demo Request CTA after an Event Registration CTA. This gives audiences multiple options for converting according to their preferences.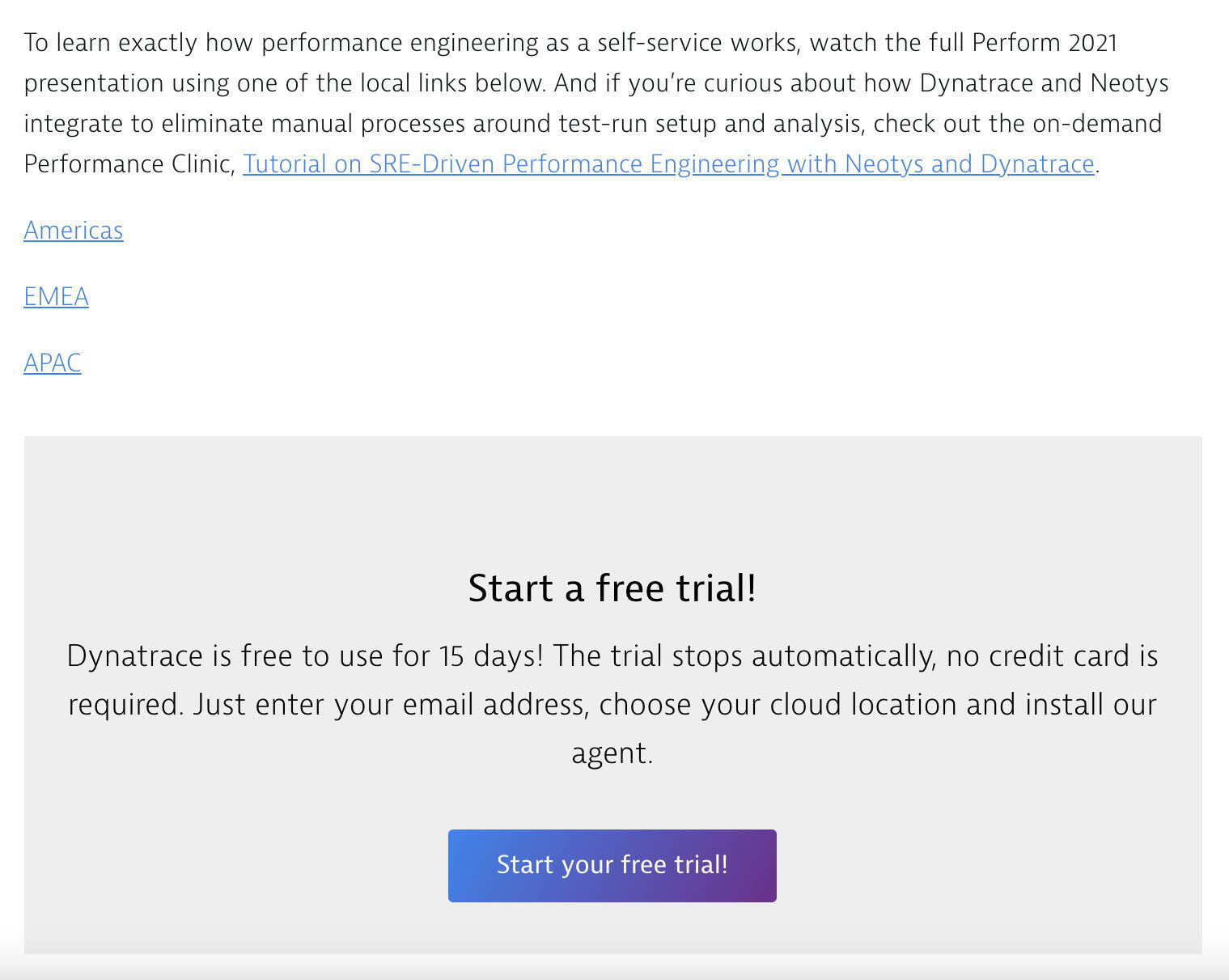 Here's why this Demo Request CTA works:
This CTA uses clean, attractive graphics that draw the reader's attention to a compelling offer.
It provides the reader with a convenient option for exploring the solution with a free, hands-on trial.
Increase Your Marketing Impact with These 7 Essential CTAs
When you're consistently creating excellent content that resonates with your audience, the logical next step is to forge a closer relationship with them. And, as brand marketers know, the only effective way to do this is by giving audiences an opportunity that meets a need or desire at the moment when they're most interested in taking action. These seven CTAs help marketers initiate that connection, whether that's by inspiring audiences to engage with brands on social media or by downloading a resource they find valuable. When marketers take care to place the right CTAs throughout their content ecosystem, they can more effectively advance their audiences through the funnel and increase their marketing impact.
For more fresh perspectives on today's marketing trends, subscribe to our monthly newsletter, Content & Context.

Featured image attribution: Snapwire on Pexels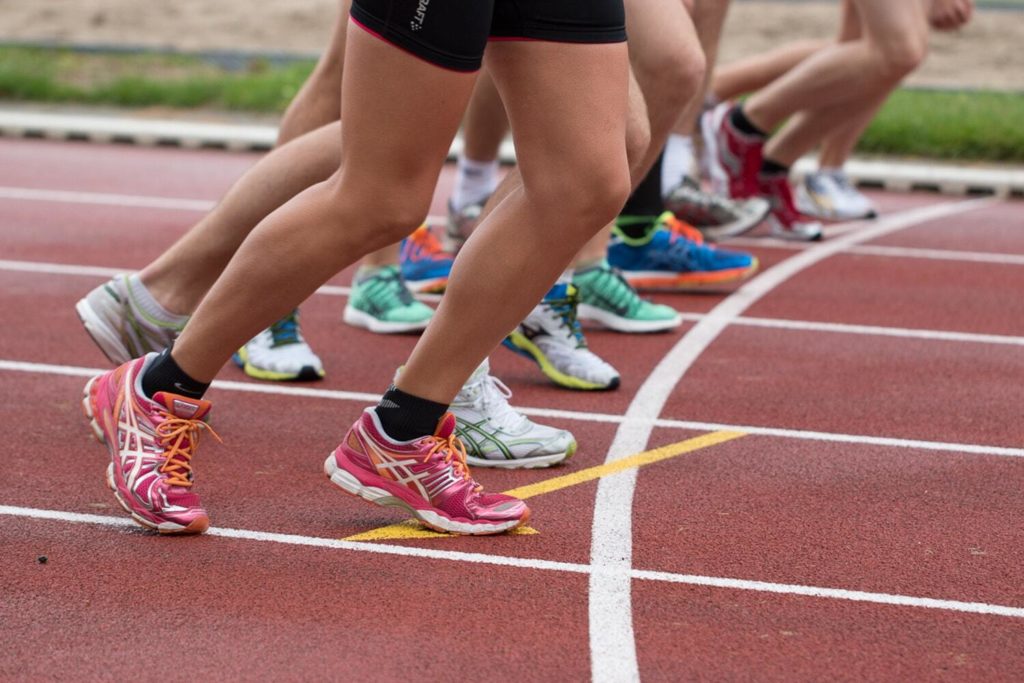 https://www.skyword.com/contentstandard/7-essential-types-of-ctas-and-the-best-ways-to-use-them/
https://www.skyword.com/contentstandard/7-essential-types-of-ctas-and-the-best-ways-to-use-them/
Rose de Fremery