Content Strategy
Create a Content Ecosystem, Not One-Off Assets
By Jonathan Crowl on February 19, 2021
Many business leaders take a simplified, siloed approach to understanding and evaluating content performance. The highest-performing content channels, according to whatever attribution model is in use, become the de facto top priorities for the organization.
However, rather than offering illuminating insights, these biases can in fact create blind spots, pushing marketing departments to create limited content silos that prevent them from forming an interconnected content ecosystem.
This ad hoc approach to content creation may lower the ceiling for your overall content marketing ROI. Without a focused, multichannel marketing strategy that accounts for the complementary roles of different content types, your business is counting on random pieces of content to spur customer conversions. A lack of focus and content coordination can undermine potential marketing ROI, even with a strategy focused on leaning toward so-called "top-performing channels."
This is where content ecosystems play a crucial role in guiding strategic content creation. By leveraging the value of diverse types of content working toward the same goal, you can improve audience engagement, drive more conversions, and squeeze more value from your content marketing efforts.
Why You Need More than One Type of Content
Having a diverse approach to content doesn't mean trying to reach every type of consumer. Instead, it puts the focus on connecting with your target audience in several different ways along the various stages of their marketing funnel journey.
A content ecosystem approach can help to:
Increase Exposure: Creating a wide variety of content types gives your brand more opportunities to connect with customers across a range of channels. Search and social platforms are evolving to embrace—and even innovate—new content formats. From the rise of image search and VR to TikTok videos and Instagram stories, search and social platforms are prioritizing prime real estate for written content combined with rich visual and interactive media.
Win the Convenience Battle: Research shows that 97 percent of buyers have abandoned a purchase because it was inconvenient. Customers have a similarly high standard for convenience in consuming content—that may mean only listening to a podcast if it matches the length of their morning routine, downloading a PDF they're sure they can access on a mobile device, or hunting down a video that provides clear step-by-step instructions.
Create Moments of Relevance: A purchase may be as simple as a one-click impulse, or it could be the result of dozens of hours of research and hundreds of microdecisions. Each step is driven by a different need and might require them to jump between platforms for information. Some content types are better suited to certain needs or platforms: a successful content marketing strategy achieves wider exposure with convenient and accessible content that optimizes messages for different contexts.
Diverse, strategic content creation greases the wheels for customers, making it easier to engage with your brand and reach the end of the buyer's journey.
Using Content Types to Build Ecosystems
Different business strategies call for different types of ecosystems. The content types that make up your ecosystem should be driven by three primary factors:
Goals: What you want to accomplish with your content marketing
Audience: Your target customers' needs and preferences
Platform: Where your content will live and be distributed
If you're publishing content now, you've already created an ecosystem (although it might be a messy, ineffective one). Viewing that ecosystem with a wider lens is an avenue to making content creation more intentional, measurable, and efficient—a well-defined ecosystem provides a framework for the rest of your execution strategy. It also shines a light on how each piece of content supports your end goals, helping teams avoid wasted time on assets that offer little promise of ROI.
4 Types of Content Ecosystems
Different content ecosystems often contain familiar building blocks—it's how those components work together that makes the experience distinctive.
To help you define the right ecosystem for your brand, draw from these examples of four common content ecosystems, including a suggested content mix for each. Think about the experience you want to create for your customers: what level of quality, personality, and personalization can you showcase with your assets to make your experience stand out from the crowd?
Each content ecosystem is built around specific branded goals. Within a thought leadership ecosystem, content is utilized as a tool to build industry authority and attract media publicity: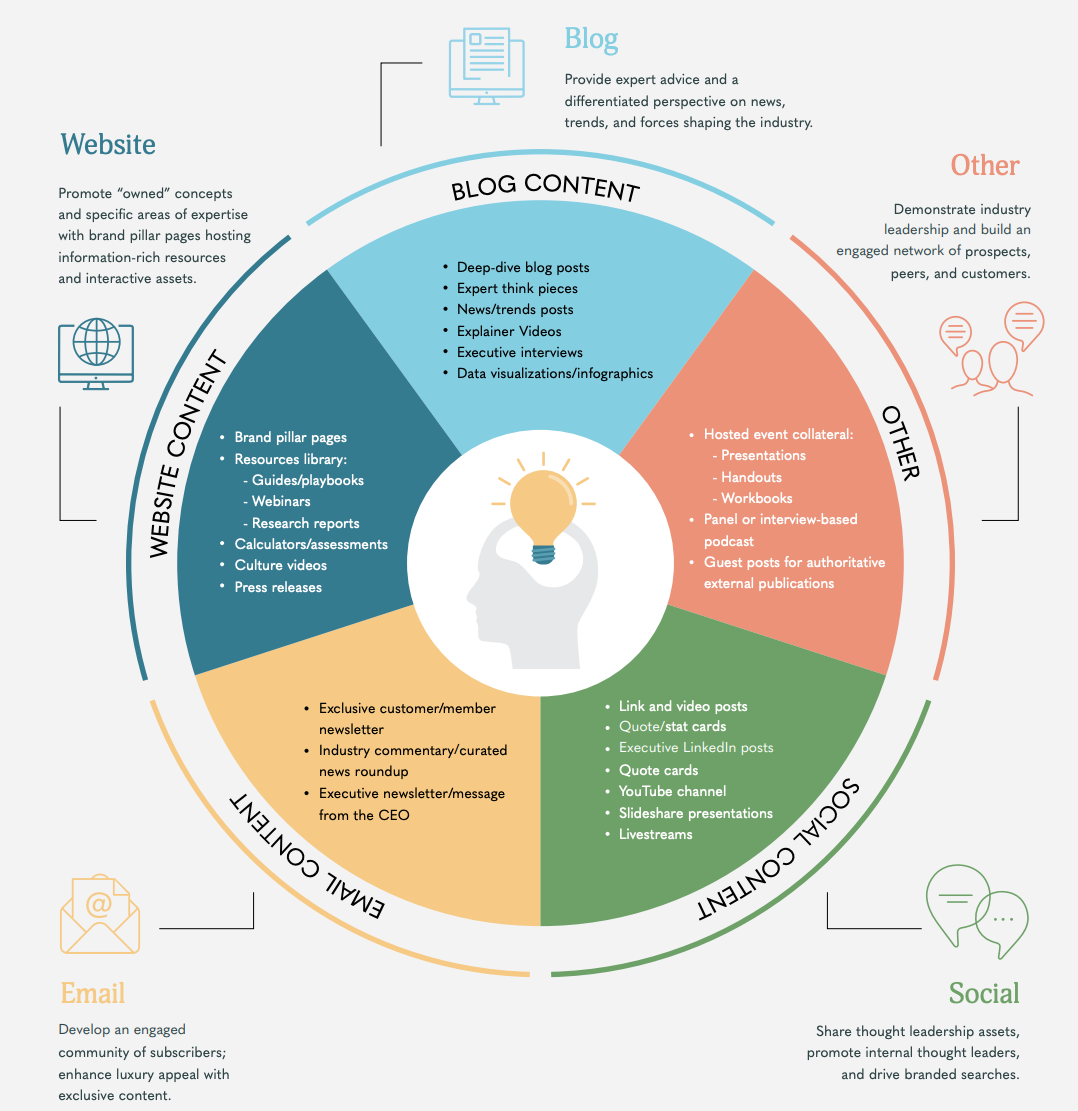 By contrast, the search ecosystem below is oriented toward building an owned audience and growing organic search traffic: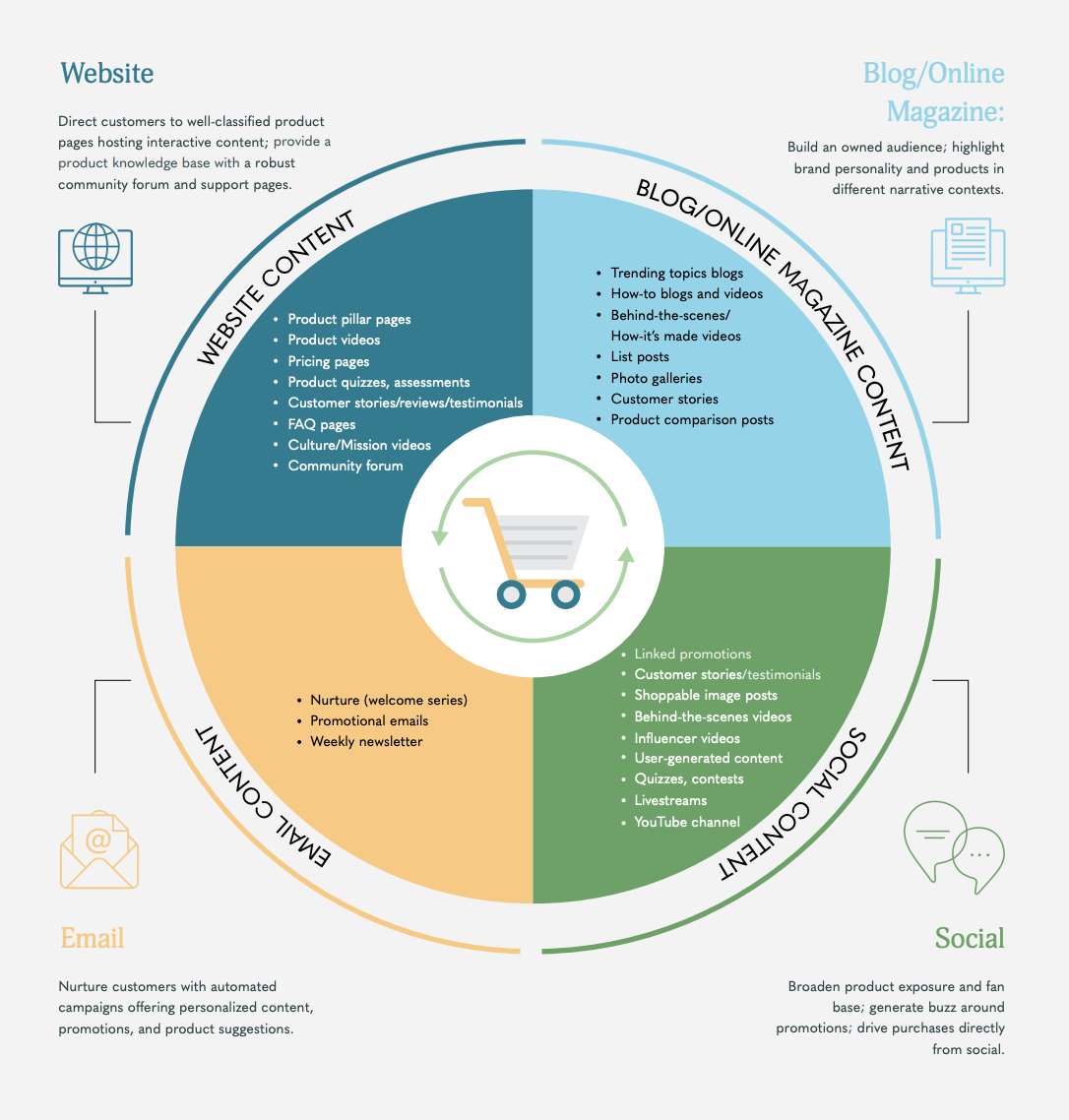 In a lead generation ecosystem, content is aimed at generating and converting leads through the marketing sales funnel: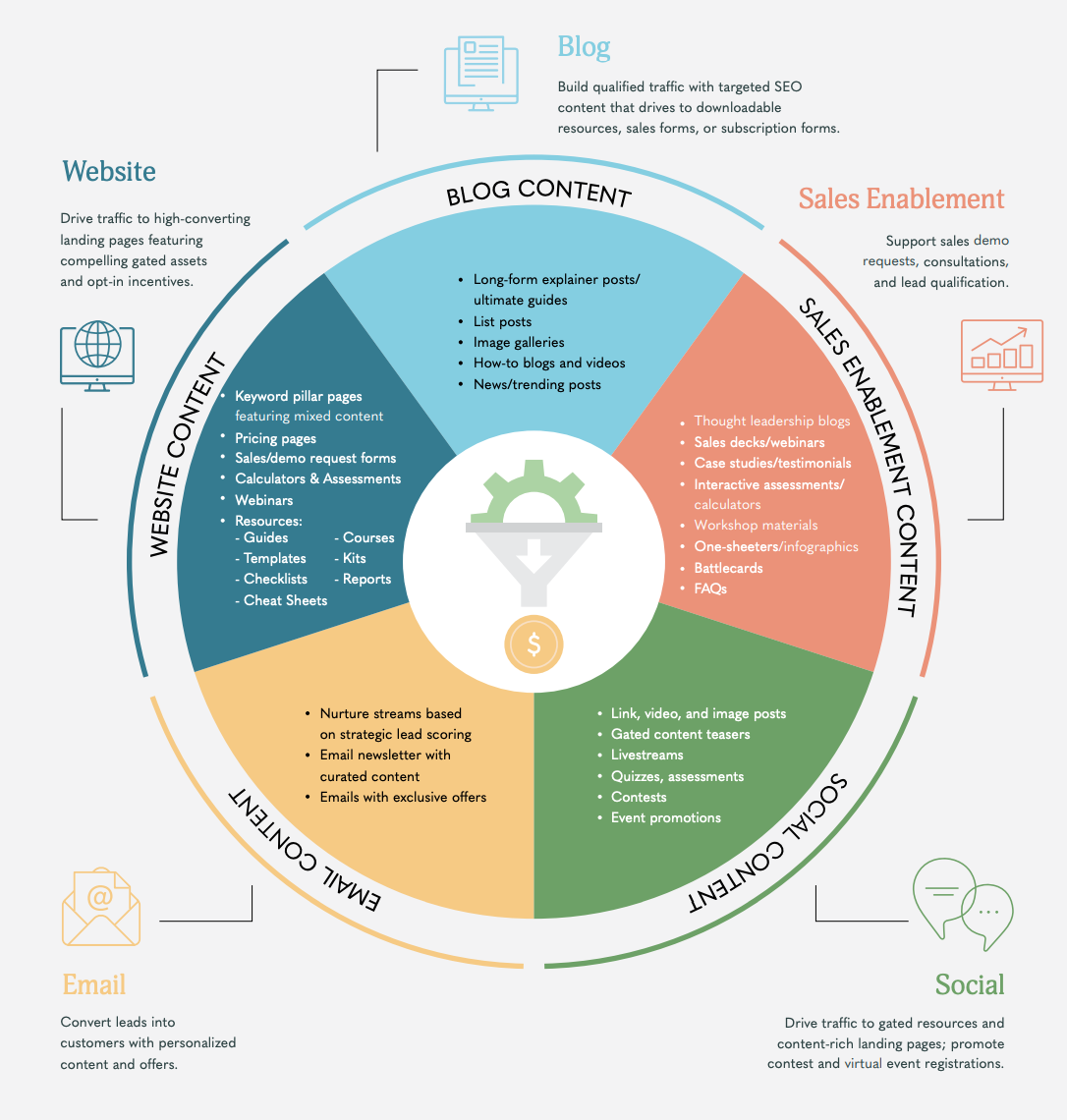 Finally, the e-commerce ecosystem is designed to generate transactions and encourage repeat customers: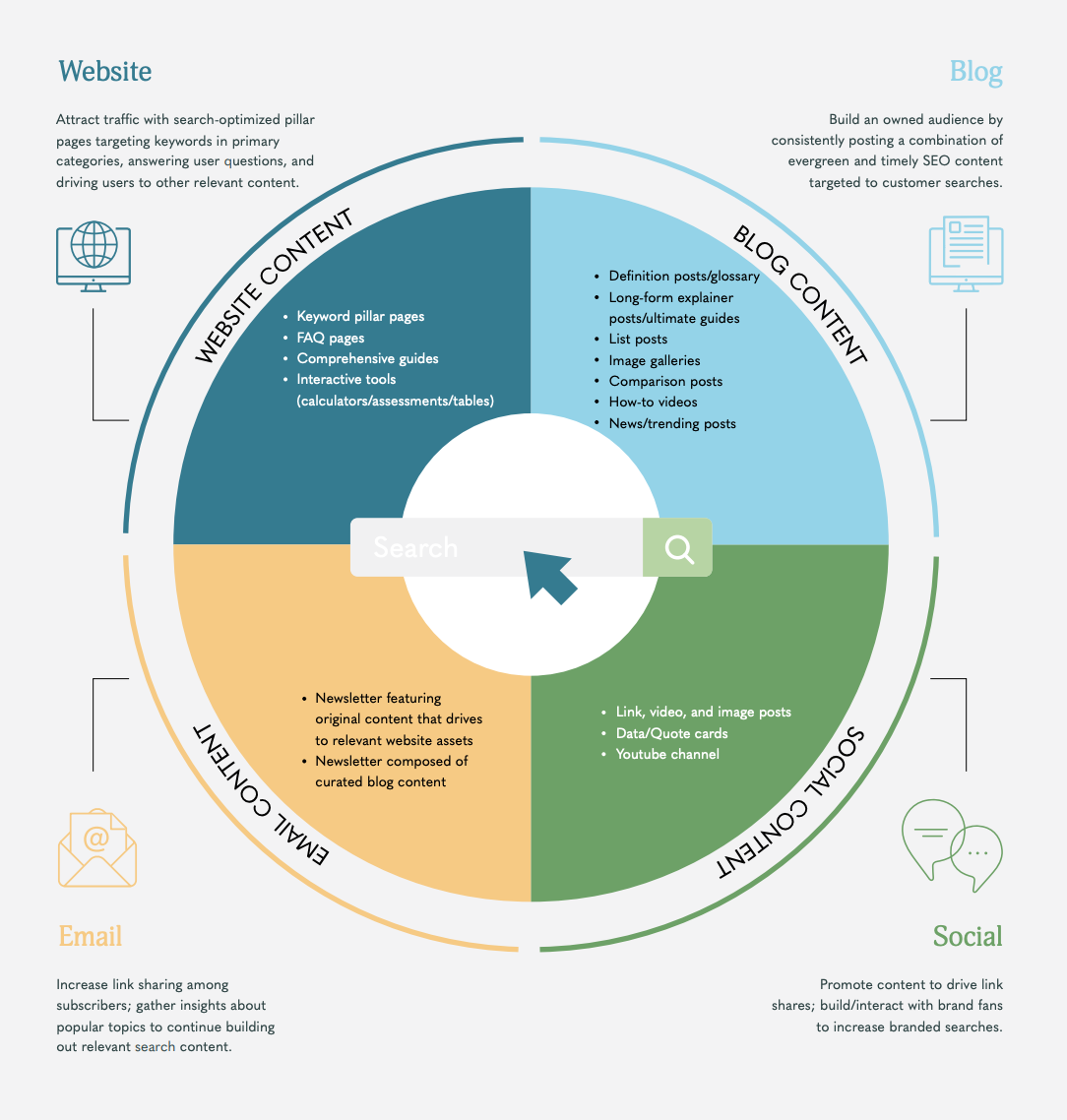 As you plan your ecosystem to guide strategic content creation, make sure you're also using it to target content to specific stages of the customer journey—including the often-overlooked conversion and retention stages.
With the right ecosystem in place to guide content creation, marketing departments can direct their resources toward content that aligns with organizational goals for ROI that delivers.
Learn more about the value of creating a content ecosystem as part of your marketing strategy—download our full white paper today.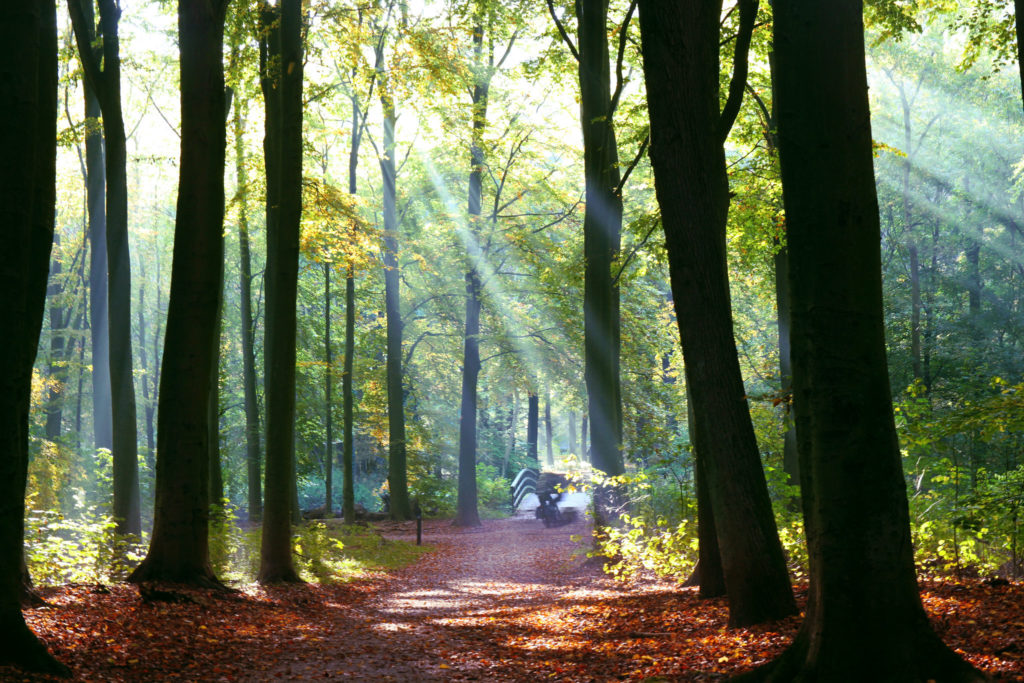 https://www.skyword.com/contentstandard/create-a-content-ecosystem-not-one-off-assets/
https://www.skyword.com/contentstandard/create-a-content-ecosystem-not-one-off-assets/
Jonathan Crowl