Content Creation
Back to Our Storytelling Roots: Content Marketing Lessons We Can Learn From Anthony Bourdain's Legacy
By Carina Sorrentino on June 11, 2018
Anthony Bourdain was known as many things: a "bad boy" TV personality, a talented chef, a partier, and an honest writer. No matter how you might describe him in a few words, everyone from his colleagues at CNN to Chrissy Teigen have, above all else, praised him as an incredible storyteller since his untimely death last week.
Bourdain traveled to places that weren't traditionally viewed as cultural or culinary hubs-from freezing cities throughout Quebec to the industrial streets of Detroit-and found stories worth telling in the most unexpected places. He visited cities before they were considered "cool" by the mainstream media and by Instagram (think Reykjavik, Iceland in 2005 and Charleston, South Carolina in 2013). Bourdain was the anti-foodie's foodie. He'd sooner call out the ways in which brunch disgusted him before he ever took a picture of it and posted it for followers.
Sometimes in the content marketer's quest for the best stories, we can forget to go back to the basics. In looking back at his legacy, here are five lessons in great storytelling that I learned from watching and reading Anthony Bourdain.
Don't Overlook the Obvious
For many content marketers, one of the greatest challenges is finding the right subject matter. We ask ourselves "What will be compelling enough?" and "What will make people stop and think?" It can be easy to believe that the most grand person or place will make the best story, but sometimes the best stories are living right in your own backyard.
So much of what Anthony Bourdain did was to open people's eyes to cultures of the world, but he also reignited excitement for places that were close to home-Mississippi, New York City, and Houston, to name a few.
He was not only a great storyteller, but a great story finder. The same way Bourdain found interesting stories in places that may have been taken for granted, content marketers can do the same. If you look to the people, places, and things around you, you will likely find an engaging story just waiting to be told.
Take Risks
Before becoming a bestselling author and TV personality, Anthony Bourdain was a chef in New York City working the 60-plus-hour work-week grind. In reflecting on a recently failed culinary venture, Bourdain penned an article for The New Yorker that catapulted his career as a food industry storyteller. "Don't Eat Before Reading This" is still one of the most well-known narratives about the modern-day restaurant. Although originally published in 1999, many of his gripes about vegetarians and brunch can still conjure a laugh when you read them today.
Hearing a professionally trained chef talk about hair in your food, cross-contamination of meats, and sweaty line cooks can be a nauseating experience. Bourdain knew he was taking a risk by pointing out the flaws of his industry (and his own flaws, too), but he did it anyway. That risk paid off and propelled his writing career forward as the author of several best-selling books.
As content marketers we cannot be afraid to try something we have never done before. You never know-you might be good at it, and if things really work out maybe you'll end up with a book on The New York Times Best Seller List.
It's Not Always About You
When creating a good story it can be tempting to turn the spotlight on your brand or cause. However, putting yourself second can often have a greater impact on the impact you have with your audience.
Anthony Bourdain used food and travel as a vessel for telling the stories of other people. He built a platform that was rooted in his lone adventures and used that platform to elevate others, from the struggles of the people living on the Chapslee Estate to the cultural experiences of Afro-Brazilian families in Minas Gerais.
For a man who traveled to some of the world's most interesting places, his Instagram was filled with portraits of those he admired rather than the places he saw. A fierce supporter of strong women like Rose McGowan and Asia Argento, Bourdain was more concerned with using his celebrity to fuel the fire of their causes rather than further his own, and that has only gained him more admiration.
Be Honest
Anthony Bourdain was not afraid to call BS. When traveling to Sicily for an episode of Parts Unknown, Bourdain exposed his own producers and network for trying to fabricate a squid-fishing scene by throwing dead squid over the side of a boat nearly ten feet away.
This honesty was a breath of fresh air in a world where travel shows and Instagram bloggers are constantly capturing only the picture-perfect moments. Unlike other travel enthusiasts we see in the media, Anthony Bourdain did not give into gimmicks. He called it what it was and was deeply affected by the ruse happening around him.
Not every brand, story, or experience will always be perfect. If you're willing to be honest about the things around you that make you uneasy, your audience will respect you for it in the end.
Don't Take Yourself Too Seriously
Many episodes of his various shows portrayed Bourdain walking around in unflattering situations. Sweating through his thin button-down shirts with bags under his eyes, suffering from an obvious hangover, he know who he was and he didn't try to edit out the unsavory parts.
Bourdain approached other cultures without being supercilious. He had probably seen more corners of the world than most people, but was always asking questions and eager to learn more. He wasn't afraid to get his hands dirty or too good to eat local delicacies like fermented shark.
Bourdain was a classically trained chef and world traveler who always made it clear that he had a lot to learn. His ability to poke fun at himself made him a likeable narrator for his own incredible adventures.
Anthony Bourdain was in the travel game for the experiences-good or bad-not the number of likes he'd get from his fans. His raw dedication to educating others on what they did not know is what he will be remembered for in years to come. His work transcended mediums and was always unapologetically his own brand, whether we liked it or not.
In getting back to the roots of good storytelling, let's remember the lessons we can learn from the legacy of Anthony Bourdain.
If you or someone you know is struggling, call the National Suicide Prevention Lifeline at 1-800-273-8255.

Featured image attribution: Peabody Awards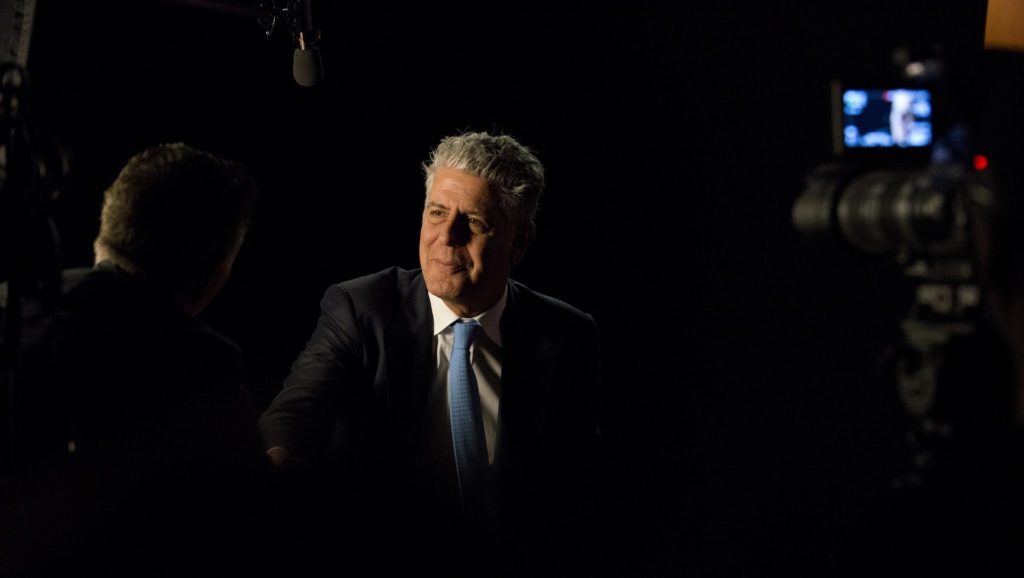 https://www.skyword.com/contentstandard/back-to-our-storytelling-roots-content-marketing-lessons-we-can-learn-from-anthony-bourdains-legacy/
https://www.skyword.com/contentstandard/back-to-our-storytelling-roots-content-marketing-lessons-we-can-learn-from-anthony-bourdains-legacy/
Carina Sorrentino