For Google News
Dark Social Media Marketing is Growing—Here's How to Target and Measure Your Blind Spots
By Jonathan Crowl on October 9, 2018
Social media engagement isn't all likes, shares, and retweets. A lot of what takes place on social networks happens outside of the public eye. From Facebook Messenger, to Twitter DMs, to private stories on Snapchat, dark social activities now comprise a surprising role in the overall social media landscape.
Consequently, the role of dark social media marketing is growing as well. But for many brands, this strategy remains mostly confined to the shadows. A survey of marketers by Econsultancy found that of the various perceived technological barriers marketers face in building a seamless customer journey, only four percent are concerned about the growing role dark social plays in consumer social behaviors-making it just the 10th-most pressing issue among those included in the survey.
Research on the prevalence of dark social interactions suggests marketers are underestimating the scale of this activity, possibly because it goes largely unseen. According to Smart Insights, dark social overtook Facebook in July as the leading single source of social referral traffic. The transition of power may be here to stay: While Facebook's public sharing activity and engagement is mired in a months-long decline, dark social activity grew 115 percent in 2017, and similar trends are being seen thus far in 2018.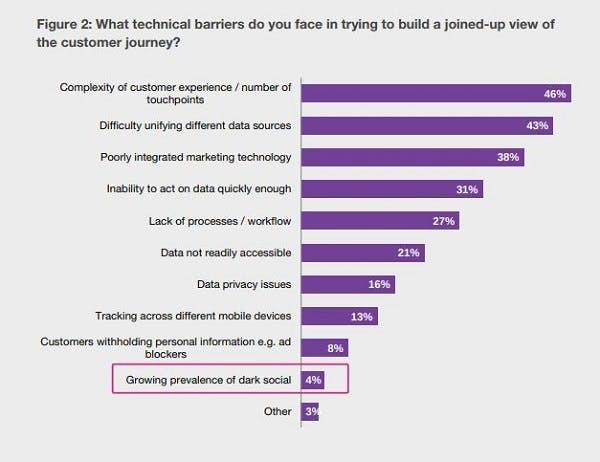 Yet coming up with hard numbers on the rise of dark social-both on a macro level and for individual brands-continues to be a challenge. Not only does this inhibit our collective understanding of its crucial role in modern marketing, but it creates obstacles for marketers trying to build campaigns that leverage dark social's hidden activity. A combination of savvy analytics and creative strategic wrinkles are a marketer's best tools for uncovering this hidden data, and turning it a powerful asset to improve your social media marketing strategy.
Shining a Light on Dark Social Data
A lack of visibility into dark social activity doesn't mean you have to market blindly to this audience. A combination of dark social tracking solutions and an emphasis on revealing data points can provide a decent picture of what's happening behind the scenes as it relates to your online content.
For starters, Google Analytics is a great resource for analyzing your traffic to create a close estimate of your volume of dark social traffic. Dark social functions as a subset of direct traffic, and while dark social tracking isn't exactly a filter you can turn on, there are steps you can take to isolate dark social from other direct traffic sources. Start by filtering out return visitors, who likely haven't been referred by a dark social link, and get rid of web pages that are likely to be bookmarked or reached by typing in the URL directly.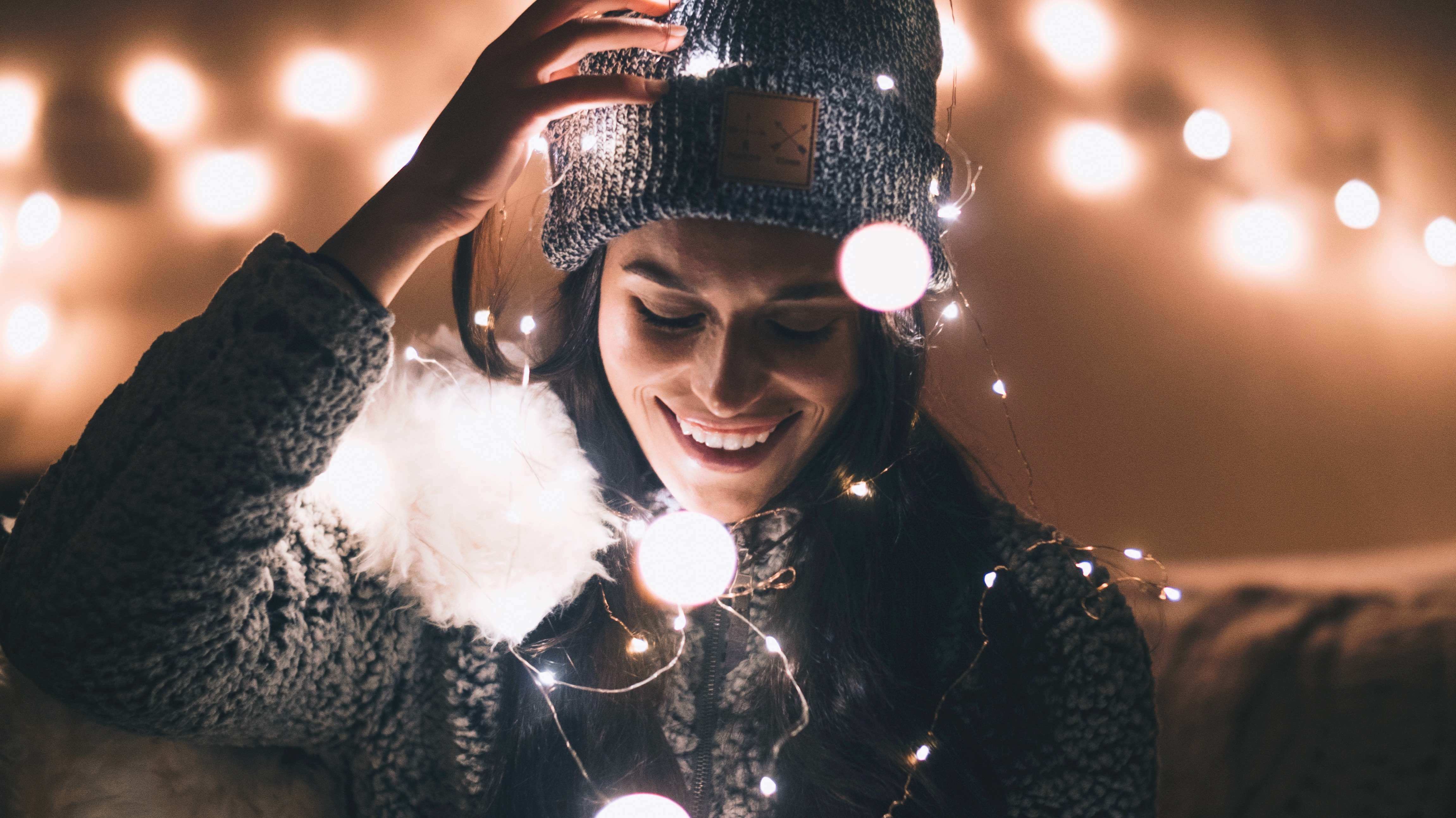 Image attribution: Jon Ly
At the very least, this includes your home page, but could also include a contact page or activation page, depending on what your website offers.
What you're left with is a segment of direct traffic that is very likely to be coming from dark social channels: Not just Facebook Messenger and Twitter DMs, but also popular private text-based services like WhatsApp and Signal apps, text message links, and even emails.
It's not a perfect reflection, but it provides a reliable starting point for understanding the size of your dark social audience. You can also combine this number with your social media referral traffic to get a more complete picture of the total value of social media marketing.
Conversely, if you're looking to gauge the dark social activity surrounding a specific piece of content, tracking codes are a reliable means of following your links through hidden channels. These codes have been widely used in email for some time, but they're just as vital for dark social tracking on modern social platforms. Link-specific data can play a critical role in shaping your content's voice and subject matter if you're eager to build content and campaigns that take advantage of dark social's unique appeal.
Harnessing the Power of Dark Social Marketing
Dark social media marketing often feels like working with a blindfold on, but even with this constraint there is still plenty brands can do to target dark audiences and support their marketing goals through these unseen channels. One of the most effective ways is direct messaging prospects, which can include the use of chatbots to drive private engagement and conversations on a large scale.
Message-based communications are big in B2B and account-based marketing strategies, and this approach is well-established on LinkedIn, but it's also becoming available on Facebook and is widely viewed as a useful tool for targeting dark social and embracing automation all at the same time. As Social Media Examiner points out, some brands like Adidas are already using chatbots in WhatsApp and other messaging platforms to serve as customer service outlets, building a visible presence in otherwise dark channels.
Brands are also able to use dark social activity as a tool to improve personalization by creating remarketing campaigns based on past engagement with dark social content. When a consumer clicks on a link to a piece of your company's content, they create an opportunity to programmatically display other ads and content specific to the interests indicated through their dark social activity. You as a marketer might not be able to see what's happening, but this anonymous activity can still be tracked and targeted much like any other digital campaign.
Meanwhile, as you watch certain pieces of content demonstrate greater appeal and success in driving dark social engagement, your marketing department may decide to create content specifically designed to elicit engagement from a dark social audience. Even with a limited view of what's happening in private social channels, it's possible to generate insights that can direct your content and storytelling efforts, eventually improving your appeal to these users.
Because dark social activity is largely hidden from view, it's easy to overlook its scale and potential value to brands. But determined marketers can use their powers of deduction, as well as some simple analytics and tracking tools, to get a better sense of what's happening behind the curtain. As dark social's share of total social referral traffic continues to grow, the ability to see the unseen will become more essential to any brand's long-term success.
For more stories like this, subscribe to the Content Standard newsletter.

Featured image attribution: Annie Spratt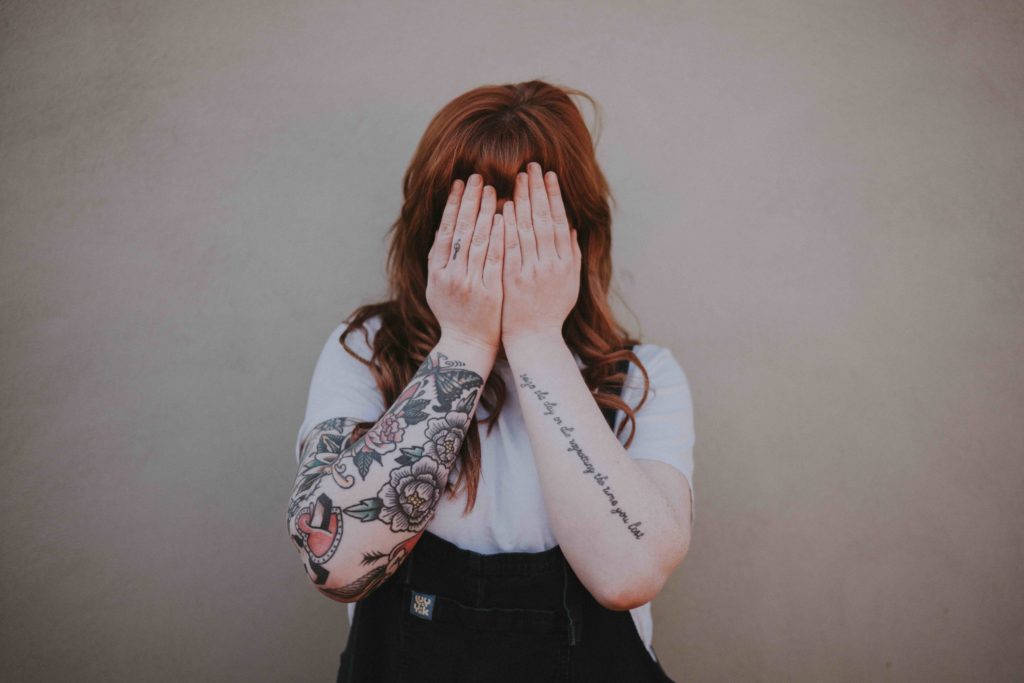 https://www.skyword.com/contentstandard/dark-social-media-marketing-is-growing-heres-how-to-target-and-measure-your-blind-spots/
https://www.skyword.com/contentstandard/dark-social-media-marketing-is-growing-heres-how-to-target-and-measure-your-blind-spots/
Jonathan Crowl