For Google News
How Innovative Brands Engage Users with Snapchat Marketing
By Adam Vavrek on September 27, 2017
Every time I log into Snapchat, I discover something new. If you've been on Snapchat, you know that the platform can be complicated, but you can appreciate that content on Snapchat feels authentic, personal, and natural. With highly engaging content, Snapchat marketing poses a good opportunity for brands to connect with their target audience in a new way.
Even though Snapchat's user growth rate is slowing and revenue has not met projections, Snapchat, founded in 2011, isn't packing up any time soon. People under 25 use Snapchat more than Instagram and the app has more users than Twitter and grew as much in one year as Twitter did in four. Snapchat now has an impressive 173 million daily users.
Seventy-one percent of Snapchat users are under 34 with 45 percent between the ages of 18 and 24; 70 percent of all users are female. If your target audience is over 34 and a younger audience would have no interest in your product, Snapchat may not be for your brand. But if a younger demographic (especially females) is a part of your audience, it could be a great way to reach them. Snapchat users are engaged, opening the app 18 times and spending 30 minutes on it per day. More than 400 million Snapchat stories are created and 1.7 billion photos are shared every day.
Brands are incorporating Snapchat into their social media marketing strategies. Some large companies have entire teams dedicated to Snapchat, with titles ranging from senior editor to animator to producer to graphic designer. That being said, there's still less competition for brands than on the more popular social media sites: Facebook, Twitter, Instagram, and Pinterest.
Here are various ways you can engage with Snapchat users and some examples of brands doing Snapchat marketing right.
Accounts and Stories
One of the best-and most obvious-ways to gain a loyal following is to post consistent, entertaining, and engaging stories to your account. The most successful brands do this via contests, promotional discounts, exclusive "behind-the-scenes" content, live event coverage, and more.
GrubHub, during the 2016 holiday season, set out to "deliver joy" by posting stories filmed from the perspective of a delivery person wearing Snapchat Spectacles.
The Washington Post gets breaking news stories out more quickly using Snapchat. In just a few minutes, they can cover a story that might require a lot more time to create. Their audience can consume the content quicker.
Major League Soccer (MLS) dedicated an entire week to professional soccer player takeovers, meaning someone from the MLS ran the official Snapchat account each day. The stars promoted it on their personal accounts and then created fun content on the MLS account on their takeover day. This can be a great way to build your following.
Cisco uses their Snapchat account to feature employees in an effort to personify their brand. A recent series, A Day in the Life of an Account Manager, gives a glimpse into what it's like to work at the company, serving as an effective recruitment channel. A recent story featured an employee traveling to Florida to meet a colleague. Together, they assessed Hurricane Irma damage and encouraged people to donate: "At Cisco, we love giving back. It's very important."
Guinness World Records and NASA engage their audiences with trivia and fun facts. NASA answers users' questions by explaining scientific concepts in an engaging and fun way.
Mashable and Burberry give users exclusive content by covering live events like Austin's SXSW and London's Fashion Week, respectively.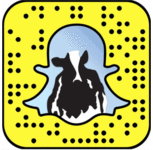 Customize your Snapchat QR code so users can add you more easily. You can change the background color and the body of the ghost, but basically nothing else. Adding a logo or image inside the ghost can be a great way to brand the code. Users just have to take a picture of your Snapcode and open it from the camera roll within the app to follow you.
Promote your Snapchat off the platform as much as you can. Offer an incentive upfront, like a chance to win a prize or a chance for the person to be featured in your Snapchat story. You can easily post and promote your Snapchat username across other social networks using the format www.snapchat.com/add/YOURUSERNAME.
Contests and Competitions
As a way to increase engagement with users or to get more followers, brands use contests and competitions in Snapchat. It's best if your snaps create urgency. Since there are so many distractions nowadays, you have to catch people right then or you'll lose them. Announcing flash sales or exclusive content will likely get more results and lead to higher engagement.
Mondelez gave away $10,000 in a contest in Snapchat. They asked users to snap a photo of the TimeOut candy bar, draw on it in Snapchat, and send it to the Mondelez account. They showcased the photos online and picked the most creative snap to be the winner.
GrubHub encourages users to express creativity in their snaps and awards them with discounts. GrubHub was an early adopter of Snapchat (in 2013), and Snapchat is a big part of their social media marketing strategy.
Live Stories
Live Stories are essentially a collaboration of photos and videos (snaps) submitted by various users about a specific event or topic. Users can add snaps to the Live Story and Snapchat staff curate the snaps, determining what's included and what's not. Anyone in the area can post pictures and videos for all to see. Brands are able to sponsor Live Stories, which are active for 24 hours and can cost between $50,000 and $500,000 depending on the type of story, reach, and scope. Live Stories for music festivals are very common and can be an effective way of telling a great story.
During the 2015 Video Music Awards, MTV made great use of Live Stories. Celebrities and people in the audience shared entertaining behind-the-scenes footage to the Live Story. More people viewed the story on Snapchat (12 million) than tuned in to watch the show (10 million).
La Tomatilla Festival in Spain utilized Live Stories to show snaps from people at the festival participating in a massive food fight and having fun at the festival.
Verified Accounts (Official Stories)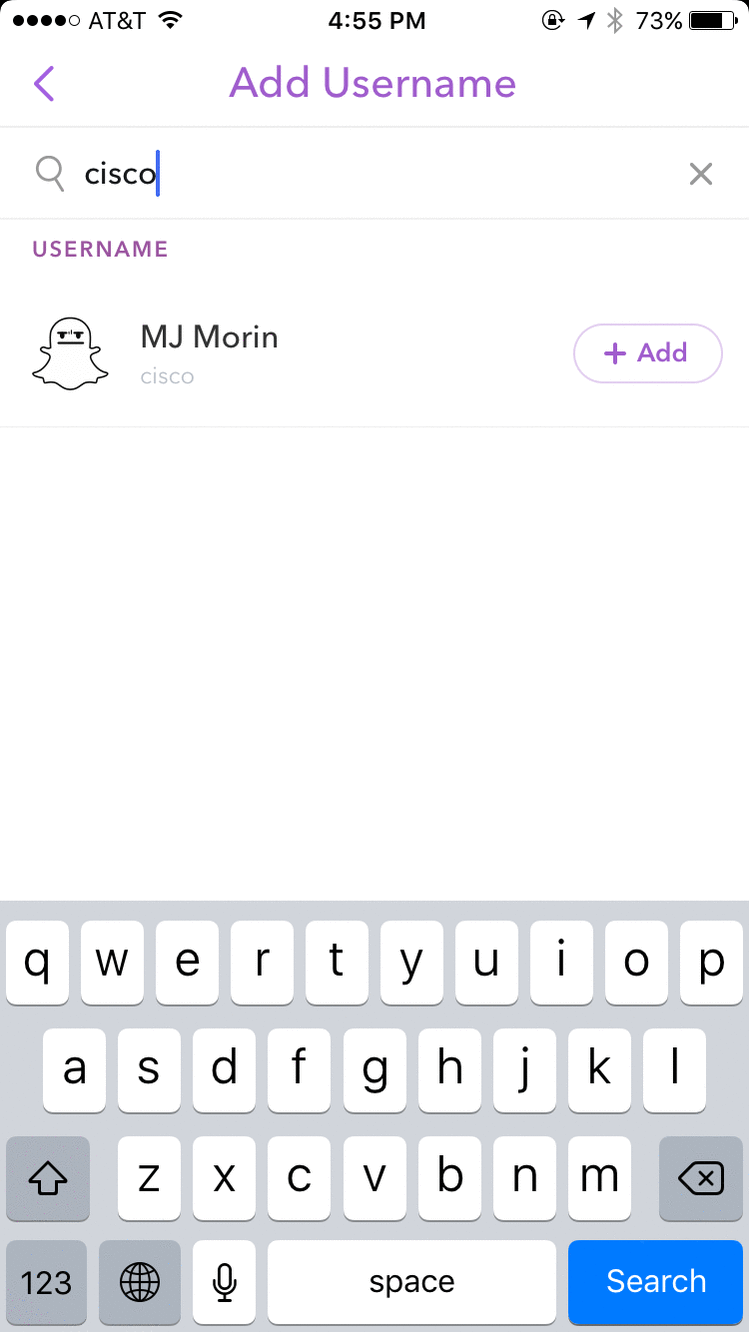 There are several ways to find and add brands on Snapchat. I discussed the QR code previously but it's very common to add by username in "Add Friends" in the Settings. You'll have to type in the username exactly, which can be tricky. For example, Cisco's username is @wearecisco, not just @cisco. Typing "cisco" in the search box will not find the account unless you're already "friends" with the account. But searching for verified accounts, known as "Official Stories," is a lot easier. For instance, Serena Williams' username isn't @serenawilliams, it's @serenaunmatched, but when you type "serena" into the search box, she appears in the "Official Stories" section. This is not the case for unverified accounts and brands like Cisco.
Verified accounts are restricted to celebrities, public figures, and big brands and have an emoji to the right of their name. (And yes, they get to pick their own emojis!) One Direction's emoji is ⬆ (up arrow); Arnold Schwarzenegger's is 💪 (bicep), and the New England Patriots' is 🏈 (football). Why Serena Williams picked 🌮 (taco) instead of 🎾 (tennis ball), I'm not quite sure.
Verified Snapchat accounts come with some perks. The most important is increased exposure in its app, but another advantage is collaboration. Regular accounts can only be logged into from one phone at a time, but verified accounts let multiple people add or remove snaps from the main account's story. That's why when you view the Patriots' snaps you can see games and practices from different vantage points, one right after the other.
It is very difficult to get verified, but I predict that it will become easier in the future, as it has with other social media sites (Twitter opened verified accounts to everyone in mid-2016). A few employees at Snap Inc. decide whom to verify, and it's very exclusive: You have to have more than 50,000 views per story and prove that your account is being impersonated-and that it's affecting your business in a negative way.
Influencers
Brands have used celebrities and other social media influencers to grow followers and spread brand awareness.
Sour Patch Kids teamed up with Logan Paul to record public, harmless pranks in New York City. It was fun and relevant-a play on their brand tagline, "First they're sour, then they're sweet." The original campaign brought SPK 120,000 new Snapchat followers.
Audi wanted to attract young, female car buyers, so they teamed up with the show Pretty Little Liars to post exclusive content about the show. Audi gained 115,000 followers with this campaign.
IKEA partnered with the musical duo Superfruit for a back-to-school initiative that promoted IKEA products for college students. This campaign used Paperclip, a feature introduced by Snapchat in July 2017 that allows brands to link to external pages, something brands had wanted for a long time.
Geofilters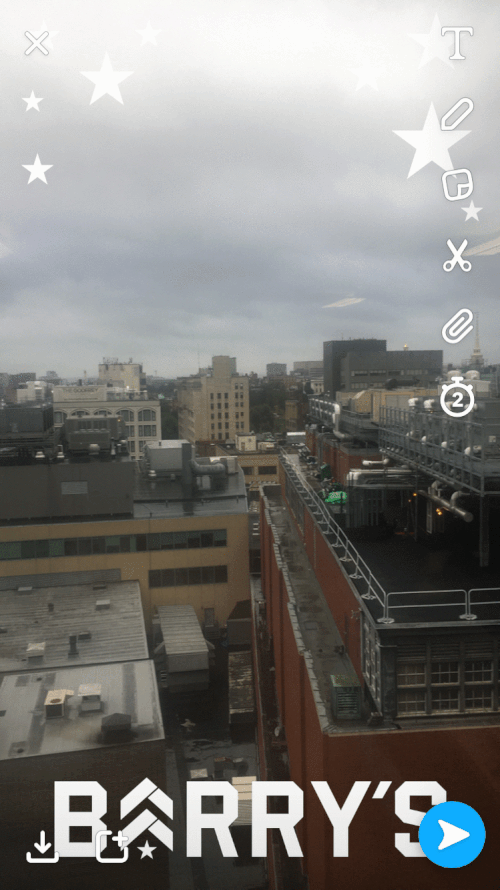 Sponsored Geofilters are location-based filters that users can use in their snaps if they're in a certain area. This is another effective way to promote events and capture the interest of a local audience. Examples of on-demand Geofilters by Barry's Bootcamp, Wendy's, and Starbucks in Boston near the Skyword headquarters are to the right.
There are two main types of Geofilters: community and on-demand. Anyone can submit community Geofilters for free, but they can't have any branding on them (think: cities or neighborhoods). With on-demand Geofilters (think: personal or business), you can purchase Geofilters for a location or event and branding is allowed. You create the filter, choose the dates and times you want the filter to be active, and then select the location by drawing on a map (area must be under 5,000,000 square feet). Geofilters are the most affordable of the options to advertise on Snapchat, and the price will appear on the screen so you don't go over budget. Rates vary based on location, time of day, length of time, and other factors. To give you an idea on pricing, 12 hours in Boston for 80,000 square feet cost about $40.
Target created Geofilters around physical stores to increase brand awareness and sales.
Equinox ran Geofilters at their competitors' locations to drive awareness of their gyms.
Uber, in their app, promoted Snapchat to unlock exclusive filters.
Skyword used Geofilters at their annual brand storytelling conference to engage with event attendees.
Charlie and the Chocolate Factory-The Musical came out with an innovative Snapchat campaign. They put "hidden" Geofilters all over New York City. If you find them, take a picture, and send a snap to their account, you can win free tickets, swag, and more.
Overall, analytics on Snapchat are quite lacking unless you have invested in a Snapchat analytics tool like Snaplytics. For on-demand Geofilters, you can expect to see the following analytics:
Swipes (Paid Impressions) - occurs when a user sees the Geofilter while swiping through the filter options
Uses - occurs when someone uses the Geofilter in a snap and sends it to either their friends or posts it on their story
Views (Earned Impressions) - occurs when the snap with the Geofilter is viewed either by direct snap to a friend or by viewing the snap on a story
Use Rate - the rate at which the Geofilter is used versus seen in the filter options (uses divided by swipes)

Sponsored Lenses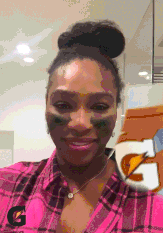 With Sponsored Lenses, you can promote custom, branded lenses that users can use in their video snaps. They are estimated to cost between $450,000 and $750,000 and are only active for 24 hours. Snapchat users tend to spend a lot of time with lenses-an average of 20 seconds!
During Super Bowl 50 last year, Gatorade released a lens that let anyone (virtually) dump a Gatorade cooler on top of their head. They used an influencer, Serena Williams, to promote the campaign. It cost around $750,000, since prices for lenses increase during holidays and other special events.
Taco Bell created a lens where you could essentially put your face in a taco. The filter was viewed 224 million times, and the company paid an estimated $750,000 for 24 hours for that filter.
X-Men did a massive takeover to help promote the release of the movie X-Men: Apocalypse. For an entire day, every filter on Snapchat was related to X-Men.
Discover
Discover lets your content appear in Snapchat's featured section, a premium placement within the app. This is one of the most expensive options, starting at $50,000 per day. Discover is usually reserved for large media companies like Vogue, People, Mashable, Comedy Central, ESPN, Entertainment Weekly, the New York Times, and BuzzFeed. In some cases, Snapchat makes up a fifth of a publication's total traffic. This offers a new way for publishers to get in front of a difficult-to-reach demographic. Users can share Discover content with their friends by tapping and holding while viewing content. (These can only be sent to individuals via chat, not shared to your story.)
Snap Ads and Games
Advertisements that display after you view stories can have an interactive element. You can link in these ads to send users from Snapchat to somewhere outside the app. Ads that are static, promotional, and sales-y typically do not go over well with Snapchat's primarily millennial audience.
Budweiser created a Super Bowl ad: a mini-football game within the app. If you won the game, you unlocked an exclusive Snapchat filter.
Gatorade celebrated Serena Williams' 23rd Grand Slam victory with a tennis game in Snapchat. This was viewed about 30 million times and average time spent on the ad was over three minutes.
Boost Mobile created a game called Galactic Thunder Pony. To drive awareness, Snapcodes were placed on ads in subway stations to drive users to the digital experience.
Snap Map
According to Snap: "We've built a whole new way to explore the world!" Snap Map is a relatively new feature (introduced in June of this year) that hasn't yet seen its full potential. It's a way for users to discover events on a map in their area and other parts of the world. Specific events are featured and there are heat maps to show locations that are seeing a lot of snap activity, showing crowdsourced videos and photos shared from specific locations. They can see what their friends are doing and where they are (or other accounts they are connected to).
The New England Patriots and other sports teams have used this to showcase games and other team events.
Daybreaker had an event that was spotlighted as a featured event and the stories from the performers played on the Daybreaker account all day.
Animated Bitmojis and More
Some users aren't aware of the Trophy Case. If you click the trophy symbol on your settings page, your Trophy Case will be displayed, which showcases certain milestones set up by Snapchat. For example, the 🐼 (panda) trophy is awarded once you send 50 black and white snaps, and the 👹 (ogre) is awarded when you send 1,000 snap selfies. I can see brands getting in on the action by awarding their own trophies here.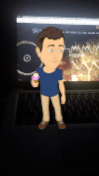 There are certain features I could see brands utilizing more and more in the future. For example, in September 2017, the day after Apple announced animated emojis, Snapchat announced animated Bitmojis. (Snap acquired Bitmoji in 2016.) Animated Bitmojis work like a lens, where you can insert your 3-D Bitmoji into a story. An example of my Bitmjoi eating ice cream is included to the right. I can see companies like Ben & Jerry's or Halo Top inserting their brand into this lens. It's also possible to send stickers and filters with Bitmojis and include those you're connected with in the snaps.
The possibilities for Snapchat marketing are endless, and marketing on Snapchat hasn't yet reached its full potential. Snapchat is coming out with engaging features on a consistent basis. Expect a lot more from one of the world's most innovative brands.
For more stories like this, subscribe to the Content Standard newsletter.

Featured image attribution: Daniel Pryde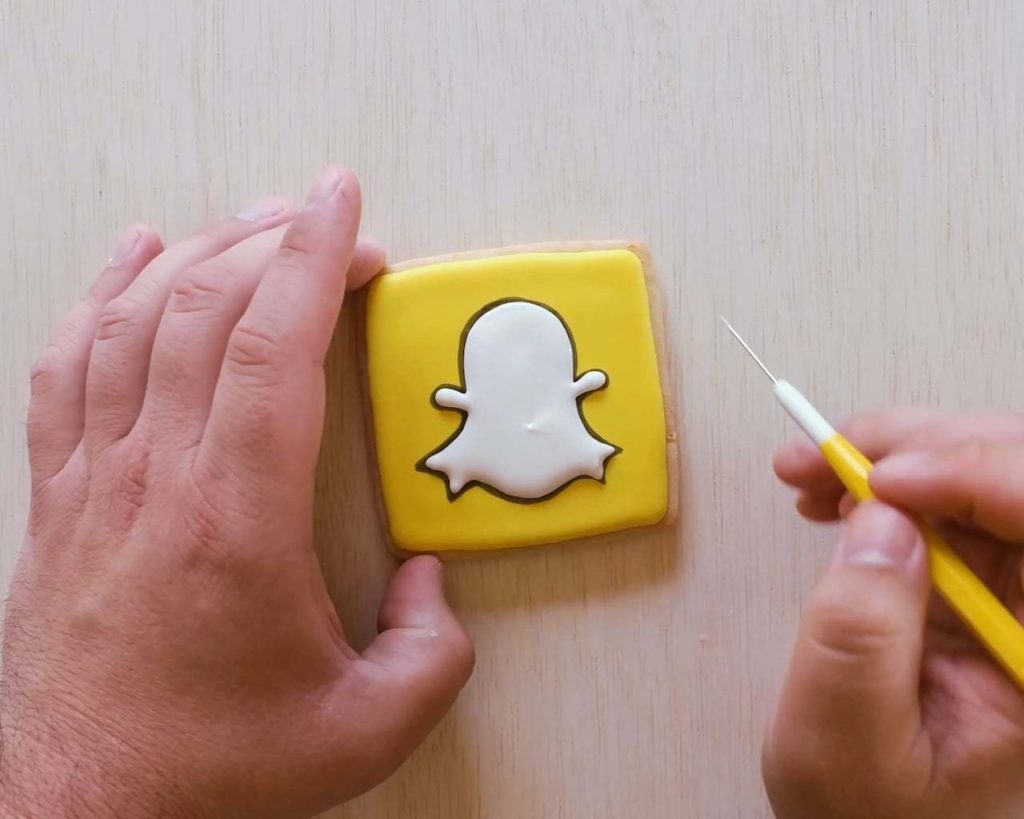 https://www.skyword.com/contentstandard/engage-users-snapchat-marketing/
https://www.skyword.com/contentstandard/engage-users-snapchat-marketing/
Adam Vavrek