Content Strategy
Failing the Scale Test
By Andrew Wheeler on September 22, 2021
Subscribe to our monthly newsletter, Content & Context, to receive future insights and updates on the content marketing world from Skyword CEO, Andrew C. Wheeler.
Twelve months ago, I embarked on my newsletter-writing journey. I was a first-time CEO, first-time dad, and first-time newsletter writer wanting to spark a meaningful dialogue during a global pandemic.
For me, it was important to step out from behind my proverbial desk and communicate regularly with our community of clients, freelancers, and peers. And I'm so glad I did.
While, on paper, writing a newsletter wouldn't appear to be the most useful way for me to spend my time, it's generated invaluable returns.
Through each edition, I've reconnected with former colleagues, had eye-opening discussions with internal team members, made new industry contacts, and opened the door for partnerships and client relationships.
In short, it's my ongoing reminder of Paul Graham's sage advice: "Do things that don't scale."
Paul directed his advice to startup founders, but it's worth heeding by businesses of any size—and it's particularly relevant for marketing.
Maintaining a healthy balance of focus on things that don't scale is the best way to learn the lessons you need to scale the right way.
So, to mark the first anniversary of Content & Context, I'm sharing a list of some "not scalable" things Skyword chose to refocus on in 2021. A few of these may resonate with your business, too:
1. Create for your perfect customer
Every time I sit down to write this newsletter, I start with "Dear Cathy."
The "Cathy" I'm addressing is Catherine Palmer, my first manager and former head of Marketing for Teradyne. In addition to being an exceptional human being, she is also a brilliant marketer—she's my target audience.
Planting Cathy in my head helps me tune into the 1:1 relationship I'm trying to build instead of worrying about how my ideas will be received by thousands of people online. (It's a tip I picked up from Anne Handley's book Everybody Writes.)
But "Dear Cathy" isn't just a tool for getting over writing anxiety; it's a mantra.
Better clarity and innovation come from cutting out the temptation to please everyone and, instead, striving to be the very best solution for your specific customer base.
Know your perfect customer, make them your north star, and you can build repeatable solutions that benefit others while bullet-proofing your core business.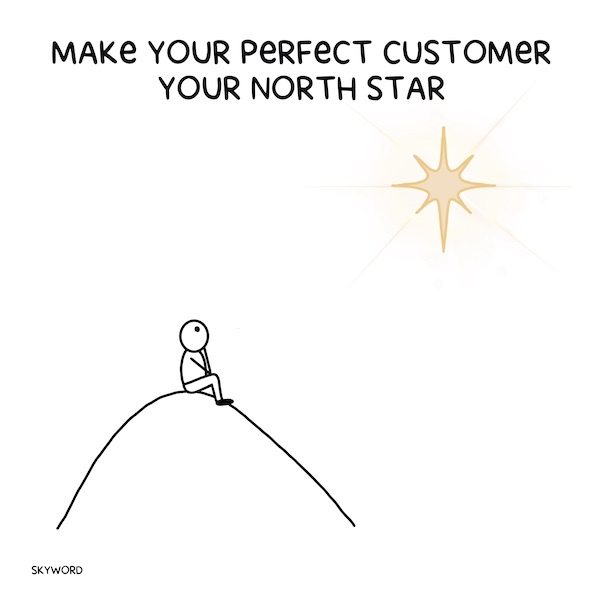 2. Pay excessive attention to your existing customers
Once your business reaches a certain size, listening—really listening—and responding to every bit of customer feedback can feel impossible. But, as brand leaders, it's critical to raise our standards for attentiveness.
At Skyword this year, that included rethinking our entire NPS process to better collect and respond to client feedback at every stage of their journey with us.
In the words of Ruben Sanchez, our Senior Director of Growth Marketing, "Customer feedback is oxygen for the business."
In an era when we have constant digital access to our customers and the ability to collect real-time feedback, there's unlimited opportunity to build experiences around their actual needs.
Asking and acting, while labor-intense, saves a lot more time than guessing and failing.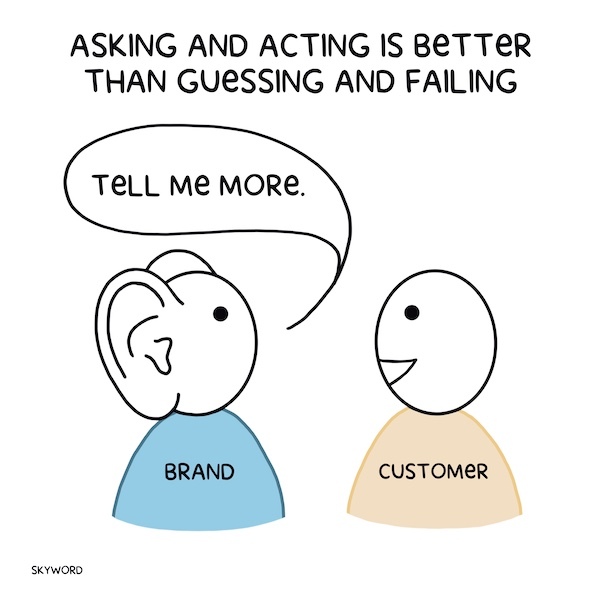 3. Sharpen your point of view
At the end of the day, uniqueness creates value. Our goal as marketers shouldn't be to create 10,000 pieces of content; it should be to influence 10,000 people with a point of view that helps them discover something new.
Defining that point of view takes work.
I read somewhere that it's easier to describe what something is than to explain how it works. That resonates a lot with what defining your brand POV is like. We have to fully unpack and understand how our beliefs define our product to get past features and connect with how our brands bring about meaningful change. Once you can explain that, you can earn the ear of others.
By taking the time to sharpen our POV this year, we could better share our passion for empowering a new style of work in marketing.
Be more curious about who you are, and you'll uncover what makes others more curious about you.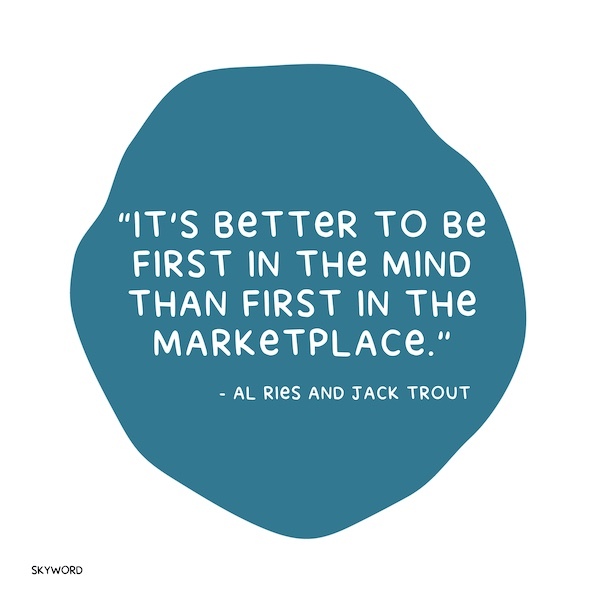 4. Innovate before you're ready
There's a difference between selling something you can't do and selling something you've never done.
Maybe you're lucky enough to have someone like Dan Baptise, Skyword's SVP of Brand Strategy and Partnerships, on your team who proactively challenges the business to explore new mediums and models for serving customers.
For example, this year, we introduced the Skyword Credit Model, which allows brand leaders to change their content creation with us on a dime as new business and market needs arise. We rolled it out even though the operational system for tracking credits was largely manual.
As painful as it can be, by doing things manually at first, we've learned precisely what needs to be automated to make the system work best for our clients and internal team.
There's always a risk of friction and discomfort when you disrupt conventional modes of work. As humans, we rarely feel "ready" for change. But what if we looked at risk differently?
Is it riskier to try something that seems hard or miss the opportunity to evolve when you have the chance?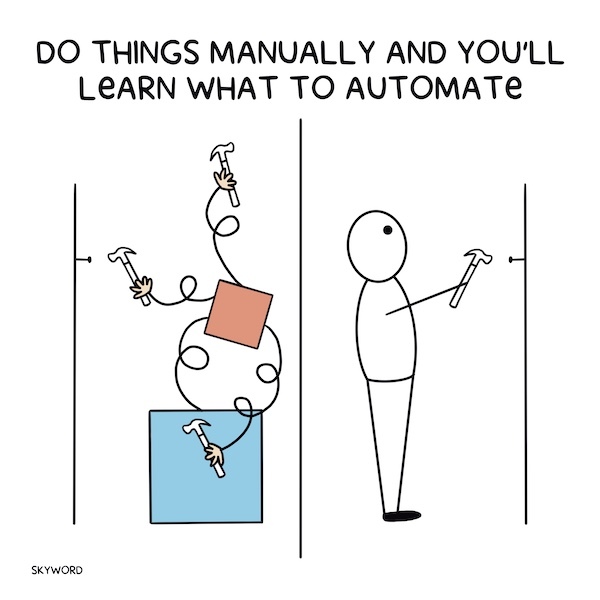 5. Do the right thing
This year, we chose to turn all of our summer early release days into full days off for Skyword employees. It's a conscious decision to pause our business and decrease capacity. We didn't do it as a backhanded way to boost productivity. We did it because our team needs and deserves more time to care for themselves and their loved ones.
Maybe you've turned down customers that weren't a good fit, slowed down hiring to spend time recruiting a more diverse pool of candidates, or taken a public stance on a controversial topic. What was the result? More likely than not, it was actually better for the business in the long-run. I think we should be less resistant to letting our values lead us to the right decision.
Interestingly, more data is coming out about how choices like this pay off for the brands that implement them consistently. If you're interested, JUST Capital reports on the connection between just corporate behavior and higher investor returns.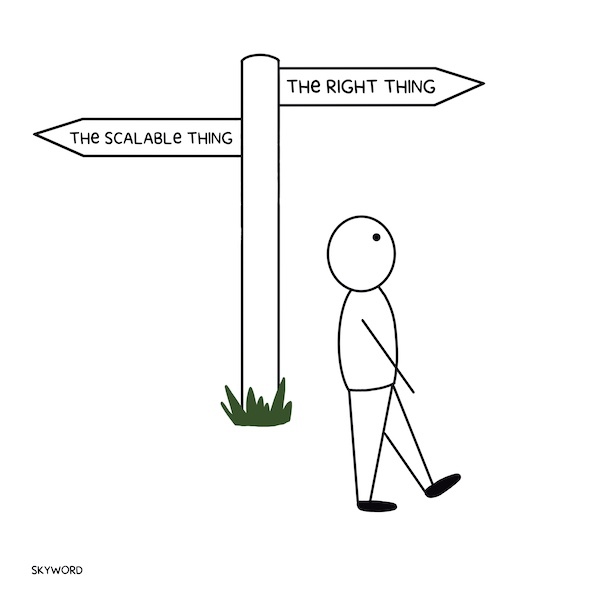 Fail the scale test
All this is to say I believe that leaders should regularly take on projects that don't scale. Being a great business takes successfully managing what's unscalable while scaling what you can.
Let's not forget how the pandemic forced a similar mindset. We had to hyper-focus on the real-time needs of our customers and employees over exponential growth.
The result? Often exponential growth. Plus, operational and product innovation, the proliferation of more socially responsible marketing, the validation of quality inbound marketing, and the re-discovery of brand authenticity.
As brand leaders, we're constantly called upon to consider growth and margin. In the back office and the boardroom, "Will this scale?" is the litmus test that determines which projects get green-lit and which don't.
But sometimes, pursuing the unscalable path leads to better outcomes.
What new marketing possibilities could we uncover, and how much innovation would we unlock by simply not being afraid to fail the scale test?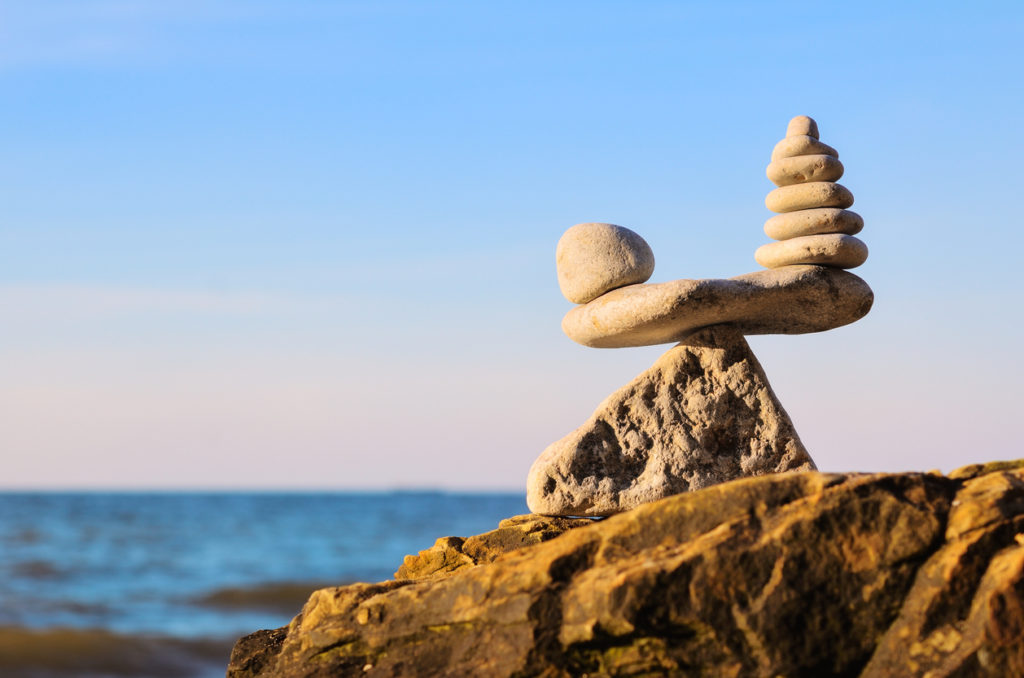 https://www.skyword.com/contentstandard/failing-the-scale-test/
https://www.skyword.com/contentstandard/failing-the-scale-test/
Andrew Wheeler