Content Strategy
Welcome to The Great Talent Rush
By Andrew Wheeler on April 13, 2021
Subscribe to our monthly newsletter, Content & Context, to receive future insights and updates on the content marketing world from Skyword CEO, Andrew C. Wheeler.
It was approaching midnight.
In 48 hours, my (then) company was making a huge pitch to a Fortune 100 retail brand.
Cut to a conference room where I'm huddled with the CEO, head of analytics, VP of sales, head of strategy, several services team members, and a sales rep—most of whom had flown into town for the big meeting.
For two weeks, we'd been working on our presentation, but the pitch still wasn't coming together. In fact, it was becoming painfully clear we needed to start again from scratch.
We knew we were competing with four or five other agencies with bigger budgets. We had to nail it.
Everyone was exhausted, deflated, and getting more anxious by the minute. Then—maybe in a fit of delirious inspiration—a new narrative began to take shape.
But to bring it to life in time, we needed to divide and conquer.
Our head of strategy focused on the vision, our head of analytics used new data to back it up, and my role was to drive home the business impact . . . each of us used our expertise to reinforce the story from a different angle.
Hours later, we delivered our entirely new pitch. After two weeks, we found out we'd won the multi-million dollar account.
That was a good day.
But what sticks with me most isn't that we won. It's how we won.
I learned the value of elevating the right expertise at the right time—and doing it early enough to avoid headaches later.
The same is true of marketers and content creators. When you have the right experts creating the right content, the difference is clear. Creative talent—and how we use it—will define the future of marketing.
Welcome to The Great Talent Rush
In today's content-hungry world, high-quality creators separate the great brands from the rest. Just look at the rise in demand: digital content creator is one of the fastest-growing jobs on LinkedIn's 2021 'Jobs on The Rise' list.
What's interesting is, as brands hustle to close their creative talent gaps, they have the added advantage of tapping into what is now the fastest-growing segment of the U.S. workforce: freelancers.
In 2020, 2 million workers joined the freelance economy, raising the percentage of American workers engaged in freelancing full time to 36%. Freelancers providing creative services are growing even faster than those providing technical and professional services.
What's Behind the Need for On-Demand Creative Talent?
Internal marketing teams are no longer islands of asset creation. They're more like international airports—directly delivering content to meet the needs of audiences, sales, and internal team members across a growing number of mediums and channels.
All that content calls for quality creation at greater scale, executed with greater flexibility—something freelancers can more easily provide.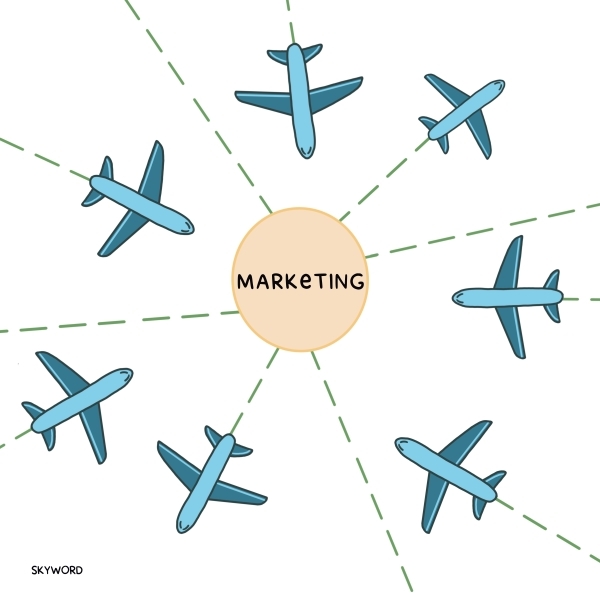 In our latest content marketing research report, we set out to pinpoint the needs, trends, and opportunities behind the Great Talent Rush in marketing.
To start, we surveyed over 200 marketers working with freelance creators. Seventy-three percent plan to rely more on freelancers in the next one to two years.
When asked why, marketing leaders confessed they need:
"Speed, agility, precision"

"Versatile skills and creativity"

"Flexible scale without increasing headcount."

"More and varied content"

"Diverse voices from around the nation"

"Experts in the field"
To examine both sides of this powerful dynamic, we also surveyed over 800 hundred freelance creators who work with brands.
Our results laid bare the beginnings of a new revolution in content marketing: Limitless Creation.
The need for speed, scale, and specialization is catapulting marketers out of the incremental mindset of the past (defined by request fulfillment, one-at-a-time asset creation, and headcount-by-headcount growth) and towards co-creation with a broader universe of external experts and creative specialists.
I see at least 4 critical shifts on the horizon as this revolution unfolds:
Expertise as a differentiator will drive up demand for increasingly specialized talent.
As one survey respondent noted, "Working with freelancers allows my organization to feature content written by experts in the industry, which improves our authority and builds trust with our customers." Couldn't have said it better myself. (This also just so happens to perfectly align with Skyword's "Why.")
Establishing standout credibility within a noisy content landscape is driving nearly half (46%) of marketers to look outside the four walls of their brand for creators with specific industry expertise. Nearly one third (30%) look for those with actual career experience in the topic(s) they're covering.
At the same time, career experts (from doctors and financial advisors to scientists and psychologists) are taking up work in the creative field—more than one third (37%) of freelancers identify as subject matter experts with career experience working in the industries they cover.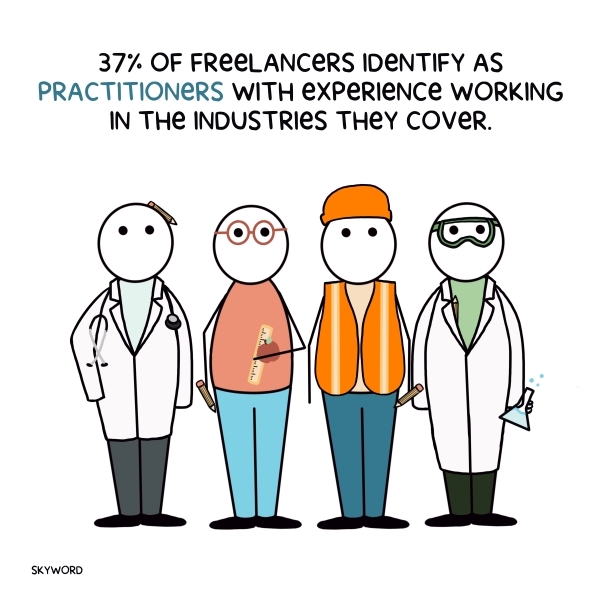 Freelance marketplaces will become a dominant force in the marketing economy.
We've seen tech-enabled marketplaces transform how we find everything from real estate (Zillow), to companionship (Tinder), to someone to build our Ikea furniture (TaskRabbit).
It's inevitable that many brands can (and will) turn to specialized freelance marketplaces to access experts in the specific content types and topics that matter most to their audiences as they scale.
Today, around one third (32%) of brand marketers say they use freelance marketplaces—and those marketplaces actually help them find the creators they need. Judging by demand, I predict at least 50% growth in this area over the next year.
More than half (53%) of freelance creators already agree that freelance marketplaces will play a significant role in their long-term success. No shocker, given that 41% of these creators cited "finding work" as the most significant tax on their time.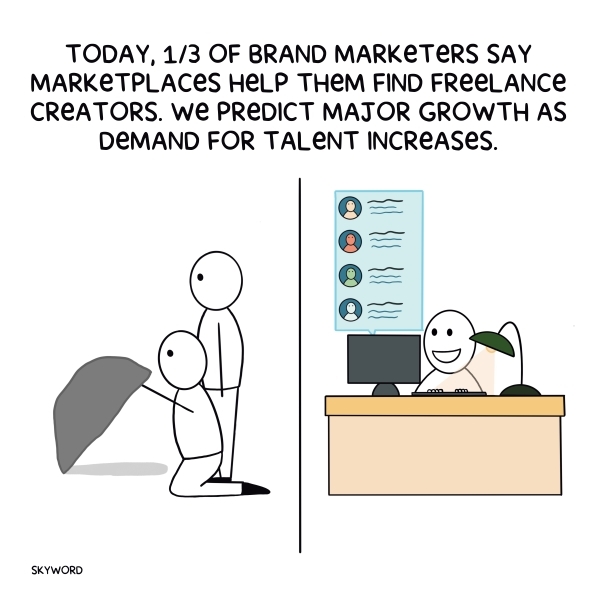 Quality assurance will become a critical function within marketing.
Once content creation is no longer a bottleneck, how do brands maintain quality and brand consistency across a vast array of content contributed by a variety of creators?
According to our research, top friction points between brands and creators all relate to communicating about, and managing, content quality.
In fact, "revising content myself" came in as the highest ranked time-suck cited by brand marketers.
Software and AI don't yet solve for all the nuances of quality. Until they do, brands need actual humans (partners or staff) dedicated to quality assurance from beginning to end of the creation process. That includes brand guidelines creation, creator onboarding, brief creation, and editorial review to make sure expectations are clear and creators' skills enrich the brand point of view.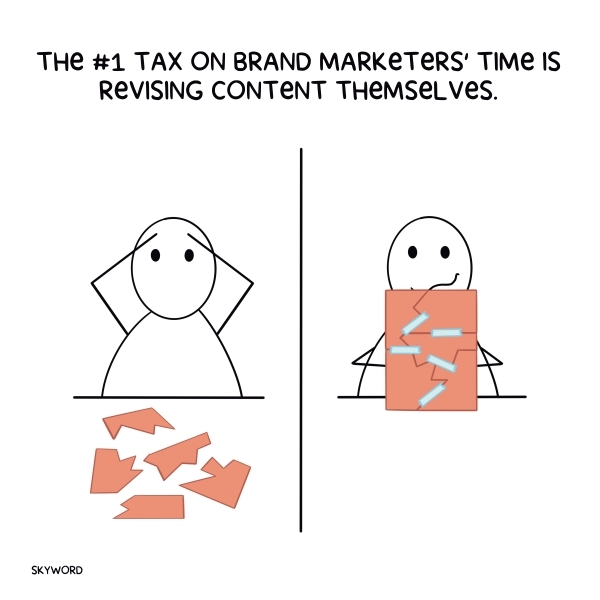 Brand values and integrity will play a bigger factor in talent recruitment and retention.
Like most consumers, freelance creators are belief-driven when it comes to choosing which brands they work with.
More than three quarters (82%) of freelancers say they would turn down work or stop working with a brand because they didn't agree with its values or trust its products and services.
Brands who lack a clear purpose or values their creators can buy into face a huge disadvantage when competing for high-quality talent.
At Skyword, on the other hand, we've seen how shared values result in richer brand-creator relationships that continue over years and result in more effective, authentic content being brought to market.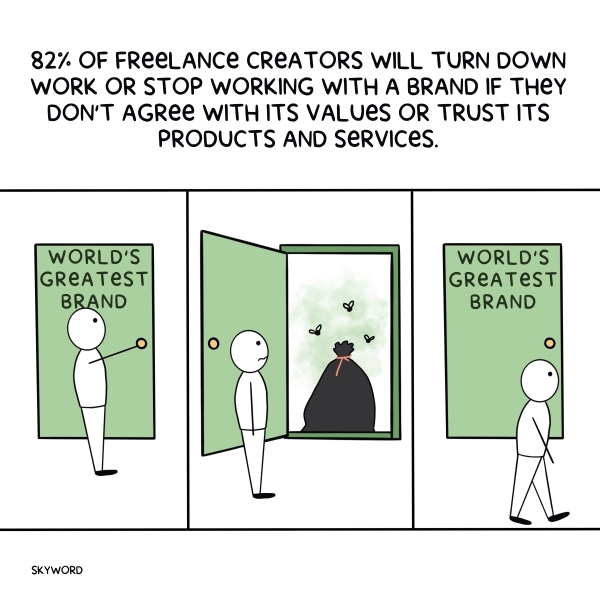 As The Great Talent Rush continues, these connections are becoming even more vital for getting quality, trustworthy information into the world.
If you're a freelance creator reading this: I welcome you to join Skyword's creative network. It would be our privilege to galvanize your career.
If you're a brand marketer reading this: Imagine a world where your marketing ambitions aren't defined by the size of your team, your internal expertise, or your access to in-house subject matter experts. What could you achieve?
Trust me, you don't want to wait until midnight to invest in the talent you need.
P.S. We were recently named a Leader in Gartner's 2021 Magic Quadrant for Content Marketing Platforms. One reason? The strength of our global creator network. Check out the full report for more details.
Featured image attribution: Dmytro Varavin via iStock.
https://www.skyword.com/contentstandard/welcome-to-the-great-talent-rush/
https://www.skyword.com/contentstandard/welcome-to-the-great-talent-rush/
Andrew Wheeler