Creative Thinking
Fit for Print: Why Catalog Marketing Is Still Relevant in the Digital Age
By Nicola Brown on November 5, 2018
As the holiday season rolls around, I fondly remember one of my favorite activities as a kid: browsing the Christmas catalogs. There was nothing so engrossing as poring over pages and pages of goodies, cutting out the please-please-please-moms, and pasting them together in creative compilations that I could admire for hours. Yet with the sudden explosion of the digital universe, that time spent building scrapbooks of wishful purchase ideas has been replaced by the simple, instantaneous click of adding a new item to my online shopping cart.
It's easy to assume that print marketing has faded into the background, but those who have been observing the marketing landscape over the past few years understand that print catalogs aren't dusty antiques. Innovative brands have figured out why print still works and how physical marketing can be an important complement to digital in a well-rounded content marketing strategy.
Print Catalogs: Then and Now
I was surprised to discover that the very first catalog, containing a list of books for purchase, was published in Venice in 1498, a whopping four centuries before Sears and Roebuck released their much more well-known format in 1894.
As consumption rose in the 20th century following both World Wars, so did the mail-order catalog. It was a huge hit for both brands and customers, offering a plethora of products designed to make homelife easier for those who now had higher wages and more leisure time. Catalogs contained everything from pianos to firearms to sewing machines-right at the reader's fingertips.
Even with the rise of brick-and-mortar stores and the shopping mall boom of the 1980s, the catalog was still wildly successful for retailers. It wasn't until the 1990s that the tides stared to turn and print lost much of its glossy appeal. Sears published its last general order catalog in 1993.
The invention of the World Wide Web in 1990 ushered in a paradigm shift for retail that would make shopping for goods and services completely unrecognizable in the coming decades.
Still, many brands have not forgotten the trusty catalog, and while their pages may look quite different today, these physical marketing materials now stand out once again in an overwhelming sea of digital information.
IKEA's bookbook™
The thrill I get receiving my IKEA catalog in the mail today is the same thrill I felt as a kid flipping through those colorful holiday tomes. Digital content is so ubiquitous that there's something uniquely pleasurable about the change of format.
IKEA sensed this underlying sentiment and used their 2015 catalog campaign to respond perfectly.
The brand took a satirical approach, equating print to a wondrous new advancement and inviting customers to "experience the power of the book." The campaign earned over nine million views on YouTube and was celebrated by audiences and marketers alike for showcasing print catalogs as "unique by nature-a sleek, tactile object in a distracting digital world."
Why Print Catalogs Are Still Valuable
Physical marketing content like print catalogs can play an important role in a holistic marketing strategy.
To identify where the value of physical content lies, it's better to think of the catalog less as the utilitarian product index of old and more as a magazine that offers customers a diverse content experience. As Steve Daniels explains for Medium's The Startup, "Print magazines are no longer about information; the ones that are have become a commodity that is easily replicated online. Today's print magazines are lifestyle products."
IKEA's catalogs are a perfect example. Rather than just presenting lists of products, the catalog contextualizes those products into the lifestyles of specific buyers. Flipping through the pages feels akin to observing an entire scene or personal snapshot taken inside someone's home. It delivers information about new products in a highly visual format that helps people literally see how those products work and can fit into their lives.
Image attribution: freestocks
The Psychological Power of Print
A 2015 study commissioned by the US Postal Service found that our brains process physical and digital media quite differently. While people process digital ad content quicker, they spend more time with physical ads, have stronger emotional responses to them, and remember them better. Overall, physical content seems to leave a longer-lasting impact than digital.
Then there's the power of tactile content for the development of psychological ownership, a state of mind that leads people to value objects they physically handle more highly than those they haven't touched. Physically holding and manipulating a piece of print content has some of the same positive psychological effects as experiential and in-person marketing initiatives.
Print also seems to increase our sense of trust and our level of understanding and enjoyment.
Independent research company Toluna found that US consumers of all ages believe print content is more trustworthy than digital. Most people surveyed considered print preferable to digital for recreational reading (73 percent) and believed that reading news in print provides a deeper understanding of the story (71 percent).
The psychological fatigue of digital was also evident, with 66 percent of people saying it's important to switch off and enjoy printed books and magazines. Meanwhile, 54 percent believed they currently spend too much time on electronic devices and are concerned that such rampant use could be damaging to their health.
Finally, according to CNBC, the Data & Marketing Association found that response rates for catalogs have increased in recent years, likely due to the relative lack of other mail being sent. This is particularly true of millennials who haven't experienced the same volume of mail as previous generations and are more emotionally impacted when they do receive direct marketing materials.
The Role of the Modern Catalog
Since digital has eclipsed the real-world presence of many of today's brands, and more brands are born entirely online, modern catalog marketing has an opportunity to enjoy much of the same stand-out status as it did in the 1900s.
As with other forms of content marketing, the best way to leverage a print catalog as a physical marketing asset for your brand is to think of it not as a commodity in and of itself, but to consider its function as part of your overarching marketing strategy.
Image attribution: Thought Catalog
In the same Startup piece mentioned above, Daniels says it's important to start with what your audience wants to read, not what you want to write. Make sure your audience's needs and perspectives are properly articulated from the beginning, and check that your new print asset meets your high-level brand and business goals.
Daniels also emphasizes the importance of integrating your print assets with your digital ones. Find and elevate opportunities for crossover, such as QR codes in print to drive readers to microsites and shareable digital promotions to drum up interest and anticipation for your print catalog.
When it comes to content strategy and creation, use print as a way to help consumers envision your brand as part of their lives. Make them feel at home in the pages of your catalog, and give them the breath of fresh air they're looking for as an escape from digital content consumption.
For more stories like this, subscribe to the Content Standard newsletter.

Featured image attribution: Parker Whitson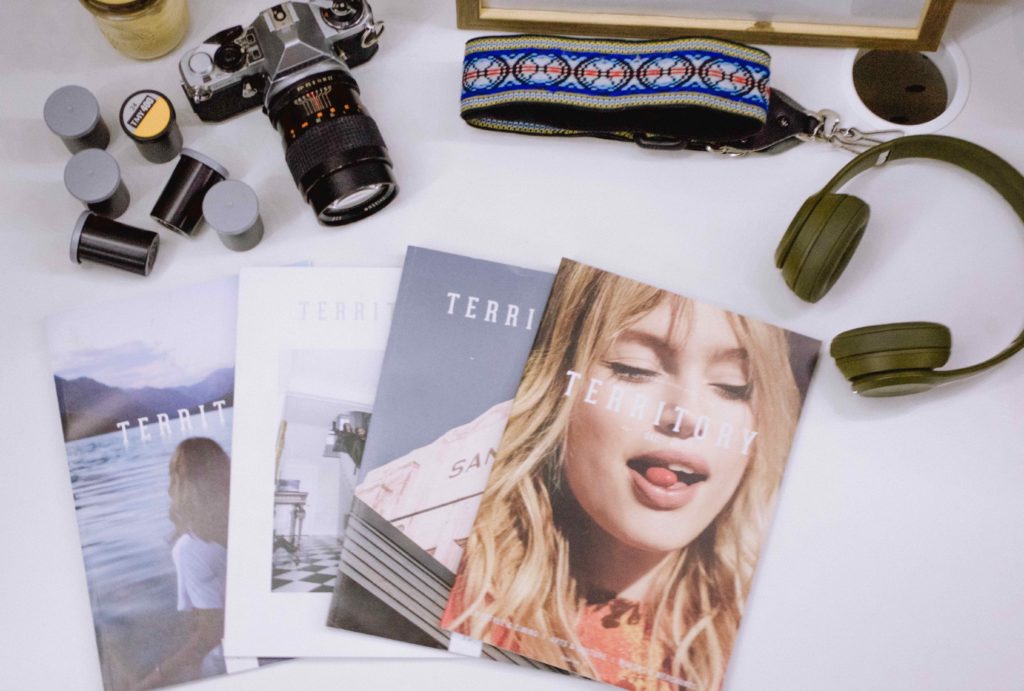 https://www.skyword.com/contentstandard/fit-for-print-why-catalog-marketing-is-still-relevant-in-the-digital-age/
https://www.skyword.com/contentstandard/fit-for-print-why-catalog-marketing-is-still-relevant-in-the-digital-age/
Nicola Brown