For Google News
From C to B: How Instagram Stories Offer Value to B2B Brands
By Jonathan Crowl on June 5, 2018
Since its launch in 2016, Instagram Stories has largely been the domain of individual users. That has made it a great destination for B2C brands, which have used the Snapchat rival to strengthen their brand and connect with their consumer base.
B2B brands, meanwhile, have largely stayed away. To some degree, this has been a product of limited functionality that restricted a brand's ability to drive the kinds of results that B2B brands are seeking on social platforms (more on that later). But it's easy to build a case that the B2B avoidance of Stories has as much to do with a lack of imagination as anything else.
And, as Stories continue to gain traction among users, those B2B marketers are finding they can't so easily write off the social channel, despite its challenges. Instagram Stories needed just nine months to overtake Snapchat's user base: As of last October, the feature surpassed 300 million daily active users, according to Statista. And Marketing Land reports that branded content published through Stories earns a 15 to 25 percent swipe-through rate, on average.
Even if you take the cynical view and assume B2B content can't match the potential enjoyed by B2C brands, those numbers should still be all the encouragement you need. Meanwhile, enhancements to the Stories experience are specifically serving B2B interests and making it easier to accomplish marketing goals through this channel.
Here's a look at how Instagram Stories could support your B2B social media strategy.
The Big Add: External Links for CTAs
Instagram Stories have done a great job of cultivating an experience that attracts users in droves. That's exactly why it was able to grow so quickly (its built-in Instagram user base didn't hurt, either). But for B2B brands using social to drive referrals and leads, no feature has been more pivotal than the introduction of external linking for individual pieces of content.
This is a huge advantage of Stories over traditional Instagram content: On the platform's main experience, the only URL you can post is the one included in your user bio. But Stories let you add a new external link anytime you post a new piece of content. This turns each piece of content into its own referral opportunity, and it allows connected pieces of content to be organized into a living content funnel: While the experience of watching multiple piece of connected content can function as a content funnel, qualifying users and leading them toward a conversion, each individual piece of content can potentially serve as its own CTA, leading users to a corresponding external destination relevant to their position in the content funnel.
Take a look at how Shopify used Stories to promote a book club to female executives: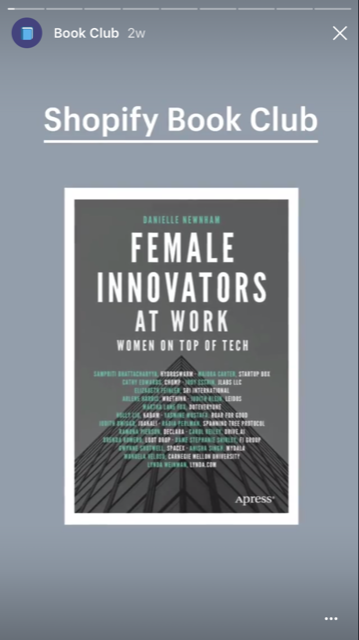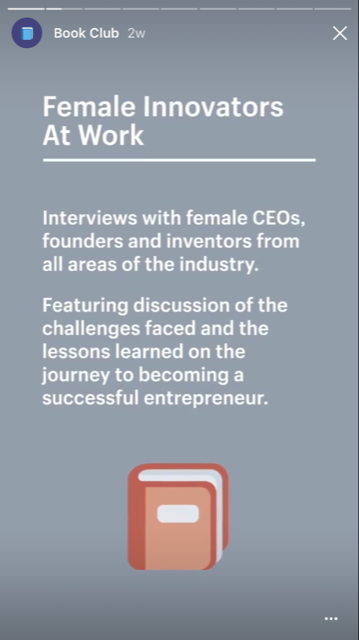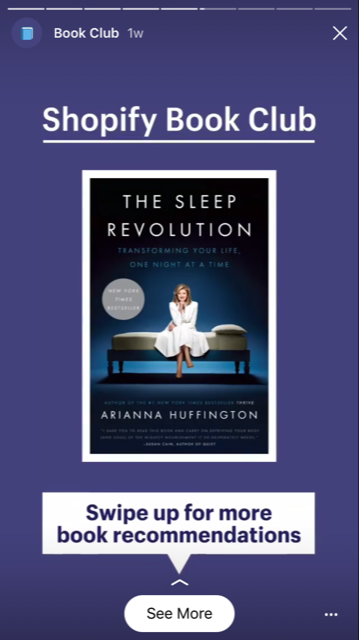 This type of promotion wouldn't be nearly as simple if an external link wasn't accessible by swiping up. At the same time, it isn't hard to envision how a brand might implement those "See More" CTAs on each piece of content, which lets marketers use Stories as a more responsive funnel that can directly serve each user's stage in the conversion process.
Internal Assets: Thought Leadership and Company Culture
Alongside this new functionality are marketing opportunities that were already available through Stories, but which might offer a little more ROI now that B2B marketers are consistently using the channel and engaging with their audience. Thought leadership is a great opportunity for innovative brands, allowing them to showcase emerging technologies, new ideas, proprietary research, and other content that strengthens their position within their industry.
Look at the way IBM used Stories to showcase its Noise-Free Labs, which create controlled environments for experiments to operate: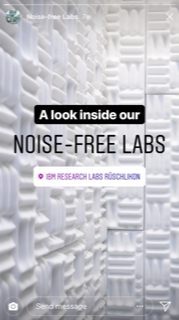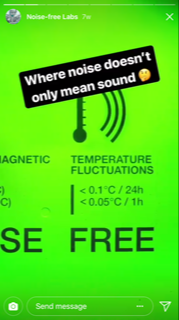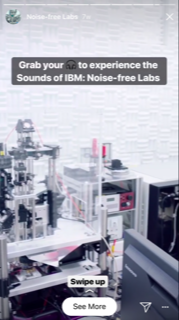 This type of content appeals to consumers as well as B2B buyers, helping elevate IBM's reputation while creating exposure for some of its leading innovations and initiatives. Also pay attention to the "See More" CTA at the end of that Story, which leads users online for another branded experience outside of the Instagram app.
Meanwhile, B2B brands continue to find value in using social channels to showcase their business culture. This can serve multiple B2B goals, whether you're looking to strengthen your brand voice or even recruit better applicants.
MailChimp has long held a reputation for being a fun place to work, and the marketing brand uses Stories largely to highlight its fun side. In particular, its recent content is aimed at showcasing its talent and portraying the company as a great place to work: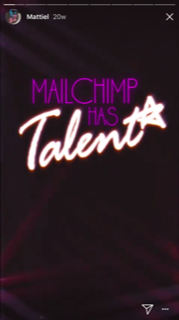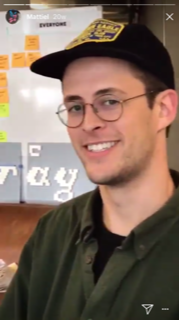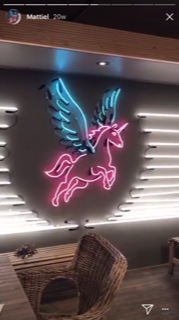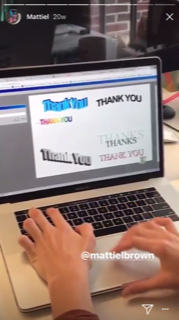 This is a great strategy for generating interest among job applicants. And, with the new external linking feature in stories, B2B companies can use CTAs to increase applicants to open positions-including applications from consumers who have already expressed interest in the brand.
Thanks to recent upgrades to the Stories experience, each of these approaches to content offers more value to B2B social media strategy. By embracing a comprehensive approach to Stories as a marketing channel, brands can establish themselves as top destinations for original, engaging content, creating a value greater than the sum of its parts.
For more stories like this, subscribe to the Content Standard newsletter.

Featured image attribution: Susanne Nilsson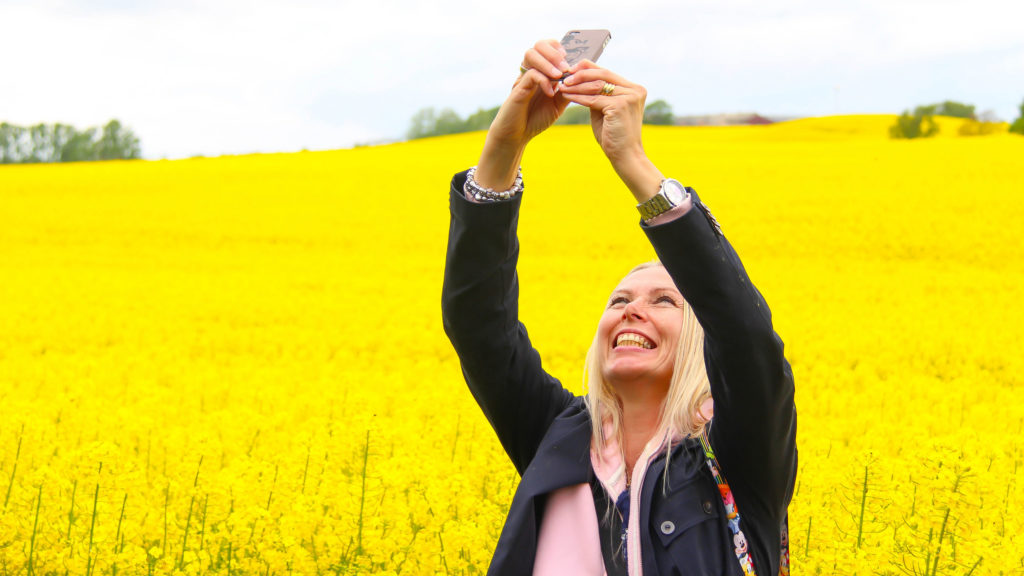 https://www.skyword.com/contentstandard/from-c-to-b-how-instagram-stories-offers-value-to-b2b-brands/
https://www.skyword.com/contentstandard/from-c-to-b-how-instagram-stories-offers-value-to-b2b-brands/
Jonathan Crowl