Creativity
From Food to Lifestyle Brand—3 Brands Using Digital Audiences to Change the Story
By Shannon O'Neill on January 8, 2018
A shift is occurring in retail marketing that parallels the shift from bricks-and-mortar to online-it's no longer about buying a product; it's about brand storytelling and how it connects to a consumer's lifestyle. When it comes to food and nutrition brands, consumers are in search of a relationship tailored to their lifestyle, whether it's buying gluten-free, non-GMO, or organic products or buying from socially conscious companies. And that's just their personal needs and philosophy. Enter the evolution to lifestyle brand: From fast-casual restaurants to food home delivery to online groceries, new business models and ways for customers to engage are springing up that make complicated Starbucks orders look like child's play.
Merging lifestyle and products is nothing new in the food and beverage space. Fast-casual mega-chains like Starbucks, Chipotle, and Panera tapped into the evolved and conscientious consumer market years ago. However, brands are forging new frontiers by tapping into the rise of food home delivery, more people with special dietary needs, and a love of cooking to build influencer communities with a depth of knowledge of both lifestyle and nutrition.
Such a marketing transformation raises many questions: How can traditional retailers keep up? And how is an evolving approach to content marketing helping shape this transformation?
Make Sure Your Content Defines a Lifestyle
I hate grocery shopping. I hate the parking lot, the monotony of buying the same items each week, the price and ingredient checking, and the endless rolling of the cart down the aisles. I'm not alone-with the growth of e-commerce options for anything from meal planning to actual grocery shopping, brands like Thrive Market and Brandless (recently profiled by Taylor Holland for the Content Standard) are trying to engage customers who seek a unique experience and high-quality items at an affordable price.
Online organic grocer Thrive Market has taken the direct-to-consumer members-only approach: Think Costco but without the parking-lot hassle. Where traditional groceries might focus solely on getting you in with low prices, online markets like Thrive understand and cultivate an audience who wants an experience that is a combination of thrifty, healthy, and thoughtful. With 400,000 members, they have established a community voice that can roar.
The headers on their site reflect their mission "to make healthy living easy and affordable for everyone." Who doesn't want to be the person who "Shops (Their) Values"? When you choose a product, a sidebar of content pops up with "Why You'll Love It" which includes ingredients, a summary of the brand, values shared with Thrive Market, and customer reviews. More importantly, the content connects back to recipes that pop up at the bottom of the page.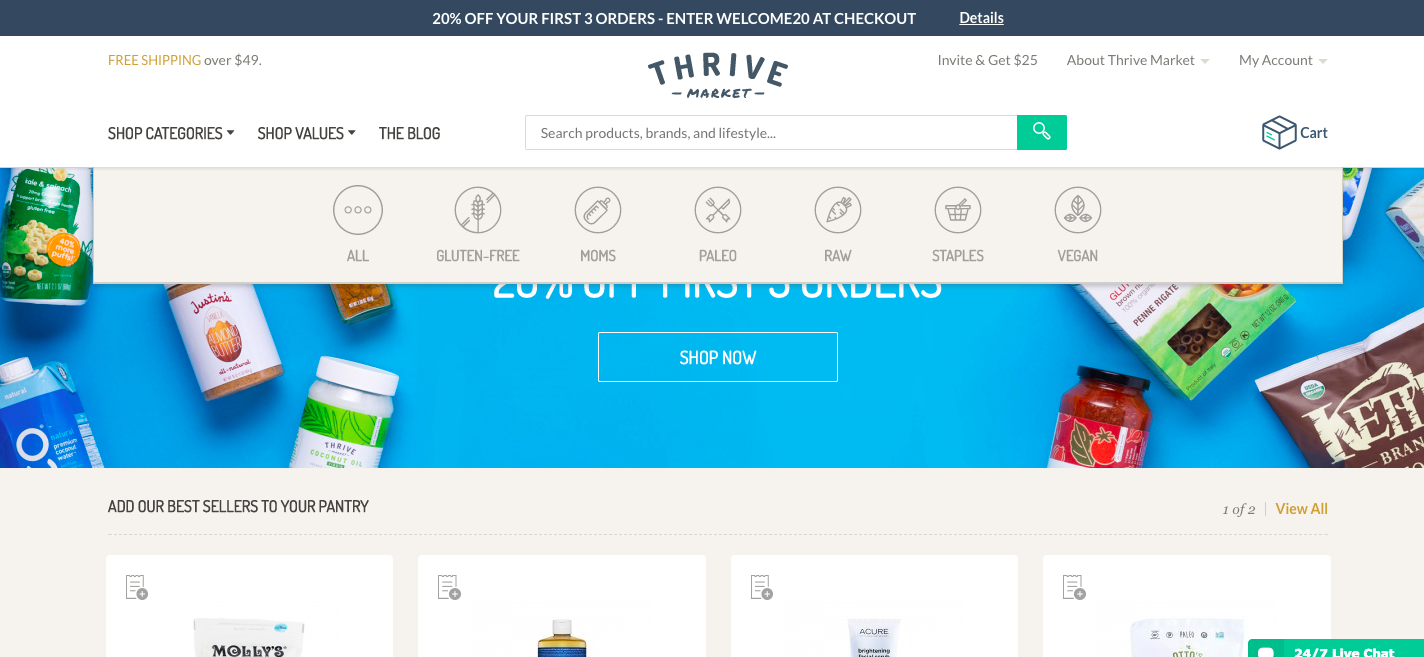 As Gunnar Lovelace, founder and co-CEO, explained to Food Dive, educational content has helped Thrive differentiate itself from traditional grocers: "[It's] a core part of our brand. It's a way we can differentiate from large institutional players that don't have trust and credibility in those discussions. And we know it's been very effective in bringing people into our ecosystem and [will] be a centerpiece of our strategy going forward."
From blog articles that connect back to a purchase to recipe sharing and social media and celebrity influencer product reviews, this new frontier is driven by content. Thrive's content cycle-from the brand's content to the influencer creating content-creates an all-important loop that extends beyond just the purchase. The strength of the online retailer is in a new approach to brand storytelling that allows you, the consumer, to create the story of your experience: By choosing how you want to shop and building on this choice with content that further educates your decision, your grocery cart now feels like a thoughtful build-your-own healthy-eating adventure instead of domestic drudgery.
Leverage Your Influencers
With food, we all want to be healthy, feel healthy, and look healthy. When it comes to recipes and getting people hooked, the picture tells the story. You're not just looking at a beautiful plate of food and feeling envy; you're encouraged to take the next step to make it yourself. In other words, you're pulled in.
Whole30 is the book that launched a nutrition movement akin to the Paleo diet-for 30 days, you eat only whole foods, cutting sugar, alcohol, grains, legumes, soy, and dairy from your diet. But, rather than focusing on elimination, Whole30 took a different approach by focusing on education-encouraging participants and the Whole30 community to share recipes and encourage one another. Eschewing traditional marketing and advertising strategies, Whole30 went the social media route with Instagram, leveraging influencers and user-generated content. It's clearly working, with over 1 million combined followers on its accounts, @whole30, @whole30recipes, and @whole30approved, and over 2 million photos tagged with the hashtag #whole30.

If you are savvy, you can piece together the Whole30 plan without buying the book or the program. A smart idea-the content in a sense is free because they know their audience wants to share and help others get healthy too. Allowing and encouraging users to easily share the content drives new and potential participants to find out more. When hundreds of thousands of voices turn to millions? Voilà! A lifestyle brand is born.
"Our posts don't feature rich 20-somethings in their underwear. They are real people sharing their non-scale victories," co-founder Melissa Hartwig told Digiday. "They like to engage with not just each other, but also us-there are real people behind our channels, not nameless, faceless brands."
Just as Weight Watchers popularized over 30 years ago, support is key to any diet. The shared stories of those participating in Whole30 fuels more people engaging and sharing. And it doesn't hurt that the recipes featured in photos look a lot tastier than they do in written form.
Evolve with the Times
One of the first food and beverage companies to wed product to lifestyle was, of course, Starbucks. It's hard to remember a day when a cup of coffee was just that. Snarky eye rolls and pop culture references to Starbucks aside, creating a coffee culture to fit the US consumer mindset was no easy feat. Until we were introduced to a Frappucino, most Americans were happy to pick up a can of Folgers at the market instead of a specialty Italian brand. Yet even before social media, Starbucks built a fierce and loyal following around the globe with innovative brand strategy and customer engagement.
Branding and creative guru (and former vice president of global creative at Starbucks) Stanley Hainsworth shared his thoughts with Debbie Millman in a Fast Company interview: "For Starbucks, it was creating a community, a 'third place.' It was a very conscious attribute of the brand all along and impacted every decision about the experience: who the furniture was chosen for, what artwork would be on the walls, what music was going to be played, and how it would be played."
In many ways Starbucks, along with Coca-Cola and McDonald's before it, helped build our modern idea of brand identity. However, as commerce has moved online, the coffee giant has made several important pivots to keep up with how consumers are changing. Noticing the decline in bricks-and-mortar retail and how we define loyalty and service, Starbucks moved further into digital technology including "conversational commerce" (i.e. voice ordering) through their app My Starbucks Barista and "digital gifting," which allows customers to redeem gift cards via iPhone or ApplePay.
This move into targeted and personalized messaging via their app rewards customers for what they spend versus the time they spend in the stores. Clearly, they know their customer base.
According to the company website, "Starbucks offers the largest mobile ecosystem of any retailer in the world, with more than 12 million Starbucks Rewards members, 8 million mobile paying customers (one out of three use Mobile Order & Pay), and more than $6 billion loaded onto prepaid Starbucks Cards in North America during the past year alone."
If this past spring's Unicorn Frappucino taught us nothing else, it's that their social media game is stronger than ever. It was both attention grabbing and highlighted their other offerings-kiddie-friendly frosties. Secret menu items further play to their base of customers who love nothing more than to customize their drinks.
When it comes to new online food brands, the transformation is in the myriad ways in which content marketing continues to change and gets funneled to the users. Rather than the echo-chamber of continual reviews of a product, user-generated content builds on the messaging. What was yesterday's specialty in-store order is today's tailored email tickling you to complete a purchase. The power of the customer's voice and needs has expanded to encompass an entire lifestyle.
For more stories like this, subscribe to the Content Standard newsletter.

Featured image attribution: Katie Smith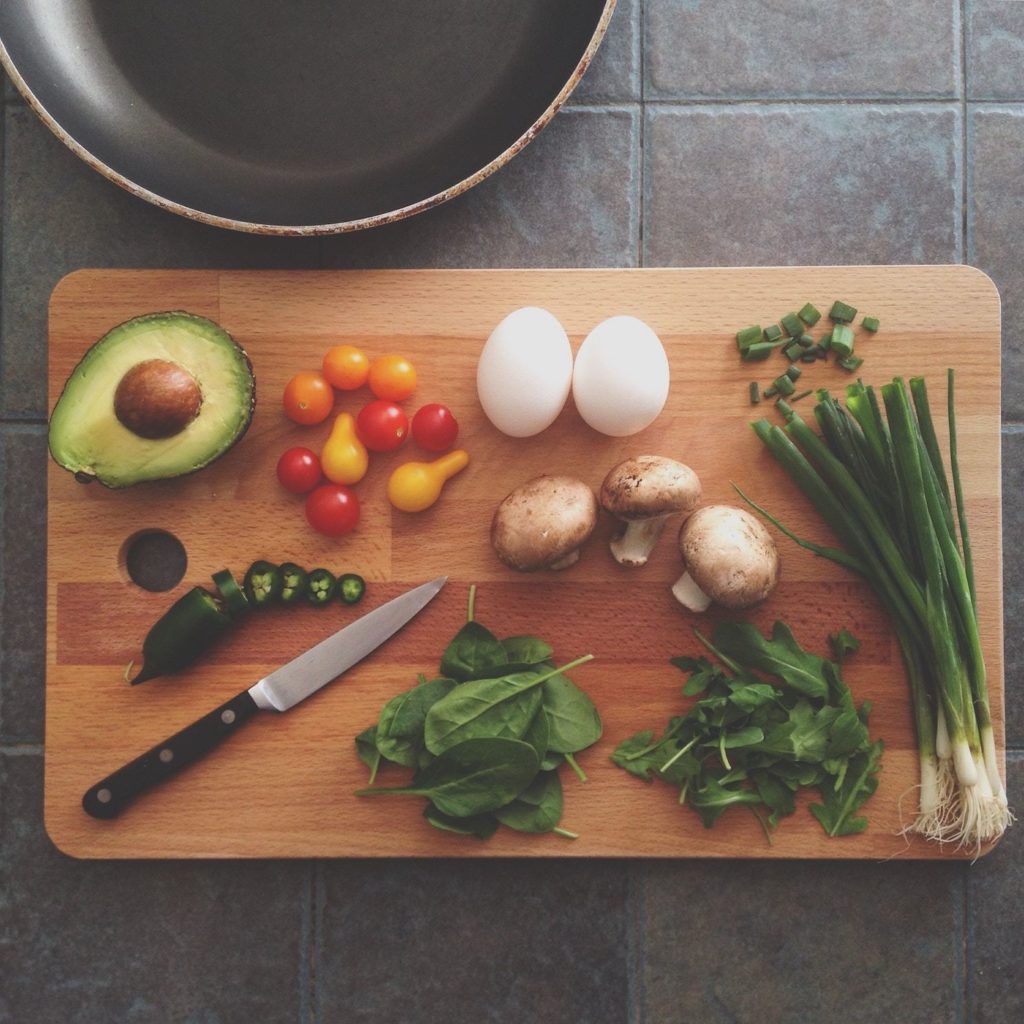 https://www.skyword.com/contentstandard/from-food-to-lifestyle-brand-3-brands-using-digital-audiences-to-change-the-story/
https://www.skyword.com/contentstandard/from-food-to-lifestyle-brand-3-brands-using-digital-audiences-to-change-the-story/
Shannon O'Neill