Content Strategy
Good Vibes Content Marketing Examples: Who's Doing It Right and Why This Content Matters
By Bethany Johnson on July 2, 2020
You've heard of cause marketing, relationship marketing, brand marketing, experiential marketing, and even stealth marketing. But what do you know about joy marketing? Joy marketing is the use of simple happiness to promote a brand or message. At a time when joy seems elusive, this approach to marketing is now more appealing than ever before.
Since showing is often more helpful than telling, let's take a look at six content marketing examples that spark and spread joy. Then, we'll analyze why they're so successful.
Six Effective Joy Marketing Campaigns from Around the World
Cadbury Ireland Offers a Tasty Incentive
Cadbury has always associated itself closely with simple joy, the term coming in and out of multiple campaigns over the years. But no content so perfectly embodies the feeling quite like its Quest for the Joyville Taster, an online competition that prompted audiences to taste its sweet treat and describe it in creative new words.
Over 77,000 people took to Twitter to gush about the chocolate in never-before-uttered verbiage. The contest produced the most dramatic ever sales spike for Cadbury's Dairy Milk Chocolates, driving a 20 percent revenue increase year over year. The winning word? Absoverylicious! *chef's kiss*
Domino's UK Bids Adieu to FOMO
Domino's Pizza has flipped FOMO on its head by encouraging hungry audiences to instead embrace JOMO: the joy of missing out.
Although the brand's joyous commercials are enough to make the point, they didn't stop there. Domino's also hired top artists to create new GIFs so it could update its custom GIPHY library, which is now loaded with the many joyful GIFeelings audiences use to express satisfaction in their decision to stay in with tasty Domino's products. To date, the jubilant branded expressions have earned over 516 million views on social and in messaging apps.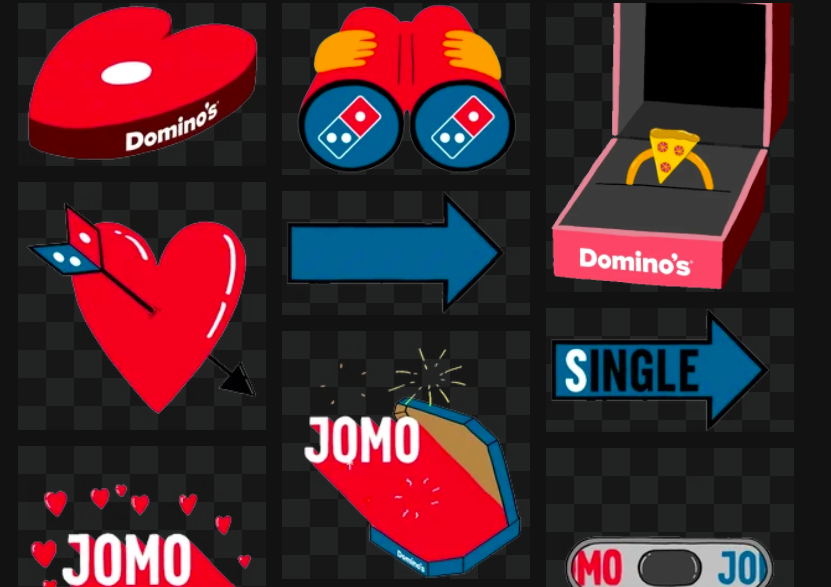 Domino's GIFeelings screenshot via Giphy.com.
Cupcake Vineyards Encourages the Celebration of Little Moments
Two years ago, Cupcake Vineyards launched an online contest showcasing the tagline, "Choose Joy." The intention behind this campaign? To help audiences rejoice in the authentic, merry moments of everyday life. What sparked the campaign? The observation that wine has been welcomed into the special moments we experience amid our regular routines, and that it isn't just reserved for rare extravaganzas.
"The occasion to drink wine has shifted from nice events and weddings to more impulsive celebrations rooted in feeling and joy, so we were inspired to create a campaign around a new set of life moments," said Laura Wimer of Mekanism, the creative agency that spearheaded the campaign, in an interview with The Drum (Scotland).
Cupcake Vineyards' joy marketing has included both the user-generated social media contest and its ongoing sponsorship of the Coachella Valley Music and Arts Festival.
The San Diego Tourism Authority Highlights Nature's Positive Effect
In a push to increase awareness and attract visitors, the San Diego Tourism Authority launched five new content series, all of which were focused on the joy that region creates for guests. They appropriately dubbed the videos Guides to the Good Stuff, One Bright Idea, Sunny Seven, Positively Postable, and, as seen below, Bliss Break.
Viewers would normally be confused by random, unexplained clips of San Diego scenes, but the brand lets audiences off the thinking hook by clarifying that this is "your 15-second bliss break," as if to say, "Don't try to make more sense of it than that. Just enjoy this moment."
To date, the Bliss Break series alone has earned over 4 million views on YouTube. The San Diego Tourism Authority has since continued producing and publishing even higher-performing video content to cultivate joy and attract visitors.
McDonald's Invites Smiles with Unforgettable Experiences
In 2015, fast food joints were falling out of vogue with younger, more health-conscious customers who craved fresh foods that were less processed. Entire generations were shifting from KFC, Burger King, and McDonald's to options like True Food Kitchen, Chipotle, and Tropical Smoothie.
Noticing that these consumers also appreciated experiences over possessions, McDonald's decided to spend a boisterous 24 hours in 24 cities creating memories.
Marketing publications gave the buzzworthy campaign plenty of coverage, but only time would tell if it would achieve the lasting brand sentiment McDonald's leaders had hoped for. Today, analysts can look back at that moment and acknowledge the joyful campaign as the beginning of a long climb back to the top of the fray.
Data Source: Yahoo Finance.
Publix Shines a Light on Happiness at Home
Publix Super Markets produced the Recipe for Happiness campaign, a rich content experience full of lifestyle stories and advice, recipes, and rewards catered to millennial moms. The joy marketing initiative earned the brand's agency a finalist slot at the Content Marketing Institute's 2019 Content Marketing Awards and a spot on Chief Marketer's 200 Top Marketing Agencies of 2020 list.
Perhaps more importantly, the campaign achieved 111.1 million qualified, laser-targeted impressions. It also spurred a 39 percent growth in sales for Kraft, a program partner, and a 15 percent increase in unit sales for Pepsi, who also strategically partnered up. In retrospect, the content hub was indeed a recipe for happiness and one of history's best content marketing examples.
Caution: There's Also a Wrong Way to Do Joy Marketing
Before adding "joy" to your tagline and plastering the web with branded smiley faces, consider the too-common pitfalls of joy messaging. We'll list them out in a moment, but first, let's observe a couple of them in the wild.
Try to spot the difference between the heartwarming examples above and this ad for Haribo Squidgy.
The brand denies that there's any negativity in the world whatsoever—that's a mistake. The most genuine, truly joy-filled messages are those that are purposefully constructed against the backdrop of real-life struggles. Without this dose of reality, brands are just lying to themselves and asking audiences to join them in the process. Tragedy and malevolence are an undeniable part of the human experience but antagonistic forces needn't negate real joy, in fact, when acknowledged respectfully, they accentuate it.
"To preempt blame, marketing executives cover their butts by outlawing the least hint of anything negative in their ads," writes Robert McKee in his book Storynomics, which he coauthored with Tom Gerace. "As an unfortunate result, negaphobia not only distorts their business judgment, but it also sucks the impact out of their messaging."
Exhibit two: This happy, happy spot for Godrej.
This video contains an even more common pitfall. Although the commercial includes a crisis, the turmoil on display is a beautiful middle-aged woman's hair color and style. The product is predictably the solution and once the protagonist tries it, their life is outrageously, unbelievably good. Their joy is so extreme that they—and their whole family—scream in an unrealistic effusion.
What this and the Haribo spot have in common is hero confusion. The product alone brings joy, and that's impossible for viewers to believe.
Recall again McDonald's #imlovinit24 stunt. The brand's goal was to thank and delight customers for their loyalty and solidify itself as a fun global brand. It didn't set up the events to say, "Let's all celebrate our product today," as some campaigns do.
One sure-fire way to determine if your joy marketing idea has legs is to ask whether the content is meant to elicit a feeling or to give one. Rather than aiming to get something, such as a reaction, from audiences, your content should provide something, such as an experience or a memory.
Genuine Good News Is in Demand
Why should you invest in joyful marketing? For starters, audiences are hungry for uplifting content. Google trends show that consumers have been increasingly searching for "good news" content—and that trend started even before actor John Krasinski's homebrewed online show Some Good News first aired.
Secondly, users are more likely to support brands that understand their needs and right now, we all need an extra helping of joy. But remember, the best joyful content marketing examples are those that deposit feelings of warmth and happiness against truthful backdrops of reality. So don't just tell audiences that your products or services will make them happy, give them content and experiences that they'll be happy about. You'll know you're doing joyful marketing right when you're able to forge deep audience connections without pushing a sale.
For more stories like this, subscribe to the Content Standard newsletter.
Featured image by Barbara Alcada on Unsplash.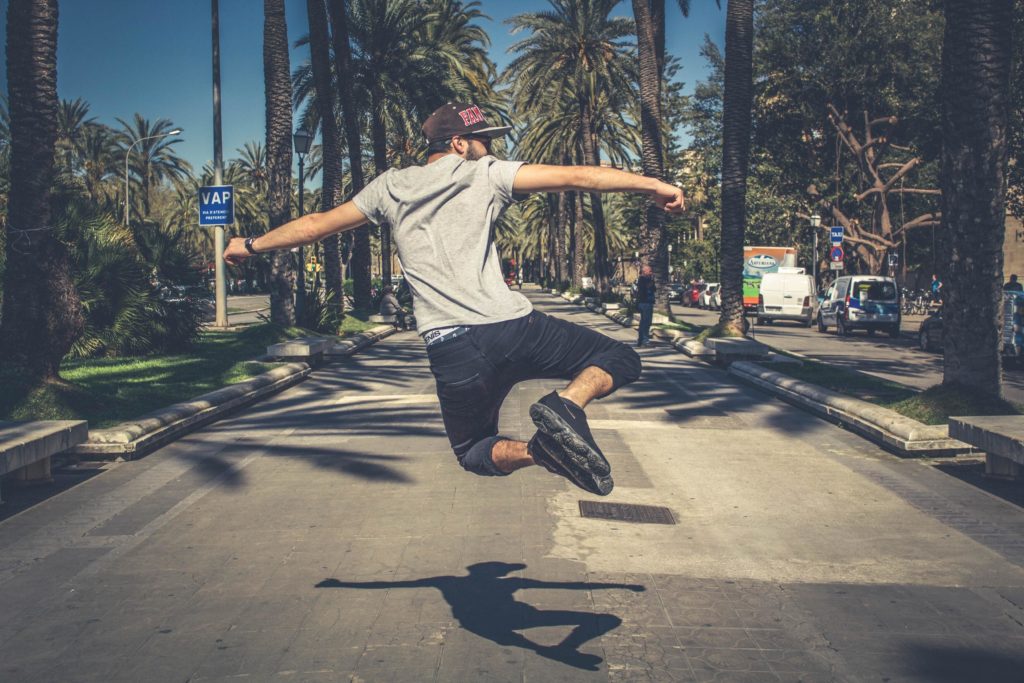 https://www.skyword.com/contentstandard/good-vibes-content-marketing-examples-whos-doing-it-right-and-why-this-content-matters/
https://www.skyword.com/contentstandard/good-vibes-content-marketing-examples-whos-doing-it-right-and-why-this-content-matters/
Bethany Johnson