Creativity
How Fitness and Wellness Brands Are Using Social Media Content to Build Communities
By Shannon O'Neill on January 19, 2018
Wellness has become a new status symbol for the wealthy; we all have that friend who won't shut up about what they've eliminated from their diet or their amazing cycling class or CrossFit group. But for the majority of Americans, just getting to the gym can be a struggle. According to recent statistics from the CDC, 70.7 percent of adults aged 20 and over are overweight (this includes obesity). Now consider that 67 percent of people who have gym memberships never use them. What's a fitness brand to do?
Create a Safe Community
In our ever-connected world, customers are demanding a higher level of interaction. Planet Fitness, a company whose slogan is "The world judges. We don't," noticed some of their members were being trolled by fat-shamers on their public social media channels. Their motto was being turned on its head. Rather than ignoring the problem or combating by deletion, they took a leap and did something different. By creating a private space, the Planet of Triumphs, their customers could still connect and share with others but with the added bonus of knowing they would not be judged.
"It's where they can really post about their fitness journey no matter how small or big. We have really incredible items on there, all the way from major transformation stories where people are losing 100 pounds, all the way down to someone feeling comfortable enough to join a gym at 55 years old for the first time," explains Jenna Reynolds, digital communities manager at Planet Fitness.

"There are really different levels on there, different goals. We're there just to give them that space. We don't market it in any way. We'll definitely share stories if someone posts something on Planet of Triumphs and we think it's really inspirational, we'll ask their permission to use it on our more traditional social media sites. We kind of just let them celebrate with each other and build that online community," says Reynolds.
With staff monitoring social feeds around the clock via the company's reputation management program, they get a bird's-eye-view of all the stories and struggles their members are going through, as well as the victories. This creates a tighter sense of community so that, as Reynolds explains, the company can make sure they offer "surprise and delight," when a member needs extra motivation or a staff member is called out for doing an amazing job. "We're hearing stories and re-purposing content so we can show what our members are going through." One recent story the team saw on social media included a member who was psyching herself up to go to her local Planet Fitness to work out knowing it was a day when there would be pizza. But when she finished her workout, the pizza was gone. "So, we asked her what time she would be home and we ordered her pizza the next night," Reynolds laughs.
Guide and Motivate with Content that Connects
When Weight Watchers noticed a dip in sales in 2015, market research showed that customers really wanted a lifestyle brand. Competing with endless apps, boutique fitness clubs, and a bevy of nutrition programs, the company realized in order to continue building an audience it had to make a change to the story it was telling-not of one of loss, but of gaining something in return.
"If I look at my mother's generation, people would fix things that were broken," Mindy Grossman, president and CEO of Weight Watchers International, Inc., told Fast Company. "Today's generation is more preventative; they want to live healthily. They want to educate themselves."
This pivot is key because it links back to brand storytelling for Weight Watchers-we're not only here for you, but we hear you and are going to take this journey with you. A quick glance at their website content and you'll notice "diet' is now a "livable program." The words "flexible" and "livable" are used on nearly every page of the website. Even their logo is now two vertically linked "W"s-it's the same but different.
Lauren Salazar, Weight Watchers' integrated marketing leader, shared the company's new social strategy on a panel at SocialMedia.org's Brands-Only Summit. "Our strategy is one part us, two parts them. A large part of it is stuff that we are sourcing from our members. We have a lot of new stuff this year. Not just food-we are fitness, taking care of yourself."
They also noticed the popularity of 30-second recipe videos that could be consumed with sound off, which allowed their community to interact with one another and share recipes on Instagram. Again, it's the same new message-be healthy and educate yourself-just a different delivery system.
Of course, having Oprah as a spokesperson (and owner of 10 percent of the company) doesn't hurt either-talk about the importance of knowing your audience! When you have the goddess of getting to the heart of things doing your brand storytelling, you know you have made it. But more importantly, they gauged the moment for a change in their storytelling and brought in such a big star just as their brand was taking a pivot. Example: Three videos from Oprah explaining the Smart Points program generated over 2 million views in a 24-hour period.
But the evolution didn't end with Oprah. The content on their website and social platforms shifted as well. They took what was working and made it better-they didn't change their whole brand or core values; they just updated the messaging. Their new WW Freestyle program extended the "livable" philosophy to fitness and mindset. Still using their popular points program, the "freestyle" program and messaging is all about making your own choices-let your points roll over, track what you're doing on the app, come to a meeting or not. It feels a bit like when the byzantine mobile phone plans disappeared. In other words, freeing (within reason). Playing with all of the ways "freestyle" can be applied, Weight Watchers recently appointed rapper and social media sensation DJ Khaled to be the new social media ambassador for their WW Freestyle campaign-another way the brand is using content to keep their story consistent and authentic as he goes through the weight-loss program himself.
Be Authentic
Weight Watchers continues to leverage a community sensibility with #TakeoverTuesdays, allowing a different user to take over the official Weight Watchers account and share how they are using the program. User-generated content helped create a sense of authenticity and engaged their community in a different way, lending credibility to their "non-scale victory" message.
For Planet Fitness, this authenticity means making sure they're creating a space for their members in a judgment-free zone. "We like to say we're a gym for first-time gym goers. It's incredibly diverse; people are there for different reasons and on different journeys," said Reynolds.
"What's interesting about our community in general is it isn't as focused-compared to a typical fitness company who would be hugely celebratory of 'I lost 100 pounds!' or 'I ran a marathon!'-with big bold things," says Jessica Correa, senior vice president of marketing for Planet Fitness. "We do celebrate those, but what's special about PF is we also celebrate the little things: 'I put my tennis shoes on today and I didn't want to go, and I got on the treadmill and walked a half mile and left.' OK, at least you went in there and you got on! I think that's really what differentiates us, our willingness to celebrate the little things and understanding that it may not be about big giant goals for you, it may not be about fitness or losing weight, it's about celebrating the little steps along the way."
For both Planet Fitness and Weight Watchers, it's not about weight loss as a problem to solve, but as a holistic lifestyle approach. And, it's about not feeling alone while you do it-whether you're trying to lose 25 pounds or are a fitness junky, giving and getting encouragement is key. Add to this that "diet" is now a four-letter word that implies control and what you are leaving out of your life, not what you are bringing to it. Support and accountability are no longer enough: For brands in the fitness and wellness space, content needs to align more closely with a lifestyle, which means messaging must also inspire, guide, and motivate.
For more stories like this, subscribe to the Content Standard newsletter.

Featured image attribution: Helena Lopes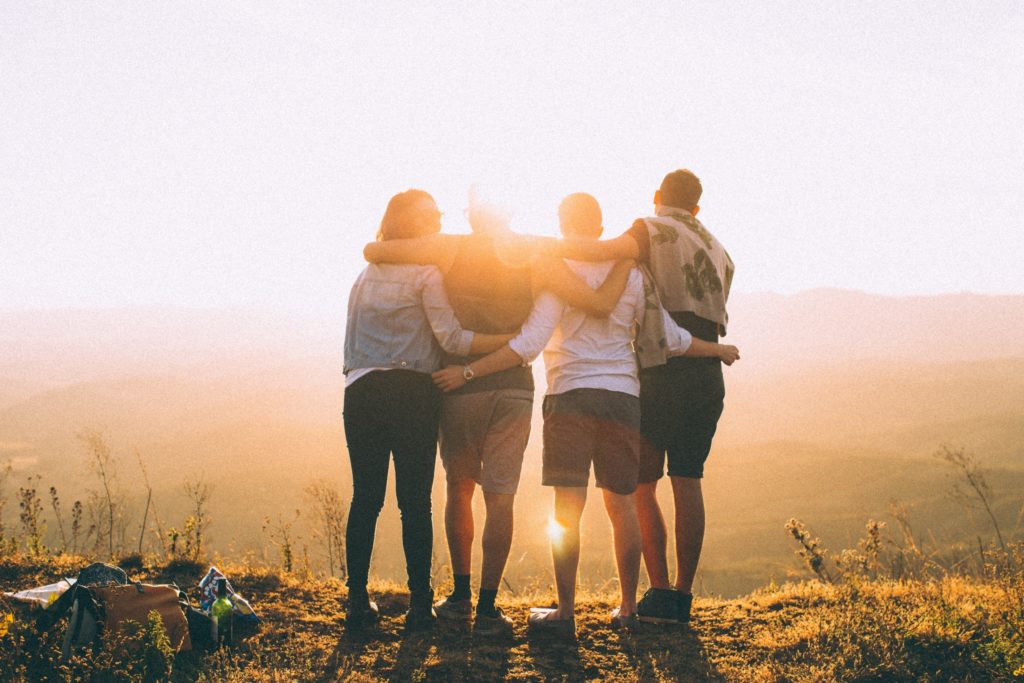 https://www.skyword.com/contentstandard/how-fitness-and-wellness-brands-are-using-social-media-content-to-build-communities/
https://www.skyword.com/contentstandard/how-fitness-and-wellness-brands-are-using-social-media-content-to-build-communities/
Shannon O'Neill