Creativity
How Heritage Brand Hunter Stays Relevant, Yet Timeless
By Nicola Brown on March 26, 2018
In a digital universe full of short-lived fads, bandwagon whims, and pop-up products and services, many heritage brands are having to reevaluate their marketing strategies to solve the problem of how to stay relevant and successful over time. One company in particular has figured out just how to do this. British heritage brand Hunter has managed to retain a distinguished, well-respected image without becoming old hat. Hunter is a shrewd example of striking the right balance between faddish and forgotten over time.
Last weekend, I went for a hike around the beautiful Niagara Escarpment gorge and waterfalls near Lake Ontario. It was a bright, sunny, crisp winter day, and the trail was muddy. This was the kind of thick, deep, squelchy mud that could easily suck off a shoe mid-step. I was thinking: I should have brought my Hunter boots with me. No other brand commands an entire weather category for attire like Hunter does. Grey and rainy out? Better get your wellies on.
My family is British and I spent my early years in the UK, so Hunter holds a special nostalgic significance for me too. Pulling on those tall black rubber boots evokes a certain sense of pride-British people will be proud of almost anything given the opportunity, even our miserable weather.
Hunter's Heritage
Hunter was established by American entrepreneur Henry Lee Norris in Edinburgh, Scotland, in 1856, then called the North British Rubber Company. The company made boots and other industrial vulcanized rubber products like tires, conveyor belts, and golf balls. During World War I, the factory worked 24/7 to produce over a million boots for soldiers in the trenches. Hunter was awarded a royal warrant by appointment to the Duke of Edinburgh in 1977, and by appointment to the Queen in 1986. Over the years, the company has evolved from an industrial, utilitarian supplier to a world-renowned fashion brand.
In 2013, Alasdhair Willis (husband of fashion designer Stella McCartney) was appointed creative director. Two new brand categories, Hunter Original and Hunter Field, were created. Hunter Original retains the nostalgic essence of the brand-it houses the Original boot that the world fell in love with, and everything that goes along with that. The Original branch also introduced Core Concept for all-year rainwear and Refined as a more polished women's collection. Hunter Field is a technical branch to develop new and innovative designs dedicated to technical performance in tough conditions.
Believe it or not, Hunter's first global flagship in London didn't open until 2014. The second store opened in Tokyo in 2016 and the third in Toronto in 2017.
Willis was brought in to work some magic with the brand. Sales had been dwindling and the company needed to figure out how to balance heritage with relevance in the 21st century. No easy feat.
"[The previous owners] didn't have a long-term vision for the brand and they didn't protect it, which really came back to bite us," said Willis, speaking with Rebecca Tay for NUVO magazine.
Why Brick and Mortar Isn't Dead
It may seem a little odd that in the company's long history, it hasn't had its own brick and mortar stores (it has traditionally distributed through wholesalers). Then suddenly in 2014, at a time when many brands were closing their physical locations in the face of increased online shopping and competition from monoliths like Amazon, Hunter chose to open its first flagship, followed closely by two more.
The move had less to do with creating more places to sell merchandise and more to do with experiential marketing.
Hunter's stores are designed as immersive environments that transport you to the wild outdoor landscapes of the Scottish Highlands. Elements like barn architecture and moving sky ceilings evoke rural settings and moody weather. The company has also set up a few experiential pop-up events and collaborations that speak to the emotional vivacity and strong lifestyle dimension of Hunter.
"If you look at the major movement right now, from product-based consumerism to experiential, it's interesting because Hunter as a brand is absolutely about that . . . It's about the experience and the emotion and the engagement that you have as a human being while wearing the boot," says Willis.
Marketers should be asking ourselves: How are all of our customer touchpoints contributing to strengthening our experiential marketing? How can we bring more of our brands' aspirational imagery, rich personas, and lifestyle components into the mix in an interactive and immersive way?
Learning What to Keep and How to Let Go
"I think the key to any successful heritage brand moving forward is the ability to retain that which is important, and be very happy and able to jettison that which isn't," says Willis.
He talks about the need for a design language to guide future product development. The Original boot is made up of 28 different pieces that are hand assembled over three days. Willis used these 28 individual design elements to guide the development of new ideas for apparel, accessories, and bags. He emphasizes how he channels the founder's innovative spirit without holding onto traditional ways of doing things just for the sake of history. This is where the know-what-to-keep-and-what-to-scrap mentality comes in.
As a creative writer, I constantly struggle with editing and deleting things from my writing. Remember that just because something is a good idea, doesn't always mean it's appropriate for your brand or the context you're working with. Holding onto tangential elements in an otherwise strong marketing campaign or product focus will weaken your offering.
Giving Creativity the Freedom It Needs
With all the advances in data processing technology, we are armed with more information and insights about our customers than ever before. But according to Willis, it's easy to become too bogged down in the numbers.
"There is a danger that we are ending up with a fairly sterile and overly pragmatic approach to creative with this overdependency on analytics," said Willis, speaking with Rebecca Suhrawardi for Forbes. He talks about the importance of creating a vacuum within which creative professionals can be free to innovate without pre-imposed boundaries or conditions that stem from an overapplication of data before ideas.
Willis often escapes to the countryside to work. The need for an inspired sanctuary, a mini-escape in which to produce your best creative work, is becoming more widely appreciated with a shift towards more flexible working locations for employees.
This doesn't mean that structure and data aren't a very important component of your marketing strategy, but marketers and creatives should be careful not to skip the initial inspiration and brainstorming stage of the creative process. This is how the seed of a truly brilliant idea can be born, then honed by data, and end up living on most meaningfully in the minds of your consumers.
For me, Hunter has always evoked a strong sense of place, and they continue to leverage that in their modern storefronts and experiential campaigns. The key to their success over time is having identified that essential element that forges such a strong emotional connection with consumers. It's not a particular design or manufacturing process or price point. It's a timeless experience that is articulated with feeling and creativity. And plenty of pride in miserable weather!
For more stories like this, subscribe to the Content Standard newsletter.

Featured image attribution: Hunter Boots on Instagram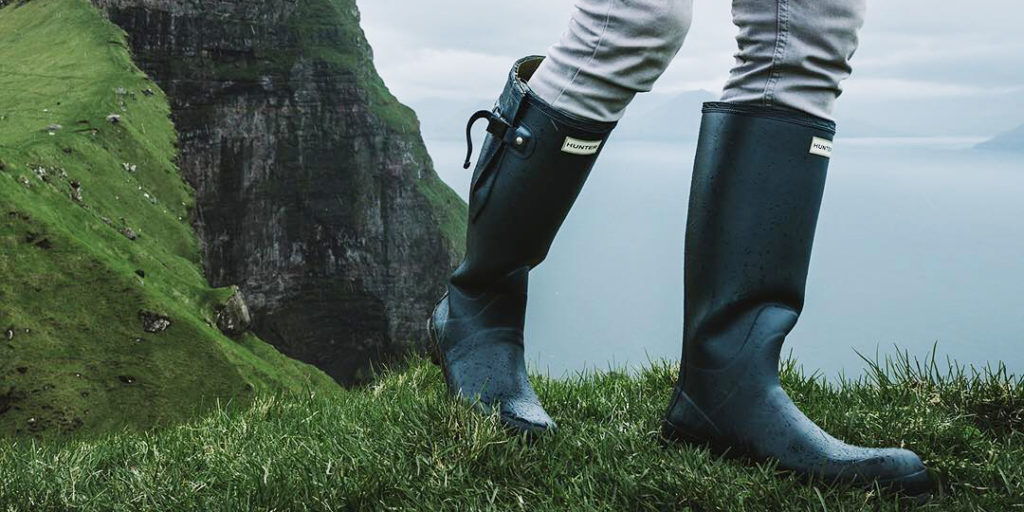 https://www.skyword.com/contentstandard/how-heritage-brand-hunter-stays-relevant-yet-timeless/
https://www.skyword.com/contentstandard/how-heritage-brand-hunter-stays-relevant-yet-timeless/
Nicola Brown