Content Strategy
How to Leverage B2B Podcasts to Expand Your Reach and Bottom Line in 2020
By Liz Alton on December 31, 2019
B2B podcasts have been a more valuable resource to me than I ever could have imagined. It all started when I stumbled upon Gallup's Lead Through Strengths podcast. Lisa Cummings, founder and host, helps professionals lean into their greatest abilities, as determined using the Clifton StrengthsFinder test. Featuring interviews with leaders across different industries, listeners get positive insights on how to better play to their strengths in order to succeed in business.
As a listener, I was inspired, activated, and engaged. I sought out more content on how people can play to their strategic strengths, which lead me to Becca Syme's Better-Faster Academy. She, too, employs the Clifton StrengthsFinder test, emphasizing the importance of first, identifying what you're good at and then, honing it in order to thrive in the workplace. Her content is directed toward writers, specifically, with her supplemental podcast QuitCast providing creatives with even more tips on how to stand out in today's competitive landscape.
This experience provided me with invaluable insight into the industry and ways to better navigate it as a content marker. It also showed me just how powerful quality audio content can be in piquing an audience's interest--and for brands, developing a steady, loyal following. But it seems like a new show is popping up every day, so are the benefits of starting a podcast really worth chasing? Yes, and here's why.
B2B Podcasts Let You Connect With an Already Attentive Audience
For starters, podcasts are a great way to reach an affluent, engaged audience. According to the Podcast Consumer Report for 2019 by Edison Research and Triton Digital, 41 percent of monthly podcast listeners make $75,000 or more annually. And on average, fans of this medium really tune in: Nearly 77 percent of people listen to podcasts for over seven hours a week, according to Discover Pods' 2018 Podcast Trends Report.
A good portion of this audience is also ready to make a purchase: Nearly half of the listeners surveyed by Discover Pods said they bought an item after hearing it advertised on a podcast. And as 90 million Americans tune into a podcast at least once a month, according to the Podcast Consumer Report, this audio format presents B2B businesses with an incredible opportunity to make effective, personal, and fruitful connections with buyers.
Podcasts allow brands to seamlessly integrate themselves within the fabric of everyday life, connecting with listeners during commutes, breaks, multi-tasking, and more.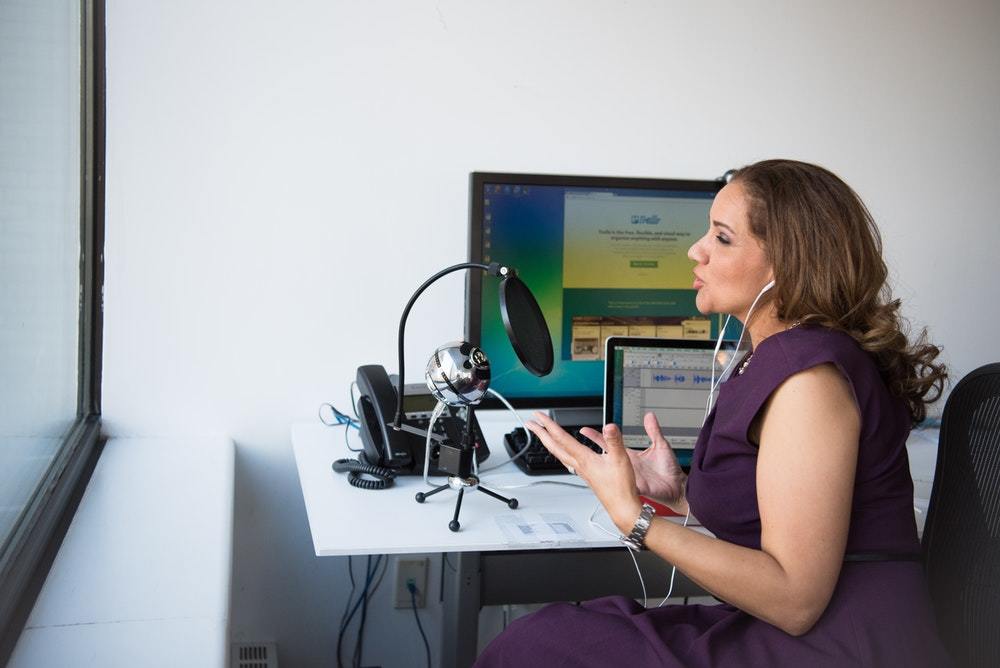 Photo attribution: Christina Morillo on Pexels.
How to Deliver Value With Your B2B Podcast
Podcast experiences need to mirror that of other forms of content marketing, with a laser focus on delivering fast, customized, personal, and captivating episodes. Fast and captivating are the key terms here, as audiences are likely to tune out if the content drones on or doesn't speak to their unique problems and needs. But what's the sweet spot, lengthwise?
In evaluating Apple's top 400 podcasts for 2018, Dan Misener of Pacific Content found that the average run time of a show was 47 minutes. And although the podcast agency itself keeps all of their episodes under 30 minutes so they're optimized for the average commute, he emphasizes that the length of an episode should be dictated by what you actually have to say.
"As a podcaster, your goal should be to make episodes that are long enough to fit into your listeners' lives in a regular, ongoing, meaningful way . . . and no longer," says Misener, head of audience development at Pacific Content, in explaining his research for the company's blog.
Length aside, here are some other ways you can ensure your podcasts deliver the value that both your stakeholders and buyers expect.
Deliver Content with Your Audience in Mind
If your blog is focused on data storage and ways to protect your enterprise from compliance pitfalls, for instance, you'd want to create podcasts that expand on those streams of thought. In this scenario, your blog could discuss 10 GDPR regulations that CEOs should keep in mind, while your podcast could feature an interview with a thought leader who shares real-life stories of businesses who succeeded and failed with their compliance efforts--and what listeners can learn from these examples.
In short, your podcasts should be designed with your audience in mind. Don't go edgy for the sake of going edgy: While it may seem like a good idea to try something new or bring on an entertaining interviewee, consider if this decision makes sense for your unique audience. Hold B2B podcasts to the same standards as you would your other forms of content.
Have a Unique Point of View
As podcasting becomes an increasingly crowded playing field, it's important to consider what you're bringing to the table that's fresh and special. Think hard about your unique value proposition and consider, "What can we do that's different?"
For example, although there's a slew of podcasts about sales today, a few stand out because of their ability to break the mold. In his podcast Sales Gravy, host Jeb Blount gets right to the point on how to make smart business deals with snappy, typically 5-minute episodes. And in the Sales Success Stories Podcast, listeners are served up inspiration and tips from the top one percent of the world's sales representatives.
Decide How You'll Measure Success
You can't harness all the benefits of starting a podcast if your content is a dud. Decide beforehand what constitutes success, and then create podcasts that are focused on hitting--and ideally surpassing--these goals. For example, if you're launching a podcast to get more exposure for your executives and open the door to more speaking engagements, that will constitute a different episode format than if you were trying to reach specific buyers in the tech world. Let these sets of considerations drive your podcast content creation strategy.
Bring Your Corporate Values to Podcasts
A B2B podcast is an excellent way to humanize your brand and establish personal connections. Think about the best way to merge your most important values into this content. For example, if your company is known for its commitment to diversity, you could use podcasts to highlight inspiring individuals from a range of backgrounds and roles. Creating audio content centered around your most important missions and objectives is a great way to expand awareness for those causes, as well as activate your followers to join the effort.
Making the Case for Launching a B2B Podcast
Still unconvinced that the benefits of starting a podcast are significant enough to go after? Beyond a B2B podcast giving you a prime opportunity to boost your brand's visibility and establish itself as an industry leader, they can also help you:
Secure new leads and deals: Podcasts are quick and convenient, and they may appeal to people on the go far more than a standard article. And the more engaging a podcast is, the more likely it is that listeners will share it with others, potentially boosting your audience and conversion opportunities, too.
Build a stream of additional revenue: In surveying 22 companies in 2018, IAB found that the compound annual growth rate in podcast advertising revenue across these brands jumped 65 percent between 2015 and 2018. Additionally, IAB predicts that podcast advertising revenue will be a billion-dollar industry by 2021.
Influence audience behavior: In studying the purchasing behavior of podcast listeners, Nielsen identified that avid fans--those who when surveyed said they were "extremely interested" in a specific genre--are across the board slightly more likely to purchase household goods. "Advertisers who can leverage the podcast audience may find a greater ROI since this group tends to spend more," says Bruce Supovitz, Nielsen's senior vice president of national audio services, in a forward for the report.
2020 is shaping up to be the year of the podcast, but when dipping a toe into this arena of content marketing, B2B brands need to be strategic. With a smart strategy that focuses on developing content that speaks to your audience, you can use B2B podcasts to expand your reach and, in turn, your bottom line. Be sure to define success and what you want your voice to be in the market, and then use your podcast to offer a unique take on the conversations happening within your industry space.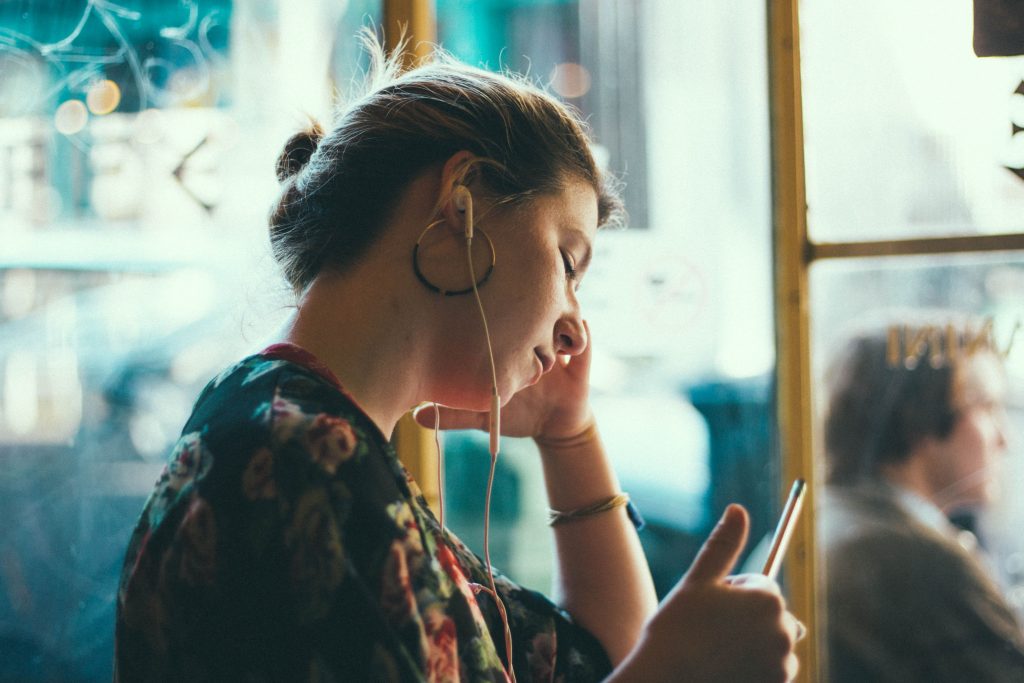 https://www.skyword.com/contentstandard/how-to-leverage-b2b-podcasts-to-expand-your-reach-and-bottom-line-in-2020/
https://www.skyword.com/contentstandard/how-to-leverage-b2b-podcasts-to-expand-your-reach-and-bottom-line-in-2020/
Liz Alton