Content Strategy
Leveraging Subject Matter Experts in Your Content Marketing Strategy
By Ty Scheiner on October 17, 2018
Marketers face many struggles in getting their content strategy up and running, so once you're producing quality content with good volume and receiving engagement from your audience, it's tempting to put your content program on auto-pilot and stick with what's worked so far.
Introducing a subject matter expert program can add value to your content by offering thought leadership, authority, and authenticity.
Building an SME Program
Building out this type of program can be a challenge as you are asking for these experts' time, and many of them are often busy with other business-driven commitments. So the question for your internal team is: How do you make their participation worth their while and encouraging them to stay involved in the program?
The first phase is to identify, educate, and onboard the subject matter experts. An example of one company with a well-developed SME program is Hortonworks, a leading provider of open source data solutions.
Their content spans across multiple industries, such as finance, healthcare, insurance, and manufacturing, and explores how big data analytics impacts each industry. Therefore, their content requires a pipeline of subject matter experts for each field. Finding the right knowledgeable voices to speak on topics is particularly important when creating content around highly technical B2B areas, which is why they seek out experts on topics from the IoT, streaming analytics, predictive analytics, and machine learning. After identifying SMEs for each vertical, the next step is to onboard these professionals and educate them on your content strategy and what being an SME entails.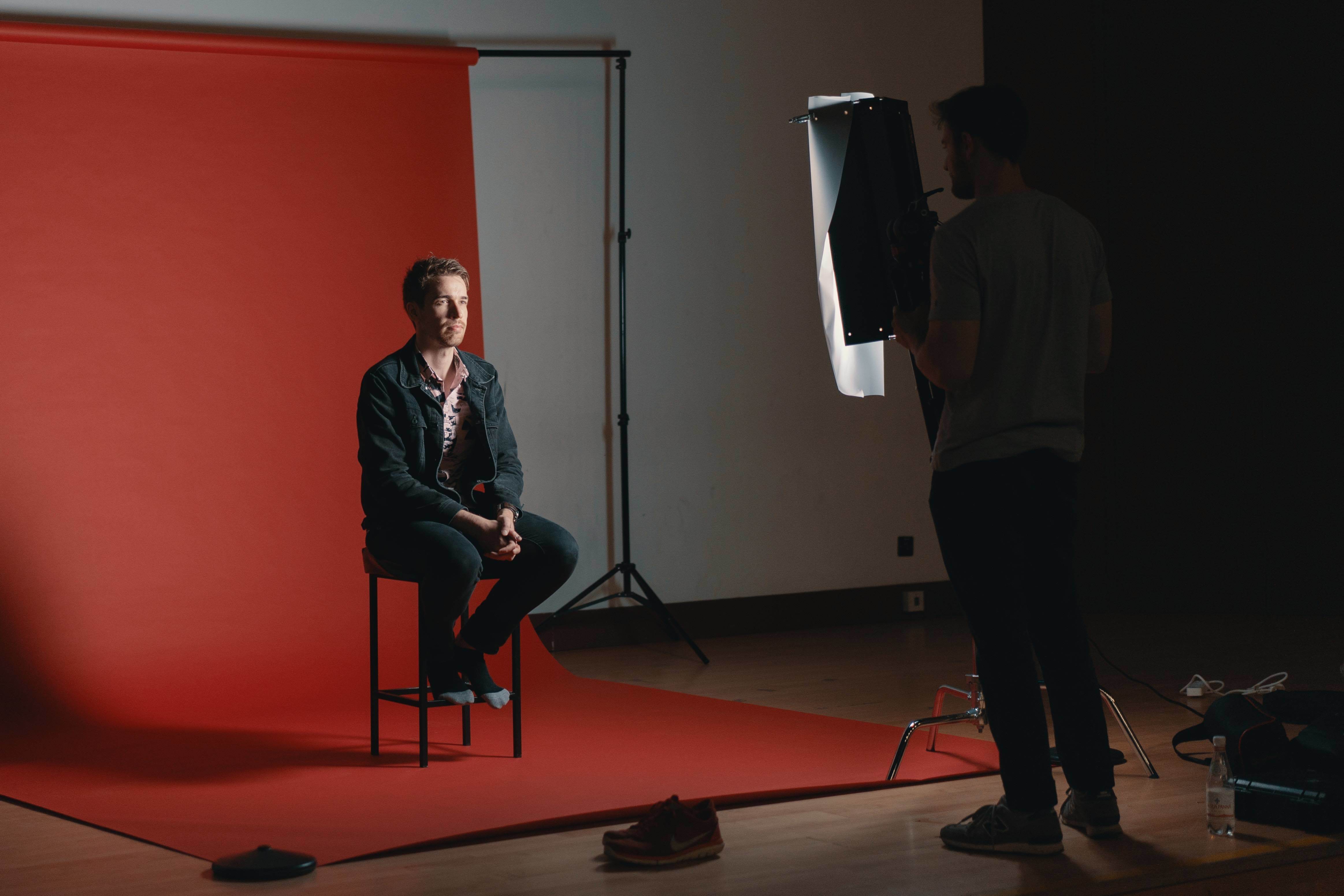 Image attribution: Ross Sneddon
Again, keeping in mind that the SME's time is valuable, I'd recommend building out a one-page document that succinctly explains your content initiatives and overall brand tone and messaging.
Depending on the publishing process for your brand, this document should also mention if the SME will be contributing directly, if they will be given the byline of a ghostwritten article, or if the SME is being interviewed on background. It will also include the time commitment of the interview process for each content type. Once you've onboarded the SMEs, the next step is ideating topics and building out the content.
Adding Your Expert's Voice
As you fill out your content calendar with potential ideas, it's important to keep content that requires input from the subject matter expert organized, as you'll want to make sure you are evenly involving each SME, but also make sure you aren't overworking them.
Having a monthly meeting with all SMEs to get involved in the ideation process is not only a great way to build out topics, but to keep SMEs engaged. This recurring meeting allows you to touch base with SMEs and allows them to share ideas that they have that you may not be aware of. In addition, it also allows other SMEs to interact with each other, which can further encourage more discussion and creativity.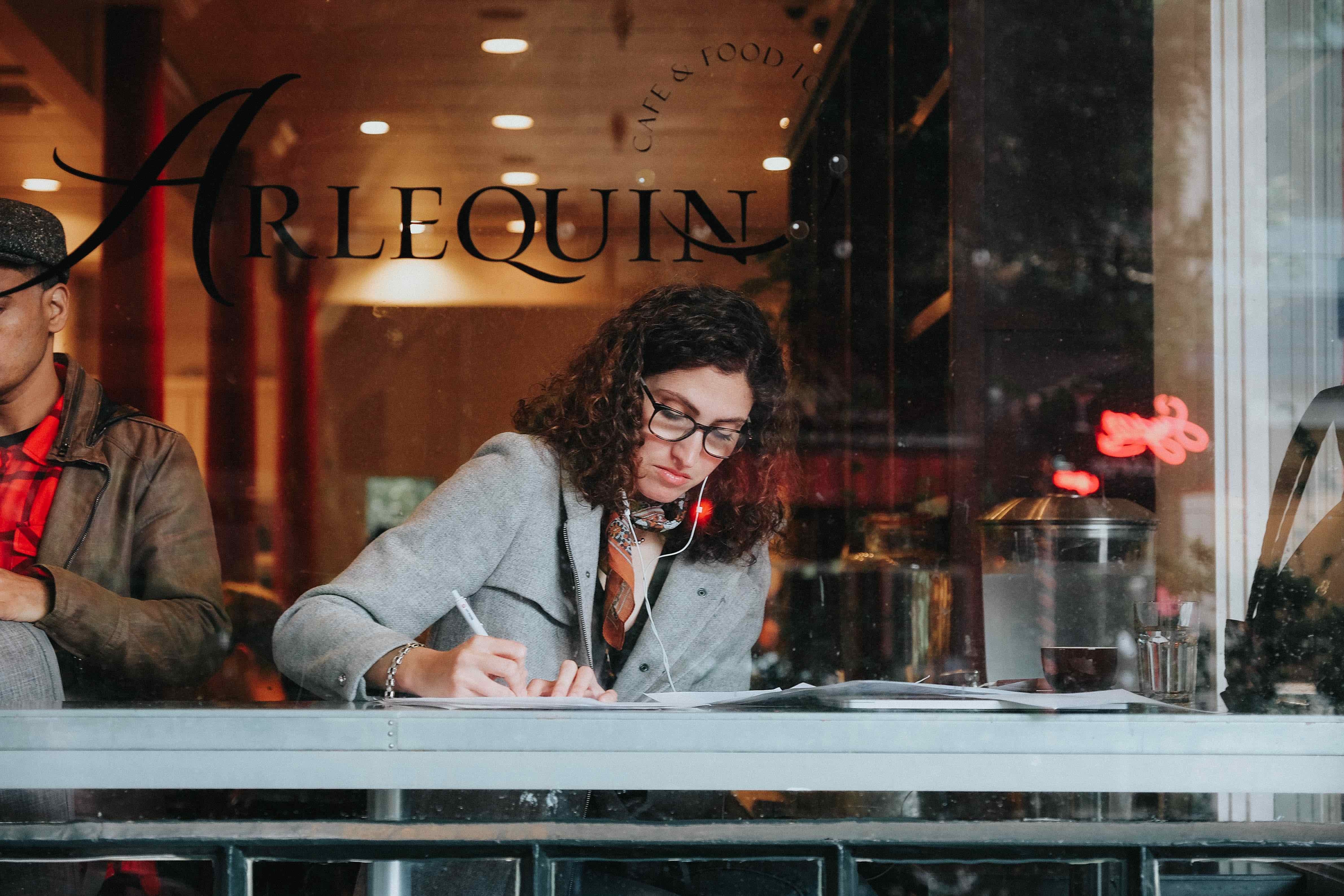 Image attribution: Wenni Zhou
Once you've built out your content calendar over the next couple of months and have scheduled your content topics in priority of when you want them to be published (aligning them with timely events, marketing campaigns, product launches, etc.), the next step is to schedule interviews for your SME and content creator to discuss the topics. In terms of timing, you'll want to try to schedule the interview far in advance of when you want the piece to go live. This will give some wiggle room in case the interview needs to be rescheduled and allow enough time for writing, editing, and any needed external approvals before publication.
Keeping SMEs Engaged
One suggestion mentioned above for keeping SMEs contributing for the long term is to involve them in a monthly content planning meeting. Again, it gives the experts an opportunity to share what's going on in terms of what services and products they manage and brings light to your content team on how that experience could fit into your content strategy. Subject matter experts have a lot to say about the subjects they're passionate about. They just need an outlet to share, which is where your content team comes in to lend an ear. These SME meetings also allow for cross-product/service involvement, where multiple SMEs come together to generate topics or offer a different angle on a potential idea.
Another way to keep SMEs involved is a monthly digest or newsletter that's shared with participants in the program. This not only gives their work exposure to their management but also among their peers, with metrics showing where the successful topics resonate. As your experts emerge, creating influencers out of contributors is another step to thought leadership.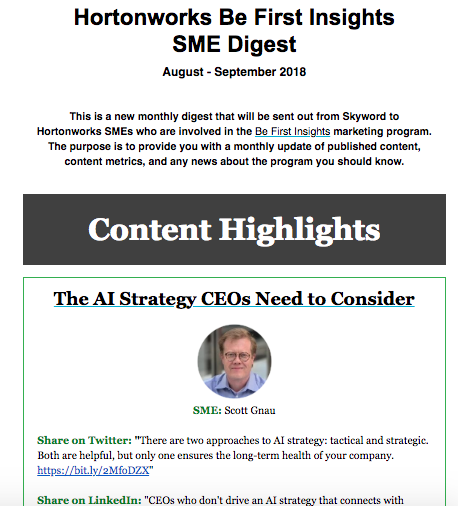 Hortonworks' SME digest shows the impact and value that SMEs provide to the content program. It includes performance analytics for each month, such as top-performing articles, engagement metrics, and suggestions on social copy to help encourage experts share their content through their social media channels. You can even have some friendly competition and provide a monthly leaderboard to see how other SMEs are doing. At the very least, it's a regular reminder for the SMEs to review content that's already been produced and let them think about other ideas that they can contribute to the program.
Marketers are always looking to see how we can produce more valuable content that sets us apart from the competition. Creating a subject matter expert program can add a lot of value, authority, and thought leadership to your content and improve your overall content marketing strategy.
For more stories like this, subscribe to the Content Standard newsletter.

Featured image attribution: Bench Accounting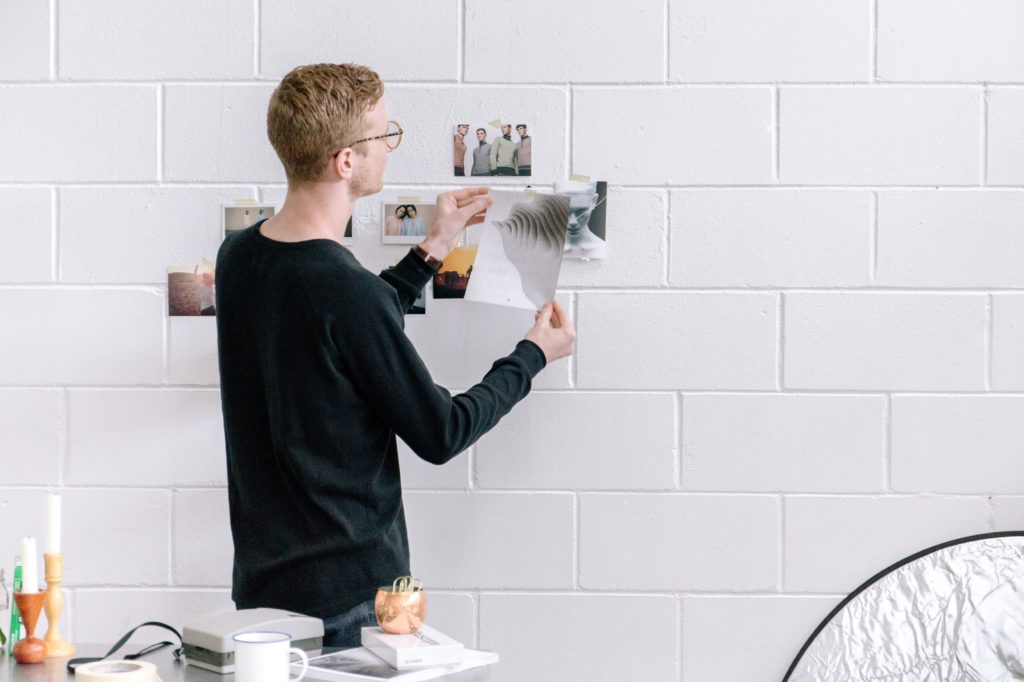 https://www.skyword.com/contentstandard/leveraging-subject-matter-experts-in-your-content-marketing-strategy/
https://www.skyword.com/contentstandard/leveraging-subject-matter-experts-in-your-content-marketing-strategy/
Ty Scheiner