Creative Thinking
Link Building in Blog Posts: How to Use Links Effectively in Your Blogs
By Brian Honigman on July 22, 2014
The success of any blog lies in the many details that go into the editorial strategy driving it, and one of the most important aspects is the utilization of links.
Links are often viewed as merely a reference to another resource in your blog posts, but in actuality they are far more beneficial to your bottom line. Including relevant links in your blog content can help drive traffic, fuel SEO value, generate profits through affiliate marketing, function as a form of link building, and increase results from syndicated content.
Regardless of their function, links should always be used naturally to make a blog post more valuable to readers—just like the addition of keywords for SEO purposes. Forcing links into your content in any capacity can seriously reduce its quality and visibility.
Here are some of the best practices I follow when including links in my content:
Use Internal Links to Drive Traffic and SEO Value
In every post you (or your company) produce, include links to relevant content on your blog that relates to the topics you're covering. This can help drive traffic to other resources that are of value to readers, increasing the overall time they spend on your website. Since search engines will use these links to index your content and better map out the variety and hierarchy of your website's pages, this is considered a form of link building.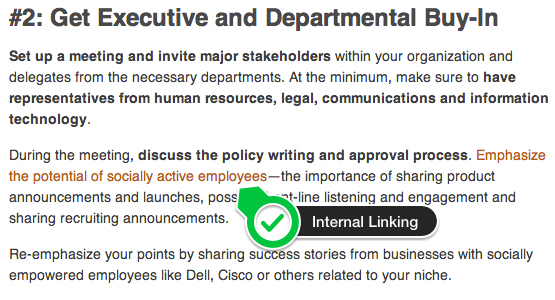 For example, since we are talking about links in this section of this blog post, it makes sense to link to another relevant blog article about how readability matters in link building.
When linking to your own content in a blog, it's wise to include no more than ten links and to highlight relevant anchor text. This rule applies to the typical blog post of 500 to 1,500 words, but use your best judgment when adjusting the number of links in an article based on word count. Regardless of the amount used, every link included should be both relevant to the article and valuable to the audience. If you find yourself adding extra links to meet the 10-per-article mark, reconsider. User experience matters more!
Anchor text is the word (or words, but try to use no more than eight) that directly relates back to the blog post you're linking to. This tool provides insight on where the link leads, and it helps search engines better understand your content for ranking purposes.
It's OK to occasionally use keywords as anchor text, as this builds a healthy mix of links and improves the SEO value of your post. However, make sure you don't limit all of your links to the words or phrases you target in search.
The SEO value of anchor text has been debated, but what matters most is that it doesn't affect a reader's experience and occasionally focuses on exact key phrases.
Link to External Websites to Source and Add Additional Value
The proper etiquette for referencing someone else's content (or any information that's not generally known) is to link to the external source. This provides value to readers by allowing them to dive into the original content if they'd like to learn more about the subject. It's also a good way to credit the content creator and thank them for adding more context to your piece with a link back to their website.

There isn't a perfect ratio of external to internal links to include in your blog posts, but it's ideal to include more internal links than links to the content of others. In the end, a majority of your blog posts should contain original thoughts, ideas, and insights that don't need to be sourced from elsewhere. If you find yourself relying too heavily on the thoughts of others, then you may not be writing on a topic you can speak authoritatively about to an information-hungry audience.
Occasionally Use Links for Affiliate Marketing to Profit From Your Blog Posts
One of the many ways to monetize your blog efforts is to include affiliate links to services or products that match your audience's interests and are valuable to your organization.
Companies like Amazon offer affiliate programs that allow blogs to profit from driving sales to a company's products. When a blog includes an affiliate link to a product or service, it receives a percentage of any sales that link drives. This approach isn't a match for every blog, however, as sometimes there's no good fit between the interests of your audience and the products or services available to link to.
Most enterprise businesses use affiliate marketing as a way to promote their own products and services to a blog's audience. This type of marketing doesn't involve a company's own blog, but rather relevant bloggers who advertise the company's products or services. It's a great way for brands to tie their influencer marketing programs to direct revenue online. Urban Outfitters, Home Depot, and Best Buy all utilize affliate marketing.
Internal Linking Can Greatly Benefit Your Blog When Content Is Syndicated
Getting your blog posts syndicated on other relevant websites is an effective way of amplifying your content, increasing links, driving traffic, and boosting your blog's social engagement. When an article is syndicated, a link to the original piece is typically placed at the top or bottom of the post.
Syndication of your content on other blogs and publications occurs through the building of relationships with editors, consistent guest blogging, the development of a loyal and large blog audience, and the consistent creation of compelling, original content.

Including relevant internal links in your blog posts is also beneficial when your content is syndicated because these links will appear in your article when it's featured on another website. These links add SEO value to your website, but most importantly, they drive traffic from readers at multiple points in an article to other content on your blog.
You don't need to be concerned about duplicate content when you're syndicating your blog as long as you're careful to attribute the original source with a proper link. When the original version is linked to correctly, Google will be able to tell which is which. This means your syndicated content may not increase visibility in organic search, but it does give you access to the audience of another publisher. If the content is compelling enough, you'll successfully drive new visitors to your own domain for more information or expertise on the topic.
To keep your content readable, follow the same advice as described above: prevent an overpopulation of links on your blog posts by including no more than 10 internal links to your other content.
Use Links as Calls to Action
At the end of your blog posts, it's important to instruct your readers on what to do after they've finished reading.
Use a call to action, or CTA, in the form of a link that leads to related blog content, a sign-up form for your email list, a landing page to download a white paper, a link to try a free trial of your product or service, or one of many other actions that will help drive results for your business.

As seen above, Buffer regularly includes a CTA at the bottom of blog posts—whether it's a link to sign up for a newsletter or to other relevant blog content—to attempt to drive results from their ongoing blogging efforts.
How does your organization use links in blog posts? What link uses have you found to be the most successful at driving results? Share your thoughts on the subject below.
Check out our eBook to learn more about content marketing best practices. To learn more about how Skyword can help boost your content marketing program, request a demo.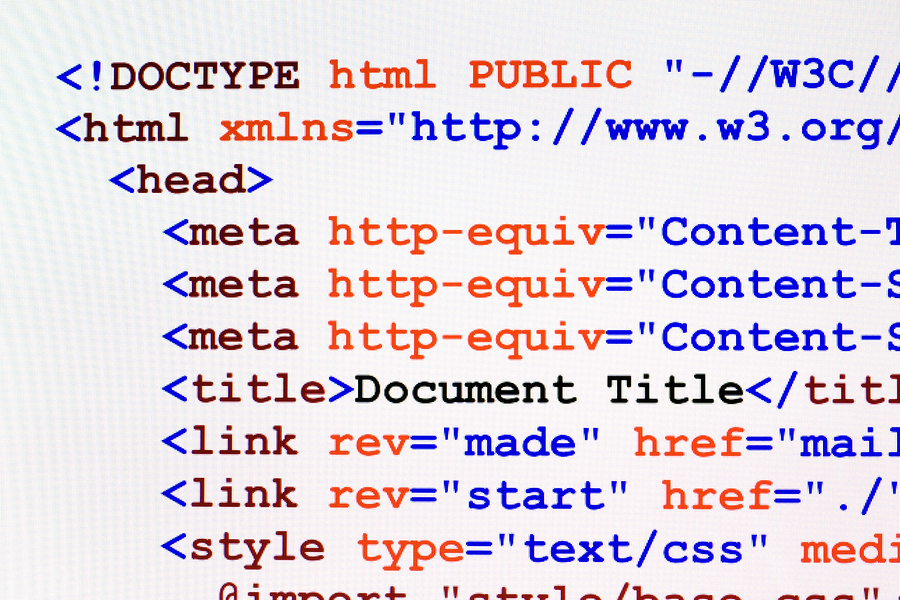 https://www.skyword.com/contentstandard/link-building-in-blog-posts-how-to-use-links-effectively-in-your-blogs/
https://www.skyword.com/contentstandard/link-building-in-blog-posts-how-to-use-links-effectively-in-your-blogs/
Brian Honigman