Creativity
Tall Tales: 3 Online Men's Retailers Using Lifestyle Content to Engage Customers
By Shannon O'Neill on March 21, 2018
While some e-commerce retailers are turning to pop-up locations to engage with consumers, popular online men's retailers like Mr Porter, Huckberry, and Best Made Co. are taking a different approach to influencer marketing, connecting to their customers through lifestyle content in the form of travel and adventure stories and even fashion tips.
Men Shop Differently
According to a study by IBISWorld and shared by Quartz, more men than ever are shopping online and online menswear shopping is projected to grow faster than other e-commerce verticals, beating out even computers for the top spot. Between 2010 and 2015, men's online clothing sales grew by 17.4 percent, compared to computers and tablets at 11.4 percent.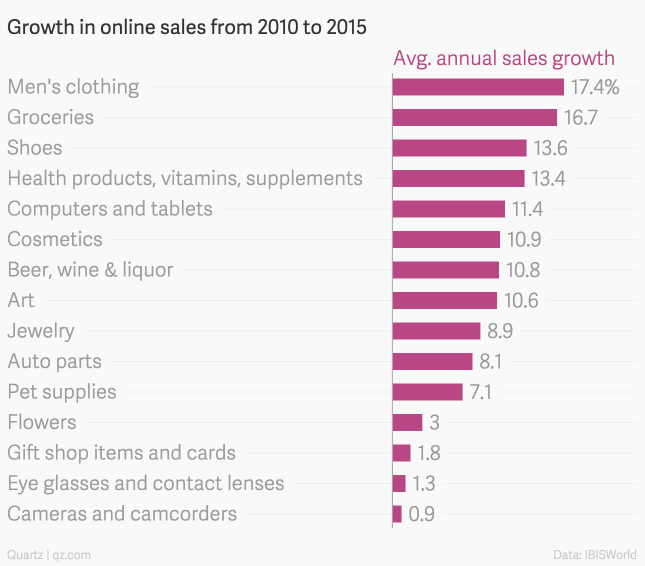 "The top way apparel shoppers like retailers to communicate with them is via email and the best way for menswear retailers to connect with male shoppers is to customize their email campaigns," explained Eric Feinberg, VP of marketing at ForeSee, a voice-of-customer company, in an interview with CPC Strategy.
Not only do men shop differently than women, says Feinberg, women are more likely to be motivated by sales, while men are motivated by content. That difference, in turn, can influence loyalty: "Bought loyalty is coupon-driven, instant gratification for a retailer-it feels good. Earned loyalty results in lifetime value, but it takes longer. It requires more content, nurturing, education, and differentiation."
Show, Don't Tell
When it comes to building a relationship with content and education, Mr Porter was early to the game with magazine-style articles to engage with their customers. Launched as the modern, stylish men's version of women's fashion and accessories retailer Net-a-Porter and geared toward a high-end luxury consumer who prefers Tod's to Toms, Mr Porter customers still spend time reading fashion and lifestyle advice articles, watching video content, and keeping up with their online magazine, The Journal.
"We knew we had to create a men's world that didn't seem too fashiony," Jeremy Langmead, brand and content director at Mr Porter, told the Wall Street Journal in 2016. His experience as a former editor-in-chief of the longstanding men's lifestyle bible Esquire informed not only their editorial direction but the direction of the company overall. The site's most popular articles tend to be the how-tos, like "How To Trade Up Your Skinny Jeans For Wide-Leg Pants." But the lifestyle section covers everything from cooking to work life, much more like a magazine than a sales promotion. Stylish and aspirational content is the goal, from the helpful "Holiday-Booking Hacks from the Experts" to the thought-provoking "The End of Sharing Dishes."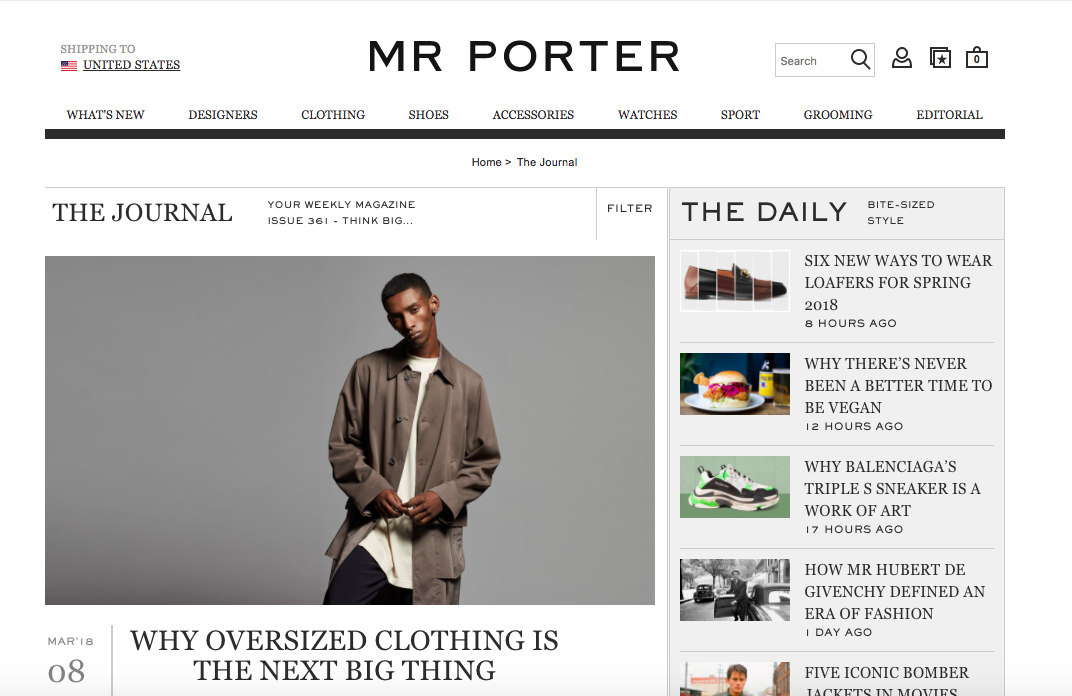 "With women, you can say, 'the Celine bag is the must-have bag of the season,' but if you say something to that effect to a guy, you'll just a get a blank stare," Langmead explained to GQ. "Five different ways you can wear something, where you can wear something-it's about facts and practicality. It's more information than inspiration."
Whatever it is, it's working. According to the WSJ piece, Mr Porter's typical customer spent around five minutes reading articles and other content before shopping, where they spent on average of eight to ten minutes selecting purchases.
When it comes to online shopping, companies like outdoor and lifestyle brand Best Made Co. are not afraid to engage with this desire. Founder Peter Buchanan-Smith, a former art director who felt the need to be outside more, started Best Made Co. as a workshop, but soon turned it into a catalog-driven business.
"My love is storytelling, and a print catalog is one of the best and least expected places to tell stories," Buchanan-Smith recently told Forbes. "Catalogs have become so product driven, formulaic, and transactional. We are giving our customers a much more meaningful experience."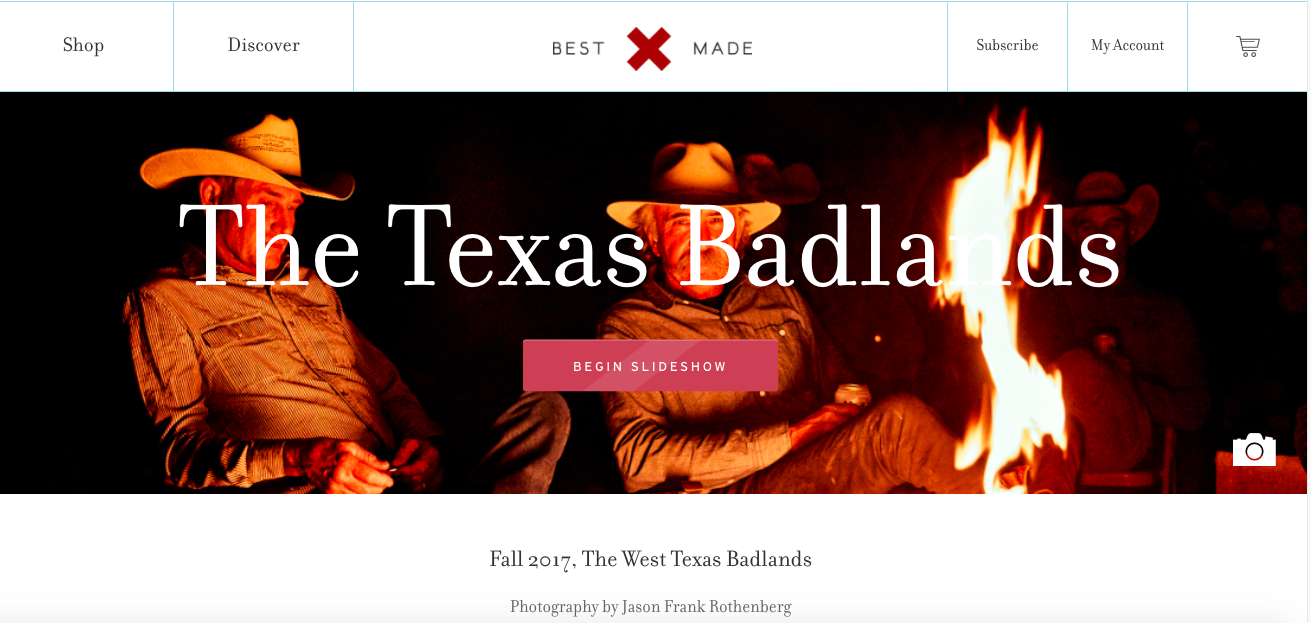 With stories told in beautifully shot, high-quality, large-format photo slideshows, the result is akin to visiting a friend who has just had the most amazing trip to Belize. In a sense, it's influencer marketing done by individuals who are marketing their own lifestyle. In addition to products, the company also offers actual adventures, trips, and workshops at their NYC and LA locations (like knife-sharpening or indigo-dying). Best Made Co. is not just selling an experience, it's literally selling an adventure. Their story resonates because it is true to their aesthetic and purpose-get outside, learn and do things, survive-not just a slick maneuver to purchase their products.
Social Influencers Impact Buying
One reason that adventure and lifestyle content is connecting is most likely due to a generational shift in how men engage with fashion. The second reason is pretty simple-men take fashion tips from other men.
According to a 2016 Boutique@Ogilvy Men's Shopping Report, millennial men are more likely to take tips from friends, Instagram, or celebrities when it comes to inspiration for fashion. By comparison, 18 percent of millennial men favored Instagram, compared to only 4 percent of gen Xers and 0 percent of baby boomers.
As more and more influencers dominate social feeds, they bring their fashion sense with them. "Digital media and a constant stream of imagery of stylish iconic men-from successful entrepreneurs to funny YouTube personalities-have encouraged the socialization of men's fashion," Tammy Smulders, global managing director of LuxHub, a division of Havas Media Group, told Digiday. "Social media and being 'always on' has made it so that everyday men have become more focused on their look."
When it comes to lifestyle and influencer marketing, Huckberry's combination of retail and lifestyle inspiration makes you forget that you even came to this place for clothes. The company defines itself as "an online shop and journal that inspires more active, adventurous, and stylish lives through members-only sales, original story-telling, and unique experiences," and their site does just that. The journal offers the men's guide of how-tos and Q&As, but they also have a highly cultivated influencer community of "ambassadors" and "artists" with whom they collaborate on products and ask to tell their own adventure and craft stories.
Rather than just having a community of influencers, the site shows you the community of customers who are seemingly living the lifestyle that the brand is selling-creative, adventurous, and willing to spend money on well-crafted products. With a strong Instagram presence, the ambassadors and artists allow the Huckberry story to spread and increase its audience.
Like the retail catalog giants before them (think L.L. Bean or J. Crew), these brands are selling a lifestyle story: You too can be adventurous or stylish and learn how to live this story (and BTW, please wear our products). Whether through newsletters, online journals, social media, or email campaigns, they are tapping into a market of male consumers who are increasingly ready to be influenced.
For more stories like this, subscribe to the Content Standard newsletter.

Featured image attribution: Bruce Mars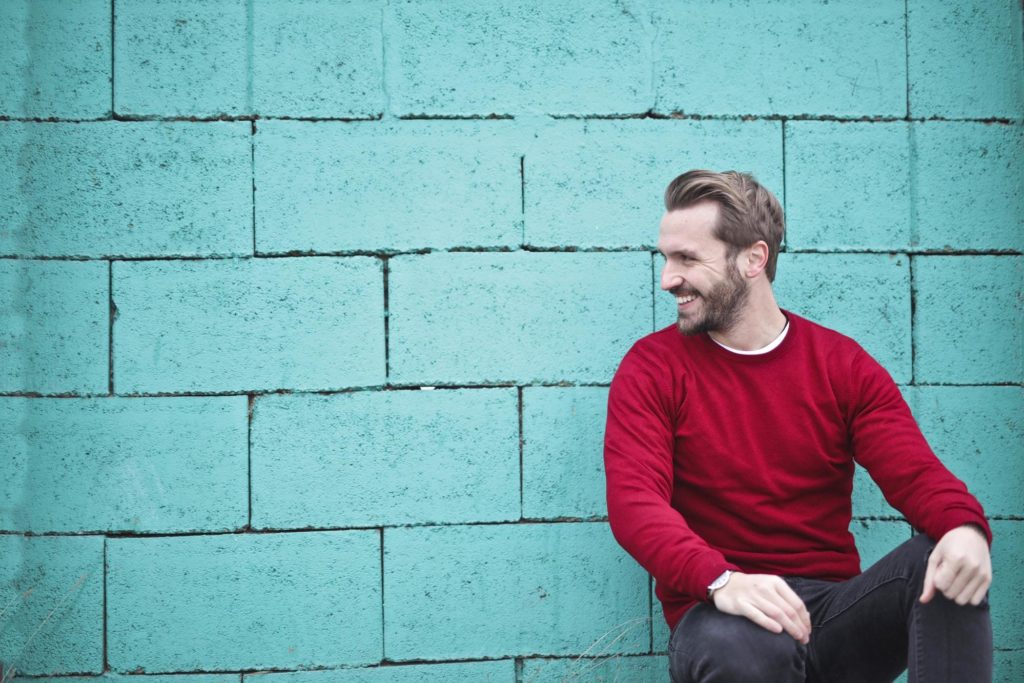 https://www.skyword.com/contentstandard/tall-tales-3-online-mens-retailers-using-lifestyle-content-to-engage-customers/
https://www.skyword.com/contentstandard/tall-tales-3-online-mens-retailers-using-lifestyle-content-to-engage-customers/
Shannon O'Neill