For Google News
The Brands Marketing with Instagram Stories: Short-Term Message, Long-Term Impact
By Shannon O'Neill on April 19, 2018
When Instagram users engage, they really engage: According to their 2017 stats, users spent an average of over 20 minutes a day on the platform, and those under 25 upwards of half an hour. Instagram is eager to attribute increased engagement to Instagram Stories (their answer to Snapchat), which they argue entice users to stay longer and visit more often.
Brands that aren't already marketing with Instagram Stories should sit up and take notice. When you consider our increasing impatience with traditional advertising, that's a lot of time to use brand storytelling to engage with an audience quickly and efficiently. BI Intelligence estimates that TV ad spend will slow while digital ad spend will grow from $70 billion in 2016 to $107 billion in 2021. While that doesn't all translate to Instagram Stories, it does indicate a huge shift in how brands engage.
Morgan Cornelius, Instagram's small and medium business community lead, told Fast Company in a recent interview, "Stories is the one place where brands are able to actually give people a peek behind the curtain in terms of who they are and what they're all about. This allows them to establish authenticity with their customers."
Instagram Stories allow brands to connect with their audience in a different, semi-permanent way-from documentary-style videos to interactive polls, a few brands are mastering this new non-traditional world to their advantage.
Spotlight Your Audience
CrossFit has embraced documentary-style storytelling featuring everyone from veterans to people with disabilities and those who feel compelled to share their CrossFit journey. Most fitness stories have the natural story arc we crave: a swing from negative to positive. If you have even one person in your life who is a CrossFit believer, then you will be familiar with the social media sharing of all the sweat and tears it takes to meet fitness milestones. CrossFit athletes have been sharing their stories as influencers on social media channels for years, especially around the CrossFit Games.
Spreading the word and building community is a cornerstone of the CrossFit brand. It's a journey built for stories, whether on other social media platforms or via the short nuggets of Instagram Stories.
Take, for instance, the recent Instagram video for the CrossFit Journal of Ron Reed, who struggled with health issues until he found CrossFit:
This documentary-style storytelling resonates with an audience and pulls them back to the company website and CrossFit Journal. With over 32K views on Instagram, Reed's universal story connects to an audience motivated by stories of physical and mental perseverance.
CrossFit excels at consistent and frequent stories shared on social media channels and their website. Instagram Stories are just a preview-style extension of what they've been doing well for years-proselytizing the benefits of their fitness regimen.
A recent CrossFit Instagram Story (using the new Carousel Ads feature, which allows for tapping, swiping, or pausing content) began with a traditional image of an individual CrossFit-er meeting his daily goal of a certain number of push-ups and sit-ups. It then moved to the more dramatic story of CrossFit Paju coach Park Yong Soon's quest to help South Korean citizens, police officers, and military "train for the unknown."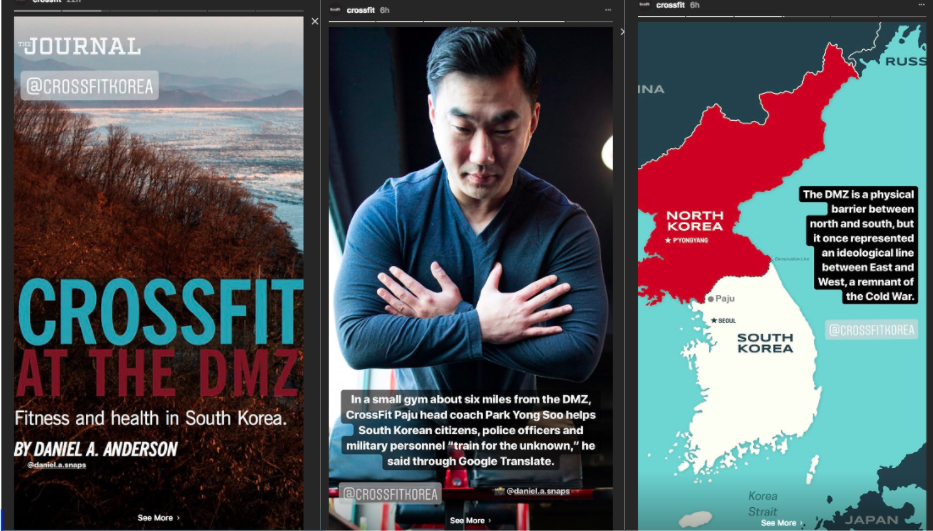 Within a few seconds you get a broad swath of the CrossFit audience-individuals just trying to get healthy and people whose lives may (quite literally) depend on their fitness level. CrossFit is wise to dig into a bigger story beyond workouts and personal goals. Stories like Coach Soon's touch on a bit of adventure and the global impact of not only the CrossFit brand but what fitness itself means around the world.
By sharing compelling, emotional, and motivational stories, the fitness company moves out of the gym and into real life.
Insert a Sense of Adventure
Airbnb has built its brand on customer interactions, photos, and reviews, and their Instagram Stories play to the same strengths. Recent stories engage the travel-savvy mindset of their audience. Airbnb uses followers' content and then pushes it out to its larger audience using polls that ask viewers to guess where the images are taken, increasing interaction. This content-loop cycle is great for a brand dependent on user feedback and expertise.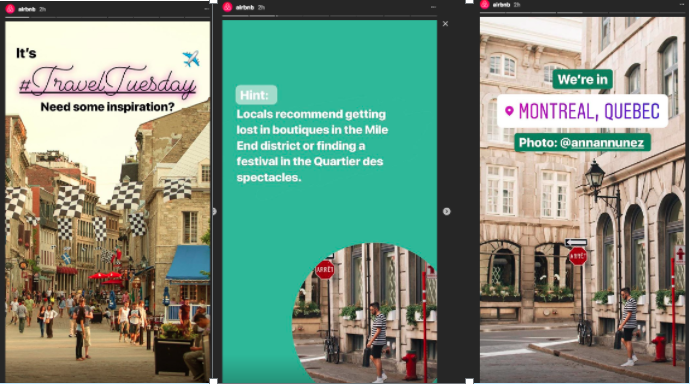 The Travel Tuesday theme and "Guess where I am?" playfulness not only fulfills our love of answering a good poll but also is a clever destination advertisement for the travel-savvy and adventurous Airbnb set.
Polls Are Not Just for Politics
Polls can also serve a purpose beyond fun: feedback for products. Instagram Stories allow brands to engage with their audience in a different, semi-permanent way that can have lasting results. Last year clothing brand J.Crew took 24 hours to get audience feedback on a color for its Chateau Parka.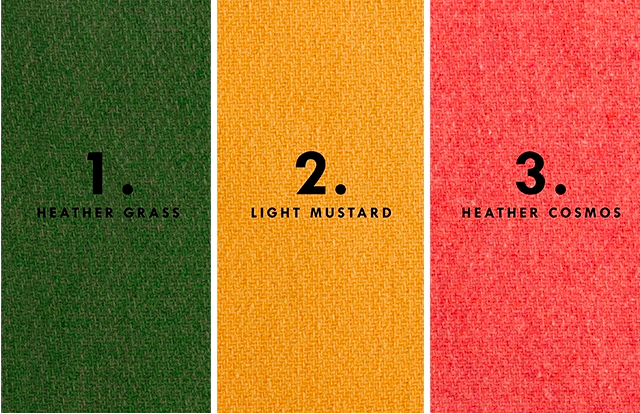 The winning color went into production. The brand took advantage of Instagram Stories' impermanence for a permanent crowd-sourcing decision for its collection.
The brand has also been good at using links in its Instagram Stories for its "Behind the Design" transparency in manufacturing initiative to bring readers back to their blog. With a limited number of images, it only takes a few taps before you are pulled into the story (i.e. pulled back to their website).
Instagram Stories may not be permanent, but their ability to engage has staying power. And that combination of impermanence and immediacy is perfect for brands who want a chance to quickly interact with their audience and get advice (hello, polls!) or just feel like being playful.
For more stories like this, subscribe to the Content Standard newsletter.

Featured image attribution: Patrick Tomasso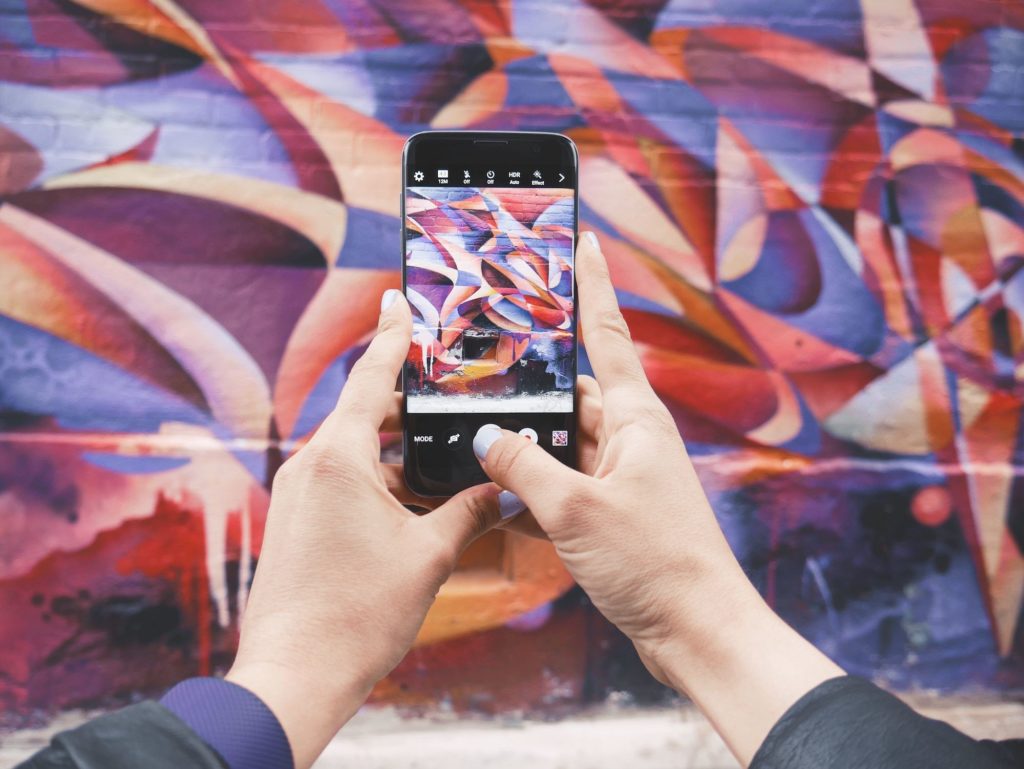 https://www.skyword.com/contentstandard/the-brands-marketing-with-instagram-stories-short-term-message-long-term-impact/
https://www.skyword.com/contentstandard/the-brands-marketing-with-instagram-stories-short-term-message-long-term-impact/
Shannon O'Neill