Creativity
User Experience (UX) Is the Next Frontier of Brand Storytelling and Digital Marketing
By Liz Alton on March 8, 2018
Brand storytelling brings to mind sweeping sagas of your company's origin story and compelling narratives of how your products change people's lives. Yet we know from the examples of today's most successful companies that brand storytelling needs to be in the DNA of your digital marketing efforts. That means brand storytelling is a value that shapes even the smallest details.
Visual communications and the customer experience can be central parts of brand storytelling. Using your website, application, or content platform's UX as a way to engage audiences doesn't just engage their imaginations or forge stronger relationships. AdWeek reports that storytelling in digital properties can increase the price that buyers will pay by up to 64 percent, according to experiments conducted by Hill Holiday.
Storytelling and the History of UX
Digital veterans often think of UX in the strictest of terms: a streamlined menu, an easy-to-navigate site, and buttons or icons that immediately make sense to the user. As customer-experience expectations have continued to evolve, UX design plays an expanded role in communicating your brand's digital marketing goals.
"Good UX is synonymous with storytelling: a linear progression of ideas that evolves over the telling to expand a reader's understanding. It could be told about a person's life, a historical event, or how to use something. Instruction manuals are the precursor to UX storytelling. Walkthroughs are a more modern equivalent of manuals," says Jordan Cooperman, chief experience officer at Meural, a company pairing innovative connected technology and art.
He continues, "But we've come a long way since then. We know that it's not enough to tell the user the entire story all at once. Much like games require the user to actually play through a story in order to learn how to play, the best products tell a story as the user's understanding of the product expands through intuitive and contextual clues."
The key insight here that marketers need to capture is the "unfolding" element of the customer journey. Just like a good story captures a listener's or reader's interest and then takes them through an experience, UX design can guide your audience from one point to another on a carefully crafted roadmap.
What Brand Storytelling Looks Like within UX Design
In an abstract way, it's clear that employing storytelling in UX design is a good thing. But what does that look like in real terms?
One clue can be found in this analysis by the Forbes Technology Council, which notes, "immersion, storytelling and conversation aren't just the trifecta of a great UX/UI-they're the keys to brand loyalty."
User design helps you capture a website visitor or app user at whatever point they enter your funnel. As they consume your stories and brand content, they can be guided to conclusions, to related content and assets, and to taking the next logical step in the customer journey. Incorporating stories-through images, layout, word choices, gamification, and other elements-also helps your audience immediately understand who you are and what you're bringing to the table.
Consider Medium. The platform invites users to write and read content on a wide variety of topics.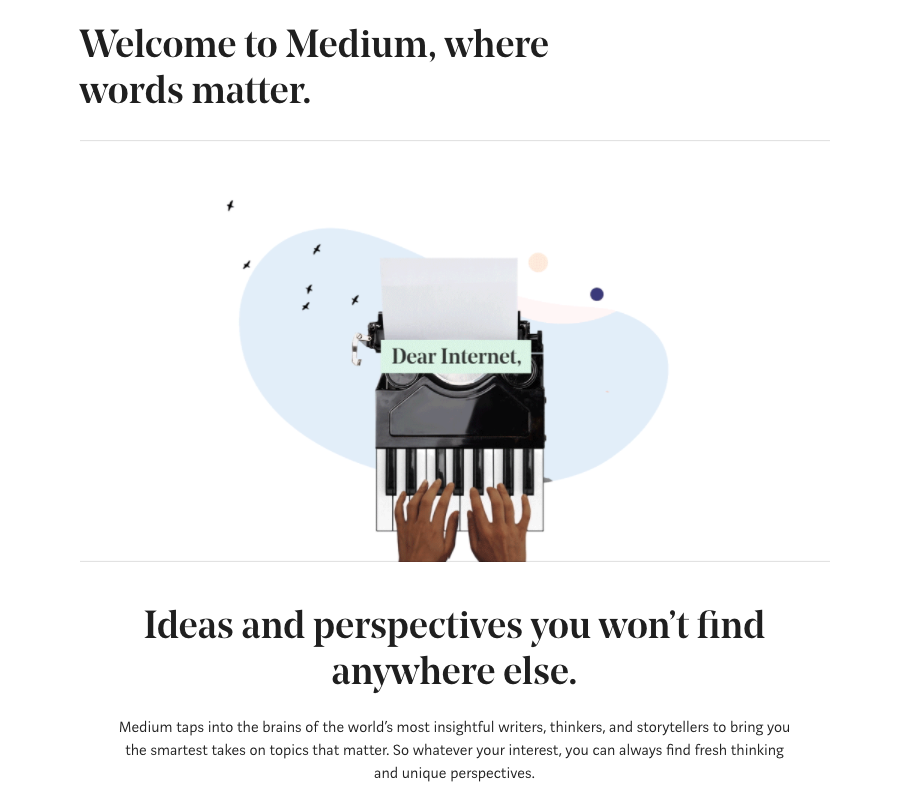 Once you get into the experience, the platform curates content that you're interested in, suggests related topics, and surfaces stories that you might have missed since your last visit. While a great user experience is more than just a recommendation engine, the personalization and practical content focus are a significant component of a storytelling-based UX. Through the customer's lens, this approach answers the question: "What story makes the most sense for me, the individual user, with this company's content today?"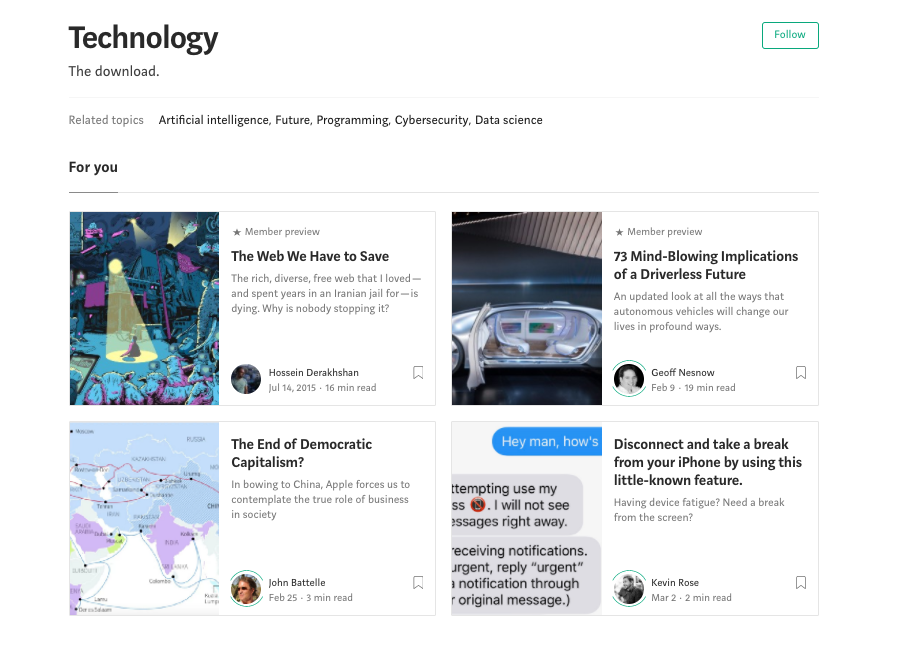 On Carefully Crafted Funnels
A strong backbone of planning and content strategy is key to storytelling with UX. It's important to think about what customers will discover at the top of the funnel, and how you'll guide them along the path to taking action. A well-thought-out UX can pull you right into the product or service experience; a misstep can cause you to lose a customer.
"I signed up for a service recently, and got email after email touting various features. I eventually unsubscribed. They were trying to tell me the story of how to use the product, but what they missed is that my knowledge and interest in the product hadn't grown over this period. The UX of the product wasn't working to tell the story, and I'd never gotten started because of it," says Cooperman.
He continues, "Almost every app you download starts off with a set of walkthrough screens that gives a brief story of what's to come. The best ones keep it brief and explain later when the user is actually playing. Sometimes you don't even need to tout a feature, you just put it in an intuitive place and make it accessible. I find Facebook's camera and Instagram stories to function like this. They show you the screens that you need to see now, and make it fun to explore as you use the product more."

Your UX can also be part of your broader experience, notes Cooperman. "Then there are those services that go the extra step. Superhuman email, for instance, onboards with a personal screenshare to quickly get you up to speed. They get you invested quickly by having a real human being tell you the UX story. It's also one of the most impressive products I've seen as far as giving the user contextual information as they need it. Any action that you take is quickly followed by a small note with the hotkeys you could have used to do it. It's a subtle way to constantly reinforce the story of why you're using this product-to make it more fun and efficient to send emails."
Getting Started With Storytelling In Your Own Business
Always build stories with the audience in mind
"Start small," advises Cooperman. "Before you start telling stories, you have to know what story to tell. Talk to your customers. At Meural, I personally handle support tickets every day so that I have a ground-floor pulse on where our storytelling is the weakest (for us, Wi-Fi setup has been a difficult one). If your customers are confused, it's because you're telling the wrong story. Maybe the feature is wrong, or maybe it's implemented in an unintuitive way. If you change how you tell the story, maybe you make it easier for users to get to the end and have fun doing it." The more your stories are tied into your audience's needs and the reality of your product, the more effective they'll be.
Tie your storytelling to your business goals
Think about how to unfurl the stories of your business across different elements of your UX. How can you take customers from the launch screen to reading your content to buying a product? Focus on the intersection of beautiful design, personalization, and leveraging UX as a way to point customers toward the full universe of the experience you offer.
Use all parts of UX design
When you're crafting a story, it's possible to tell it in multiple ways through UX design. Taking a story-based approach involves your layout, copy, images, recommendation engines, and more. Think holistically from a planning perspective, and then look for the alchemy that best helps you capture and tell your story.
As you embrace brand storytelling in your digital marketing, don't overlook UX design. Focusing on the visuals, flow, and overall impact of your user experience can help bring your stories to life and guide audiences into a deeper relationship with your organization and products.
For more stories like this, subscribe to the Content Standard newsletter.

Featured image attribution: Todd Quackenbush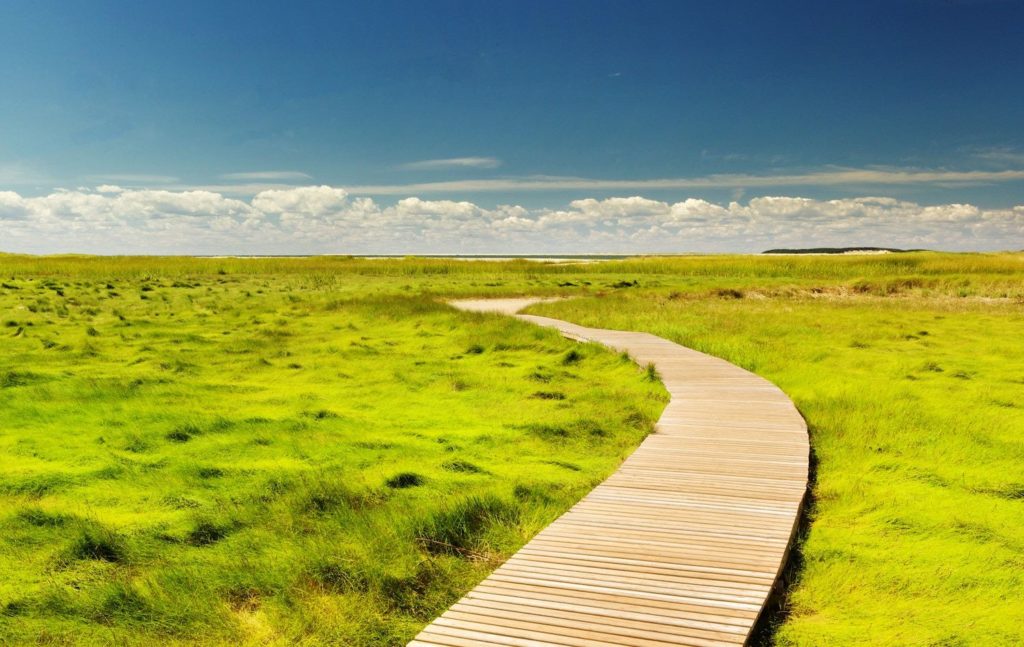 https://www.skyword.com/contentstandard/user-experience-ux-is-the-next-frontier-of-brand-storytelling-and-digital-marketing/
https://www.skyword.com/contentstandard/user-experience-ux-is-the-next-frontier-of-brand-storytelling-and-digital-marketing/
Liz Alton