For Google News
What Hank and John Green's YouTube Community Can Teach Us About Video Marketing
By Paige Breaux on July 12, 2018
Video marketing-unlike the written word, where it can often be difficult to convey tone, or audio, which lacks the benefit of facial expressions-is one of the most impactful ways of engaging customers and providing a full, immersive experience. And, as two YouTube entrepreneurs proved with a now eleven-year-long stream of video content, video provides a communication opportunity to connection with millions of international followers.
In 2007, brothers John and Hank Green, under the joint YouTube channel "Vlogbrothers," began a project where they ceased all text-based communication (no texting, emails, IMs, etc.) for the entire year and conversed solely through short video blogs posted every weekday. What started as a personal experiment in digital communication has now blossomed into a multi-media empire with a passionate fan base of more than 10 million subscribers.
Currently, the Green brothers are regarded as top influencers in the business of online video and YouTube marketing, having developed a presence that goes beyond simple humor skits and their informational Crash Course videos to live events, multi-million dollar charitable organizations, and even an Emmy Award-winning web series. In addition to his YouTube marketing success, John has written multiple young adult novels, accompanied Bill Gates on an Ethiopian mission trip, and was named one of Time Magazine's 100 Most Influential People of 2014. Hank Green now runs the video production company Complexly, which hosts 15 different YouTube channels collectively amassing more than 1.25 billion views.
(Geez, is there anything these two siblings can't do?)
Rather than be intimidated by their seemingly ceaseless output, marketers should be looking to the Green brothers as models for establishing a sustainable, long-term video viewership. Many brands still shy away from investing in video strategy due to misguided notions that popular video content requires hiring pricy film crews and shelling out for "costly celebrity cameos and expensive song licenses." However, as the success of this YouTube duo illustrates, video creators earn their audience not by starting with a big budget but with a commitment to forming authentic relationships-whether those relationships are with a sibling or with millions of international viewers.
So what can content marketers take away from these two digital leaders about how to achieve such an impressively large scale of diverse, high-quality video content?
Educate Through Entertainment
While John and Hank Green may appear to have extended themselves to every possible industry-from music to finance to fiction writing-the driving point behind every one of their products has always been the same: improving the world through educational resources.
"Creating resources that allow for more valuable interaction in the classroom-that's our real goal," Hank told Forbes. One of their most popular endeavors is Crash Course-an educational video series providing an overview on topics including world history, US history, chemistry, psychology, and literature. Crash Course videos have been viewed more than 150 million times, and their library was recently acquired by PBS Digital Studios, a premiere online media studio that currently hosts over 50 original web series covering a broad range of topics in art, science, and cultural pursuits.
The value for marketers in online video is not in the pre-roll advertisements, but in the underlying message of the video content itself. Brands need to learn how to mix information with entertainment if they want to leave a lasting impression on consumers. A video campaign that expertly demonstrates both meaningful learning and product value is Intel's "Meet the Makers." The four-part video series highlights the brand's commitment to rewarding innovation and shows the company's dedication to improving the quality of people's lives. For example, one video chronicles the journey of 13-year-old Shubham Banerjee, who followed his own natural curiosity about how the blind experience life differently to invent an affordable Braille printer with lab funding provided by the tech company.
Fostering an interest in learning is the key mission behind a significant amount of YouTube's content. Videos uploaded to the site's Education category currently earn four times the views of animal videos, for example. Viewers aren't just looking for a meaningless procrastination tool; they want to consume online video that enriches their lives.
Invest in a Creative Ecosystem
As one-off content loses relevancy (sorry, cat videos), YouTube as platform is now seeing more revenue from creators uploading frequent and consistent content in order to establish a trusting core audience. YouTuber Lilly Singh credits her mass fandom of nearly seven million subscribers to consistently delivering bi-weekly video updates to her channel for the past nine years. Likewise, the Green brothers continue to update their main channel with a new video each Tuesday and Friday while simultaneously serving as executive producers and occasional hosts for their various other video pursuits. What allows them to sustain this output of materials? Creator collaboration.
As your audience and creative pursuits grow, it becomes necessary to recruit the right content creators who can drive your brand's vision forward and take an active role in your brand's content strategy. While Hank and John may be the original faces behind their YouTube empire, they employ a staff of more than 40 script writers, editors, and digital producers to drive what is now a full-fledged online information and entertainment network. Every member of the Green brothers' creative team views the current landscape of online video as a "huge, vibrant creative and economic ecosystem of independent creators" all pursuing new ways to push boundaries through new content.
This belief in an active, living ecosystem of creators is what led to them to launch a new initiative in June 2018 that will provide $2,000 every single week of the year to a different creator whom they believe to be "reaching underserved audiences, or they're using their toolbox in a really unique way, or they're adapting on some existing form of online video and spinning it their way," as Hank told the Washington Post.
By fostering your own network of video creators, writers, and producers all working towards a unified goal of telling your brand's story, you can expand the scale of your video production output and have an existing resource pool from which to source new ideas. Evolving beyond the single ad spot video format and organizing your video content into a framework of channels focused on episodic content means that your audience will spend more time engaging with your brand and eagerly awaiting your next move. The serialized upload strategy has been a massive success for brands like Red Bull, which has used daily new videos and long-running stories to become the most subscribed-to brand on YouTube. The energy drink brand produces extreme, ESPN-worthy content for its adrenaline junkie consumer base, including "MX Nation," an exclusive behind-the-scenes look at the travels of its motocross team.
Brands hoping for long-term success from their video content marketing should devote a steady portion of their budget towards making multi-part, series-based content that will give viewers something to look forward to every month, week, or even every day.
Ditch the Script (Sometimes)
As we've covered so far, viewers want access to a regularly updated stream of video content that will teach them something new, but perhaps most importantly, they want to feel like they're watching something real.
One of the biggest factors distinguishing YouTube celebrities and social media influencers from Hollywood executives and ad agencies is a sense of authenticity. Researchers at Google found that 70 percent of teenage YouTube subscribers related to YouTubers more than traditional celebrities, with four in ten participants even feeling that their favorite creators understood them better than their real-life friends. Marketers hoping to connect with customers don't need the production of their video content to resemble the trailer of the latest action-packed blockbuster but can focus instead on taking a more natural and human angle when telling their story.
One of the strongest appeals of the earliest Vlogbrothers videos was getting to observe an extended conversation between two family members catching up on their daily lives, challenging each other to dares, and teaching each other about significant social and political issues. While John and Hank always understood that they had an audience for their video content, their primary goal for the project was to use video as a way to deepen personal relationships.
While marketers shouldn't necessarily throw out the script entirely when creating video content and speak directly, unfiltered, into the camera, viewers clearly prefer videos that feel more casual and genuine than staged and cinematic. Removing these false images of perfection is especially relevant in places like the fitness industry, which is why Nike's 2015 "Better for It" campaign was such a breath of fresh air.
The videos seek to highlight the real, unglamorous side of fitness by exposing the "Inner Thoughts" of female gym-goers. While the camera highlights different women's athletic pursuits, the voiceover takes a lighthearted, stream-of-consciousness dive into what actual people think while they exercise. The narration ranges from self-deprecating congratulations for running a "half-half-marathon," insecure doubts over only using "little baby weights," and humorous judgments at sitting behind "a bunch of models" in a spin class.
The videos earned Nike praise for stepping outside of the brand's typically elite persona and focusing on the sweaty, honest side of working out rather than the perfectly poised Instagrammable portrayals consumers were so used to seeing.
Engage Viewers Off-Screen
And if you really want to give your video content that human quality, why not meet viewers face to face? Today's online video communities have found a home outside of the web, expanding into real-life meetups and fan expos where hordes of digital creatives, subscribers, and companies can swap the latest cultural insights.
This past month, more than 26,000 fans, creators, and industry leaders attended VidCon, an annual event started by the Green brothers in 2010 as an immersive celebration for anyone involved in the online video industry. The three-day event aims to highlight the special relationship between online creators and their fans, featuring live music performances, diversity panels, and Q&As targeted towards creators interested in learning how to use the latest digital tools to expand their online presence.
Brands are now recognizing VidCon as a significant opportunity to engage with consumers first-hand and build valuable, long-lasting connections. For example, during last year's VidCon festivities, Canon had a booth where attendees could take selfies and turn them into temporary tattoos. As reported by Mediakix, "The tattoo application process was captured by Canon cameras and videos were sent to attendees, who could share the video on Instagram with the hashtag #canonselfiestyle for a chance to win a Canon EOS Rebel T7i creator kit."
The ability to put a human face to those engaging with your brand's messaging is an excellent opportunity for marketers to understand and relate to the people interested in their work and offer new perspectives on how to fuel excitement.
"Many of the strongest communities and the ones I value the most are undervalued by advertisers," John Green told Ad Age when discussing his approach to developing online relationships with viewers.
He advises brands to pay attention to individual relationships beyond ad revenue and "imagine other people complexly" to build a community focused on transformative content that people will truly love and care about.
Learn about how you can use Skyword360 to access Skyword's global community of professional videographers and create engaging video content.
Featured image attribution: Gage Skidmore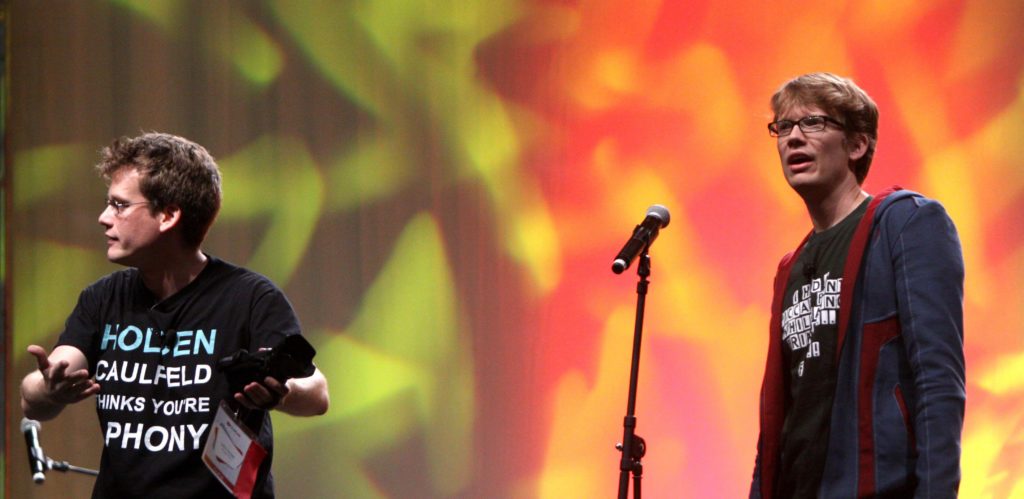 https://www.skyword.com/contentstandard/what-hank-and-john-greens-youtube-community-can-teach-us-about-video-marketing/
https://www.skyword.com/contentstandard/what-hank-and-john-greens-youtube-community-can-teach-us-about-video-marketing/
Paige Breaux