Creativity
Where Are Global Marketing Leaders Spending Their Budgets in 2019?
By Lauren McMenemy on November 9, 2018
It's crazy to think 2018 is now well into Q4, and marketing teams all over the world are hitting planning season, turning their minds to strategy, tactics, and objectives for 2019.
So what are the big questions and issues global companies intend to tackle in the next 12 months? What are the key 2019 marketing trends brands need to be aware of?
Whether you're B2B or B2C, operating all over the world or just in a handful of countries, the most prominent themes and marketing objectives are clear: better use of data, better connections with customers, and better team execution.
Read on to hear from global marketing leaders across the fields of FMCG, professional services, and technology.
FMCG: Fabian Urquijo, CMO at Revlon
Revlon's global CMO admits 2018 has been challenging for his team. Some "hiccoughs" in the company's digital transformation process brought operational challenges-but, as he says, "These issues are starting to be behind us now."
They were also easier to deal with thanks to some great successes in 2018, especially the turnaround of some brands that had been declining for a few years.
"By becoming more customer-centric, we were able to bring a combination of continuous and disruptive innovation that allowed us to better reconnect with consumers, make the brands more relevant in the midst of a dynamic competition, capture their curiosity, and regain market share," says Urquijo.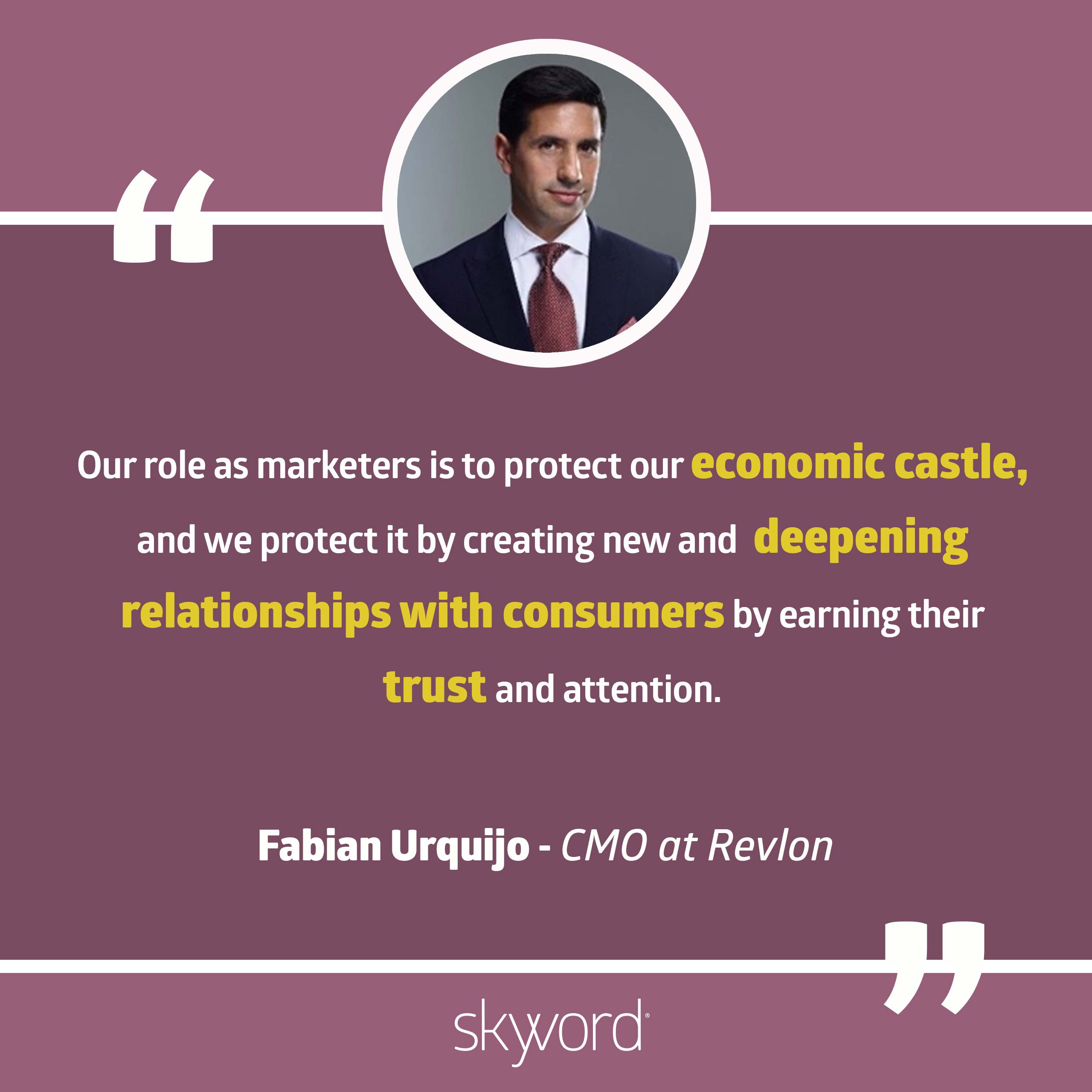 And it's that customer-centricity that leads his marketing objectives for 2019, too: "The big question that I have is always how to better connect, on a personal level, with consumers in this everyday more fragmented world, in which competing for attention is more and more difficult. The one that can have direct access to consumers is the one that moves the top line, and the one that ultimately wins."
That direct access is difficult in a traditional FMCG company, though. The distributor model poses challenges to customer-centricity, especially when e-retail giants like Amazon can foster immediate relationships with consumers. It's a work in progress, says Urquijo, and one he hopes his content marketing strategy will address in 2019.
"We're working to create better content to naturally address consumer curiosity and pain points, to establish this personal relationship, to continue to increase the volume of consumers we have direct access to via social media and direct mailing programs, and to bridge the gap by accessing influencers that have earned consumer trust and attention."
Image attribution: Gustavo Spindula
This transition from segmentation-based marketing to one-to-one personal relationships will continue beyond 2019, says Urquijo, who has also begun to experiment with how Revlon can use AI and augmented and virtual reality.
"We need to adopt these technologies if we are to win in the future," he says. "Our imagination is the limit here, and whoever can integrate these technologies in their marketing programs, in a seamless way, will elevate the standards, setting a new expectation level, getting a temporary edge with consumers.
"As we move into the future, the most exciting thing is always to create plans and programs that will strengthen the competitive advantage of our brands and business. Our role as marketers is to protect our 'economic castle,' and we protect it by creating new and deepening relationships with consumers, by earning their trust and attention. We achieve this with innovation and relevant content, to enable their dreams or solve the problems they have in their lives. I am excited to keep enabling their beauty dreams and aspirations."
Professional Services: Richard Fitzmaurice, CMO at TMF Group
In the professional services field, client relationships dominate. It's no different at TMF Group, a Dutch service provider located in more than 80 countries worldwide, whose remit is to help companies globalize.
As such, this year has proven a challenge for Richard Fitzmaurice's team, as they tried to comply with GDPR in the European market while trying to not alienate clients in other regions.
"Preparing for GDPR was tough simply due to the misinformation out there," Fitzmaurice says. "Ultimately we have taken an approach that forces us to raise our content game, which I think is the winning strategy for the long term."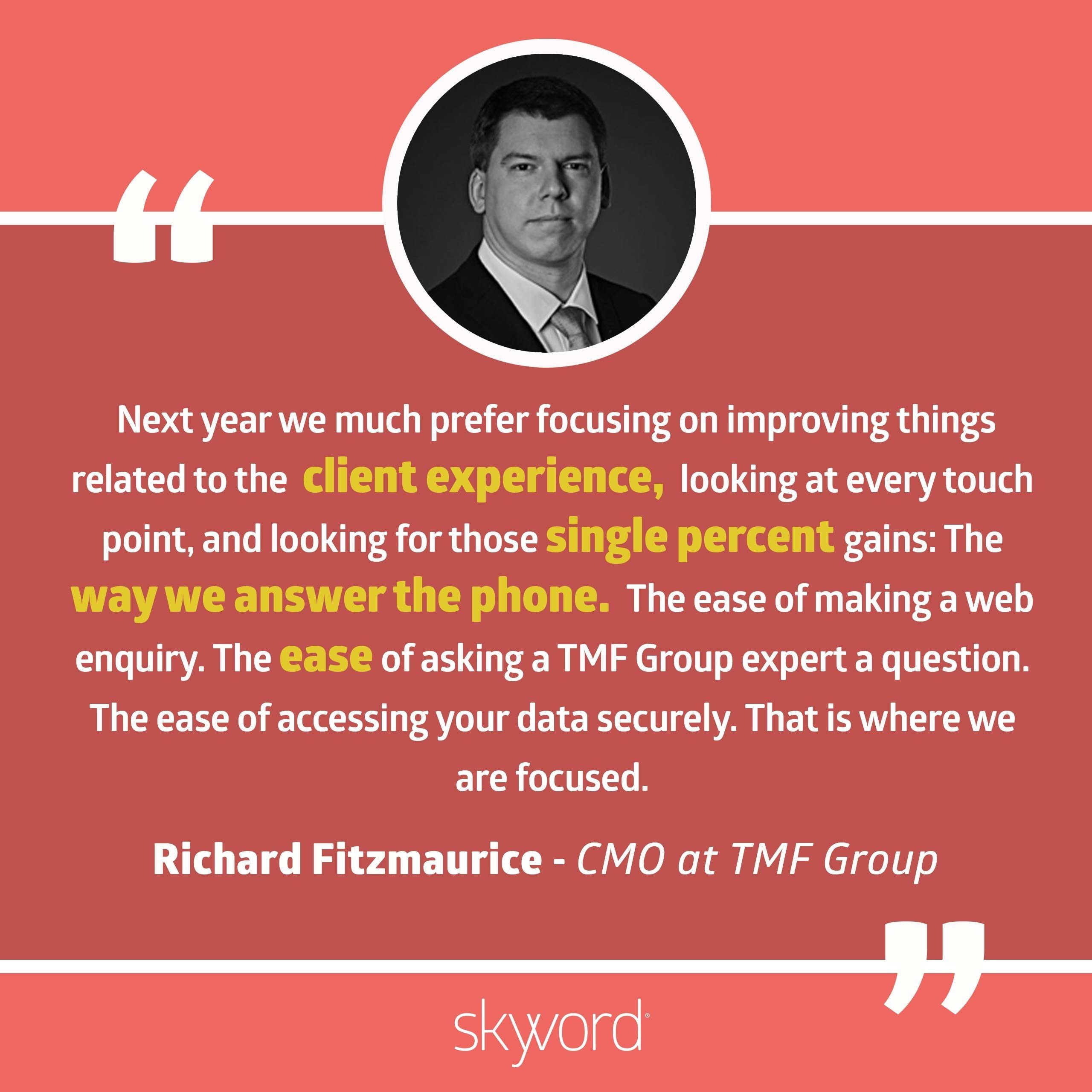 Client-centricity is key here, too, and TMF Group focused on becoming "genuinely" client-centric this year. "It's quite normal for a company to say they have that intention and very different for it to become a reality," says Fitzmaurice. "This year we have built a community of client advocates called 'The Square' where we foster relationships on a 1:2:1 level, ensuring it is mutually beneficial. We help them network with peers, find answers to their difficult work questions, and access thought leadership and exclusive events. In return, they help shape our strategies, product road maps, content, and bid strategies."
They've also launched a company-wide client executive sponsor program to ensure all leaders across the business are in "constant dialogue with our clients, not to sell but to simply understand," says Fitzmaurice. It's something their clients have jumped into with enthusiasm, helping foster better relationships across the board.
So with a tough but successful year behind them, what will 2019 hold for this accounting and legal services firm?
"From a technology point, we are very keen to avoid jumping on distracting bandwagons, so augmented reality, virtual reality, and blockchain are a big no-no," says Fitzmaurice. "Next year we much prefer focusing on improving things related to the client experience, looking at every touch point, and looking for those single percent gains: The way we answer the phone. The ease of making a web enquiry. The ease of asking a TMF Group expert a question. The ease of accessing your data securely. That is where we are focused.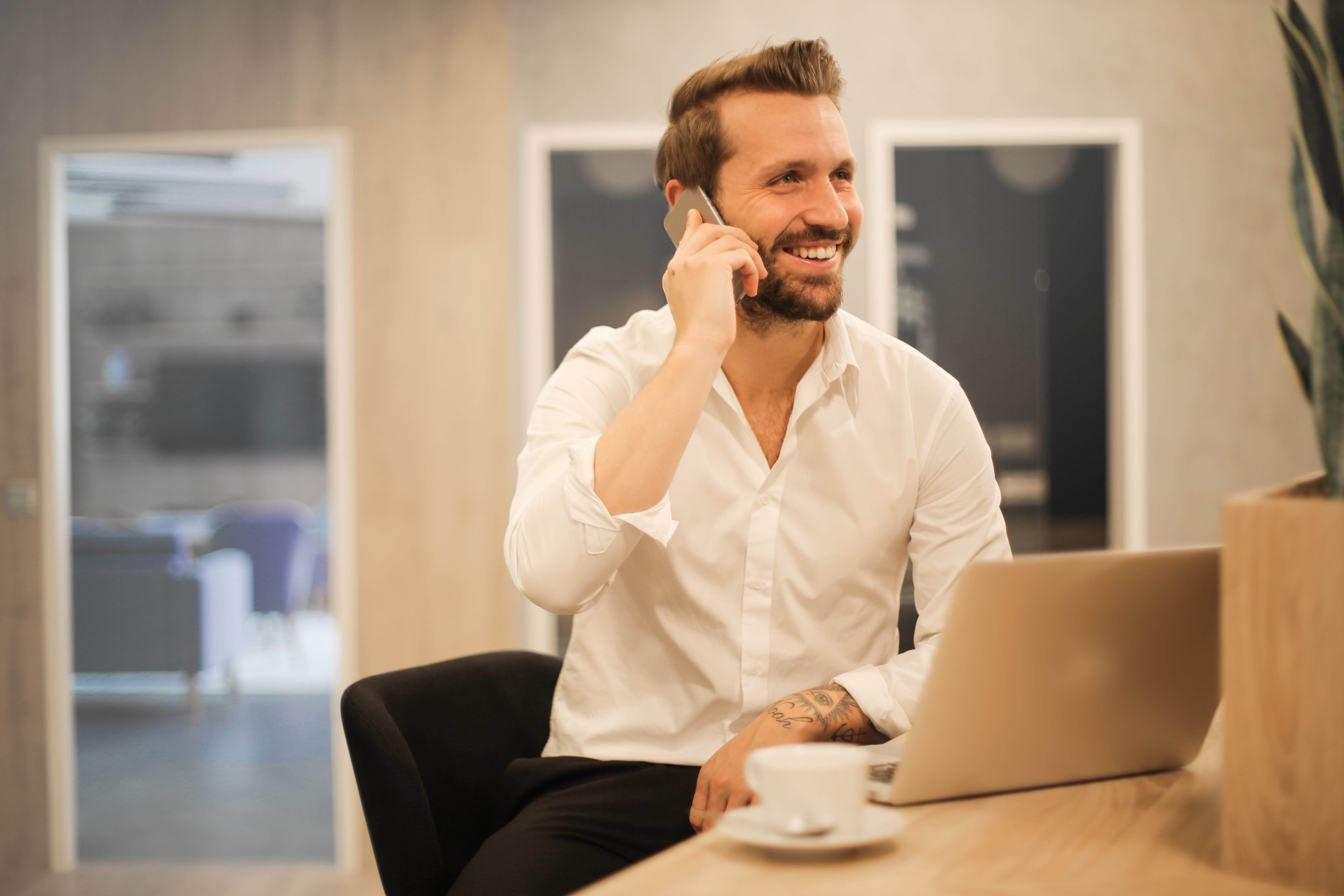 Image attribution: Bruce Mars
"Next year, we will not produce a 12-month marketing plan. We will focus on marketing sprints fully aligned with sales and service lines. It will require very strong organizational discipline and true collaboration.
"Our focus is not on one big shiny new thing; it is about improving what we do and how we do it," he continues. "Refining our processes and resourcing plans to be able to more flexibly react to opportunities in the marketplace is where we will see the biggest gains."
Technology: Catherine Dutton, VP of Marketing at Atos
You'd expect a company that describes itself as a "global leader in digital transformation" to have the marketing technology thing down pat, and Catherine Dutton, VP of marketing at Atos, spent much of this year bolstering the skills and experience in her team to tackle the new era of martech. A recruitment drive early in the year saw individuals with both data analytics and client-facing experience join the team.
"Our focus is to drive business growth for our organization through being client-centric and pioneers in our field," says Dutton, a former B2B Marketing "Marketer of the Year" and marketing columnist.
"One of the successes that we have had this year is our cyber trust campaign that was created to drive new conversations with our clients and prospects in relation to cybersecurity. We ran primary research at the back end of last year across 3,000 consumers (our clients' customers) in relation to their attitudes towards organizations who might have failed to protect their data. The multi-channel campaign has focused on relaying these messages back to our clients and prospects, with recommendations of how they can win and retain the trust of their customers."
Dutton says the campaign was successful not just because of the new client conversations it sparked, but because of the creative impact within the team. It saw them delve into podcasts, and they adopted SoundCloud as a new marketing channel.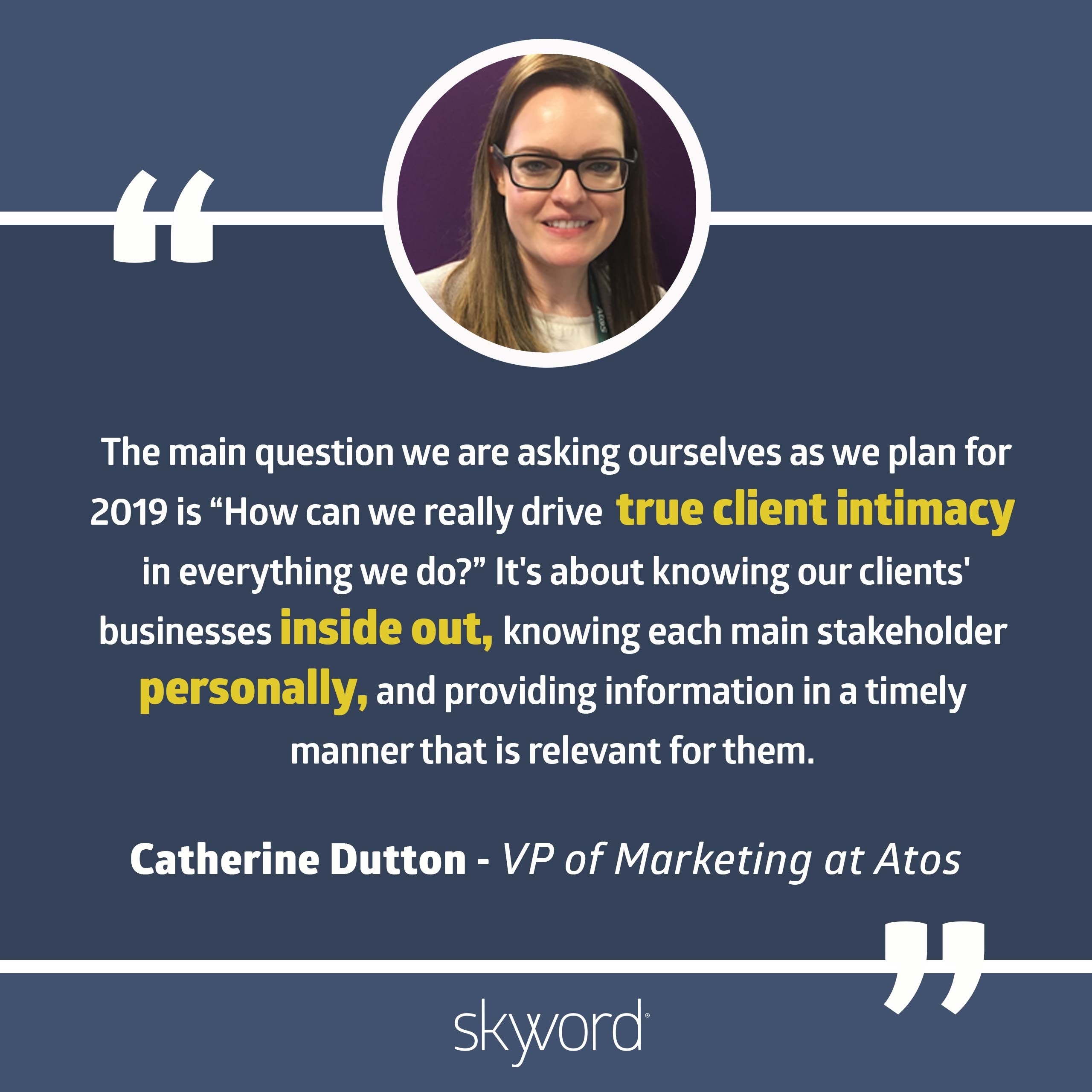 For the coming year, Dutton intends to continue that creativity while driving "true client intimacy."
Says Dutton: "The main question we are asking ourselves as we plan for 2019 is, 'How can we really drive true client intimacy in everything we do?' We have invested in a client insight function, new talent, and are progressing with our marketing automation journey. But it's about knowing our clients' businesses inside out, knowing each main stakeholder personally, and providing information in a timely manner that is relevant for them.
"Being in a digital era, the technology and tools are there to support this process, but the value comes from truly understanding that individual, how they like to consume information, and what they are most interested in at that point in time. Intelligent thinking amongst our team and wider business is what's going to make the difference here," she says.
To support her team in this journey, Dutton has started to look into including automation and artificial intelligence in some of the company's processes and practices. It's a way to reduce more admin-related tasks, gain initial analysis from data, and predict trends. Dutton is also using AI to free up the team to focus on her marketing objectives: "It will allow our marketers to have more time to spend thinking, be with clients, and be creative."
2019 Marketing Objectives
While these marketing leaders are all from very different walks of life, clear themes emerge as they speak about their strategy for the coming year.
Earning trust through innovation
As AI and marketing automation continue to infiltrate marketing teams, marketers will have more time to dedicate to mapping out their larger vision and strategy. Teams will also be under more pressure to gain customer attention, and therefore must use these new technologies in ways that allow for creative solutions that satisfy customer curiosity.
Creating content and social experiences
As marketers have greater access to audience insights through social media, the ability to create highly relevant, even personalized, imaginative content experiences will be essential for brands to earn a place in their customer's lives.
Executing a client-centric strategy
Every CMO we spoke to has the end user in mind. Whether that's a beauty consumer, a managing director, or a security consultant, 2019 marketing trends will focus on the customer-what they need, and how brands can earn their loyalty.
Driving customer intimacy through personalized data
The last few years have seen marketing teams adopt data collection and validation as part of routine work. Now it's about using that data to the fullest. How can data drive personalization and bring marketers closer to their customers?
For more stories like this, subscribe to the Content Standard newsletter.

Featured image attribution: Raw Pixel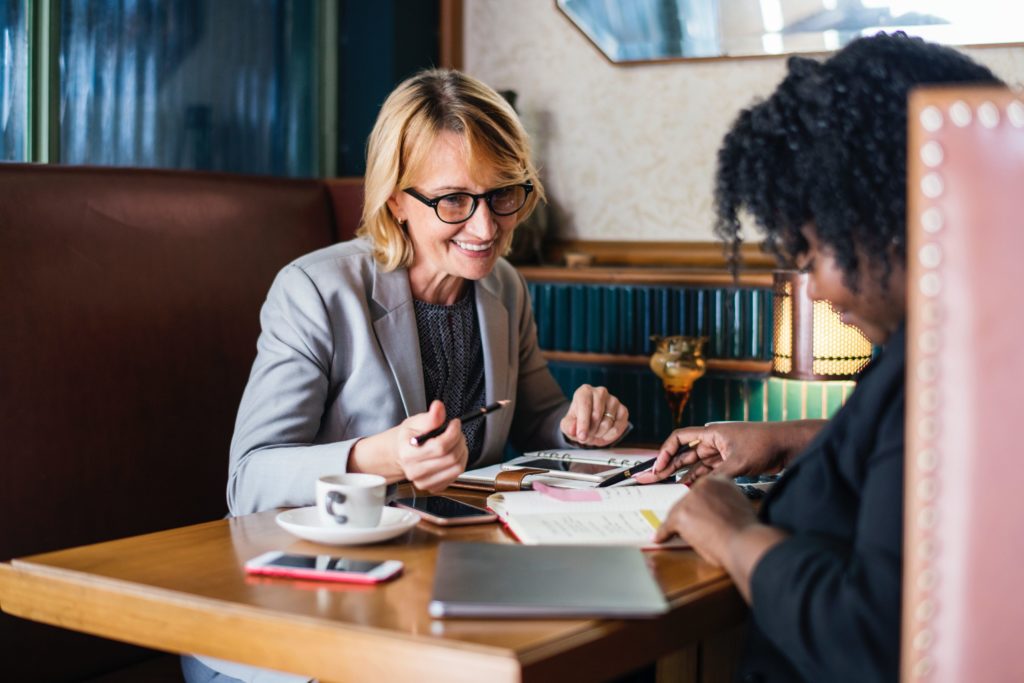 https://www.skyword.com/contentstandard/where-are-global-marketing-leaders-spending-their-budgets-in-2019/
https://www.skyword.com/contentstandard/where-are-global-marketing-leaders-spending-their-budgets-in-2019/
Lauren McMenemy