Creative Thinking
Why Good Old-Fashioned Physical Marketing Can Still Be Incredibly Creative
By Nicola Brown on January 3, 2018
As marketers and creatives, we operate in a world that looks very different from just a few decades ago, before the proliferation of digital media. Today we have the Internet, multimedia technology, and the emergence of interactive platforms like virtual reality in our arsenal of marketing tools. But have these tools made our work more creative? Are multimedia, multiplatform marketing efforts better than good old print?
Constraints Can Lead to Creative Marketing Ideas
Tim Nudd writing for Adweek says: "In the age of AI, VR, long-form film and mobile wizardry, print advertising doesn't get much respect anymore. Still, it remains a medium like no other-one that most purely distills the expression of an idea down to the writing and art direction, and one whose seeming limitations can make breakthrough executions feel that much more unexpected and delightful."
These limitations and breakthroughs Nudd talks about in relation to creativity have actually been studied scientifically. Psychological research tends to suggest that constraints make us more creative. Ironically, the more creative tools we have at our disposal, the less creative we tend to be with them.
In a recent experiment, researchers the University of Illinois and Johns Hopkins University found that those who were primed to think about a problem from a scarcity-of-resources mindset came up with more creative solutions than those in the abundance-of-resources mindset. They concluded that when people have an abundance of resources, they have no incentive to use what's available to them in novel ways.
So the "limitations" of the print medium in a digital age may actually be a driver of creative success. From newspaper ads, direct mail, and billboards to shareable photo opportunities, some of the past year's most memorable campaigns revealed that the most out-of-the-box creative thinking often comes from grappling with the constraints of a singular, traditional format.
Here are some creative physical marketing campaigns that show the kind of genius that can be born from a back-to-basics approach.
Snowbird Ski Resort
This ski resort in Utah brought the online world offline in a brilliant print magazine ad. The ad juxtaposes stunning photography of the resort with one-star reviews from people complaining about features of the resort that would actually be appealing to their target audience. "Too advanced," says Greg from Los Angeles, "I've heard Snowbird is a tough mountain, but this is ridiculous. It felt like every trail was a steep chute or littered with tree wells. How is anyone supposed to ride in that? Not fun!"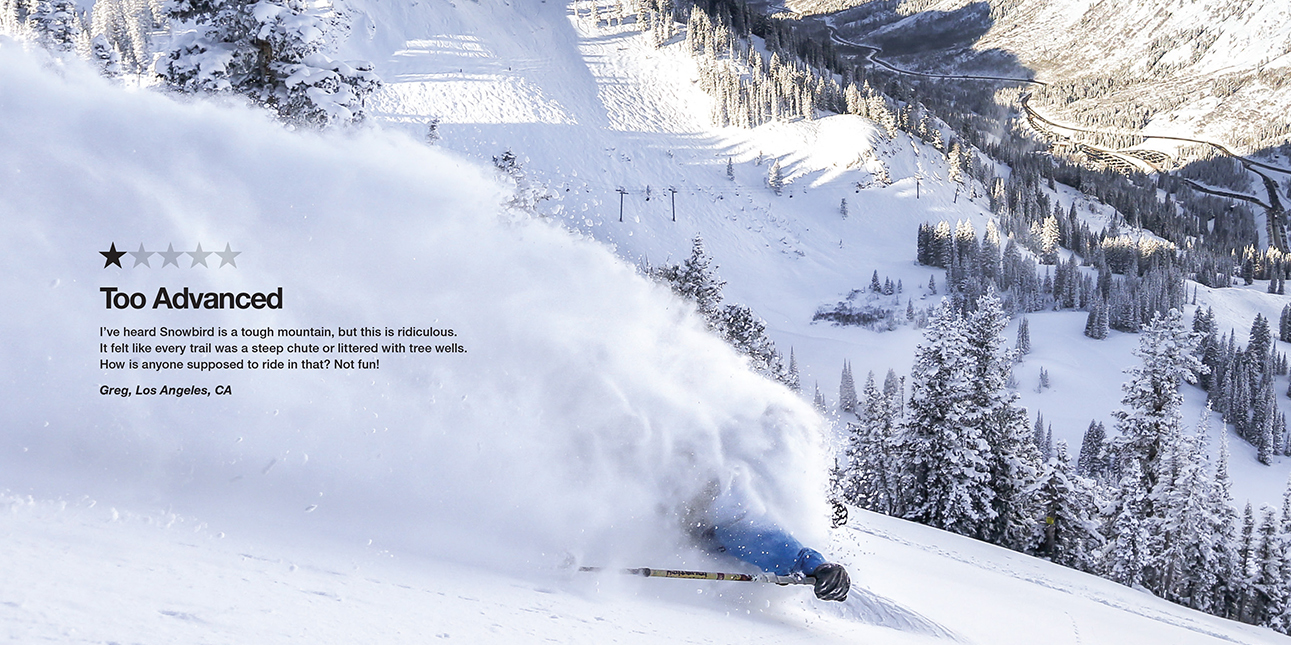 Not only does the resort use bad reviews to highlight its unique features but it brings the online review into print in a simple yet visually striking way. It's an unexpected platform shift, a humorous bit of reverse psychology, and an immediate attention grabber.
Eir Telecom
Perhaps the most impressive example of thinking outside the box comes from Irish telecom company Eir, who replaced every black dot in an entire newspaper with colored dots. Imagine all the i and j letters, periods, colons and semi-colons with colorful dots instead. Yes, that's throughout the entire newspaper.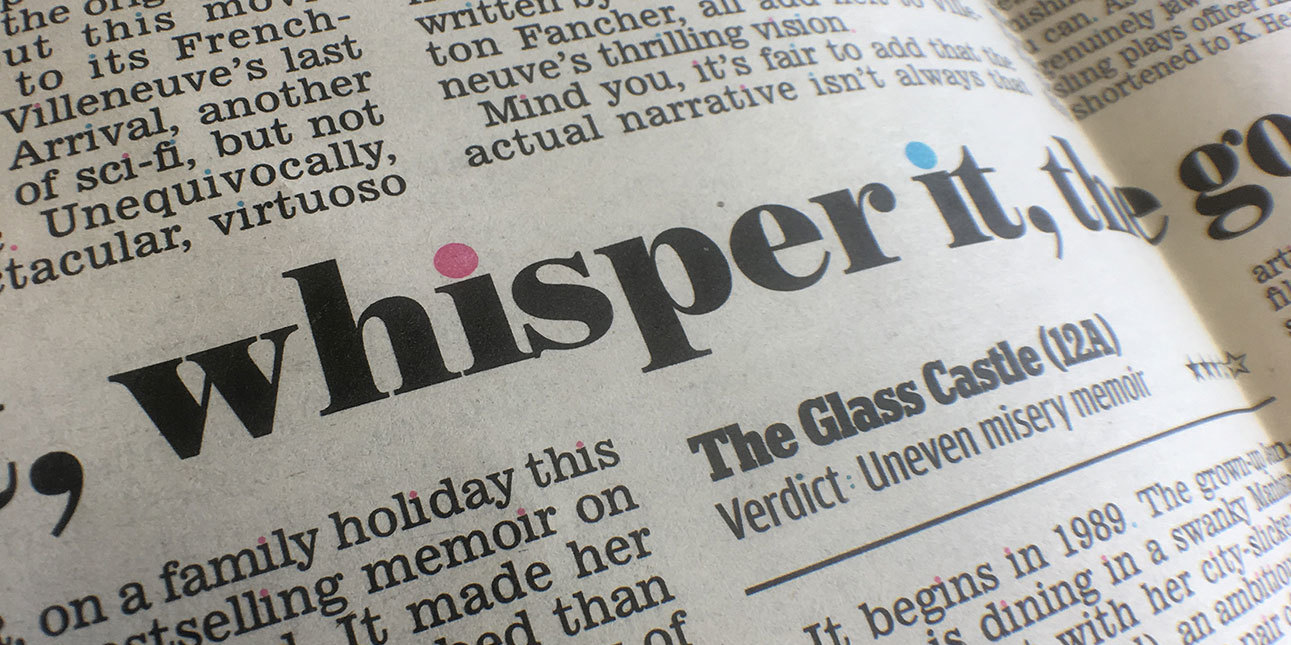 The full-page ad in the back of the newspaper provided the explanation: "At eir, we don't like black spots. Which is why we've gotten rid of them in this magazine. And we can get rid of them in your home and office too with WiFi Calling, exclusive from eir. Just enable Wifi Calling on your mobile phone and you will be automatically connected to any WiFi network, so you can still make mobile calls whenever you have weak signal."
Eir changes the way we think about print as a singular, flat medium by bringing it to life in a page-turning way.
Delta Airlines
Who says only digital can be interactive? On a wall in Brooklyn, Delta partnered with Tinder to create The Dating Wall with photos of iconic destinations around the world that people could take selfies with for their dating profiles. The accompanying text read: "World travelers are more likely to be swiped right."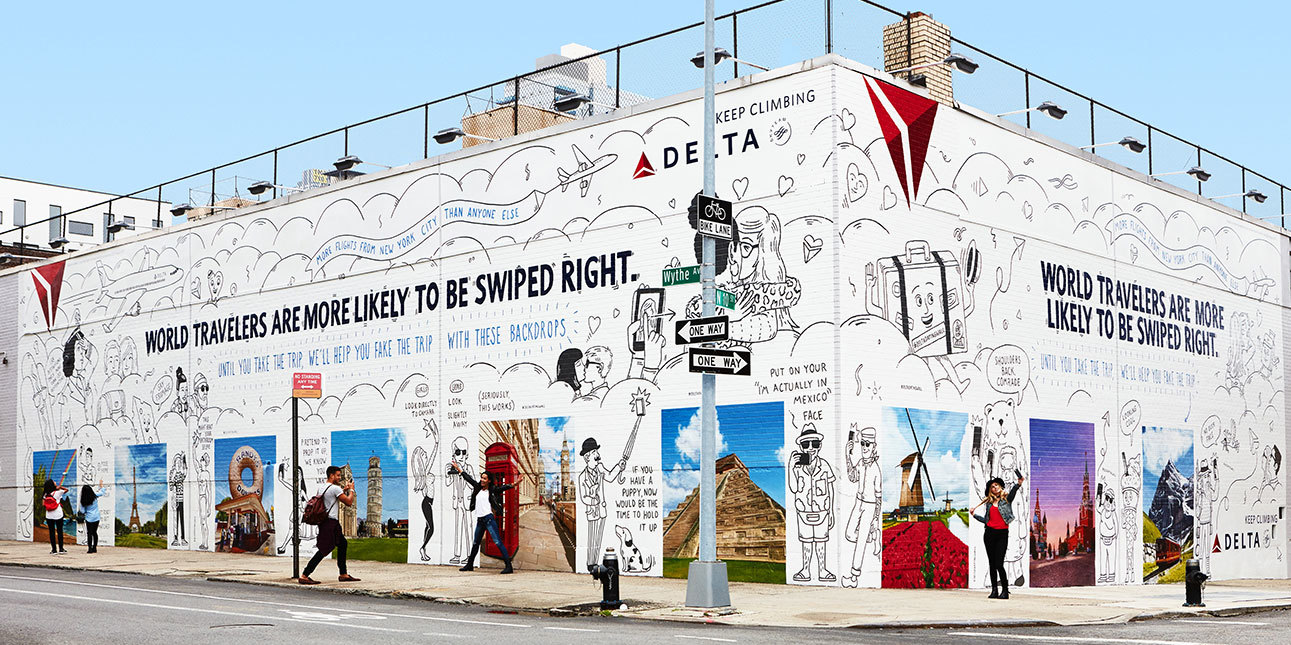 In addition to making a (real-world) wall interactive, Delta managed to get people to spread the word of their ad for them. They proved that even with a single billboard-style execution, the power of a creative idea can reach wider online audiences by itself.
So next time you're strategizing for what you're hoping will be your best creative marketing ideas yet, don't forget about the power of physical marketing. Try not to think about all the different forms of media available to you. Simplify your creative canvas first; you can always extend your ideas later. Your best work may simply be waiting for a paucity of resources to break through.
For more insights into the psychology of creativity and marketing strategy, subscribe to the Content Standard newsletter.
Featured image attribution: NorWood Themes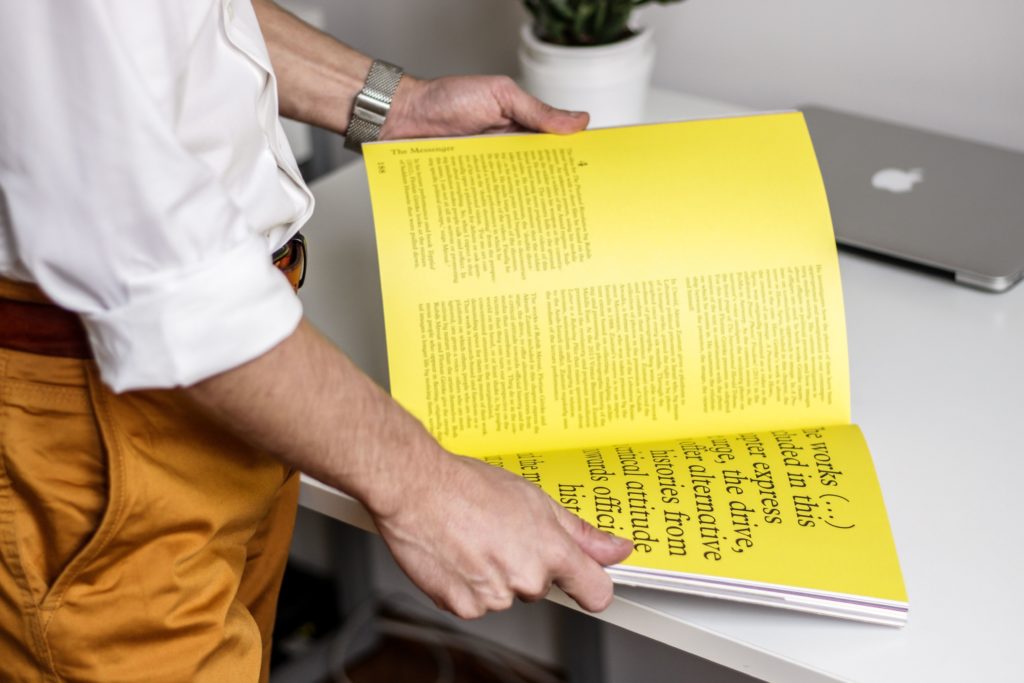 https://www.skyword.com/contentstandard/why-good-old-fashioned-physical-marketing-can-still-be-incredibly-creative/
https://www.skyword.com/contentstandard/why-good-old-fashioned-physical-marketing-can-still-be-incredibly-creative/
Nicola Brown