Content Strategy
4 Forces Transforming Content Creation: Skyword CEO Talks Content (R)evolution at CMW 2020
By Taylor Holland on November 6, 2020
Did you know that new parents only get four hours of sleep most nights? Andrew Wheeler says the same is probably true for new CEOs and marketing leaders tasked with content creation during a public health emergency. It can be difficult to pin down what's keeping him up at night: he became a father and CEO of a content marketing firm at about the same time, in the middle of a global pandemic. So, what is Skyword's new chief executive pondering during his sleepless nights? What all new parents and business leaders are thinking about right now—the future, and how COVID-19 is reshaping it all.
"As I see it, there are four big-picture trends that are changing the future of marketing, each of which have been accelerated during COVID," Wheeler told virtual audiences at Content Marketing World 2020 (CMW). "Together, these macro-forces are beckoning us into a time when content is easily monetizable, when talent is everywhere, where loyalty matters, and where trust and trust creators can power your business . . . But are we prepared to seize the moment? Our research at Skyword shows, no, not really."
What are these four content creation trends? What's preventing brands from capitalizing on new opportunities, and what are forward-thinking brands doing differently as they lead the way into the future of content marketing?
Wheeler answered all these questions during his CMW presentation—Content (R)evolution: Four Forces Transforming Content Creation. Here's a recap if you missed it.
4 Content Trends That Will Change the Future of Marketing
Content marketing has evolved over the past 20 years. What started as product-centric blogging and mass digital email campaigns now encompasses dozens of content types, innovative brand storytelling, and personalized social media marketing across an ever-expanding list of channels.
Today, four major shifts are powering a new content (r)evolution:
1. Content Is Now a Utility, Not a Commodity
How many streaming services does your family use for entertainment? How many online publications do you subscribe to for work? If it's content you really want, you don't think twice about paying for it these days. Neither will your customers.
"We don't consume content at random anymore," Wheeler explained. "We pay for it; we subscribe to it; we seek it out, and the channels available to us are exploding faster than social networks did in the early 2000s. Now we have Hulu, Disney+, Apple TV, Fubo, Quibi—I mean, just about anything with a plus behind it, or a made-up word with two consonants and two vowels, is the new bespoke content subscription service."
The takeaway for marketers: content is more monetizable than ever before, but the bar for quality is also much higher.
2. Talent Is Now Available on Demand
Uber and Postmates aren't the only companies fueling the gig economy. The rise of marketplaces has created a vast pool of passionate, experienced freelancers, and the fastest-growing vertical is content creation.
Just over the past year, the population of creative freelancers—writers, designers, videographers—has grown by 20 percent, according to Fiverr's latest Freelancer Economy Impact Report. And those freelancers' revenues increased 25 percent in the same period.
"This has massively increased our access to creative professionals and experts across disciplines," said Wheeler. "It's also given us structure to that access. We can hire, pay, and communicate with freelancers almost as easily as I can go on an app and order a pepperoni pizza.
"With all this creative potential at our fingertips, we're now challenged to become more adept at using all the talent. From expanding our thinking about these types of skills, we need to think about how we can give these creatives a seat at the table that is both equitable and beyond the scope of traditional full-time employment thinking."
3. Vast Is the Past
In the beginning, the internet made the world feel bigger by enabling global communication, but over time, it has become more segmented, personalized, and niche. Wheeler thinks Greg Isenberg put it best: "As the internet is becoming increasingly bespoke, we crave smaller, more thoughtful communities."
For example, as a new parent, Wheeler has entered a niche audience segment—busy parents searching for convenient baby products—and the ads that appear on his Instagram account prove that marketing algorithms have noticed. Sometimes the right ad pops up at the right time, offering a convenient solution to a relevant parenting challenge, and those brands may convert a new customer on the spot.
Whatever your niche, specificity can translate to big business. Take, for example, the breakout success of Discord, a chat app for gamers that came out in 2015 as a communication platform for League of Legends players. Today, it's worth $4 billion.
"Brands like Discord are about loyalty," Wheeler explained. "They're able to bank on the loyalty of their customer base and in our field, it's our challenge to think more vertically to identify the niche communities we should go after and then tune our content to their unique needs. Ask yourself: do you really offer something to everyone? Or do you offer something very specific to a really specific group?"
4. Trust Is Driving Demand
Today, nearly two-thirds of consumers are what Edelman describes as belief-driven buyers—people who buy, switch, boycott, and/or advocate for brands based on trust and a sense of shared values.
"When Edelman surveyed consumers to break down the drivers of brand trust, they found that earning trust goes hand in hand with sharing your message through trustworthy people," Wheeler said.
When it comes to trustworthy brand spokespeople, consumers are most likely to believe the word of industry experts (60 percent), people like them (59 percent), and brand technical experts (49 percent). They're least likely to trust celebrity endorsements (30 percent), social media influencers (34 percent), and brand CEOs (40 percent).
"Their research reinforces a trend that we at Skyword have seen emerging in the market—industry experts and peers (people like our customers) are far more effective spokespeople for our brands than CEOs, influencers, and celebrities. This really calls for us to rethink who we look at for content creators."
It also calls for brands to re-evaluate their content marketing strategies and processes so they can provide expert insights and content that niche audiences will loyally consume.
6 Bad Habits Content Marketers Need to Break
To recap, there are four forces reshaping content creation—content as a utility, on-demand talent, the rise of niche marketing, and the increasing importance of trust. But is your brand ready to take advantage of these shifts? Probably not yet.
Skyword surveyed more than 200 marketing leaders in March for the 2020 Content Marketing Trends Report and discovered six common barriers to future success:
Bad Habit #1: Practicing the Marketing Equivalent of Tinder
Most marketers focus all their content creation energy on making connections but fall short of building actual relationships. Skyword's data shows a 28 percent plummet in the effective use of content between the engagement and conversion stages.
"As we looked at how marketers rank their content effectiveness across all the stages of the audience journey, our research shows the vast majority of us lose our grip on success as we approach the Conversion and Retention stages," Wheeler said. "And it's hurting our relationships with customers."
Bad Habit #2: Short-Selling Customers
On average, brands use 4.7 different types of content during the Reach stage of the audience journey and 4.8 types during the Engagement stage. During the Conversion and Retention stages, they use 2.6 and 2.3 types respectively.
"Content effectiveness continues to decline once our prospects step over that threshold and actually become customers," said Wheeler. "And we're losing our grip—not because our content itself isn't efficient, but because we're short-selling customers . . . in the Conversion and Retention stages, even though as we all know customers' content and information needs definitely don't end when they decide to purchase our services or products. Now more than ever, we have to work to hold onto the audiences we already have."
Bad Habit #3: Ignoring Audiences' Needs
Brands build trust by putting their audiences' needs first, but most brands base content creation decisions on internal priorities. According to Skyword's research (graph below), the most common factors that influence content topics include:
Upcoming launches and campaigns: 80 percent

Brand messaging themes: 78 percent

Current events: 76 percent

Past performance: 71 percent

Internal requests: 66 percent

Audience data/market trends: 65 percent

SEO strategy: 54 percent

Third-party recommendations: 24 percent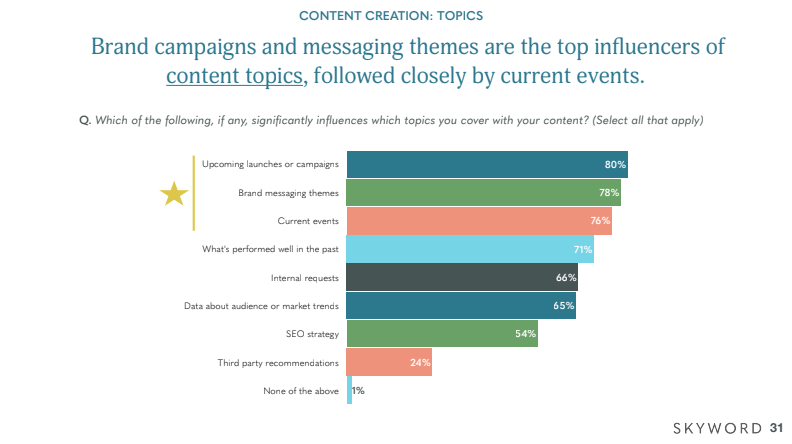 "When it comes to staying tuned in to the communities we're targeting, we're largely ignoring our audiences' needs," said Wheeler. "At the very least, these numbers indicate that most of us need to invert our priorities—fulfilling campaign obligations to fulfilling timely customer needs."
Bad Habit #4: Letting Process Limit Progress
Successful brands stay flexible and adaptable so they can quickly respond to market and business shifts. Yet, while 71 percent of marketers regularly adapt their content to meet changing audience needs, most still struggle to be nimble and timely because of process roadblocks such as scoping and budgeting, approving content, production tracking, topic selection, and internal communication.
As Wheeler put it, "In many cases, a commitment to broken processes is limiting the potential to capitalize on the opportunities."
Bad Habit #5: Leading with Features Rather Than Expertise
Almost all brands require content creators to understand their industry (90 percent) and products (87 percent). Far fewer require expert insights (59 percent) or firsthand experience (34 percent).
"Remember when I mentioned earlier that our customers trust the voices of experts and peers over traditional spokespeople?" Wheeler asked. "By not requiring unique topic expertise from our content creators, we're reinforcing a feature-centric mindset."
Bad Habit #6: Trying to Do It All Alone
More than two-thirds (65 percent) of brands rely on an in-house content team, which limits the expertise and experience in their talent pools.
"If you're a firm specializing in impact investing, for instance, you might need experts in green energy, in faith-based investing, in social inclusion, and human rights issues," Wheeler explained. "Where do you start when you have a finite number of internal content creators to tap into? We can't continue to do it all ourselves."
So, how can your brand break these bad habits and get the support your marketing team needs?
5 (and a Half) Content Creation Do's
As you prepare for the future of content marketing, look for inspiration in brands that have already found success:
1. Own Your Niche
Tom's isn't trying to convince the world to ditch their favorite toothpaste brands for a natural product. Instead, they target eco-conscious people who most likely already believe in the value of natural toothpaste. But Tom's didn't stop at defining a niche market; the brand also refined its message for that market.
"Tom's asked, what else does this audience value, and what characterizes their culture, and which of these values do we share with them? The answer was green living," Wheeler explained. "Then they broke down green living into even smaller categories to give their content focus and plant a flag in the ground around the community. A fourth focus—specifically on natural products—gave them the opportunity to more directly and thoughtfully tie their content back to their own product pages. On the whole, they've carved out a trusted resource on green living and created room to share their products on their pages in a meaningful way."
1 (and a half). Your Customers Are Your Niche
Remember that your customers are your niche—don't forget to serve them. Otherwise, they'll get their content somewhere else.
"Customer loyalty and retention are critical always, but especially now with COVID," Wheeler explained. "Media publishers like Harvard Business Review have built a successful business on packaging and curating content to compel subscribers to remain subscribed. Take a note from them and start treating content as a part of your value proposition, as a product itself, something that rewards your customers for being customers."
For example, Wheeler suggested offering exclusive customer-only content, such as providing an insider newsletter that keeps your clients aware of industry trends or building an online university by organizing your educational content into a curriculum.
"Whatever it is, you should be using content to make sure that when it comes time to renew, your customers ask, 'What have you done for me lately?' and the answer is a lot."
2. Impact Life Moments, Not Buying Stages
One way to make sure you're putting your audience first is to use your topic niche as a lens through which to view their journey. Then it's much easier to identify specific micro-moments (or search opportunities) that you can target with content.
Consider the example of Hill's, a pet nutrition company, who mapped out the audience journey for their target audience, pet parents, and then identified moments—from the first time someone considers adoption until they're caring for elderly pets—that triggered online content searches.
"Hills has perfected a search-first strategy that involves pinpointing the searches that take place at each of these moments and reverse-engineering the intent behind these searches so they can develop high-quality content that's targeted to each of those queries," Wheeler said. "They now average 1 million organic page views per month. They're ranked for over 1,700 keywords and they own over 3,000 featured snippets. That's the power of marrying search with the art of content creation."
3. Sustain, Don't Just Campaign
Marketing budgets took a nosedive when the pandemic began, but brands put more of the money they had left into search. In fact, 63 percent immediately increased their SEO investments when COVID hit, according to Conductor.
"Media investments are fleeting, but content and SEO deliver immediate returns that continue to compound interest over time," Wheeler explained. "It's a given, even in a pandemic, our customers are going to keep searching online for content that helps them make decisions. When your content is discoverable and meets needs, it's going to continue to attract eyeballs and drive traffic to your site long after it's published."
In fact, Skyword's data shows that after one year of consistently publishing content, both B2B and B2C brands typically triple their traffic. "Amassing a swell of visitors organically gives you a major leg up over competition who are dependent on ad campaigns and media buy to sustain traffic."
4. Invest in Craftsmanship
Quality content is rarely, if ever, a solo project. That's why Wheeler believes content programs need creators and craftspeople—producers, editors, and creative directors work with creators to make their content the best it can be. He used this Abbott infographic as an example:

"To create the Abbot infographic [above], an editor honed the message to make it pop," Wheeler explained. "A digital producer created a creative brief to ensure the design was on brand and worked with a designer to realize the final vision for the copy. Now it's an asset that Abbot can proudly use across campaigns."
5. Hire Trust Creators, Not Just Content Creators
Trust creators don't just create content; they create meaningful content that brings a unique and credible point of view and inspires your audience to trust you.
Skyword regularly hires three types of trust creators:
Topic specialists: Journalists, former professionals, and/or industry consultants who know what everyone in an industry is talking about. They're on the pulse of what's new and interesting enough that audiences will want to share it—and, vice versa, what's been covered ad nauseum.

Practitioners: Active professionals with firsthand knowledge of the fields they cover. They're both industry experts and audience peers.

Internal subject matter experts: Brand employees or execs who are experts on your industry, market or product. They can share valuable insights with audiences while also representing the expertise housed within your brand.
"Trust these content creators when you need to stand out from the sea of surface-level content [especially in] technical or highly regulated industries where the standards for credibility are higher and the consumers are usually much more knowledgeable," Wheeler said. "The good news is that now, thanks to the explosion of freelancing, there's an abundance of these content creators out there waiting for you."
Look for talented people who already understand the industry you serve. Help them understand your niche and the micro-moments in customers' lives that you want to impact, and pair them with craftspeople who can help hone the content and optimize it for search. Then you'll be prepared for the future of content creation—a future where "content is a utility that customers value and will loyally consume, a house of creative talent is available on demand for you to tap into, breakthrough brands are aligning themselves with niche products and communities rather than the vast demographic groups, and customers are loyal to the brands who have earned their trust."
For more stories like this, subscribe to the Content Standard newsletter.
(Featured image attribution: Adrian Trinkhaus on Unsplash.)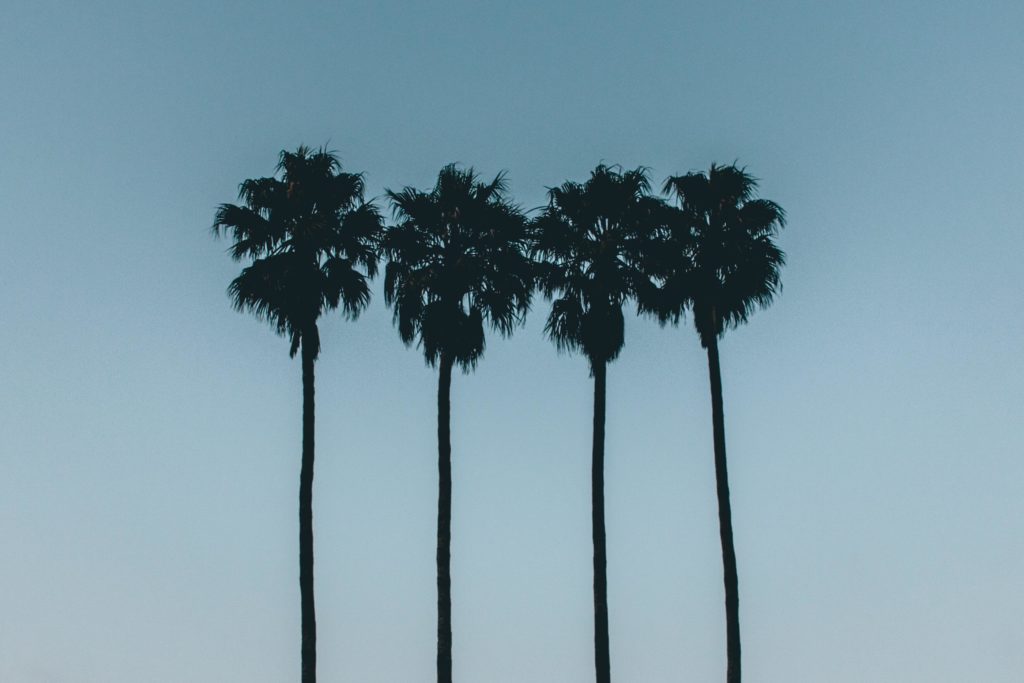 https://www.skyword.com/contentstandard/4-forces-transforming-content-creation-skyword-ceo-talks-content-revolution-at-cmw-2020/
https://www.skyword.com/contentstandard/4-forces-transforming-content-creation-skyword-ceo-talks-content-revolution-at-cmw-2020/
Taylor Holland