For Google News
5 Brands with Highly Successful Facebook Marketing Strategies
By Steph Ferrell on October 25, 2016
At this point, everyone and their mother (or, in my case, father) has a Facebook. The social media phenomenon has infiltrated our culture over the past decade, becoming a vital part of our daily routines. Sixty-six percent of Facebook users log in every single day to their accounts, and 48 percent of users log in first thing in the morning. Yes, that means Facebook comes before coffee.
Because of its prominence in our daily lives, it might be easy to think you know Facebook-and Facebook marketing by extension. You might go so far as to consider yourself proficient because of your end-user familiarity with it. (Sound familiar, Excel users?)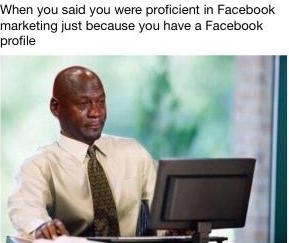 And while there is quite obviously more to Facebook marketing than having a personal Facebook, your own account is actually a great place to start. Why? Because with a basic user account, you're able to see how other brands are presenting themselves to their audiences.
So, if you're anything like the Michael Jordan meme up there (one of my favorites), sweating about the Facebook marketing initiatives your boss is expecting you to bring to successful completion, let's take a breather. Log into your personal Facebook-you can tell your boss it's for work-and look at those around you. No, not the oversharer from your high school. (By the way, when did he graduate with what must be a PhD in political science?) Yeah, let's move past those posts and get to the good stuff: the top 5 brands that are marketing on Facebook.
1. The Queen: Starbucks
Starbucks is known to be one of the best brands on social media. As Skyword's Lauren DiZazzo put it: Starbucks is "the Beyoncé of branded Instagram handles." Considering the platforms' similarities in their emphasis on visual marketing and captivating imagery (after all, Facebook did acquire Instagram for a reason), it's no surprise that Starbucks is a major player on Facebook as well. Starbucks' strength on Facebook is in its focus (which is not a sole focus, but a major one), on that visual appeal it know its audience loves.
Many of Starbucks' posts are photos that celebrate the season and its own products in a charming manner: you'll notice that there are no links or coupons included in the post below-just the coziness of its product.
This rings true in other photos Starbucks posts on its wall:
On Facebook specifically, however, Starbucks takes advantage of the popularity of video content (despite the recent controversy). Starbucks uses video teasers to drive users to various blog destinations like its Upstanders campaign and 1219 Pike blog.
With the exception of paid ad initiatives, Instagram makes it somewhat difficult to drive traffic to links. Facebook is a smart way to fill this linking strategy gap. In the Upstanders promotion above, Starbucks is able to post a three-minute video with a link to more content (a format that is not native on Instagram).
Starbucks also strategically paired social posts together in the below promotion of a 1912 Pike blog post. On Instagram, the brand offers a simple photo and description that is well-suited for the almost purely visually-oriented platform. However, it again fills the linking and content gap via Facebook by providing a teaser video, lengthier caption, and link to its blog.
The queen reigns on!
2. Tale As Old (but New, Too!) As Time: Disney
Ah, beloved Disney. Both young and old can relate to the warm feeling associated with the blue-castle opening of a Disney movie. Disney is classic in this way; it's a timeless brand on many levels. That said, the brand has proven itself to be impressively adaptable to the changing times.
For example, Disney remains plugged into its younger audience, tying its Facebook initiatives to its Snapchat marketing. The latter of the posts below not only promotes Disney's Snapchat, but drives fans to the Oh My Disney blog as well.
Disney additionally takes advantage of video content on the Facebook platform, hosting its content in featured, playlist, and general formats:
The above video went viral after it was posted by Disney on October 6th. In just 2 weeks, the video gained 10 million views and over 225,000 shares. Seems like a pretty good article to feature on its video page, huh? The rest of the brand's video content is organized sensibly, offering great navigational and viewing experiences for users.
No surprise there, as Disney tends to be pretty good at the whole video thing.
3. Refreshing Video Content: Coca-Cola
In terms of number of page Likes, Coca-Cola ranks as one of the top brand pages on Facebook. With 99 million Likes, it trails behind only a few others-Facebook being one, with 127 million Likes (slightly unfair advantage, though). Coca-Cola particularly capitalizes on the popularity of video content on Facebook, whether it be through short 5-20 second clips or longer 1–2 minute videos.
Coca-Cola is also extremely active in engaging with its fans. The brand responds to almost every comment left on its page, both good and bad: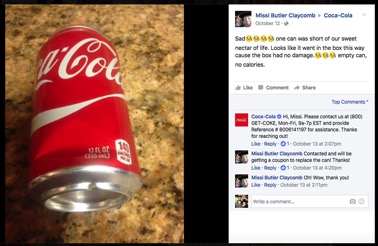 Along the same vein of providing impressive customer service, Coca-Cola has activated messenger with a Message Now button linked in its About page. While the brand doesn't have smart bots responding to messages, the option for users to reach out via messenger shows a level of Facebook engagement not all brands have committed to. When I reached out to the brand via messenger, it responded with a relevant, personal message within an hour.
4. Intel
As shown by Coca-Cola above, community management is an important component of marketing on Facebook and brand image. Social media platforms are typically the places many customers flock to in an effort to voice their complaints. This is because customers recognize how public and damaging a post of an empty soda can may be to a brand, making it the channel from which they can most likely expect to receive a response.
This can be really challenging for B2B brands. While Starbucks and Coca-Cola can perhaps offer coupon codes for their products to improve customer satisfaction, this is something that tech companies might naturally struggle with. Why? First, tech is a complicated industry. Troubleshooting a technical difficulty is a bit of a different animal than offering a discount on your customer's next latte. Can B2B companies be expected to have the same level of attentiveness and response?
Why not? Intel provides a great example of this. With a fan base of 25 million on Facebook, the brand pays careful attention to negative feedback in its comment section, answering posts that require notice and also reserving to the right to remove certain comments (specified in its About page):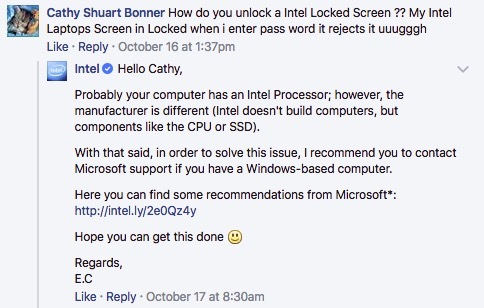 While we're on Intel's About Page, you'll notice that it's quite thorough (although perhaps needing a Milestones update) in terms of the information provided, mission, house rules, and important moments in the company's history.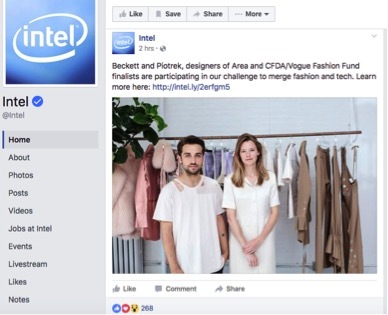 Intel leverages various features of its Facebook page through not only its About section but also through the Jobs at Intel section, which serves as a talent acquisition tool. This is no surprise, as many B2B brands are tapping into marketing resources for recruiting purposes.
The Events feature of a Facebook page is also something to note, as many companies use this tool to create, promote, and archive events for their audiences.
Intel's actual posts on Facebook provide linking opportunities to its blog, IQ. The brand posts one or two Facebook posts every day or so, establishing a cadence that is aligned with its blog but not overwhelming to its Facebook audience.
5. Benefit-ing from Facebook Live
Live streaming is the latest opportunity Facebook has thrown brands' way. And as audiences move more toward streaming and away from traditional forms of media, this is an exciting enhancement. Benefit, a subsidiary cosmetic brand of LVMH, is one such brand taking advantage of live streaming. Every Thursday, the brand hosts Tipsy Tricks on its Facebook page, much like a television series. Laura Vanderkam stated that "TV shows come on at certain times so people get in the habit of watching them. You can do the same with Facebook live."
Tipsy Tricks lasts anywhere from 15–30 minutes, depending on the type of engagement it generates. Many users tune in and leave comments (during and afterward) to be fielded by the Benefit hosts. Benefit has an extremely engaged community management team with this in mind, responding to any and all comments. Like Coca-Cola, it has its messaging app contact information posted for easy access.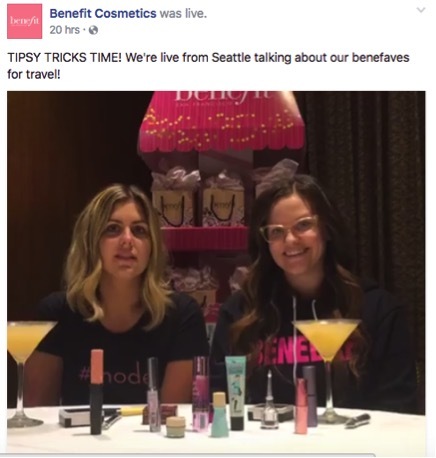 Benefit does a noteworthy job of connecting its most important social media platforms to its Facebook page, pulling in its Instagram, YouTube, and Pinterest feeds on the left rail of its page. With a Locations tab also located on the left rail, customers can easily find brick-and-mortar shops or they may choose to select the Shop Now button on Benefits' Facebook page to seamlessly access the online store.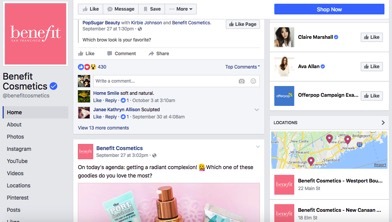 Have You Stopped Sweating Yet?
Next to Twitter, LinkedIn, Instagram, and Snapchat, Facebook is the grandfather of social media. With that age comes well designed tools that marketers have come to master over the years. With that in mind, these five brands are examples you can look to as you think about your own brand's Facebook strategy. With some practical training and the blogs forthcoming as this series continues to roll out, you might soon have the confidence to put "proficient in Facebook marketing" on that résumé.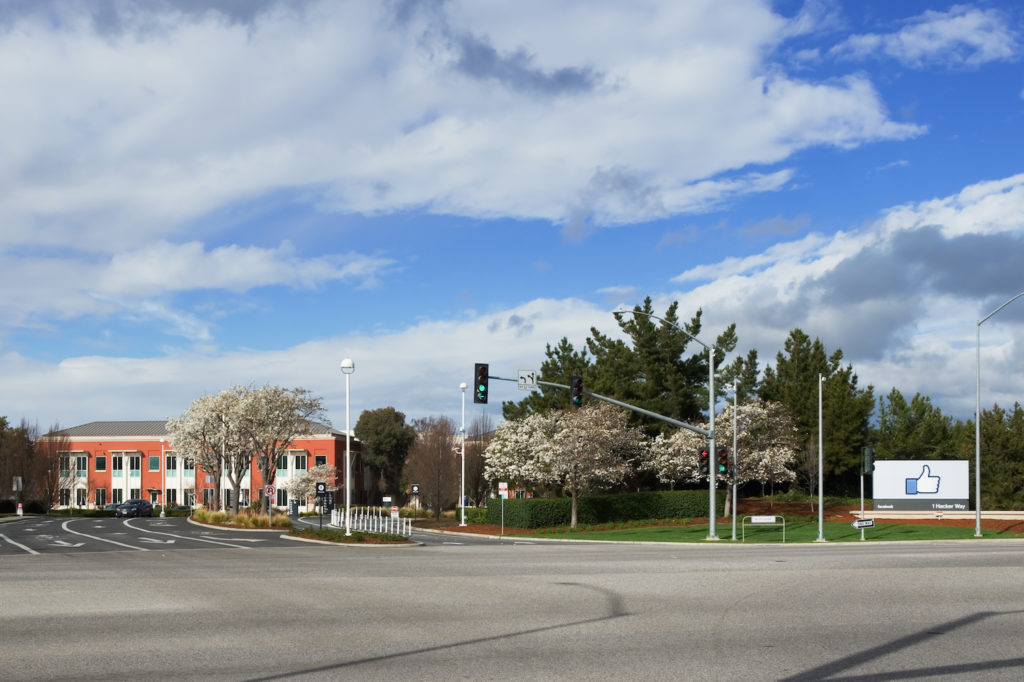 https://www.skyword.com/contentstandard/5-brands-with-highly-successful-facebook-marketing-strategies/
https://www.skyword.com/contentstandard/5-brands-with-highly-successful-facebook-marketing-strategies/
Steph Ferrell