Communications
8 Examples of Freelance Creatives' Websites to Inspire Your Online Presence
By Bethany Johnson on December 15, 2017
At some point, every freelancer reaches a fork in the road. If you're a creative brand storyteller with a few projects under your belt, and if you love the flexibility of the independent lifestyle, it's time to position yourself as an expert by setting up a website.
Before digging into the technical nuts and bolts, you'll want to see a few personal website examples to learn what works for other freelance creatives. Scoping other freelancers' sites helps you formulate a loose plan. That way, you can go into this knowing what elements are most important to your particular online presence.
Here's a handful of the most important attributes of a portfolio website that can help you attract new, better clients.
A Clear Angle
When visitors arrive at your website, do they know what you do, and for whom? The most common mistake made by freelancers setting up shop online is a convoluted message. That happens because clients are looking for niche experts, and a site is the best way to become one. Let's say you want to become an authority in do-it-yourself auto mechanics. Do you set up a website geared toward people who want to maintain their own cars, or do you set up a website aimed at people looking for writers in that sphere?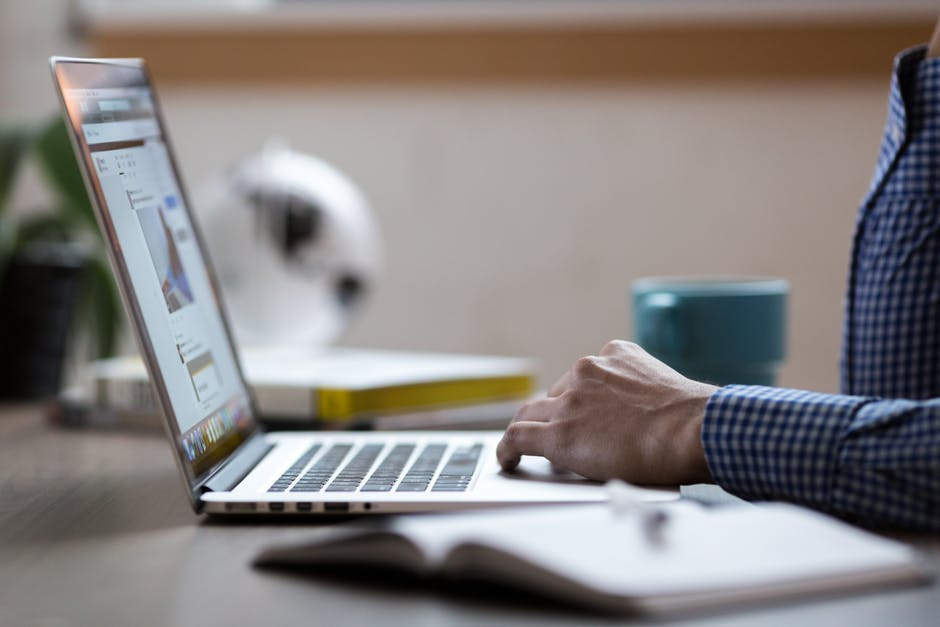 Image attribution: Taylor Johnson
The answer is "both," and that can pose a problem.
Karen Ansel, New York nutritionist and registered dietitian, has the perfect website to show how to handle this. Her home page tells site visitors that she can help them change their life through nutrition. Scroll down a bit, and you'll find over a dozen examples of work she's produced for other publications. This section serves as both answers for consumers looking to change their lives, as well as clients who want an influential writer in the health and nutrition conversation.
Another way to achieve both objectives is to set up two websites. Josh Hoffman, international digital marketing consultant, strategist, and instructor, maintains one client-facing website, as well as a separate website dedicated to helping freelancers figure out the nuts and bolts of a solo operation.
Essentials
It's tempting to jump right in and express yourself, but first, map out the critical components necessary for a good freelance portfolio website. For inspiration, check out Camryn Rabideau's home page. Under her name are five vital destinations: Resume (which is a great alternative to an "about" page), My Services, Testimonials, Work Samples, and Contact. Each section answers the most pressing questions clients have:
Who are you? What are your qualifications?
What can you offer my company?
How, specifically, have others been delighted with your creative work?
Can I see for myself what those happy clients are referring to?
How do I reach you?
Often, personal sites have a "blog" section that lets freelancers weigh in on industry trends, news, and advice to others. Camryn's musings, however, are interspersed throughout the users' entire visit.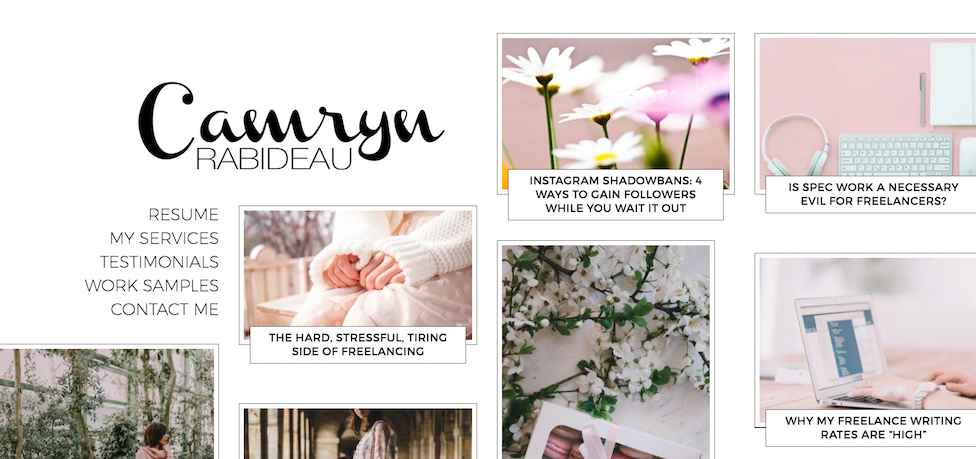 Simplicity
A clean aesthetic can strengthen your message. Mark Samuels, a UK-based B2B tech writer, doesn't rely on flashy images, confusing angles, or annoying pop-ups for lead generation. His achievements, listed on his home page, speak for themselves. Along the top of the page is a menu that lets site visitors get to know Mark better based on their own interests.
He includes what's important: his background, his expertise, his story, and what he offers clients. Basic personal website examples like this can combat feelings of overwhelm when you get started building your own. It shows that with the right information, your website can give prospects what they need without inundating readers.
Navigability
Christine Parizo, another established B2B tech writer, has a website that funnels visitors to the same few pages through many different routes. For example, from her main page alone, you can choose one of three ways to get to her "white papers" page. Her home page has everything else, too: a quick snippet that introduces herself, a list of her services, and even a contact form. She has thoughtfully made everything easily navigable for the curious Internet traveler who finds her website.
The danger in following her lead, of course, is the potential for a cluttered appearance. If you'd like a similarly panoptic home page for your own website, talk with a designer about the arrangement of multiple blocks. It can be done, but it's tricky. Christine's site is a successful example.
Be the Case in Point
Your website is a chance to showcase your strengths. So if you're an editor for hire, your website copy should be flawlessly edited. If you're a user experience designer, then your site should deliver a remarkable user experience. Sound obvious? It is. But so few freelancers' websites truly deliver here. Evan Kasowski has one of the best personal website examples to attest to this point. As a user scrolls his home page, they get a feel for what he can do for them and their site. The result is the ultimate illustration of a timeless marketing principle: "Show, don't tell."
Another shining demonstration of this principle is Kelly Peloza's addictive online destination. Her airy, spacious home page features a sensual image that appears almost touchable. As a user navigates to her blog, shop, "about" section, and contact page, beautiful imagery follows. And why not? As a photographer for hire, her images are her portfolio.
Tell Your Own Brand Story
Another way brand storytellers' sites can convince brands of their capacity for narrative is to tell their own brand story. Steven McCann and Ethan Liu of Shearwater Films are experts at this meta-style communication. Instead of simply listing their achievements and including portfolio samples, they tell the story behind each adventure. This includes their struggles with weather, harrowingly tight deadlines, and their self-imposed creative boundaries (prime lens footage, anyone?). So viewers are swept along in Shearwater's story as they fight to tell someone else's.
Freelance work is unique in that you can dabble your whole career away-or you can wholeheartedly jump in. If you're ready to get serious and start a business that gets noticed, you'll want a website. These personal website examples have a variety of styles to spark your imagination. Which one will you draw upon to get started?
For more stories like this, subscribe to the Content Standard newsletter.

Featured image attribution: Igor Miske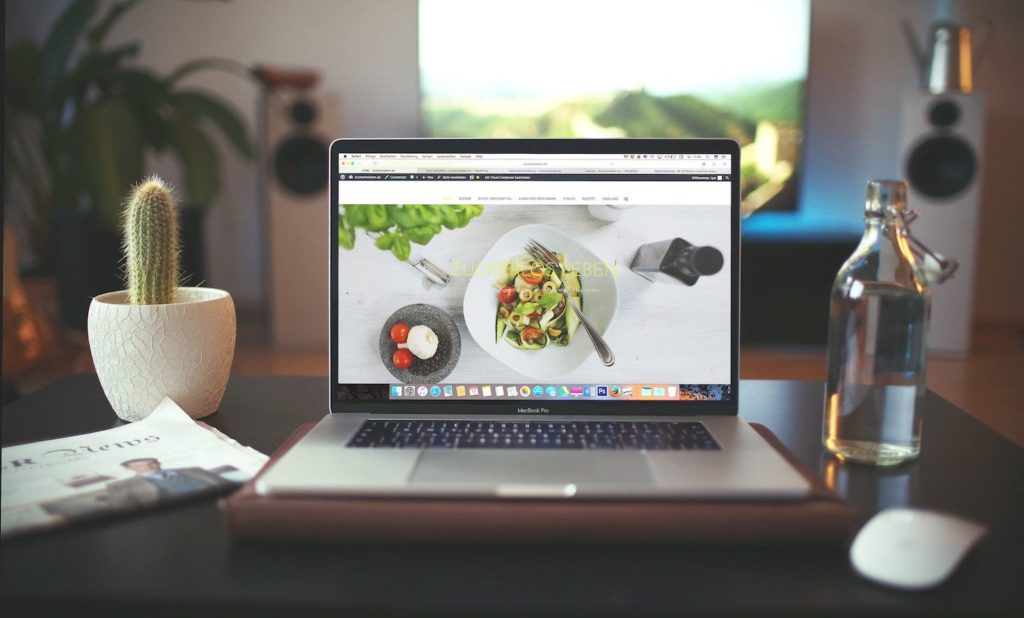 https://www.skyword.com/contentstandard/8-examples-of-freelance-creatives-websites-to-inspire-your-online-presence/
https://www.skyword.com/contentstandard/8-examples-of-freelance-creatives-websites-to-inspire-your-online-presence/
Bethany Johnson