Content Strategy
Effective Content Marketing's Five Percent Club: How to Rank Alongside Today's Top Programs
By Jonathan Crowl on July 1, 2020
Creating an effective content marketing strategy is easier said than done. In surveying content marketers for their joint 2020 report, the Content Marketing Institute and MarketingProfs found that the majority of respondents believed their strategies were at least moderately successful at driving business results. As for the marketers who called their efforts extreme successes, well, that only amounted to five percent of respondents. In other words: It's easy to be good, but it's hard to be great.
If you believe your content strategy has room to improve, it helps to look to industry leaders who are setting the standard for modern-day success. In Skyword's recent white paper, "Content Marketing Excellence: How to Jumpstart, Evaluate, and Accelerate Your Program," it compiled several key insights it gained from working on more than 1,000 brand marketing strategies. Skyword found that in order to land in the five percent club—joining those marketers with extremely successful strategies—you need to foster and reinforce quality in your content production.
To help you join this prestigious class of marketers, we're breaking down the top four characteristics of highly successful content marketing programs. Consider these as you assess the quality of your projects and identify areas that may need calibration.
1. Audience-Driven
Audience-driven content marketing prioritizes assets that directly speak to the needs of target audiences. Given the amount of content the average consumer or B2B buyer encounters on a daily basis, your assets must promote audience connections, speak to their pain points, and earn their trust in order to be successful.
To target content effectively to these audiences, top-performing content marketers depend on data-driven audience personas—this is especially true for organizations managing multiple audience segments. In many cases, content is targeted specifically to one audience persona, or a limited number of personas, to increase its relevance, elicit engagement, and accurately address a core set of user needs and values.
Highly successful content strategies also use audience journey maps to build content that addresses every stage in the consumer journey, from brand awareness to brand advocacy. Below, Skyword's graphic details some of the key considerations to bear in mind when building an audience journey map. Among the factors you'll want to address with each persona, how they're feeling and what they need should be represented in the content you serve to them.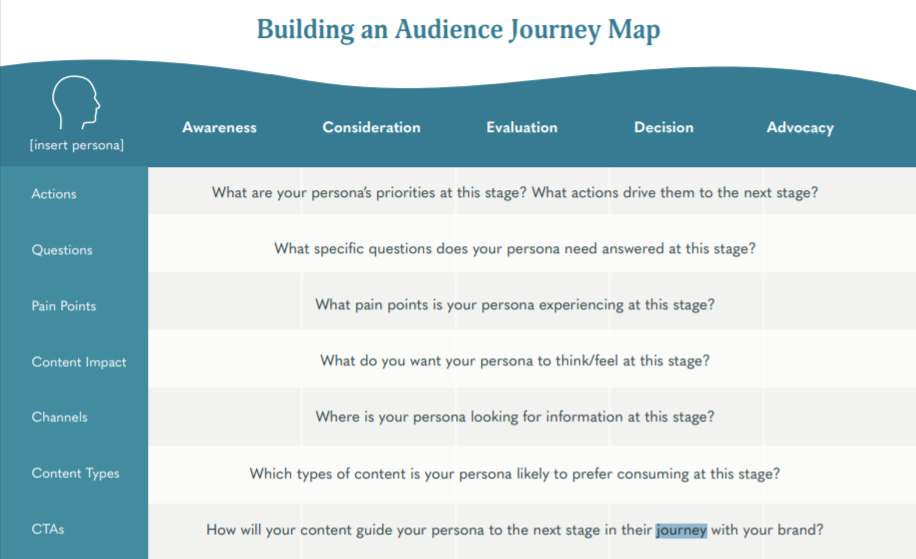 Photo attribution: Skyword.
Other important elements of an audience-driven strategy are keyword pillars. These match content to each user's search intent and deliver personalized content experiences, using prior audience engagement to guide future content interactions through email, social media, and other channels.
2. Data-Empowered
Given the integral role digital channels play in an effective content marketing program, it's no surprise that performance data supports all the strategic decision-making of top-performing strategies.
However, as Skyword's Data Triad illustrates below, landing in the five percent club requires more than simply using analytics to measure performance and identify potential optimizations. You also need to use data as a tool for contextualizing your content's performance alongside the efforts of your closest competition, and as a method of expanding your understanding of how to deliver new value to audiences over time.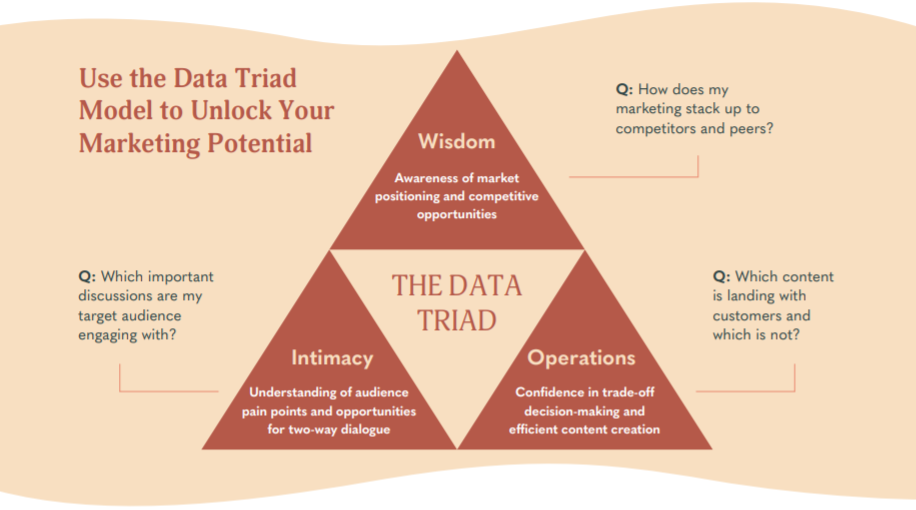 Photo attribution: Skyword.
To leverage the benefits of content data to the fullest, your brand needs more than an analytics tool to measure performance. Seek out a more robust infrastructure that includes marketing attribution, social listening, and tools that can help you better analyze your competitors. This allows you to identify new content marketing opportunities your business may be overlooking.
Keep in mind, 70 percent to 80 percent of your total organic traffic will be driven by the top 10 percent of your content—this is still true for top-performing brands. The key to success is using these top-performing assets to identify trends and strategies that can be used to elevate your entire content strategy. A commitment to data-driven analysis will help you leverage this performance for greater gains over time.
3. Committed to Quality
As Google's search algorithm has improved its ability to assess content quality over time, marketers have had to adapt their strategies to focus on delivering content that provides value to audiences. While SEO remains an important consideration in modern marketing, quality content isn't achieved through keyword stuffing or chasing trending topics.
There are several hallmarks of quality content, but the one that's always found in today's best content is an audience-centric approach. Top-performing content marketing programs prioritize content that connects with audiences and drives engagement. Additionally, quality content must have a distinct brand tone and point of view.
Achieving greater quality requires due diligence. You'll need to put quality assurance controls in place to ensure your content meets high editorial standards and isn't being produced just to hit a monthly quota.
4. Disciplined
As content marketing programs evolve, they can be more challenging to manage. Effective content marketing programs lean on a disciplined infrastructure that supports collaboration and the overall creative process to build efficient, streamlined content strategies.
Discipline is enforced through business solutions such as editorial calendars, workflow solutions such as videoconferencing platforms, and project management platforms such as versatile content management systems that facilitate better collaboration and consistency in publication cadence. These tech-driven solutions also enable greater transparency in the content creation process and allow individual workers to own projects, all while advancing the goals of the marketing department as a whole.
To accommodate evolving content marketing needs and preserve agility for the marketing department, your content creation process also needs to be scalable and adaptable to satisfy on-demand needs. Disciplined content marketing doesn't result in rigid operations; in fact, it's the opposite. A good infrastructure helps your team identify possible bottlenecks and anticipate roadblocks in time to enlist additional resources to retain production. Not to mention, it helps prepare your team to easily take on any new challenges.
Accelerating Content Marketing Success Is Possible
Improving your content strategy is an incremental process—but it can be done. To claim your rightful spot in the five percent club, start by combining your own internal insights with the best practices and examples of industry-leading content marketing programs. Then, draft a flexible and streamlined blueprint to steer your content performance toward greater success.
For more stories like this, subscribe to the Content Standard newsletter.
Featured image attribution: michael pollak on Flickr.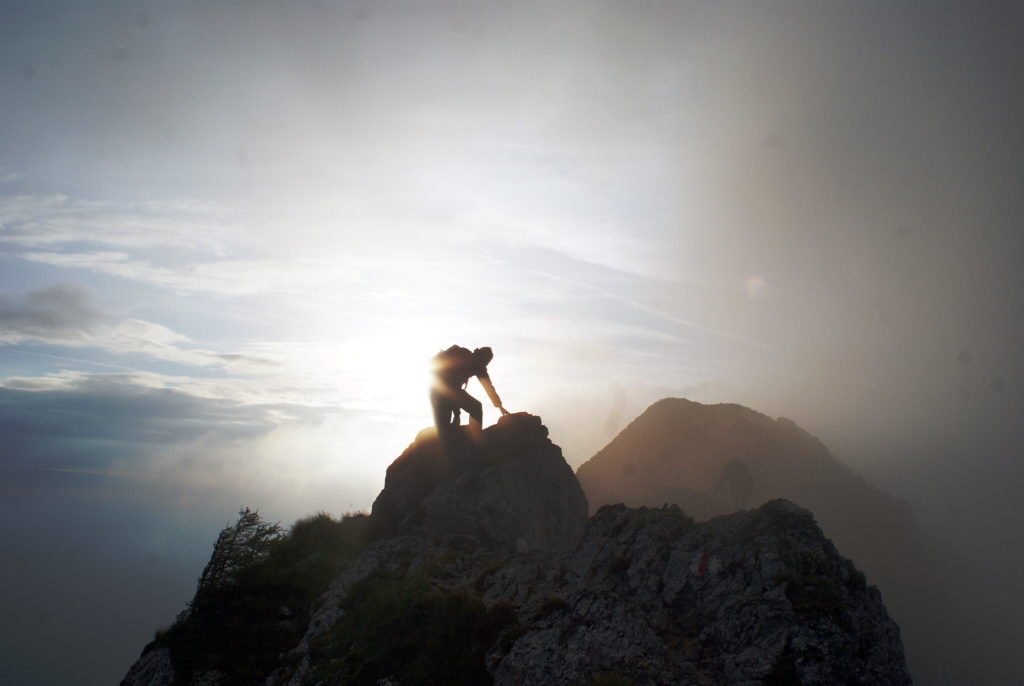 https://www.skyword.com/contentstandard/effective-content-marketings-five-percent-club-how-to-rank-alongside-todays-top-programs/
https://www.skyword.com/contentstandard/effective-content-marketings-five-percent-club-how-to-rank-alongside-todays-top-programs/
Jonathan Crowl