Communications
How to Improve Your Brand's Page Experience for the Newest Google Algorithm Update
By Erik Mathes on June 12, 2020
If it seems like there's always a new Google algorithm update to worry about, you're not imagining things. On May 4, Google released a core update that shook up the SERPs to a 9.4 out of 10 on SEMrush's volatility sensor in just two days. Then, only a few weeks later, Google announced yet another update in the works regarding page experience. This release will incorporate a new set of ranking metrics known as Core Web Vitals, as well as several other factors that may usher in a new wave of search ranking upheavals once it goes live.
Thankfully, Google has decided to extend the kindness of a heads-up before it makes this update official. According to the search engine giant, it's "providing the tools and documentation now to get you started, but there is no immediate need to take actions now." Google has also promised to issue six months notice ahead of implementing the changes.
Six-plus months gives your brand more than enough time to prepare for this search algorithm update, and Google has even provided ample guidance on how to optimize your content to meet its new page experience standards. We're sharing the key takeaways from its resources so you'll know how your site may be affected by the launch, for better or worse, as well as some tools to help you resolve any potential issues in the interim.
How Core Web Vitals Measure Your Site's UX
Due to the Core Web Vitals aspect of this impending update, UX design is set to become more highly regarded than ever.
Per Google, Core Web Vitals represent "a set of real-world, user-centered metrics that quantify key aspects of the user experience" by measuring "dimensions of web usability, such as load time, interactivity, and the stability of content as it loads." This boils down to three KPIs, as shown in the green box in the image below provided by Google.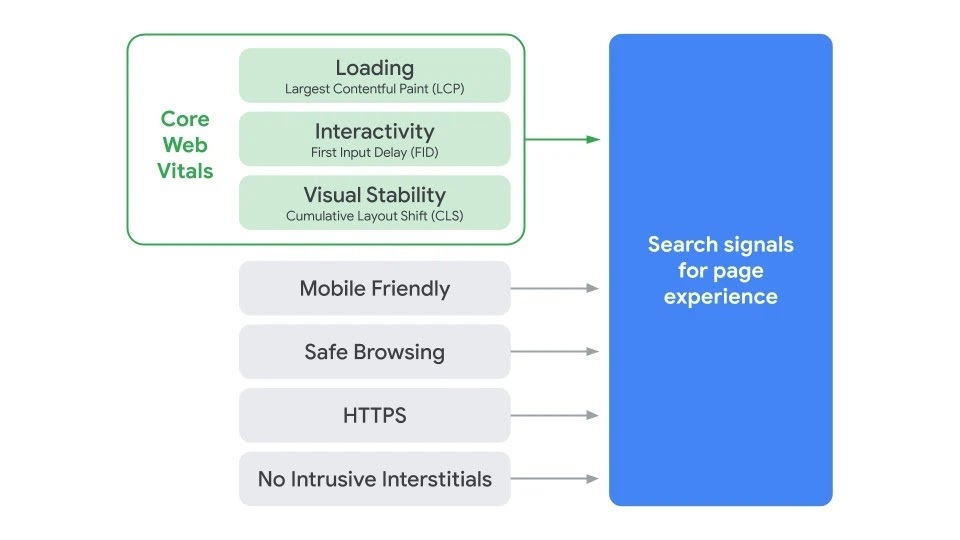 Image attribution: Google
Largest Contentful Paint (LCP)
Having a site that loads fast is crucial to crafting an excellent user experience from the start. Google says its Largest Contentful Paint (LCP) metric seeks to rate a site's first impression by measuring "the render time of the largest content element visible within the viewport." Put another way, LCP is equal to how long it takes the biggest file in your above-the-fold content to load. Note that if the largest element extends below the fold, Google will only count the portion that's visible above the fold when calculating your site's LCP score.
Google explicitly states that sites should strive for an LCP of 2.5 seconds or less. To get there, you'll need to ensure that:
images are compressed to render quickly but still maintain their high-quality appearance
background scripts run efficiently, which may require some back-end tinkering
plug-ins are used selectively so they don't interfere with load times
First Input Delay (FID)
The next Core Web Vital, First Input Delay (FID), measures "the time from when a user first interacts with a page (i.e., when they click a link, tap on a button, or use a custom, JavaScript-powered control) to the time when the browser is actually able to respond to that interaction," according to Google.
But what's the rationale for focusing specifically on the first input? That's because when users initially interact with a site, its latency issues inevitably cause them to have a poor first impression of it. Latency issues also lead to bad user experiences overall. This is especially true when large JavaScript files cause delays in rendering during site loads. When a user clicks a link in the top nav menu and it doesn't immediately respond, they're likely to feel frustrated or even bounce entirely.

Image attribution: Google
Cumulative Layout Shift (CLS)
Just about everyone has had the annoying experience of clicking a link, only to have the page shift at that exact moment, causing your click to fall somewhere you never intended. That's where Cumulative Layout Shift (CLS) comes into play. CLS aims to quantify a score for pages that contain elements that move in an unexpected fashion.
Layout shifts can lead to more than just inconvenience and ruined user experiences. Consider this Google-provided clip, which shows what happens when someone accidentally clicks "yes" when they meant to hit "no" or "cancel."
To learn more about how CLS is calculated, check out Google's documentation here.
How to Determine Your Site's Core Web Vitals
Google has a number of tools that provide your current site metrics, including Core Web Vitals and more, which you can use to determine how your site stacks up and find areas for improvement.
Start by heading over to Google Search Console and opening the new Core Web Vitals Report, which recently replaced the Speed report. If, by chance, there's no available data, you can run a test on Google PageSpeed Insights. This will evaluate your site's speed and give you a score based on a number of criteria.
If your site needs improvement, Google's got you covered with a comprehensive, itemized diagnostics list of factors affecting your site's performance, along with opportunities and corrective actions that you can take to improve your score.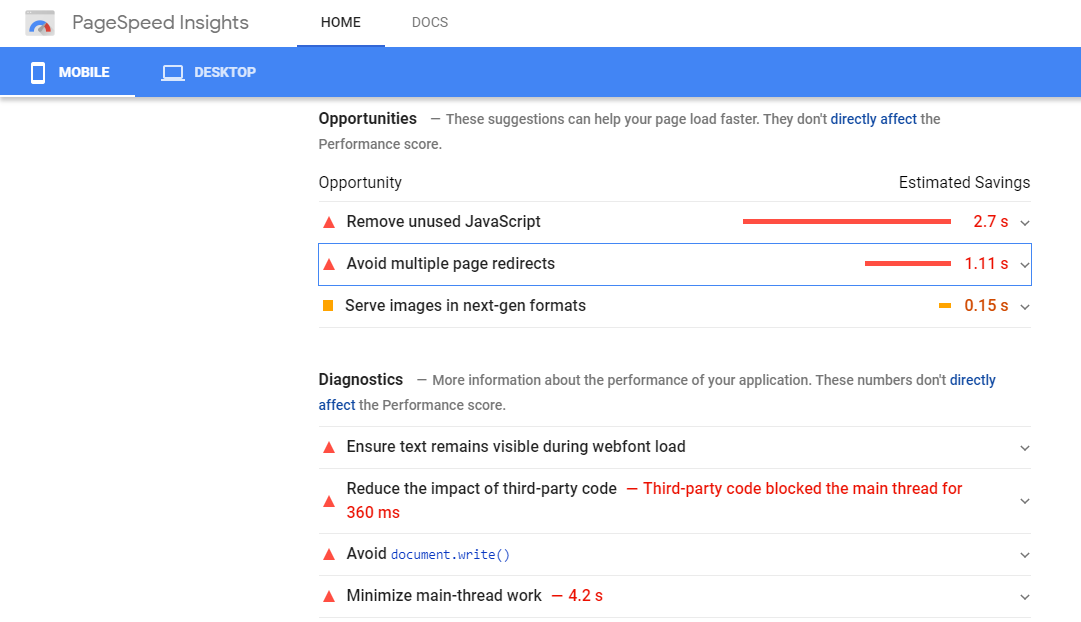 Image attribution: Google
Other Parts of the Page Experience Google Algorithm Update
Google says that this update will combine the signals derived from Core Web Vitals with its existing signals for page experience—including mobile-friendliness, safe browsing, HTTPS security, and intrusive interstitial guidelines—to "provide a holistic picture of page experience." But what does this mean for your brand? If you haven't prioritized or focused on mobile optimization for your site, you'll need to do so now, as this update will have a direct impact on your search rankings. Security and safety items, such as HTTPS secure browsing, should also be addressed.
If your site uses intrusive interstitials or pop-ups that obscure its main content and/or are difficult to exit from, these can create a particularly poor experience, especially for mobile users. It's key to place interstitials at the right time and place in a user's journey so as not to taint their experience with your site.
These factors, along with the trio of Core Web Vitals, will have their own weights in Google's algorithm after the update and contribute to the overall signal for page experience, which will help determine SERP rankings.
What Google's Page Experience Algorithm Update Means for You
With Google promising a six-month warning before this update goes into effect, there's plenty of time to plan any fixes your site may need—and the aforementioned Google tools can help you decide which changes to prioritize.
One important change that Google mentions is that Top Stories on mobile will no longer be required to be AMP pages, and page experience is set to play a pivotal role in this coveted mobile SERP placement. Still, sites that already rely on AMP pages need not worry about any negative effects from this.
Finally, and most importantly, amid the hoopla of yet another Google algorithm update, the most crucial takeaway may have been missed. As Google expressly states toward the end of its announcement on its Webmaster Central Blog, extraordinary content still reigns supreme: "While all of the components of page experience are important, we will prioritize pages with the best information overall, even if some aspects of page experience are subpar. A good page experience doesn't override having great, relevant content."
So there you have it. If you keep creating content that provides true value and delightful experiences, you should continue to be rewarded by Google. If you can also upgrade your CX in the meantime, you stand to reap real rewards in organic search as the algorithm updates evolve.
Want more of the latest on marketing and content strategy? Subscribe to the Content Standard Newsletter.
Featured image attribution: Marcus Aurelius from Pexels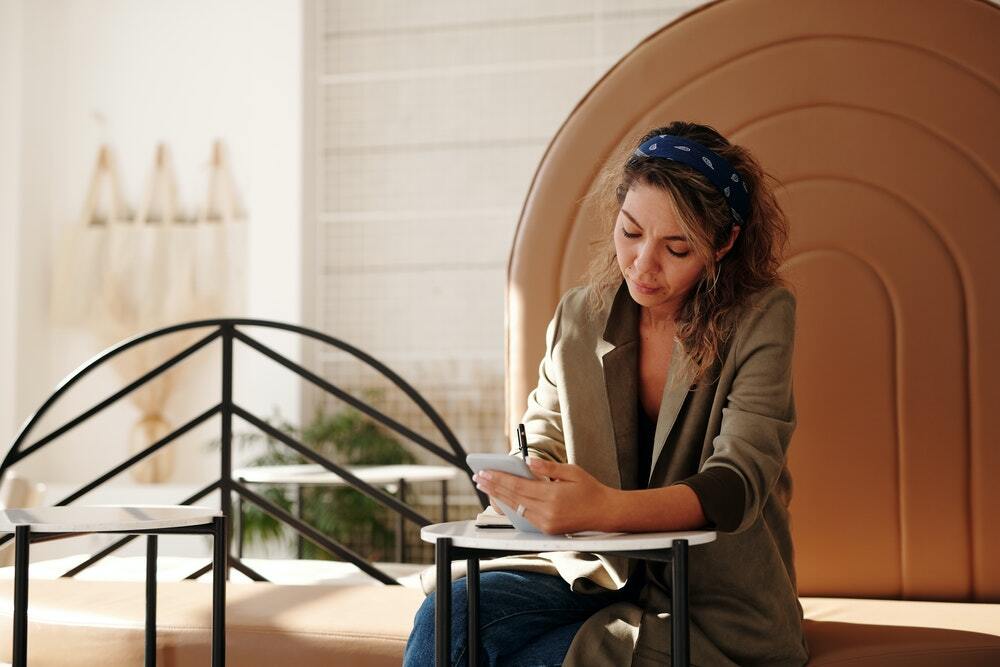 https://www.skyword.com/contentstandard/how-to-improve-your-brands-page-experience-for-the-newest-google-algorithm-update/
https://www.skyword.com/contentstandard/how-to-improve-your-brands-page-experience-for-the-newest-google-algorithm-update/
Erik Mathes