Content Creation
Everything About the May Google Algorithm Update You Need to Know
By Erik Mathes on May 19, 2020
Amidst a flurry of "May the 4th Be With You" memes in celebration of Star Wars Day, a new Google algorithm update was released. We know what you're thinking: Another update? Don't get fired up just yet, though. According to the search engine giant, the May 4 update is more akin to regular maintenance than a rousing shift like last October's BERT.
Nevertheless, this core update has caused some serious SERP ranking changes across a multitude of industries. Some sites got clobbered, while others reaped astonishing rewards. Many anticipated more fluctuations in the coming weeks, but results should be stable now that the rollout is complete, according to Search Engine Journal.
[tweet id="1257376879172038656"]
That's relieving news, of course, but for some, the damage has already been done. So what can you do if your search rankings were rocked by this update? And what does this update mean for your SEO strategy going forward? Based on performance results surrounding the release and insights from SEO thought leaders, the answer may be as simple as refocusing your efforts on delivering high-quality content. But first, let's consider the data at hand.
SERP Fluctuations Were Volatile After the Update
As you can see in the graph below from SEMrush's Sensor tool, SERP volatility shot up from 2.9 to 7.7 between May 4 and May 5, only to peak at 9.4 two days after the release.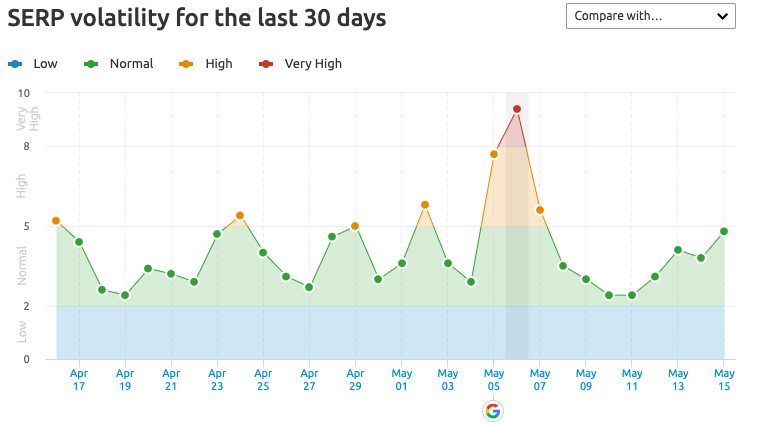 Image attribution: SEMrush.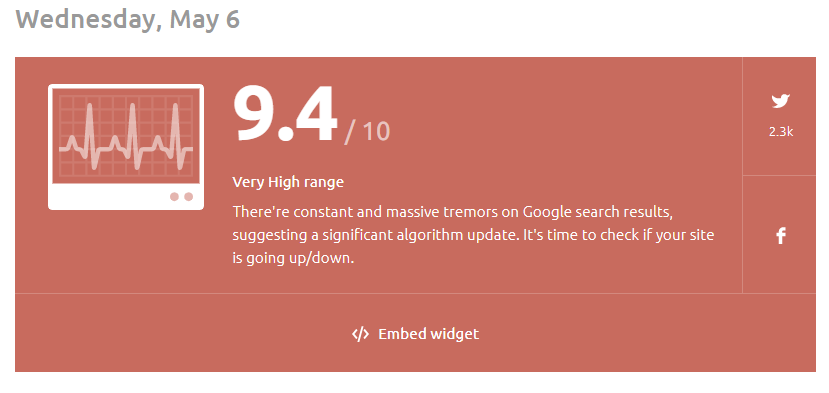 Image attribution: SEMrush.
Even three days after the update, volatility remained high, showing just how "big and broad" this release was, as Search Engine Land put it. Other SEO tools recorded similar volatility just after the May 4 update. Moz's Mozcast tool reports algorithm turbulence in gradients of inclement weather, with blistering temps indicating high Google ranking fluctuations and comfortable temps indicating all is well in the SEO land. On May 5, as seen below, Mozcast's weather forecast was especially sweltering for marketers.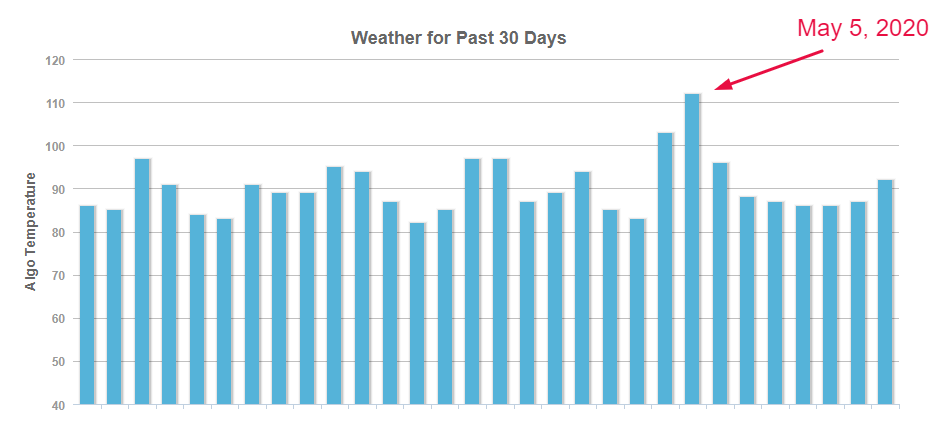 Image attribution: Moz.
While SERP shifts have slowed to their normal pace, the wave that followed the update has motivated many marketers to reevaluate their content strategies. At the same time, some brands are celebrating their newfound success in organic search.
Some Brands Saw Declines, While Others Were Rewarded
SEMrush's data breaks down the winners and losers of this Google algorithm update by industry. First, let's talk about the winners. As you can see in the screenshot below, the sites within the news sector saw the biggest average gain in search traffic, followed by business and industrial, online communities, arts and entertainment, and health.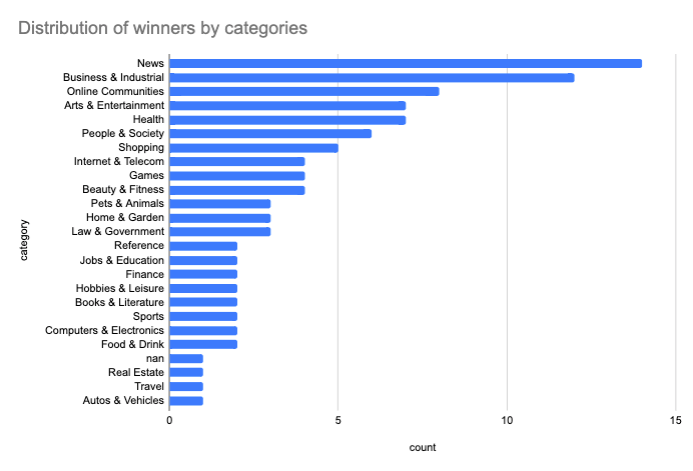 Image attribution: SEMrush.
Now, here's where things get interesting. Four out of the five top winning categories are also among the top five losers, with the exception of health: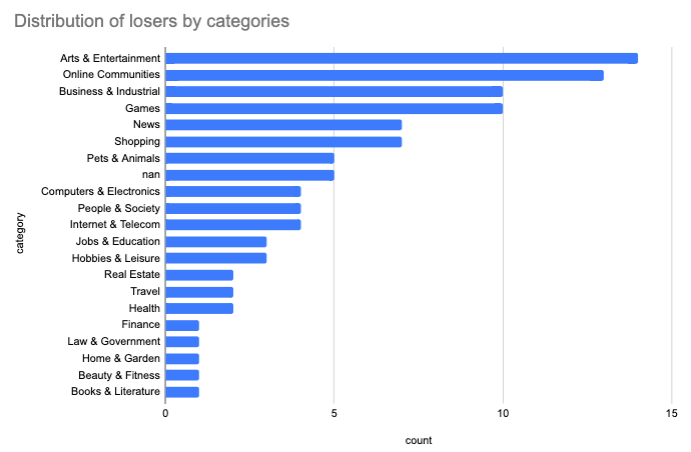 Image attribution: SEMrush.
So, what does this mean?
Content Quality Still Affects SERP Rankings, but There's More to the Story
Clearly, this core update didn't wreak industry-specific havoc; instead, it seems certain sites were rewarded and others were penalized based upon on-page factors. The most significant of these was whether their content was deemed valuable or thin by Google.
Historically, content that sits atop SERPs demonstrates expertise, authoritativeness, and trustworthiness—i.e. it has the E-A-T factor. This was the foundation for exceptional content before the core update and it still holds true today. We know this to be true because Google itself says so.
In its tweet about the release, Google shared its blog post detailing what webmasters should know about core updates. This resource stresses that quality always affects rankings, and it challenges marketers to take another look at their content—especially if they're seeing significant SERP shifts. Google even shares questions you can ask yourself when you're assessing the quality of your content, such as:
Is it original?
Is it valuable to your audience?
Does it say something new, and does it do so in an interesting way?
Is it factually sound?
Does it have a title and subheads that accurately reflect the content?
If your answer to any of these questions is a hard no, it could be why your rankings aren't so hot. Additionally, Google spells it out simply: "Assessing your own content in terms of E-A-T criteria may help align it conceptually with the different signals that our automated systems use to rank content."
However, some believe this particular Google update favors pages that exhibit a specific hierarchy in their content, regardless of how deep the overall pages went in terms of E-A-T. Mordy Oberstein of RankRanger conducted an analysis of finance sites after the core update that, while not conclusive by any means, found some intriguing initial takeaways in regard to content hierarchy.
His analysis reveals that Forbes.com results trumped pages by Business.org and The Motley Fool's The Ascent for the keywords crowdfunding loans and best credit cards. He asserts this shift has to do with Forbes prioritizing above-the-fold placement of informational content, as opposed to it leading with promotional affiliate link boxes. Although the other pages provided similar value to the Forbes pages, they may have been dinged by Google for having a less user-friendly experience.
COVID-19 Content Also Contributed to the SERP Shake-Up
Oberstein also theorizes that placing information related to COVID-19 at the forefront of content helped elevate certain sites in search.
[tweet width="500" id="1252233095622754304"]
Although many in the SEO space lamented on Twitter and industry forums about the timing of this update, Google has sound reasons for implementing these changes in the midst of a pandemic. Chiefly, it allows them to provide users with the most relevant information from the most reputable sources possible.
Considering timely topics such as COVID-19 in your content strategy is crucial to search performance, no matter what industry you're in. In researching the search performance of several brands over the span of three years, Skyword found that a balanced mix of temporal and evergreen content is the recipe for optimal results.
How to Achieve SEO Success Following the Latest Google Algorithm Update
Moving forward, brands should continue to deliver content that satisfies the E-A-T principle. It should deliver actionable advice, contain vivid images and videos, and be valuable to your target audience.
Content should also be optimized. If your pages take too long to load or your content is too text heavy—or worse, uses keyword-stuffed subheads or click-baity titles—Google may move it to the back of the line. Use tools such as Google PageSpeed Insights to test your site and make adjustments as needed. You can also use it to compare your site to those of your competitors.
Keep UX top of mind when you're designing pages, especially if you do affiliate marketing. Per RankRanger's research, sites with spammy-looking promotional modules that pump out affiliate links seemed to take a hit after this update.
Also, keep an eye on what your highest-ranking competitors are doing to get a sense of what Google is rewarding. Then, decide if it's worth it to revise your content in an attempt to outdo them, or if it's a better strategy to go after different keywords in your wheelhouse.
While there's never any guarantee that your site will rise to the top of SERPs, following these best practices and Google's available guidelines can help you position your content for SEO success. Remember, whether you're creating new content or optimizing veteran pieces, your primary goal should be providing value to your visitors. If you've already been doing that and you're generating traffic while keeping people on your pages, chances are you'll still do well in the wake of this latest Google algorithm update.
Check out Skyword's free The State of SEO Report for more tips, tricks, and insights on making your content more visible in search.
Featured image attribution: Pixabay on Pexels.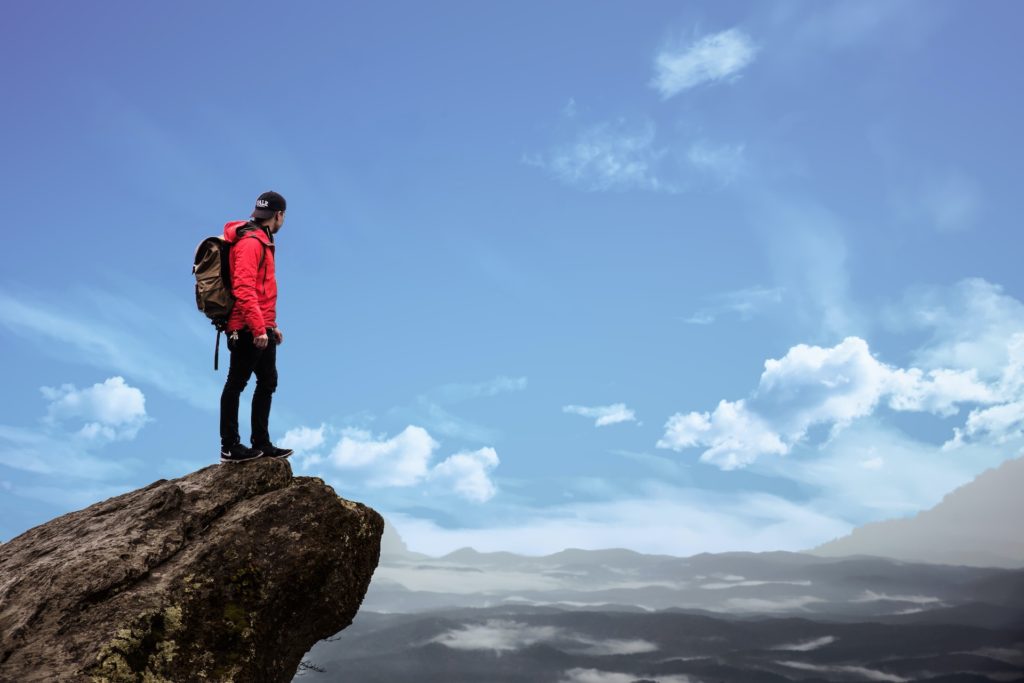 https://www.skyword.com/contentstandard/everything-about-the-may-google-algorithm-update-you-need-to-know/
https://www.skyword.com/contentstandard/everything-about-the-may-google-algorithm-update-you-need-to-know/
Erik Mathes